Vietnam, Italy to strengthen high-level visit exchanges
Vietnam and Italy have agreed to increase high-level visit exchanges between the two countries to effectively implement bilateral cooperation mechanisms.
The agreement was reached during the Vietnam-Italy political consultation at the Deputy Foreign Ministerial level held on May 26.
Manlio Di Stefano, Undersecretary of State for Foreign Affairs of Italy, congratulated Vietnam on its recent outstanding achievements in foreign affairs, especially its role of ASEAN Chair in 2020 and a non-permanent member of the United Nations Security Council, and affirmed Italy's desires to promote cooperation with Vietnam, VOV reported.
Trade and investment cooperation continues to be one of the pillars in the Vietnam - Italy strategic partnership, he stressed, adding despite the impact of the COVID-19 pandemic, bilateral trade turnover in the first four months of 2021 reached US$1.8 billion, up 28% over the same period in 2020.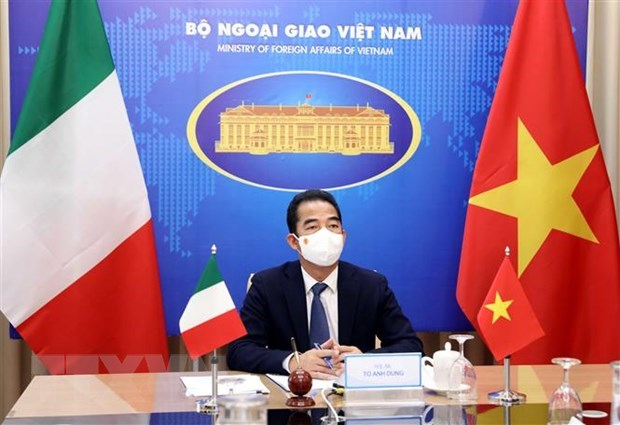 Vietnamese Deputy Foreign Minister To Anh Dung. Photo: VNA
For his part, Deputy Foreign Minister of Vietnam To Anh Dung reiterated Vietnam's consistent policy of strengthening its relations with important partners, especially strategic partners like Italy.
He spoke highly of the cooperation efficiency between the two countries over the years in all fields, noting that Italy is Vietnam's fourth-largest trading partner in the European Union and the latter is the former's largest trading partner in ASEAN.
He suggested that both sides take advantage of the EU-Vietnam Free Trade Agreement (EVFTA) to raise their two-way trade turnover to US$5 billion this year and beyond.
He proposed that Italy soon ratify the EU-Vietnam Investment Protection Agreement (EVIPA) to facilitate economic cooperation between Vietnam and the EU as well as with Italy.
Exchanging views about the current COVID-19 pandemic, both sides underlined the importance of vaccination and affirmed their commitment to sharing experience in epidemic prevention and control, accessing safe and effective vaccine sources as well as transferring vaccine production technology. They also agreed to coordinate and support each other in implementing measures for economic development in the post COVID period.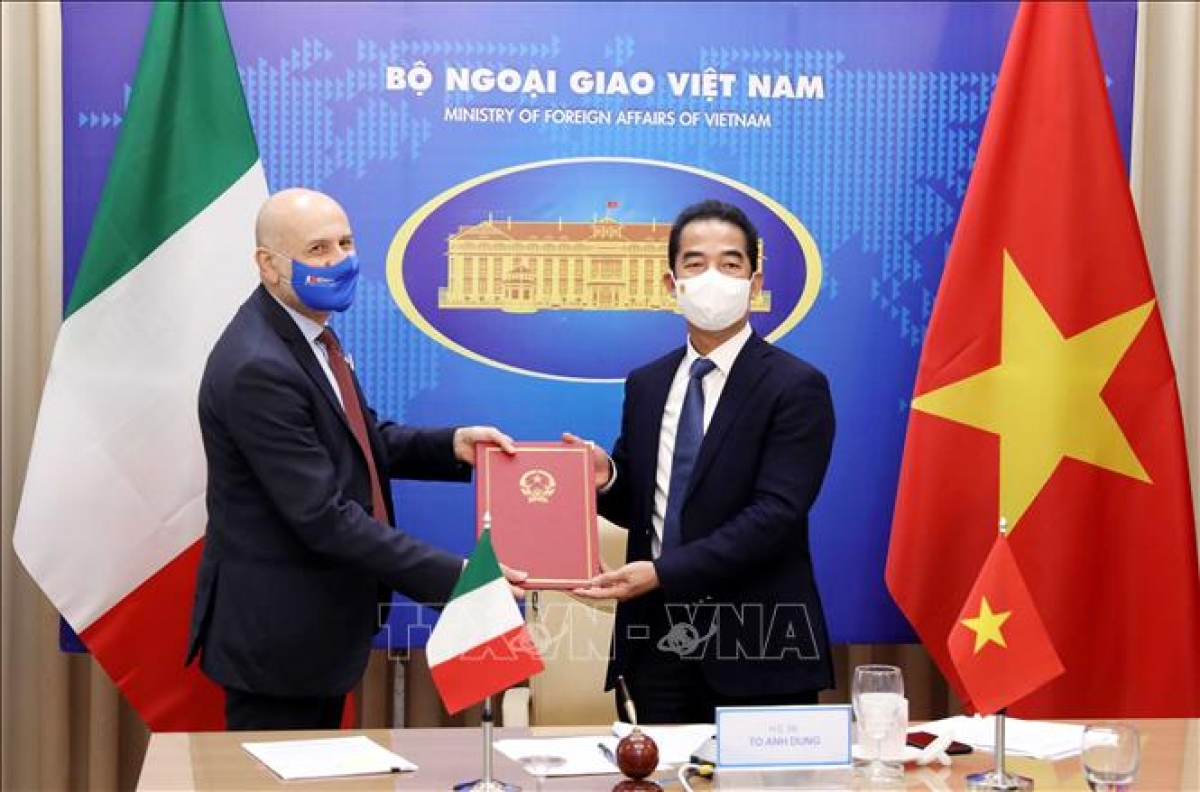 Deputy Foreign Minister To Anh Dung (R) and Undersecretary of State for Foreign Affairs of Italy Manlio Di Stefano, sign an Action Plan to implement the Vietnam - Italy Strategic Partnership for 2021-2022 and with a vision for 2023. Photo: VNA
The two sides also agreed to strengthen the exchange of high-level visits and regular contacts between the two countries, develop joint programs in the lead up to 50 years of the Vietnam-Italy diplomacy and 10 years of their strategic partnership in 2023.
On the multilateral level, the two sides agreed to continue close coordination, share information, and exchange views on international and regional issues of mutual concern.
Deputy Minister To Anh Dung welcomed Italy as an ASEAN Development Partner during Vietnam's ASEAN Chairmanship in 2020, which he believed would further ramp up ASEAN - Italy cooperation.
At the end of the political consultation, the two diplomats signed an Action Plan to implement the Vietnam - Italy Strategic Partnership for 2021-2022 and with a vision for 2023. Accordingly, both sides will focus on bilateral cooperation in such areas as politics, diplomacy, national defense, science and technology, culture, tourism, development cooperation, energy, environment, sustainable development, and transportation.
Vietnam and Italy on December 14 agreed on plans for post-pandemic economic recovery and optimizing the benefits to be gained from the EU-Vietnam Free Trade Agreement (EVFTA), thus boosting economic ties between the two countries, according to Vietnamplus.
During the sixth meeting of the Joint Commission on Economic Cooperation, held online, the two sides also reviewed cooperation in economy and trade, especially in the fields of energy, industry, industrial machinery, garments and textiles, footwear, and mining.
Deputy Minister of Industry and Trade Dang Hoang Anh said the traditional bilateral friendship and cooperation have been enhanced over recent times, adding that Vietnam acknowledges the attention it receives from Italy.
As the ASEAN Chair 2020, Vietnam congratulated Italy on its position as an ASEAN development partner, paving the way for closer cooperation between the country and member countries of the bloc, he said.
Italian Deputy Minister of Foreign Affairs and International Cooperation Manlio Di Stefano regarded Vietnam as a "bright spot" in economic growth amid the severe impact of the pandemic.