Vietnam News Today (Apr. 2): Favourable Visa Policy Would Help Tourism Sector Thrive
Vietnam News Today (Apr. 2): Vietnam, US hold 12th Political, Security, Defence Dialogue; Germany ready to support Vietnam in energy transition process; Favourable visa policy would help tourism sector thrive: experts; Vietnamese businesses strive to green the economy.
Vietnam News Today (Apr. 2) notable headlines
Vietnam, US hold 12th Political, Security, Defence Dialogue
Germany ready to support Vietnam in energy transition process
Favourable visa policy would help tourism sector thrive: experts
Vietnamese businesses strive to green the economy
Vietnam remains favoured destination for global investors
Work starts on Vietnam's first green hydrogen plant
New products needed to lure Chinese tourists after reopening
Blooming Central Highlands coffee flowers attract visitors
Most storied banh mi brands in Vietnam honoured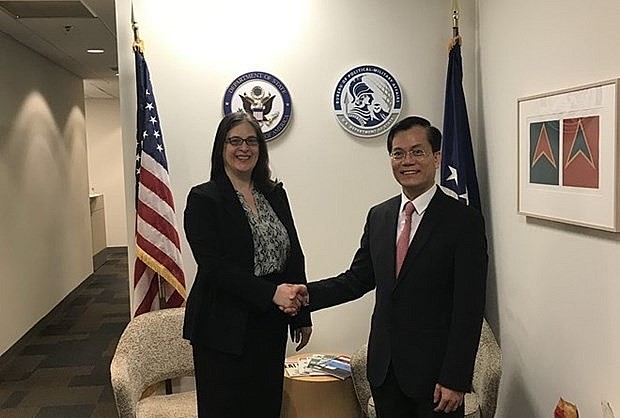 Vietnamese Deputy Minister of Foreign Affairs Ha Kim Ngoc (R) and US Assistant Secretary of State for Political-Military Affairs Jessica Lewis. (Photo: VNA)
Vietnam, US hold 12th Political, Security, Defence Dialogue
The 12th Vietnam-US Political, Security and Defence Dialogue was held in Washington D.C on March 30 under the co-chair of Vietnamese Deputy Minister of Foreign Affairs Ha Kim Ngoc and US Assistant Secretary of State for Political-Military Affairs Jessica Lewis.
At the event, the two sides expressed their delight at the extensive and practical development of the two countries' relations in the bilateral, regional and international aspects based on the principle of respecting independence, sovereignty and territorial integrity and political institutions of each other.
Ngoc affirmed that Vietnam always considers the US as one of its most important partners, while Lewis reaffirmed that the US consistently supports a strong, independent and prosperous Vietnam.
The two sides emphasised the importance of bilateral meetings, consultations and delegation exchanges for the process of building trust and mutual understanding, and promoting cooperation and intertwined interests between Vietnam and the US. They also affirmed that they will maintain frank, constructive and regular dialogues on controversial issues, cited VNA.
The officials recognised the progress of bilateral cooperation in the fields of defence and security, law enforcement and settlement of post-war consequences; while agreeing to continue developing bilateral defence ties at a stable pace, in line with the interests, conditions and policies of each country, and to expand cooperation in cyber-security, fighting trans-national crimes, and participation in UN peace-keeping missions.
The two sides shared the determination to maintain cooperation in clearing mines and explosives, decontaminating dioxin, supporting war-affected people in Vietnam, and searching the two countries' soldiers missing in the war. Representatives of the US side reaffirmed their commitments to continue assisting Vietnam in improving its maritime capacity, law enforcement and identification of remains of Vietnamese soldiers through training and equipment transfer.
The two sides discussed several international and regional issues of mutual concern, and stressed the importance of ensuring the rule of law, freedom and safety of navigation and aviation, and peaceful settlement of disputes on the basis of international law, without the threat or use of force. The US side affirmed its backing for ASEAN's consensus and central role in the regional security architecture.
The two sides agreed on the need to implement creative and practical measures to promote the Mekong-US Partnership in the coming time.
On the sidelines of the dialogue, Ngoc had discussions with leaders of the US Department of State, Department of Defence, and National Security Council, and some parliamentarians and advisers of the Congress, and representatives of US enterprises.
These meetings contributed to the implementation of the outcomes of the high-level phone talks on March 29 between Party General Secretary Nguyen Phu Trong and US President Joe Biden, and promotion of the bilateral agenda this year as the two countries are celebrating the 10th founding anniversary of the Vietnam - US Comprehensive Partnership (2013-2023).
Germany ready to support Vietnam in energy transition process
The Vietnamese Embassy in Germany in collaboration with the Vietnamese Innovation Network in Europe (VINEU) organised a seminar on March 31 on strengthening co-operation within the framework of the Just Energy Transition Partnership (JETP) program towards net zero emissions target for Vietnam by 2050.
The event was held within the framework of the Berlin Energy Transformation Dialogue Week 2023, according to VOV.
As part of his opening speech, Vietnamese Ambassador to Germany Vu Quang Minh affirmed that this marked the first official and public in-depth discussion on the implementation of JETP, an important framework of which the nation was selected to join developed economies.
Ambassador Minh emphasized that at the 26th UN Climate Change Conference of Parties (COP26), the nation made both bold and ambitious commitments to become a carbon-neutral economy by 2050, only five years later than Germany.
This represents an extremely challenging goal, not only in terms of technology, economics, and finance, but also in social aspects associated with this great transition, including the rights and interests of all peoples and stakeholders.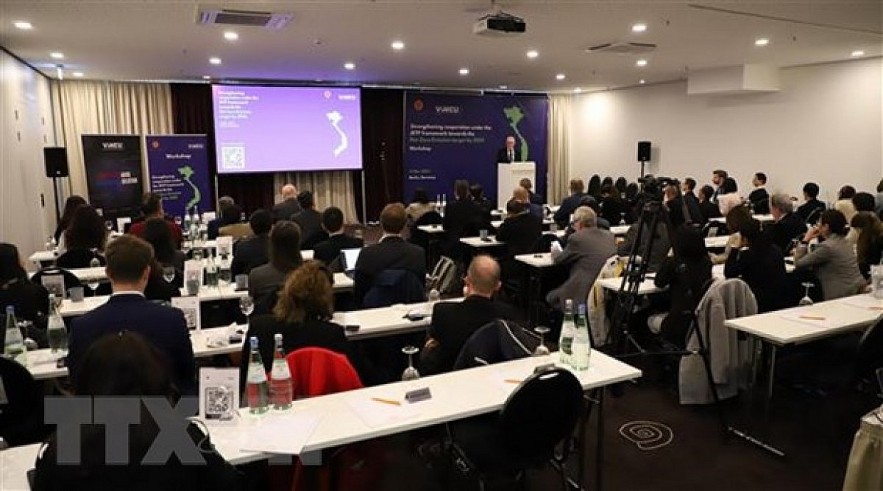 At the event (Photo: VNA)
Therefore, the country urgently needs the co-operation and support of international partners to achieve this goal. The seminar held on the sidelines of the Berlin Energy Transformation Dialogue Week 2023 can be viewed as a great opportunity for parties to address the issues and key aspects of the JETP implementation with a vision and action plan aimed at continuing the journey towards a green Vietnam and a green world, especially in today's complex and challenging international environment, the Vietnamese diplomat went on to say.
Currently, the Ministry of Industry and Trade of Vietnam is also trying to finalise the National Electricity Development Plan for the 2021 to 2030 period with a vision to 2050 towards gradually reducing dependence on fossil energy sources. This will mark a shift to focus on developing renewable energy sources such as hydropower, onshore and offshore wind power, solar power, and biomass in order to reduce greenhouse gas emissions in the time ahead.
In his online opening speech, Deputy Minister of Industry and Trade Dang Hoang An affirmed that after the COP26 Conference, the Vietnamese Prime Minister directly served as head of the National Steering Committee to focus on the implementation of Vietnamese commitments, duly assigning ministries and sectors to work out action plans in each field.
The energy transition process is therefore being directed to accelerate in the spirit of promoting internal resources, combined with enhanced ties and support from international partners along with bilateral and multilateral financial institutions.
Deputy Minister Dang Hoang An made it clear that along with the nation promoting its own internal resources, partners will be a companion to support the nation in achieving its net zero emissions target by 2050, as well as speeding up the peak greenhouse gas emissions and transform from fossil fuels to clean energy.
For his part, Jochen Flasbarth, State Secretary at the German Federal Ministry for Economic Cooperation and Development, expressed a special impression about his visit to Vietnam last September when he witnessed the nation's efforts in deploying renewable energy.
According to Flasbarth, with the advantage of having a huge capacity from wind and solar energy, the country can become a pioneer in the energy transition process in Southeast Asia.
The Vietnamese government has also demonstrated its ambitious goals related to mitigating climate change and reducing dependence on thermal power plants as it prepares for a future clean energy system, he added.
However, Flasbarth said the energy transition can only be successful providing that it is done equitably and offers opportunities for domestic industries, as well as decent employment opportunities for local people.
Furthermore, the targets of the JETP must be quickly translated into concrete strategic policies and measures, Flasbarth said while affirming his nation's readiness to become a reliable and capable partner for the Vietnamese energy transition process.
Available solutions of the EU in general and Germany in particular can be transferred to Vietnam through investment and trade activities.
As vice president of the VINEU, Cao The Anh, who represents Vietnamese experts, intellectuals, scientists, and businesses researching and working in Europe, is also committed to contributing to both national and international sustainable development through innovation, science-technology, and technology transfer.
Some opinions put forth at the event also showed that it is necessary to establish a joint working group in co-ordination Vietnamese and German relevant ministries in order to quickly carry out initiatives related to JETP.
Favourable visa policy would help tourism sector thrive: experts
Under the proposal, which has been submitted to the National Assembly, the validity of e-visas will be extended to 90 days from the current 30 days, with single and multiple entries, and be granted to citizens of all countries and territories.
The Government's proposal to loosen the visa policy for foreigners would untangle a knot in the tourism sector, facilitating international arrivals and enhancing the competitiveness of Vietnamese tourism, according to insiders.
Under the proposal, which has been submitted to the National Assembly, the validity of e-visas will be extended to 90 days from the current 30 days, with single and multiple entries, and be granted to citizens of all countries and territories.
The temporary residence issued at the border gate for people entering the country under the visa exemption categories will also be increased from 15 days to 45 days.
Breakthrough solution development
Commenting on the proposal, Chairman of the Vietnam Tourism Association Vu The Binh said that it is good news for the tourism sector, as although Vietnam reopened the sector earlier than those in the region, the country has offered less open visa policies, which was likely the reason why Vietnam was not able to reach its target in the number of foreign visitors last year.
Bình said that once approved, the new policy will motivate the development of tourism activities, especially international tourism. He added that the policy, coupled with the rich resources, will help the sector recover and develop rapidly.
The official analysed that high-spending tourists, the target group of Vietnam, often stay for at least three weeks, while Vietnam's current policy allows them to stay for only 15 days, making Vietnam not a good choice for them. He said that applying e-visa will also help save time for tourists.
Deputy Director of the Vietnam National Administration of Tourism (VNAT) Pham Van Thuy said that loosening visa policy will be a new step forwards for Vietnam to catch up with other countries in the region and the world, providing the best conditions for tourists to enter Vietnam.
According to Thuy, the loosened visa policy will meet the demand of travel firms and the tourism sector, enabling them to compete with their regional rivals.
"It will create a 'golden chance' for Vietnamese tourism to thrive."
Removing bottlenecks in tourism
Experts asserted that once the Government's proposal is approved, the tourism sector and the VNAT should be responsible for popularising the new policy to the international community through diverse communication activities.
The World Tourism Organisation (UNWTO) and the World Travel and Tourism Council (WTTC) analysed that a favourable visa policy would increase international arrivals by 5-25 per cent per year.
A study on the impact of visa exemption on five West European countries by the Tourism Advisory Board (TAB) showed that the average number of visitors from these countries to Vietnam had increased by nearly 20 per cent.
This proves that changes in the visa policy towards more flexibility and openness are always the 'key' to attracting international visitors, creating a great breakthrough for tourism.
Since March 15, 2022, when international tourism resumed, Vietnam has started to re-apply the bilateral and unilateral visa exemption policy, in which citizens of 12 countries have enjoyed visa exemption under the unilateral visa exemption scheme while those of 13 countries, including 11 European countries (instead of only five countries previously), have also enjoyed the exemption under the bilateral scheme. Vietnam has also issued e-visas to citizens of about 80 countries.
However, many countries in the region have offered visa exemptions to an even larger number of countries. For example, Singapore has applied the policy to 162 countries, the Philippines 157, and Thailand 65.
A Vietnamese tour guide speaking to foreign tourists at My Sơn Sanctuary in the central province of Quang Nam. Photo: VNS
On the other hand, Vietnam's most popular visa-free period (15 days) is much shorter than that offered by other countries in ASEAN (usually 30 days or more).
Many ASEAN countries have increased the visa exemption period from 30 to 45 days, and even 90 days, to facilitate international tourists, cited VNS.
Vietnam's short visa exemption period is unsuitable for the long-term travel needs of international visitors, especially those from far-away countries such as Europe.
The extension of the visa-free duration is also expected to help Vietnam attract visitors who enter Vietnam for trade and investment purposes in combination with tourism. Travel firms also proposed visa exemptions for MICE or golf tourists.
In the recently released White Book on the 2022-23 period, which is themed on working toward a green economy and sustainable development and fully implementing the EVFTA and completing the ratification of EVIPA, the EuroCham clarified that the entry visa policy is one of the levers that have the greatest impact on the flow of international tourists. After the COVID-19 pandemic, many countries are seeking ways to expand the scope of visa exemption.
It said this would help improve competitiveness, attract direct investment and increase the flow of international tourists, thereby increasing foreign currency revenue and creating more jobs.
Therefore, the tourism sector praises the Government's proposal as an effective measure to boost its growth.
Vietnamese businesses strive to green the economy
The Vietnam Association of Foreign-Invested Enterprises (VAFIE) recently hosted a ceremony to release the Annual Report on Foreign Direct Investment 2022, featuring green growth and digital transformation. Currently, foreign investment is on the way to enter Vietnam's green energy sector.
Although solar power is an emerging industry in Vietnam, it is a global development megatrend. Vietnam has a huge potential for solar energy due to its proximity to the equator and the existence of dry and sunny areas in the south. With optimistic growth and outstanding achievements, An Hao Solar Park invested by Sao Mai Group is honored to be voted as one of the Top 10 renewable energy projects in Vietnam for many consecutive years.
According to the American online technology website Earth and Human (EHC), "solar energy is an inexhaustible renewable energy source endowed on human beings. This is the fastest-growing energy source in many parts of the world today. It is expected to surpass hydroelectricity and become the most widely used energy source in the world by 2030."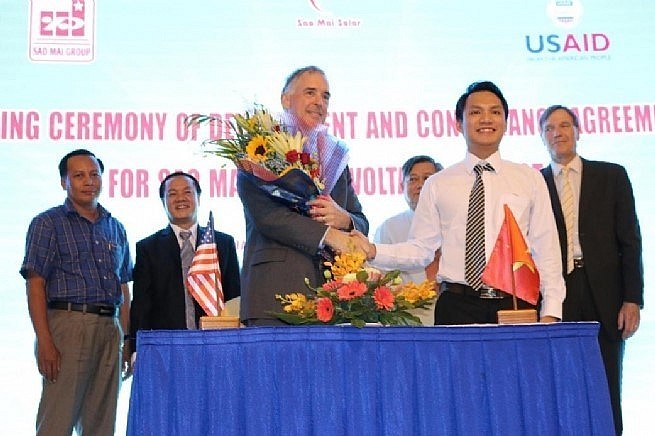 USAID and Sao Mai Group.
The most successful one is possibly An Hao Solar Park in Tinh Bien district, An Giang province, Vietnam. It is famously likened to a strong "magnet" that lures netizens, domestic and foreign business communities. While ensuring national energy security and being absolutely friendly to the surrounding environment, there is a specialized power storage solution powered by energy conservation equipment and technologies imported from advanced countries in the world.
In addition to revenue from commercial electricity, this place has enhanced the mixed development of "green tourism" and "organic agriculture" on the same land to bring the added value to the highest possible. The solar park is blessed with a picturesque stature that leans on Cam Mountain, the highest of That Son Range. This place is also famous for its charming scenery and fresh climate.
This is gradually becoming a must-visit attraction for tourists from all over the world. It is also very famous for the spiritual culture and beliefs about the legend on Buddhist Rock Hand, cited WVR.
Visitors can experience and explore the majestic solar farm, travel on electric cars to watch long lines of green batteries or try the feeling of embracing the earth, the sky and the mountain in your arm when standing on the Sao Mai Tower. Looking further, they will see immense fields and fruitful jaggery trees in the frontier.
This place is also known as the paradise of flowers because they do not grow alone but are skillfully planted into dreamy, airy gardens with charming pinkish garden cosmos, yellow sunflowers, violet heather and countless lovely miniatures that form a unique backdrop for mesmerizing photos.
According to USAID's General Director, "the fact that Vietnam currently relies on 25% of solar energy is a big step. But given huge emissions from the US, from Vietnam's neighbors and from Vietnam itself, we need to accelerate that process and the transition to renewable energy, which includes but is not limited to, solar power".
Christine Gandomi, representative of USAID Vietnam, affirmed that "An Hao Solar Park was supported and appreciated from the very beginning until it is operated more effectively than expected. It is making an important contribution to limiting greenhouse gas emissions, protecting the environment and reducing dependence on fossil fuels.
Vietnam remains favoured destination for global investors
Investors hold an optimistic view of the country's start-up eco-system, according to the 2023 Vietnam Innovation and Tech Investment Report.
Released by the Viet Nam National Innovation Centre (NIC) and Do Ventures at the Vietnam Innovation Forum titled "Sailing the digital sea" in HCM City on Thursday, it was the third annual report.
It said: "Despite the turbulent global investment climate, Vietnam remains a favoured destination for investors due to its sturdy economic growth and skilled young workforce."
The most common advice given to start-ups was to focus on the fundamental aspects of business, utilise capital wisely with a strategic approach and adjust to changes in the economic climate.
The country's venture capital developments began to reflect global economic distress.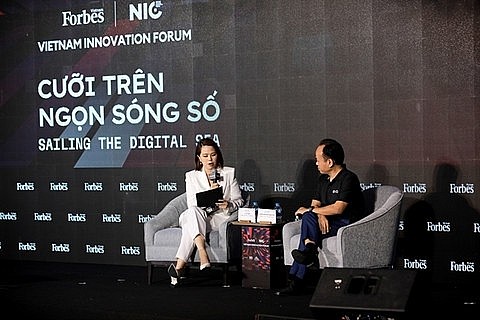 Speakers at the Vietnam Innovation Forum titled "Sailing the digital sea" in HCM City on Thursday. Photo: NIC
So, despite a strong economic rebound, there was a 56 per cent decline in venture capital deal values from the previous year. The latter half of 2022 was particularly challenging, with a 65 per cent drop due to the intensifying global tech crunch.
But there was a rise in deal count, suggesting sustained funding momentum despite the global headwinds.
In spite of the funding winter, investors continued to express interest in Vietnamese start-ups, with only a minor decrease in the number of foreign funds investing in last year.
In a noteworthy development, Vietnamese investors took the lead as the most active investors for the first time, jointly holding top position with their Singaporean counterparts. Local venture capital firms continued to play an important role with an increasing impact on local start-ups.
There was steady growth in the number of US$10-50 million deals, indicating that companies that raised pre-A and series A rounds last year had progressed to the next stage of growth, cited VNN.
But the number of $50million+ deals saw a sharp drop that caused an overall slump in total deal value.
The financial services sector received the most significant funding following a remarkable 249 per cent rise.
Fintech deals displayed resilience, accounting for 38 per cent of the total capital invested, up 4 percentage points from the previous year.
Though the retail sector experienced a decline of 57 per cent, it remained the second most active vertical. Healthcare, education and payments continued to be among the most funded sectors.
'Sailing the digital sea'
The Vietnam Innovation Forum was a joint effort by the NIC, Forbes Vietnam and Do Ventures to encourage and promote innovation.
It brought together leading investors, tech conglomerates and start-ups from Southeast Asia such as unicorn Insider, SK Group, STIC Investments, and Golden Gate Ventures.
It gave an overview of innovation activities in Vietnam in 2022 and shared the latest technology trends and foreseeable changes, identifying opportunities for Vietnam to seize in future.
Participants made vital proposals for the Government for removing difficulties and obstacles and building a conducive investment and business environment.
Deputy Minister of Planning and Investment Tran Huy Dong told the forum that the Government had assigned his ministry to amend the regulations on launching a venture capital fund in accordance with international practices.
According to Google and Temasek, Vietnam's digital economy will be worth $43 billion by 2025.
Last year, the country reported the fastest growth in Southeast Asia in the digital economy, which rose by 28 per cent from $18 billion to $23 billion.