Vietnam News Today (Dec. 26): 5 More Hanoi Districts Suspend On-site Dining
Vietnam News Today (Dec. 26): Vietnam reports 15,559 new Covid-19 cases; Vietnam - Japan regular international flights set to reopen in early 2022; 5 more Hanoi districts suspend on-site dining; WB remains positive on Vietnamese GDP growth target for next year.
Vietnam News Today (Dec. 26) notable headlines
Vietnam reports 15,559 new Covid-19 cases
Vietnam - Japan regular international flights set to reopen in early 2022
5 more Hanoi districts suspend on-site dining
WB remains positive on Vietnamese GDP growth target for next year
Lantern Festival to light up ancient Hoi An
Deputy Minister requests efforts to remove IUU fishing warning
CAAV suggests more flights to Japan, RoK, Taiwan (China)
Vietnamese tourist hotspots that glowed on the global map this year
Trade counselor suggests other export methods to Chinese market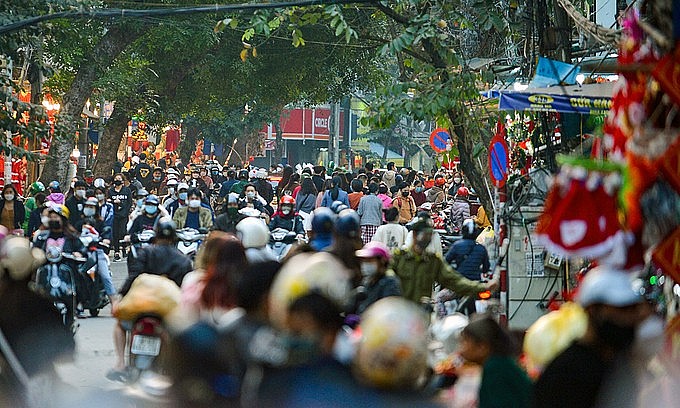 Hanoians flock to Hang Ma Street on December 23, 2021. Photo: VnExpress
Vietnam reports 15,559 new Covid-19 cases
Vietnam confirmed another 15,559 Covid-19 cases Saturday in 57 cities and provinces, with Hanoi leading the tally for the fifth consecutive day.
The Health Ministry said that Hanoi had 1,879 new cases, followed by the southern province of Tay Ninh with 946 and its neighbor HCMC with 885 cases.
The ministry also confirmed 241 Covid-19 deaths, including 42 in HCMC and 39 in Dong Nai, raising the national Covid death toll to 31,007, or 1.9 percent of the total infections, cited VnExpress.
The fourth wave that hit Vietnam late April has until now seen over 1.62 million Covid cases. Of these more than 1.22 have recovered.
Over 65.3 million people of Vietnams 96 million population have been vaccinated with two doses, and more than 2 million have received the third dose.
Vietnam - Japan regular international flights set to reopen in early 2022
Regular international flights carrying passengers in both directions between the nation and Japan will be operated by Vietnam Airlines, Vietjet Air, Japan Airlines, and All Nippon Airways as of January 1, 2022.
Dinh Viet Thang, director of the Civil Aviation Authority of Vietnam (CAAV), has recently sent a document detailing the reopening to relevant units.
According to the plan, the CAAV has requested that airlines, in addition to the currently licensed flights, submit an application to the CAAV for consideration of a flight license in line with content that has been agreed upon between aviation authorities of both nations.
Specifically, Vietnam Airlines will operate a flight route between Hanoi/Ho Chi Minh City and Tokyo, with a frequency of three one-way flights per week, while Vietjet Air will fly on the Hanoi/Ho Chi Minh City-Tokyo route one one-way flight per week.
Japan Airlines and All Nippon Airways of Japan will also fly the Tokyo-Hanoi/Ho Chi Minh City route, with a frequency not exceeding four one-way flights per week for both airlines.
Photo: VOV
The CAAV has therefore requested that airlines conduct inspections aimed at ensuring that passengers have fulfilled the requirements for pandemic prevention and control before boarding aircraft entering Vietnam, according to VOV.
In line with this, passengers must have a certificate showing negative test results for SARS-CoV-2 before entering the country, a certificate of vaccination, a vaccine passport, or a certificate of recovery from Covid-19.
For passengers who have yet to be fully vaccinated or who have not been certified for complete recovery, they will have to present a certificate of eligibility for facilities and equipment. This is in order to ensure home isolation or a confirmation of hotel reservation within at least seven days according to the locally announced list of eligibility for isolation.
Furthermore, the CAAV requests that the airport authorities of the North and the South fully notify state management agencies at Noi Bai and Tan Son Nhat international airports.
The Airports Corporation of Vietnam (ACV) is responsible for arranging adequate premises, equipment, and resources to ensure the smooth operation of two-way regular flights.
5 more Hanoi districts suspend on-site dining
Five more Hanoi downtown districts will suspended in-person dining from Sunday, after seeing their coronavirus risks increase to "high."
Ba Dinh, Hoan Kiem, Hoang Mai, Nam Tu Liem and Tay Ho District will only allow eateries to serve takeaways and limit large gatherings from Sunday noon, actions that have been taken by Dong Da and Hai Ba Trung Districts earlier this month.
The capital on Saturday classified six districts, Hoan Kiem, Ba Dinh, Hoang Mai, Long Bien, Nam Tu Liem and Tay Ho, as having high coronavirus risks. Including Dong Da and Hai Ba Trung, eight out of 12 Hanoi districts are now classified as having high coronavirus risks.
Yet Long Bien has not announced restrictions regarding its new risk status.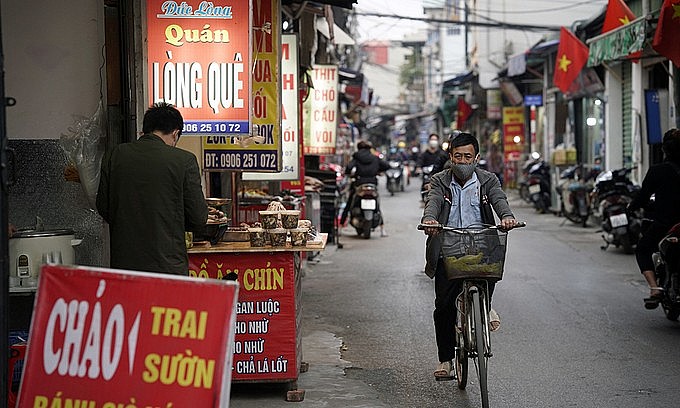 An eatery prepares takeaway portions in Hanoi's Hoang Mai District. Photo: VnExpress
Per existing Covid-19 prevention protocols, places deemed as having high coronavirus risks will need to suspend certain non-essential activities like on-site dining, cultural, sporting and entertainment activities. Food and beverage establishments must also be closed before 9 p.m., and wet markets be suspended.
High-schools in the districts that have opened for 12th graders earlier will be closed and students will return to online classes, reported VnExpress.
Residents are recommended not to leave home unless for necessary reasons.
Tay Ho District will also close its walking streets.
On a whole, Hanoi still classifies as having a medium coronavirus risk. Throughout the entire city, only Phuc Tho District remains at low risk.
Hanoi has recorded the highest number of daily new Covid-19 infections, typically around 1,500 cases. Around 98 percent of its adult population have received at least one Covid-19 vaccine dose.
WB remains positive on Vietnamese GDP growth target for next year
The nation's target of recording GDP growth of between 6% and 6.5% next year is entirely feasible, providing it can effectively control Covid-19 and ensure supply-demand balance, according to Jacques Morisset, lead economist and program leader for the World Bank (WB) in Vietnam.
Morisset said that the greatest risk to the Vietnamese economy in 2022 is complicated developments relating to the pandemic, particularly the emergence of new variants.
He also mentioned a range of internal economic risks, noting that the country is an open economy which will depend on the situation in other nations globally.
Another factor is possible inflation, he said, noting that the local economy is currently facing import inflation, while domestic commodity prices have yet to increase due to demand remaining lower than supply.
Jacques Morisset, WB Lead Economist and Programme Leader for Vietnam. Photo: VNA
With regard to Vietnamese economic prospects moving forward, Morisset pointed out three fresh motivations to boost growth.
Most notably, the emergence of the Covid-19 pandemic has indirectly made the nation one of the most reliable destinations for many large foreign enterprises, many of which are focused on diversifying their supply chains, he said.
The country is also capable of taking advantage of opportunities from the green economy, he noted, saying that the nation is one of the most affected by climate change, but it can also take advantage of this, cited VOV.
The third growth driver is domestic demand, particularly as Vietnam develops into a higher income country with a growing number of middle-class people, domestic demand will become stronger, he said.
Morisset went on to outline that the WB will continue to support the nation in achieving its ambitious goal of becoming a high-income and prosperous country by 2045.
The WB is therefore working closely along the Vietnamese Government to promote sustainable development and effectively respond to the threat of climate change in the Mekong Delta region, along with reducing air pollution which regularly hits major cities, he said.
Moreover, both sides are uniting in areas of inclusive development and gender-related issues in order to ensure people's participation in the economy, minimize the impact of the pandemic, and fully tap into future opportunities, the economist said.
Lantern Festival to light up ancient Hoi An
The 2022 Hoi An Lantern Festival, a special cultural and art event, will open on December 25 at the Hoi An Memories Island, just in time to celebrate Christmas and welcome in the New Year.
The event, called Lighting Up Memories – Awakening Hoi An, is part of a series of cultural performances and art celebrations that will be held between December 24 and February 15, marking the start of post-Covid-19 tourism events for 2022.
When visiting the ancient town, visitors will be immersed in a shimmering and romantic old town space decorated with colorful lanterns, featuring cultural and artistic activities during the festival, which runs until February 15, 2022.
The event starts with an art troupe from Hoi An Memories marching down the streets, carrying lanterns from the Cau Pagoda before returning to Hoi An Memories Island by boat on the Hoai River.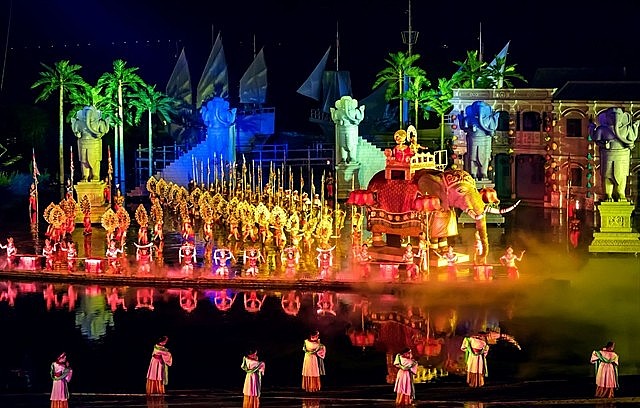 Photo: VNS
The moment when lanterns, symbols of the city's culture, arrive at the Hoi An Memories Island in the middle of Hoai River will showcase a strong and vibrant Hoi An City that is ready to welcome visitors in the new year of 2022, according to organizers.
Than Thi Thu Huyen, CEO and representative of Hoi An Memories Island, said the ancient town is trying to organize many new, special and attractive activities to lure tourists back.
She said it is necessary to have a cultural tourism product of high quality, on a large scale and with a good sense of entertainment.
The reopening of Hoi An Memories aims to be a highlight of Hoi An tourism.
More than 20 mini-shows, along with Christmas miniatures with unique shimmering lanterns, will also be introduced to the public by Hoi An Memories. Ten will be new shows seen for the first time. The mini-shows are immersed in mysterious prayers, enchanting dances and Geisha performances.
Through these cultural features, visitors will also have a chance to understand more about the cultural beauty and beliefs of the people in Quang Nam Province.
Chairman of the Quang Nam People's Committee Le Tri Thanh has agreed to select Hoi An Memories as a special scene art program and a venue for the opening program of the National Tourism Year 2022, taking place on March 25, 2022, VNS reported.
The return of Hoi An Memories shows promise to brighten up the Hoi An Town with a 25,000 sq.m outdoor stage elaborately designed with real houses, shops and streets simulating exactly the ancient town in the middle of Hoai River.