Vietnam News Today (July 5): HCM City Becomes Biggest Covid-19 Epicenter as New Cases Surge
Vietnam News Today (July 5): HCM city becomes biggest Covid-19 epicenter as new cases surge; Retailers overwhelmed by surge in online orders for essential items; Two more Vietnamese athletes earn Olympic slots and Apartment prices rise despite pandemic concerns.
Vietnam News Today (July 5) notable headlines
HCM city becomes biggest Covid-19 epicenter as new cases surge
Retailers overwhelmed by surge in online orders for essential items
Two more Vietnamese athletes earn Olympic slots
Apartment prices rise despite pandemic concerns
Bac Giang to increase tourism's contribution to economy
Ninh Thuan develops more grape varieties for making wine
Vietnam's Covid-19 vaccine strategy: speeding up vaccinations with 1 million doses per day
Vietnam transport ministry urged to report on new cargo airline
Vietnam welcomes third FDI wave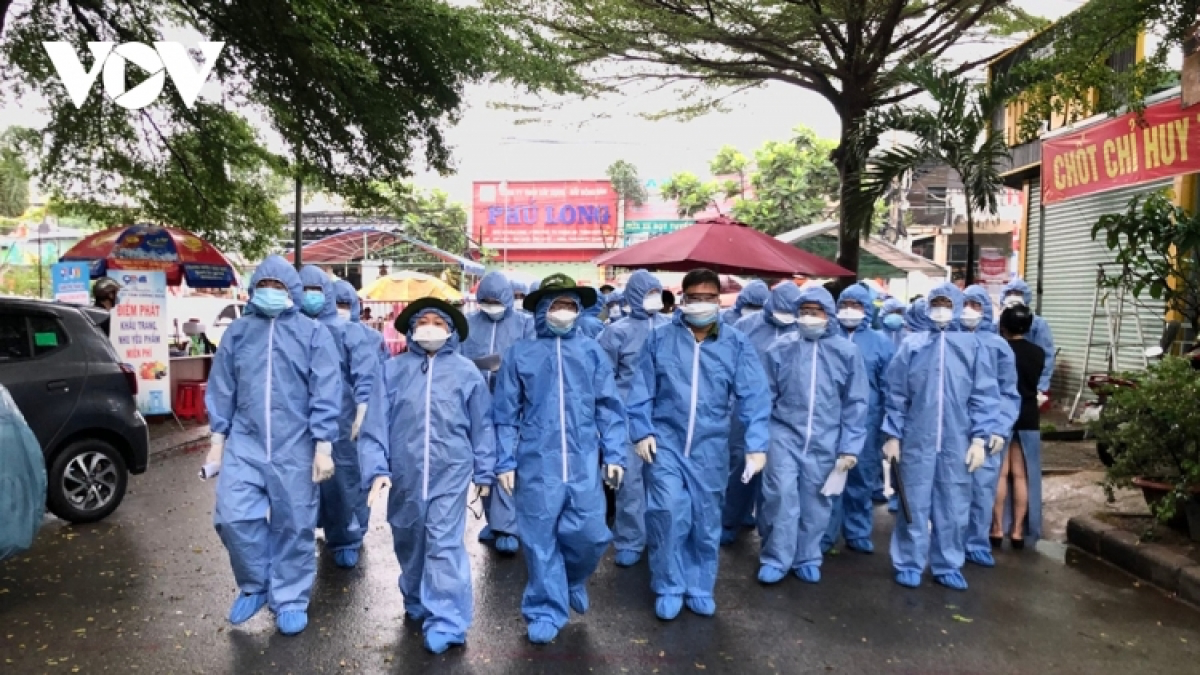 Photo: VOV
HCM city becomes biggest Covid-19 epicenter as new cases surge
Ho Chi Minh city reported the latest discovery of a further 169 local cases of Covid-19 on July 4 evening, taking its daily infection count to 599 on a single day, according to the Ministry of Health.
The new additions have propelled the southern metropolis's infection tally to rank first in the latest coronavirus wave with more than 6,034, surpassing Bac Giang province with 5,631.
On July 4 saw the nation recorded a total of 887 fresh cases, including 873 community cases and 14 imported infections.
The new cases in HCM city were found within quarantine zones and locked down areas, while those in other localities primarily came into close contact with infected patients.
As many as 16,502 locally-transmitted cases were detected in the latest coronavirus wave that hit the nation more than two months ago, cited VOV.
The same day, a further 176 coronavirus patients were declared clear of the virus, boosting the total recoveries to 7,819, while the death toll has climbed to 86 following the confirmation of two fatalities relating to Covid-19.
To cope with the worsening pandemic situation, Prime Minister Pham Minh Chinh on July 4 chaired a virtual meeting with leaders of eight southern localities in an effort to contain the COVID-19 pandemic as swiftly as possible.
According to the Ministry of Health, as of July 4, 19,933 positive cases in total were confirmed, including more than 17,000 found in the current coronavirus wave. It is worth noting that HCM city is facing the most challenging wave of Covid-19, with large number of cases being recorded every day, while infection sources of many case have yet to be identified.
The cabinet leader asked HCM city and neighbouring localities to coordinate efforts to ensure both pandemic prevention and control and business and production activities.
Retailers overwhelmed by surge in online orders for essential items
The unprecedented volume of online orders at major grocers and supermarket chains in Ho Chi Minh city due to the public's concern over Covid-19 has resulted in cancellations and long delays in delivery.
"I called the supermarket's customer hotline for online ordering early in the morning and received a reply at noon they were out of stock," said Tran Thi Mai, who lives in Binh Khanh Apartment in Thu Duc city, according to VNA.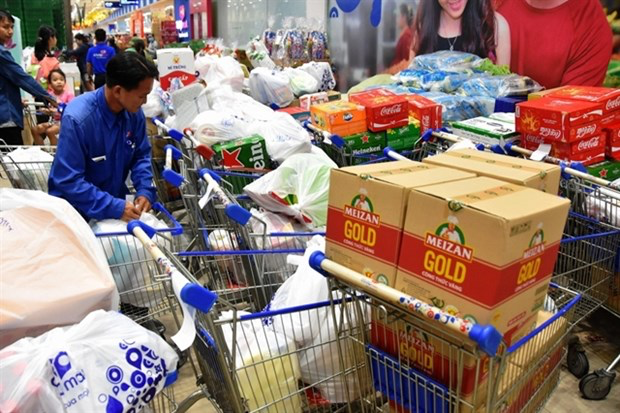 An employee from a supermarket in HCM city delivers goods to customers. Photo: congthuong.vn
Many major grocery stores and supermarkets near her apartment were temporarily closed due to local cases of infection, making stores that were open more crowded, she said.
As it was impossible to order online, she had to shop for groceries at noon to avoid crowds, she said.
Retailers said they were racing to add online shopping and ramping up staff for home delivery services amidst the continuing lockdown and strict social distancing requirements, but admitted it was still a tall order since there was a 300-600 percent spike in online shopping.
The sales director of an e-commerce platform said the pandemic had accelerated the shift in retailing from offline to online.
Fast delivery within two to four hours was a vital part of online orders for groceries and fresh vegetables, fruits and food, but the boom in online grocery was precluding that, he said.
In HCM city, traditional markets account for 60-70 percent of retail sales of agricultural produce, food and foodstuffs consumed.
Ninety-three out of its 234 traditional markets are temporarily closed to combat the outbreak.
Two more Vietnamese athletes earn Olympic slots
Judo fighter Nguyen Thi Thanh Thuy and swimmer Nguyen Thi Anh Vien are Vietnam's latest Olympians.
Thuy got her ticket to the Olympics after passing the qualifiers, while Vien managed to meet all qualifying standards for the Games.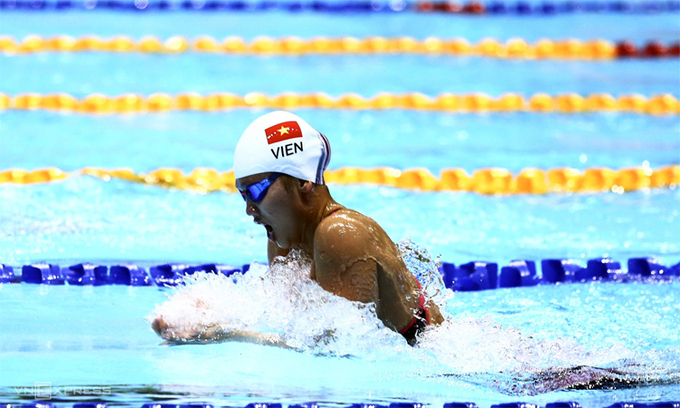 Swimmer Nguyen Thi Anh Vien at SEA Games 30 in 2019. Photo: VnExpress/Pham Duong
Due to the Covid-19 pandemic, Thuy has struggled to compete in overseas tournaments to accumulate enough points for Olympic qualification. When the results were announced in June, Thuy exited the top 10 judo athlete ranks in the 52 kilogram or less category, peaking at 11th. However, with the withdrawal of North Korea from the Olympics, their judo athlete Yu Sun Jon also exited the top 10 and was replaced by Thuy, which proved enough to gain her a ticket.
This is Vien's third time at an Olympic event, after Olympics London 2012 and Olympics Rio 2016. She got her ticket this time by reaching the Olympic Selection time in the 200 meter and 800 meter freestyle category, cited VnExpress.
It's expected Vietnam would see another Olympic-qualified athlete in women's boxing.
A total 20 Vietnamese athletes have claimed their tickets to Tokyo this July.
All athletes to have qualified for the Olympics were vaccinated for Covid-19 and are ready to go.
According to plan, Vietnamese athletes will go to Tokyo on the event on July 18. Shooting, weightlifting and gymnastics are expected to bring Vietnam medals.
Apartment prices rise despite pandemic concerns
Apartment prices in northern Vietnam's primary market have increased for the 10th quarter in a row despite rising coronavirus concerns, a Savills report says.
The real estate consultancy says the average price of apartments in the primary market was US$1,625 per square meters in Q2, a 7 percent increase from the previous quarter and an 11 percent increase year-on-year, reported VnExpress.
Grade B apartments had the highest price increase of 13 percent year-on-year.
Limited supply is a main factor for the increase, the report says. The availability of new apartments in the second quarter was the lowest in five years, at around 1,600 units – a 60 percent decrease from the previous quarter, and a 74 decrease year-on-year.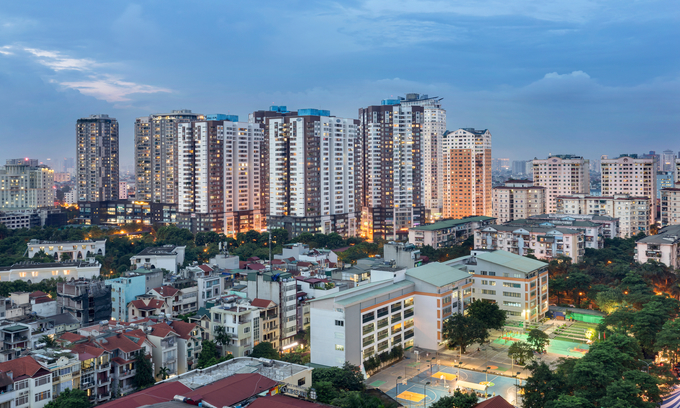 A view of Cau Giay district in Hanoi. Photo: Shutterstock/TuananhVu
Given the concerns about Vietnam's fourth Covid-19 wave, investors are also refraining from putting more apartments on the market, the report says.
The supply in the primary market experienced a 13 percent drop from the previous quarter and a 27 percent drop year-on-year, to only 21,300 apartments.
Other factors in the increasing prices include improved infrastructure, higher development standards and rising steel prices, the report says.
Since 2017, the prices of apartments in primary markets have increased by 14 percent a year in Hanoi's Cau Giay District, where several high-quality healthcare and education facilities are located. The corresponding figure in Long Bien District is 12 percent, given its proximity to downtown areas and recent infrastructural improvements, including several interconnected traffic routes.
Other Hanoi districts like Dong Da, Thanh Xuan and Tu Liem have also seen apartment prices increase.
Bac Giang to increase tourism's contribution to economy
The northern province of Bac Giang will bring its strengths into full play to make tourism a major economic contributor and welcome about 3-3.5 million tourist arrivals each year by 2025, according to Deputy Director of the provincial Department of Culture, Sports and Tourism Nguyen Trong Bac.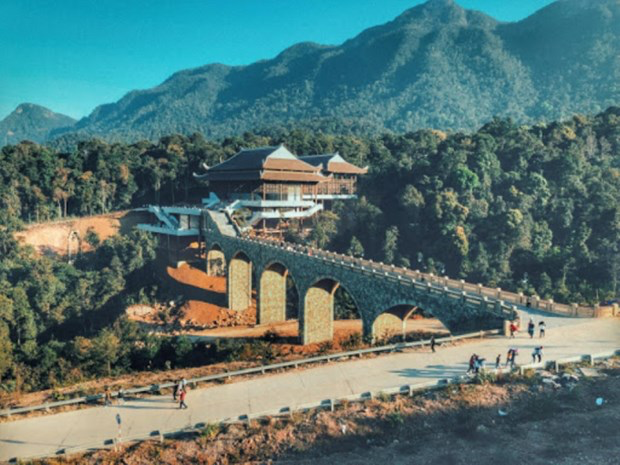 Tay Yen Tu complex, a popular tourist destination in Bac Giang. Photo: baobacgiang.com.vn
The province plans to attract investment into local tourist sites with more diverse investment forms for investors. It will focus more on preserving and restoring traditional festivals and cultural activities as well as craft villages, while protecting and upgrading local relics as part of efforts to foster the industry's sustainable development.
It will also look to boost culture and religion-based tourism and make the most of cultural heritages such as "Quan Ho" (love duets), "Ca Tru" (ceremonial singing), "Chau Van" (ritual singing), "Then" singing, and folk music from local ethnic minority groups, to boost tourism, cited VNA.
Bac Giang will develop infrastructure and enhance service quality at tourist and historic relic sites, offering more unique and appealing tourism products in various areas, from culture, religion, history, and culture to eco-tourism, leisure, and entertainment. It plans to ramp up tourism promotions and create tours linked with popular destinations in other cities and provinces.
The province is paying greater attention to developing and training a high-quality workforce and accelerating the use of technologies in the sector. It has built a smart tourism portal and a digital tourism map, and manages an online database of local lodging service providers.
Bac Giang has a long history and rich culture and is blessed with abundant natural resources.