Vietnam News Today (Mar. 24): Visa Exemption Means Foreign Tourists can Visit Phu Quoc for Up to 30 Days
Vietnam News Today (Mar. 24): Vietnam, OECD sign multilateral treaty for tax cooperation; Vietnam becomes favourite destination for Cambodian tourists; Visa exemption means foreign tourists can visit Phu Quoc for up to 30 days; Vietnamese food named among world's top best dishes.
Vietnam News Today (Mar. 24) notable headlines
Vietnam, OECD sign multilateral treaty for tax cooperation
Vietnam becomes favourite destination for Cambodian tourists
Visa exemption means foreign tourists can visit Phu Quoc for up to 30 days
Vietnamese food named among world's top best dishes
Thua Thien Hue moves to preserve the craft of conical hat making
Fifty years of relations, Vietnam and Italy lift strategic partnership to new heights
Vietnam, Mexico see ample room for trade cooperation: workshop
Italy - Vietnam relationship "strongly rooted in history": Ambassador
Deputy PM holds bilateral meetings on sidelines of UN 2023 Water Conference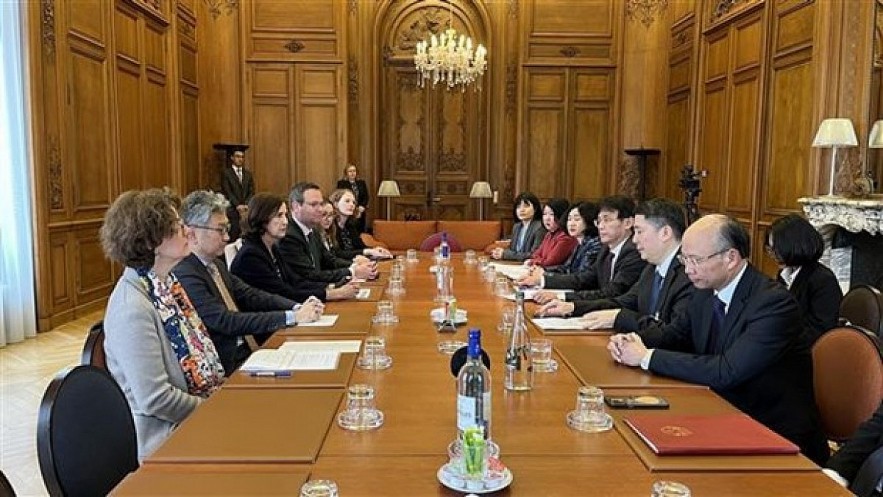 The Vietnamese delegation works with OECD representatives (Photo: VNA)
Vietnam, OECD sign multilateral treaty for tax cooperation
The Organization for Economic Cooperation and Development (OECD) and Vietnam on March 22 signed the world's most wide-reaching international treaty for multilateral tax cooperation, the Multilateral Convention on Mutual Administrative Assistance in Tax Matters (MAAC), bringing the total number of jurisdictions involved in the convention to 147.
The signing is set to pave the way for the nation to engage in the exchange of information with 146 other jurisdictions, including all major financial centres. These exchange relationships will be added to over 8,000 exchange relationships that are already in place under the terms of the convention.
Through the signing, the country joins in international efforts towards greater tax co-operation and exchange of information, thereby further enhancing the reach of the convention in Asia.
The convention also enables the jurisdictions to engage in a wide range of mutual assistance in tax matters, such as exchange of request information, spontaneous exchange, automatic exchange, tax examinations abroad, simultaneous tax examinations, and assistance in tax collection. It therefore guarantees extensive safeguards for the protection of taxpayers' rights.
It serves as the primary instrument for the swift implementation of the Standard for the Automatic Exchange of Financial Account Information in Tax Matters (Common Reporting Standard - CRS), cited VOV.
The CRS, which was developed by the OECD and G20 countries, enables more than 110 jurisdictions to automatically exchange offshore financial account information.
Beyond the exchange of information on request and the automatic exchange according to the standard, the convention also serves a powerful tool in the fight against illicit financial flows and represents a key instrument in terms of the implementation of the transparency standards within the work of the OECD/G20 Inclusive Framework on Base Erosion and Profit Shifting (BEPS).
Yoshiki Takeuchi, deputy secretary-general of the OECD, welcomed Vietnamese participation in the MAAC, saying that it shows the country's strong determination to prevent tax evasion abroad, move towards tax transparency, and deal with illegal financial flows.
According to information given by Takeuchi, the country's decision, made following its decision to join the Global Forum on Transparency and Exchange of Information for Tax Purposes in December, 2019, demonstrates Vietnamese commitment to global tax transparency.
Dang Ngoc Minh, deputy general director of the General Department of Taxation, said that the nation will move to accelerate the building of information infrastructure to exchange and exploit information from other nations, especially information of foreigners and transnational corporations.
The OECD currently has 38 member countries, most of which are among the most developed economies in the world. The organisation is currently headquartered in Paris, France.
Vietnam becomes favourite destination for Cambodian tourists
The number of Cambodian tourists coming to Vietnam has increased significantly, Tuoi tre (Youth) newspaper, citing statistics of travel agencies.
It said previously, Cambodians visited Vietnam mainly for medical services, but over several recent years, the inflow of middle-class visitors from the neighbouring country to Vietnam for tourism purpose has been rising, especially after the COVID-19 pandemic was put under control.
The central beach city of Da Nang, the ancient town of Hoi An, Da Lat – the city of thousand flowers in the Central Highlands region, Nha Trang, Vung Tau and the "Paradise Pearl Island" of Phu Quoc are some of top favourite destinations among Cambodian tourists.
Tran Quoc Thinh, director of Tay Ninh province's Tourism Promotion Centre said Cambodia is a traditional tourism market of Tay Ninh, which shares a 240-km border with Cambodia's Svay Rieng, Prey Vieng and Tboung Khmum provinces.
Cambodians regularly cross the border to Tay Ninh for sightseeing, shopping or visiting pagodas, especially on weekends or holidays, according to Thinh.
Visitors arrive at Moc Bai border gate in Tay Ninh province. Illustrative image (Photo: tuoitre.vn)
The province has introduced many new, unique and interesting tourism products such as caravan and cross-border road tours in order to lure more Cambodian tourists. Local tourist accommodation establishments and restaurants are also improving service quality to serve big tourist groups with longer stay.
Statistics of Tay Ninh's Department of Culture, Sports and Tourism showed around 2.1 million Cambodians have visited the province for tourism purpose since 2018. Although the number dropped in 2020-2022 due to COVID-19 travel restriction, a rising trend was seen in the first quarter of 2023.
Truong Duc Hai, director of Indochina Pearl Travel, noted that while more middle-class Cambodians are choosing beach resorts in Vietnam for their holiday, demand for medical tours remains high but there are limited products designed specifically for this segment. Such tours are mainly organised by Cambodian people living in Ho Chi Minh, he said, adding that it is necessary to introduce more professional and comprehensive medical tour products to serve this group of tourists.
At a tourism promotion event held by Tay Ninh in mid-2022, businesses of the two countries had pledged to join hands to boost tourism promotion activities and build new routes and tours to stimulate tourism demand.
Visa exemption means foreign tourists can visit Phu Quoc for up to 30 days
Phu Quoc Island is an ideal choice for travel and long-term relaxation, with a complete visa exemption policy for international visitors, a temporary stay of up to 30 days, a populous and rich nature, and impressive architecture.
Superior visa policy
Phu Quoc is currently the only destination in Vietnam with a unique visa policy.
According to current legal regulations, from July 1, 2020, foreigners and Vietnamese holding foreign passports entering, exiting, and residing on Phu Quoc island are exempt from visas with a temporary stay period of no more than 30 days.
Foreigners can enter an international border gate of Vietnam, stay in the transit area at that border gate, and then transfer to Phu Quoc island to be exempt from visas following the regulations.
Phu Quoc has its special visa policy because it is the only island that meets four conditions of visa exemption for foreigners under Vietnamese law. It has an international airport, a separate space, and definite geographical boundaries separate from the mainland. In addition, it matches the socio-economic development policy that does not jeopardise Vietnam's national defense, security, social order, and safety.
As an isolated island located in the Gulf of Thailand to the southwest of Vietnam, the means of transportation to Phu Quoc are very convenient with air, sea, and land routes. Tourists visiting this island can enter and exit through three international border gates including Phu Quoc International Airport Border Gate, Ha Tien International Border Gate, and Duong Dong Port International Border Gate.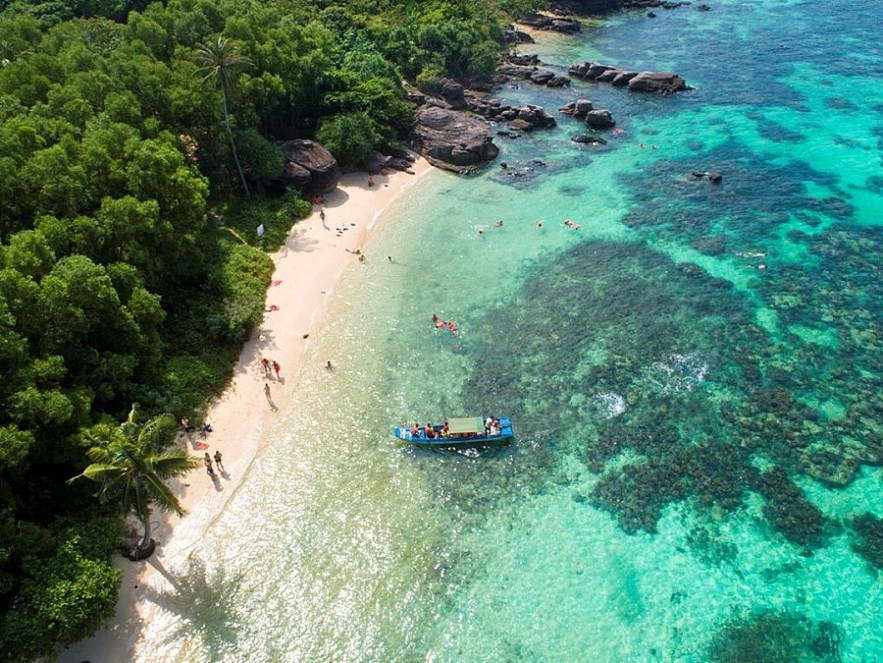 The attractive natural beauty of the An Thoi archipelago of Phu Quoc captivates tourists.
Currently, many international airlines from India, the Republic of Korea, Thailand, and Malaysia run multiple daily flights to/from Phu Quoc. Other countries continue to research and open flight routes to the island. Transportation on the island is also extremely convenient. Tourists can easily travel by a taxi or a bus, with the Duong Dong - An Thoi bus route as a case in point. In particular, tourists who have purchased tickets to Sun World Phu Quoc will enjoy free travel on the Duong Dong - An Thoi route.
Attractive nature with impressive architectural works
Phu Quoc is a favourite destination for tourists all over the world.
Tourists visiting the pearl island will enjoy fresh air with warm sunshine all year round and explore the rich and dreamlike island paradise, VOV reported.
These are the beaches listed as the 'most beautiful on planet' with fine white sand and limpid water to the bottom, such as Bai Kem and Bai Sao, the small islands of An Thoi archipelago, such as Hon Thom, Hon May Rut, Hon Mong Tay, and Hon Dam Ngang with pristine beauty, diverse marine - forest ecosystems, colourful coral reefs or amazing rocky cliffs.
There are also romantic sunsets when the sun dyes the ocean red on the island's southwest coast, or the end point of Ong Doi Cape - a 'one of a kind' place where tourists can watch the sunset and sunrise at the same place.
As well as freely exploring the sea and islands with many appealing activities such as swimming on the beach, kayaking, coral reef diving, canoeing around the islands, and night squid fishing, visitors to Phu Quoc also have the chance to discover the unique indigenous culture, and the world of rich and fresh specialties such as pepper, seafood and Phu Quoc fish sauce, along with visiting many historical sites such as Phu Quoc Prison, and Dinh Cau tourist attraction.
Possessing a rare natural beauty, Phu Quoc is compared to well-known tourist paradises in the world such as Maldives, Phuket (Thailand), and Bali (Indonesia).
In 2022, Phu Quoc was named 'the world's most attractive natural island' at the World Travel Awards ceremony, surpassing six destinations from other continents, including many islands that were once known as paradises like Zanzibar of Tanzania or Lofoten of Norway.
Previously, the world-famous travel magazine Condé Nast Traveler announced the list of 35th Readers' Choice Awards, with Phu Quoc being the only Vietnamese representative to be honoured as one of the 'Top 10 most loved islands in Asia'.
Phu Quoc also won many titles, such as the 25 most beautiful islands in the world in 2022 by Travel + Leisure or the 15 best islands for retirement, voted by International Living.
In addition, Phu Quoc also gathers world-class works honouring architectural art and culture, such as Sunset Town, Asia's largest show of multimedia technology on the water - Kiss The Stars, Sun Signature Gallery architectural art "museum", luxury resorts with impressive architecture such as JW Marriott Phu Quoc Emerald Bay Resort, New World Phu Quoc Resort, Premier Village Phu Quoc Resort, Sun World Phu Quoc beach entertainment complex with the world's longest cable car.
All of these works blend the quintessence of human architecture with indigenous culture, and they have been constructed in harmony and sophistication with the nature of Phu Quoc.
Tourists visiting Sunset Town in the South of the island will be able to witness with their own eyes Kiss Bridge – a unique architecture project in the middle of the ocean designed by famous architect Marco Casamonti in collaboration with Sun Group. The landmark work is expected to soon become a favourite check-in spot among youths and included in the world's most famous bridges list.
With a superior visa policy that creates maximum convenience for international tourists, amazing nature, rich culture, friendly and warm people, and impressive architectural works, Phu Quoc is on its way to becoming the world's new destination.
This island deserves to be the ideal choice for long-term vacations, lavish weddings of the global elite, programs, MICE activities, and international events.
Vietnamese food named among world's top best dishes
Vietnamese dishes including bo kho (stewed beef), bo nhung dam (beef in vinegar hot pot) and bun cha (grilled pork meatballs with vermicelli noodles) have been named among the world's 100 best meat dishes, according to readers' votes of the TasteAtlas, the world's most famous encyclopedia of flavors, traditional dishes, and authentic restaurants.
According to the website, bo kho includes ingredients such as diced beef, carrots, lemongrass, cinnamon, chili, pepper, garlic, and shallots, all simmered in a spicy and aromatic broth. It can also be served over noodles or bread, and it is customary to serve a variety fresh herbs on the side.
Bo nhung dam is a Vietnamese version of a hot pot that is traditionally served in communal style. In its basic form, the dish consists of a vinegar-flavored broth that may also include coconut milk or juice, lemongrass, onions, or other additions, while typical accompaniments include thinly sliced raw beef and an assortment of fresh vegetables and herbs such as bean sprouts, daikon, lettuce, cucumbers, mint, basil, and perilla leaves.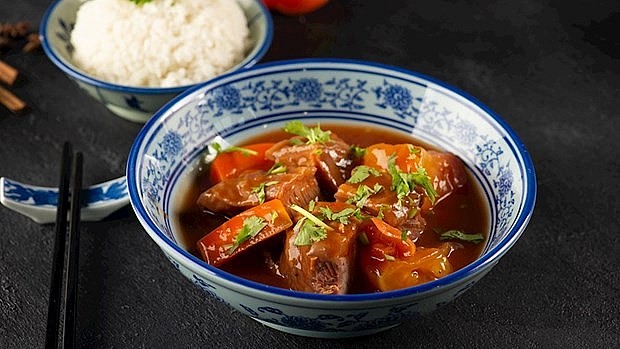 Vietnamese dishes including bo kho, bo nhung dam and bun cha (grilled pork meatballs with vermicelli noodles) have been named among the world's 100 best meat dishes (Photo: tasteatlas.com)
Bun cha is a pork and noodle dish that is intricately connected to Hanoi, where it is believed to have originated from. The dish combines three elements: a bowl of grilled pork meatballs served in a cold broth, a plate of rice noodles, and a combination of various fresh greens such as perilla leaves, lettuce, coriander, and morning glory.
Although bun cha or similar varieties can be found in other parts of Vietnam, the Hanoi version is held in high regard, a must-try dish to most of the foreign visitors.
Thua Thien Hue moves to preserve the craft of conical hat making
Together with the Ao Dai (traditional Vietnamese long dress), the conical hat is an item that closely associated with Vietnamese women. Conical hats are one of the unique handicraft products of Thua Thien Hue province. In recent years, the provincial authorities have adopted many measures to develop the brand of its conical hats, while safeguarding the locality's traditional culture.
The craft of conical hat making has been practiced in Thua Thien Hue for centuries. It has still well preserved today in Tay Ho village, Phu Ho commune; My Lam village, Phu My commune; and the villages of Phu Cam, Phuoc Vinh, Doc So, Trieu Tay, and Huong So in Hue city.
Craftsmen in the village sell millions of conical hats to the market every year, not only meeting the needs of the local people, but also providing an attractive souvenir for visitors to Thua Thien Hue province.
The craft of conical hat making has been practiced in Thua Thien Hue for centuries. (Photo: skhcn.thuathienhue.gov.vn)
Hue conical hat is the first handicraft product in Hue to be granted registration certificates of geographical indication.
Thanks to its unique traditional cultural value, the Hue conical hat is the first handicraft product in Hue to be granted registration certificates of geographical indication by the Intellectual Property Office of Vietnam under the Ministry of Science and Technology in August 2010.
In addition to the typical three-layer conical hats made from palm leaves, local artisans also use leaves from the lotus, bamboo, and Indian-almond trees as materials to produce conical hats, cited NDO.
With their talented hands, Vo Ngoc Hung and his wife, in Kim Long ward, Hue city, turn the leaves of Indian-almond trees into charming conical hats. Meanwhile, in Doc So village, An Hoa ward, Hue city, young Nguyen Thanh Thao succeeds in making conical hats from lotus leaves. Thao's product won A prize in a start-up innovation competition in Thua Thien Hue province in 2017.
However, the craft of conical hat making and its practitioners are facing many challenges.
A survey conducted in My Lam village in Phu Vang district showed that in the past, more than 300 households in the village earned their living from hat making, but now less than 20 women still keep the practice, with most of them being the elderly. In Phu Ho commune, Phu Vang district, the craft is still practiced in only 15 households.
The decrease in the number of practitioners can be attributed to a low and unstable income of only around 30,000-50,000 VND for a working day, making many people quit this job. Another reason is that the market for conical hats in Thua Thien Hue is still not stable. Even at Dong Ba market, a big market in the city centre and a major hub for traders of Hue conical hats, the proportion of Hue-made conical hats accounts for only 10-20%, while the majority of conical hats are imported from Quang Binh and Binh Dinh provinces.
A seminar was recently held under the theme 'Current situation and solutions for the sustainable development of Hue conical hats' by the Friedrich Naumann Foundation for Freedom (FNF) Vietnam the Hue Conical Hat Association.
Participants at the event suggested the launch of tours to the craft village, and the establishment of exhibition centres where visitors can explore the process of making the product. They also called for further financial support to organise trade promotion and communication activities to advertise Hue conical hats, and improve vocational training for local practitioners.
Director of the Thua Thien Hue provincial Tourism Department Nguyen Van Phuc stressed that the local authorities attach great importance to integrating the safeguarding of traditional crafts with tourism development. He explained that the development of tourism in craft villages not only generates greater incomes for locals but also contributes to diversifying the tourist products of the locality.
A Hue Conical Hat Association was established to help its members coordinate with hotels and travel agencies to introduce conical hats at tourist attractions as souvenirs.
According to the association's Vice President Pham Thi Lan, the association will also work to sign cooperation agreements with the management board of local markets in Hue city, especially Dong Ba market, to encourage the market traders to prioritise purchasing products made by the association's members.
In the coming time, Thua Thien Hue province will foster the application of information technology and digitalisation in developing the brand of Hue conical hats. The province also plans to open an exhibition centre on conical hat making to further promote the craft to visitors to the locality.