Vietnam yet to receive foreigners due to COVID-19 risk
Vietnam will continue to suspend receiving foreign travelers due to a high risk of SARS-CoV-2 virus transmission among the community, said Minister and Chairman of the Government Office Mai Tien Dung.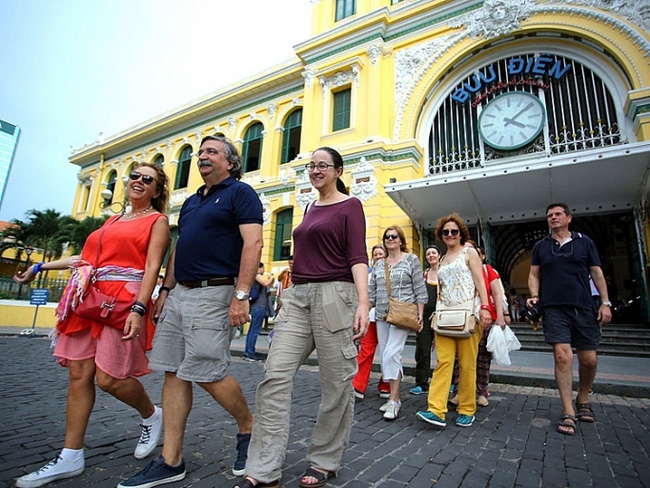 Foreign tourists visiting Ho Chi Minh city's Post Office
Minister Mai Tien Dung announced the government's decision not to reopen the market for foreign travellers for the time beingAddressing the government's press briefing in Hanoi on June 2, Dung noted that Vietnam has implemented regulations on temporary suspension of entry for all foreigners since the novel coronavirus epidemic spread across the country.
Though the epidemic is under control, the risk of virus transmission in the community remains high and the government has decided not to reopen the door for foreigners for the time being.
The General Statistics Office reported that the number of foreign arrivals in Vietnam during the past five months fell 48.8% compared to the same period last year to 3.73 million. May alone saw the number decline 13.6% against the previous month and 98.3% from a year ago.
The reason is, according to Dung, Vietnam has been implementing COVID-19 prevention and control measures, therefore it has yet to reopen its market for foreign travelers.
However, he added Vietnam has received a limited number of foreigners who are specialists and highly skilled workers working for projects in Vietnam.
Without receiving foreign travelers, Vietnam is launching campaigns to stimulate the domestic tourism market.
After travel restrictions were lifted, the local tourism market has shown signs of recovering, especially during the extended public holiday on April 30 and May 1.
Those are planning to travel to Vietnam should be aware of the latest restrictions currently in place:
- Vietnam has suspended the entry of all foreigners from March 22 until further notice to limit the spread of COVID-19. The measure will not apply to diplomats, officials, foreign investors, experts, and skilled workers as per Prime Minister Nguyen Xuan Phuc.
- Vietnam will grant e-visa to citizens of 80 countries from July 1, 2020 as per Resolution No. 79/NQ-CP. Details on the list of countries can be accessed here. While this is a positive sign, Vietnam's borders remain closed to foreign visitors due to the pandemic and the government has not made any official statement on when the borders will reopen.
- Foreigners that entered the country before March 1 including those with temporary residence permits will also be entitled to extensions till June 30 but must present proof of documents such as health declarations and official documents from embassies. For assistance, applicants can all the immigration helpline at 0243.9387320.
VOV