On the journey to find Hanh, Jenny has encountered an unexpected family member and helped others meet their lost relatives.
She accidentally met her biological father, Frederick Ashley, in 2017, thanks to DNA testing. Frederick is an American veteran who was stationed at Tan Son Nhat airport in the 1970s. He fell in love with Hanh when she was working for Xuan.
"I can only remember that she asked me to move in, but I could not leave the military base. I came back to the USA in 1971, did not have a chance to say goodbye to her, nor knowing that she was pregnant," Frederick said. "I was called by a nickname when coming to the bar, so she could not find me."
Frederick could not remember much about the past. Though 50 years have gone after the war, he still suffered a headache when trying to recall the horrific time.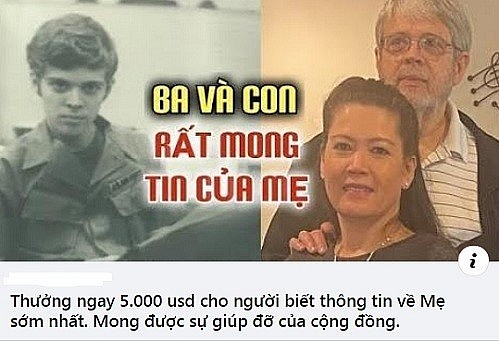 Jenny has announced a reward of US$ 5,000 for anyone who could provide the exact information of her mother. (Photo: VN Express)
Since Jenny's story was published in newspapers, many people have tried to send her information, hoping that she could find her mother. Yet the journey remains challenging.
According to Jenny, a woman in Ho Chi Minh City contacted her in June 2019, claiming to be her mother.
"Her house was so close to where I lived when I was in Vietnam. The information she gave me was so consistent that I believed she was my mother," said Jenny. "Her name is also Hanh, she had a relationship with an American soldier while working at a bar. The man is Jewish, and is the only boy in a family of two children, just like my father."
Jenny Nguyen Ashley had to fly to Vietnam twice to meet the women and take samples for the DNA test. The results came out in 2020, saying they are not related.
When she uploaded the women's DNA on a website to look for lost relatives, Jenny found her mother's other daughter. She sent hundreds of messages to the daughter, who did not reply. "Isn't it ironic that I yearn to find my mother, while she refuses to take the chance to meet her real mother," said Jenny.
Two years of Covid-19, witnessing the fragility of life and death, Jenny's desire to find her mother becomes stronger than ever. She publishes information on social networks and asks newspapers for support. As the world enters the new normal state, she restarts her search. She has announced a reward of US$ 5,000 for anyone who could provide the exact information of her mother.
"I have to hurry up because my mother is 71, 72 years old if she is still alive. If I can meet her, I will not ask her why she left me in the first place, I just want to take care of her for the rest of her life."