Vietnamese boy invents automatic hand-sanitizer machine to battle COVID-19
A boy at the young age of just 14 developed an automatic hand sanitizer machine to battle COVID-19 in his hometown.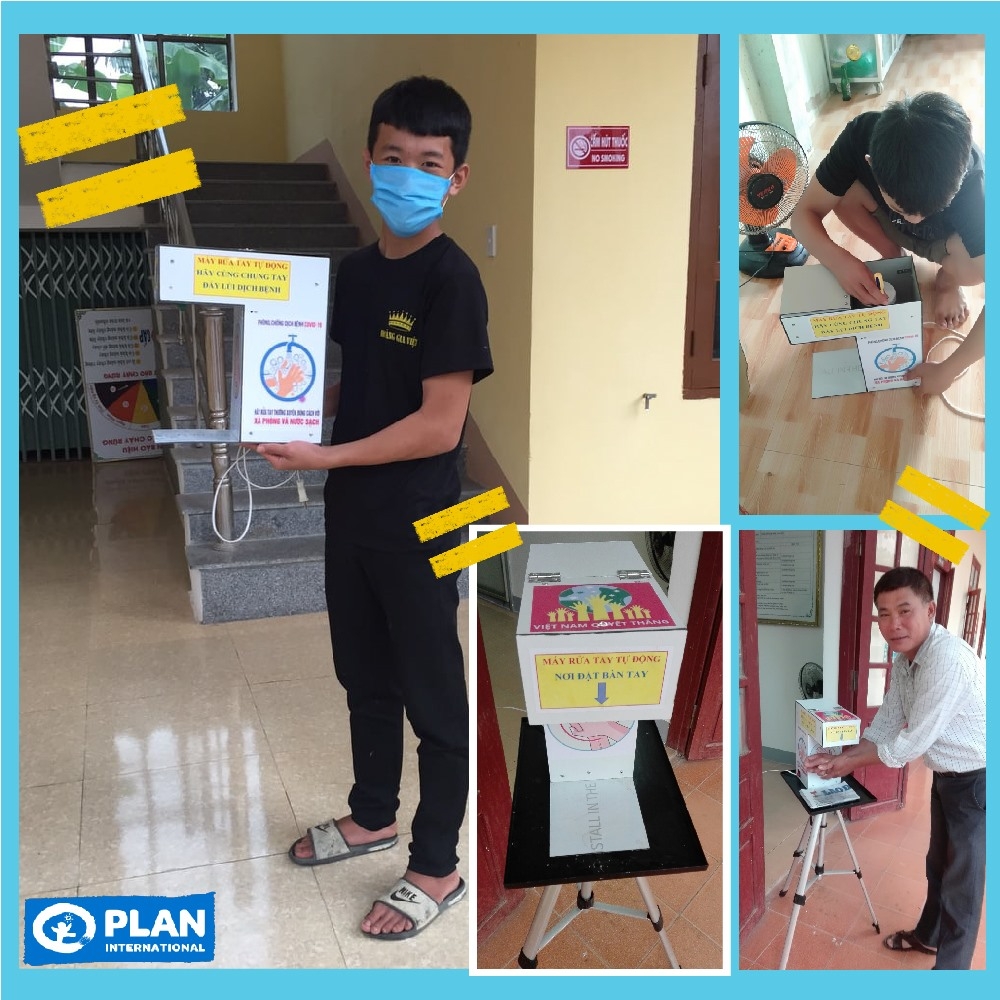 A sponsored child, grade 9 from Quang Binh successfully invented an automatic hand-sanitizer machine to help prevent the spread of COVID-19. Created at a bare minimum cost, the prototypes can be installed at hospitals, vegetable stalls, stores and police stations.
What have you been doing over the last few weeks, when COVID-19 pandemic was all over the news? At Van Ninh commune, Quang Binh province, everyone was worried, young and old alike. But unlike most people, 14-year-old Tran Minh Chung - Plan International Vietnam's sponsored children spent this time to research and have successfully created a wonderful invention.
According to Plan, Chung, currently in grade 9, has always been known for his passion for electronic devices. People in his commune have always brought their stuff to Chung whenever there was any malfunctioning.
Chung told Plan: "During the time of social distancing, I had to stay home so I researched some devices on the Internet. I was very sad when I couldn't go to school and meet my friends and teachers like always."
Chung often wondered, what could he do to help prevent the spread of COVID-19. So, with his tinkering prowess, he began his project, inventing an automatic hand-sanitizer machine that is effective and convenient. He looked for the parts online and purchased them with his VND 1 million (USD 40) savings.
It took Chung 15 days to finish his first functioning prototype that can sense a hand from a range of 2 cms. "It's fairly simple, and works based off infrared sensor. You just need to put your hands close to the dispenser, the sensor will register, and send signal to the processor. This processor will make the make the system dispense a pre-determined set of sanitation gel. There's also clear instructions on how to use the device on the sides so people can use it to avoid unnecessary contacts, and save time as it only needs 2-3 seconds, which also encourage people to use hand-sanitizer more often."
Right after he was finished, he asked his parents' permission to bring the device to the local People's Committee transaction point in Van Ninh commune. Everyone was happy to see and use such an amazing invention. The machine automatically dispenses the appropriate amount of hand-sanitation gel, limits physical contact for anyone who needs to come there.
"I wanted to create this device to help prevent the spread of COVID-19, so life will soon return to normal. If I had more budget, I would produce more for more places around the village, so we can combat COVID-19 effectively and efficiently," Chung proudly told Plan.
Tran Van Sy, Secretary of the Van Ninh commune Youth Union said that Chung's automatic hand sanitizer is very convenient because there's no need to press a button. If this machine is replicated, this is a good solution for the whole community to join hands to fight the COVID-19 epidemic. Currently, the communal Youth Union is also proposing to the District Union and Provincial Youth Union to reward Chung for his efforts and creativity in youth innovation movement and in the COVID-19 prevention.
Plan International Vietnam is an international non-governmental organisation working in the field of early childhood care, child protection and disaster relief.
With more than 80 years working in 75 countries, Plan International is one of the world's largest child rights and humanitarian organisation. In Vietnam, Plan International was established in the northern and central regions of Vietnam in 1993 and focus on supporting marginalised children and youth, especially adolescent girls, to grow in a society that respects their rights and safety.