Vietnamese Defense Ministry presents medical supplies to India
The Vietnamese Ministry of Defense held a symbolic ceremony to hand over medical equipment and supplies for Covid-19 prevention and control to the people of India on May 24 in Hanoi.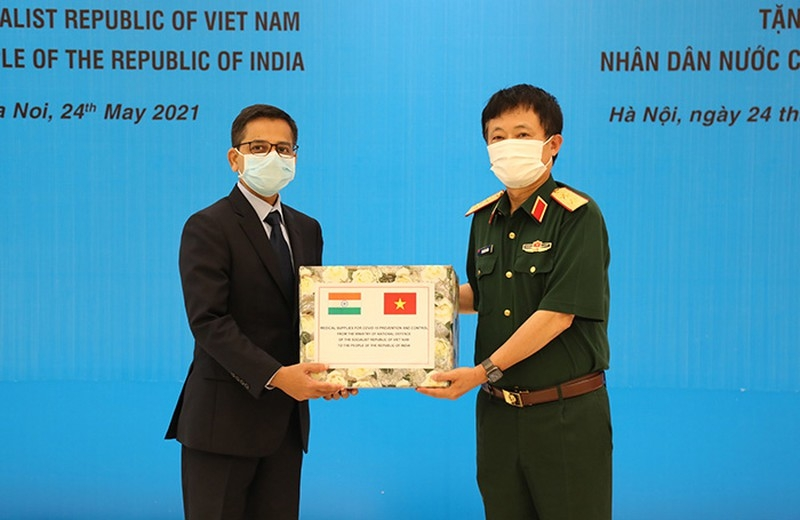 Authorized by the Minister of Defense, Lieutenant General Vu Chien Thang symbolically presents edical equipment and supplies to Indian Ambassador to Vietnam Pranay Verma.
The ceremony was attended by Lieutenant General Vu Chien Thang, Director General of the Foreign Relations Department under the Defense Ministry and Indian Ambassador to Vietnam Pranay Verma.
To share with difficulties that Indian people have suffered, the Vietnamese Defense Ministry decided to gift the country a variety of medical equipment and supplies, hoping that the donations would contribute to India's efforts in preventing and controlling the pandemic and restoring the economy.
Speaking at the ceremony, Lieutenant General Vu Chien Thang highly spoke of the efforts of the authorities at all levels, medical workers and the army force of India in Covid-19 prevention and control.
On behalf of the Indian people, Indian Ambassador to Vietnam Pranay Verma extended his thanks to the Vietnamese Defense Ministry for its timely and valuable assistance, affirming that the aid was a demonstration of solidarity and friendship between the two countries as well as a great encouragement for India to soon stamp out the pandemic.
On the afternoon of May 24, at Nha Rong Port in Ho Chi Minh City, representatives of the two sides' authorities handed over and received medical equipment and supplies to soon be distributed to Indian people.
Previously, the Ho Chi Minh City Union of Friendship Organizations (HUFO) presented 50,000 face masks and 2 tons of disinfectant solution to India. The donation was contributed by the organization's branches and members.
On May 24, the amphibious ship INS AIRAVAT of the Indian Navy led by Colonel PK Muniswamy, along with 170 officers and crew, docked at Nha Rong Port to receive the aid.
India on Tuesday posted 196,427 new coronavirus cases over the last 24 hours, its lowest daily rise in infections since April 14, while deaths from Covid-19 rose by 3,511.
The country's overall case load now stands at 26.95 million, while total fatalities are at 307,231, according to health ministry data.