Vietnamese Excited for Tourism Revival
Vietnamese people are excited for tourism to return, according to the Welcome Back to Travel survey released by the online travel platform Agoda.
3 out of 5 Vietnamese people are optimistic that unrestricted domestic travel will return within six months, according to the Welcome Back to Travel survey from Agoda.
More than 1000 adults participated in the online survey from July 15-19. Two out of five respondents expect restriction-free travel within Asia, while that number for all international destinations is 38 percent. Early middle-aged respondents (45-54 year olds) were more expectant of Asia travel reopening than their early adult counterparts (25-34), with 52 percent and 38 percent respectively.
Women were more inclined to anticipate restriction-free domestic travel than men, with 63 percent and 56 percent respectively. The 35-44 age group is the least optimistic for travel restrictions lifting at 52%.
Inbound tourism was less expected to resume in at least 12 months, or until 80 percent of the Vietnamese are vaccinated, with almost half of the responses. A small amount of hopefuls believe that it will resume within the next 3 months, however. The city of Da Nang is most optimistic about this prospect as they believe inbound tourism will pick up in 4-6 months.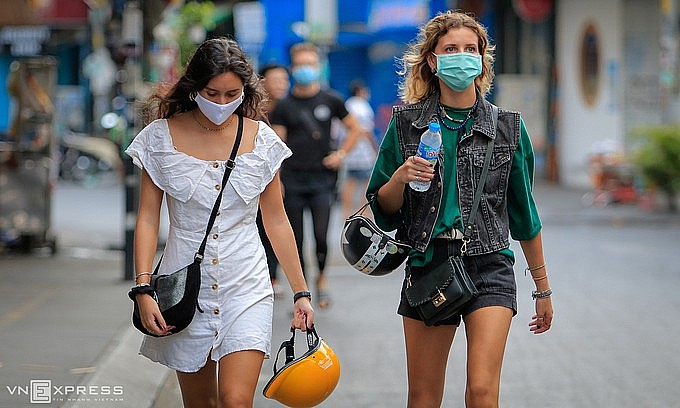 Foreign tourists walk on Bui Vien backpacker street in downtown HCMC, March 2020. Photo: VnExpress
"Like many countries in this region, Vietnam relies heavily on tourism, so it's great to see that with some safety protocols and measures in place, the public is optimistic that travel will rebound, in quarters rather than years", said Errol Cooke, Agoda's Vice President of Partner Services.
Vietnam considering welcoming foreign tourists to select destinations
Nguyen Trung Khanh, head of the Vietnam National Administration of Tourism, said Friday that Vietnam has not finalized on when it can fully welcome foreign tourists back.
"A reopening roadmap has to be carefully planned based on Covid-19 control and the preparedness of localities."
Khanh said plans to receive foreign tourists to Phu Quoc Island in the southern Kien Giang Province in November have been approved by the government, but a specific date has not been determined.
All residents on the island have received one Covid-19 vaccine shot, and the second shots will be administered in November to prepare for the opening, which is expected to be trialed in six months.
The government had earlier approved plans to allow fully immunized tourists from Europe, the U.S., Northeast Asia, Australia, and the Middle East to visit Phu Quoc, stay at sequestered resorts and visit a limited number of tourism spots during the first phase of the reopening.
Phu Quoc will be one of the first destinations to receive foreign visitors after lockdown in Vietnam. Photo: VOV
Initially, the government had planned to welcome back foreign tourists to Phu Quoc Island from this month but low vaccination rates forced the island to push back reopening.
Khanh Hoa Province, home to beach towns Cam Ranh and Nha Trang, is expected to be the next destination in Vietnam to reopen to foreign tourists.
The government closed its doors to foreign tourists and canceled all international flights in March last year as a Covid containment measure. Only Vietnamese repatriates, foreign experts and highly-skilled workers are allowed in with stringent conditions, reported VNExpress.
Webinar seeks to attract Spanish tourists to Vietnam
A webinar was held on October 8 to discuss attracting Spanish tourists to Vietnam after generally controlling the pandemic.
The event was organised by the Institute for Tourism Development Research (ITDR) under the Ministry of Culture, Sports and Tourism's Vietnam National Administration of Tourism (VNAT).
Speaking at the event, ITDR Deputy Director Do Thi Thanh Hoa raised the concern that in recent years, though over 20 million Spanish people have travelled abroad, which is half of its population, Vietnam is not one of their desired destinations. Only 70,000 – 80,000 Spanish travelers visited Vietnam from 2016-2019. In the near future, the European country will be a target market of Vietnam tourism, especially as they have had the pandemic under control, and Spaniards are yearning to travel.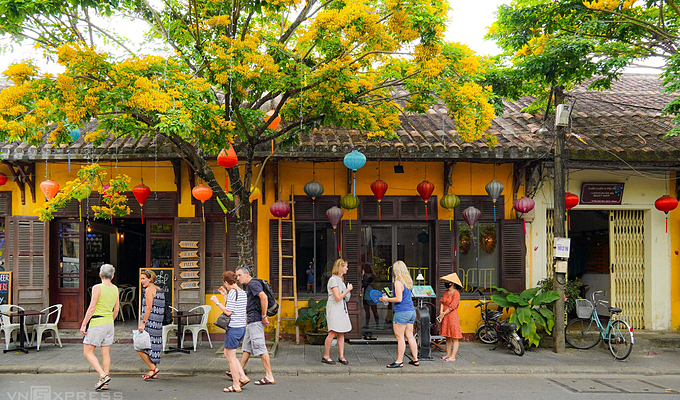 Spanish tourists enjoyed Vietnam's traditional cuisine and crafts. Photo by VnExpress/Do Anh Vu.
Deputy head of the ITDR's tourism market research and planning office Nguyen Quang Vinh said since 2018, Vietnam has unilaterally offered 15-day visa waiver to tourists from Western Europe, including Spain. The VNAT rolled out a promotional campaign for Vietnam tourism in Madrid in October of that same year.
To effectively attract Spanish visitors to Vietnam, Vinh suggests researching into changes in their travel habits following the pandemic.
According to the ITDR, the number of Spanish tourists to Vietnam rose continually from 2011-2019. Most of them enjoyed Vietnam's traditional food and handicrafts.
Statistics from the VNAT showed that among 17,000 tour guides for foreign tourists nationwide, only 1.6 percent speak Spanish, residing predominantly in major cities and provinces.
Experts proposed increasing visa exemption for Spanish visitors from 15 days to 30 days and increasing night tours to boost tourism receipts and prolong their stay, according to VNA.