Vietnamese exporters to have greater opportunities in the U.S. market
Vietnamese exporters are said to have greaters opportunities regarding agricultural produce, electronics products as well as rising e-commerce potential in the US market.
A large demand for agricultural produce and electronics products as well as rising e-commerce potential give Vietnamese exporters greater opportunities in the U.S. market, experts say.
The U.S. is a market with much potential for Vietnamese companies, especially as Vietnam has been able to keep the Covid-19 pandemic under control, said Nguyen Huu Tien, director of the HCMC Investment and Trade Promotion Centre.
The U.S. was Vietnam's largest export market in the first four months with the value of shipments surging 50 percent year-on-year to $30.3 billion, Vn Express reported.
Garment workers seen at a factory in Haiphong: Vietnam now has the fourth-largest trade surplus against the U.S. (Photo courtesy of the International Labour Organization)
Top export categories included machinery and equipment, textile and garment, and computers and electronics.
The coronavirus pandemic also served to lift Vietnam's exports to the U.S. Vietnam quickly contained the first wave of infections, which proved key in helping companies avoid major obstructions to manufacturing activities. Manufacturers in surrounding countries experienced interruptions in the supply chain, prompting them to move part of their production capacity to Vietnam.
The weak dong, Vietnam's currency, as Nikkei reported, has been a another major factor in luring foreign companies. Over the past decade, the dong has depreciated 16% against the dollar, giving it an export advantage.
Ken D. Duong, director of international law firm TDL, said that traditional categories such as agriculture produce and fisheries were posting strong figures despite the pandemic.
U.S. companies have stopped purchasing some hardwood products from China and are looking for alternative markets, he said, adding that last year, many Vietnamese companies were able to take advantage of this and got large orders.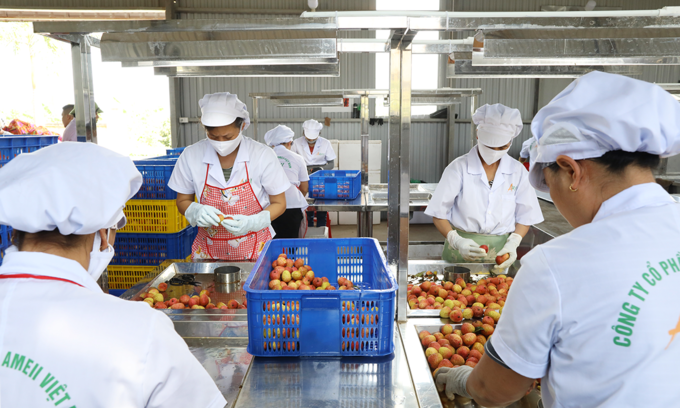 Workers prepare lychees for exports in the northern province of Bac Giang. Photo by VnExpress/Ngoc Thanh.
Many Vietnamese-Americans are looking for suppliers in Vietnam to export products to the U.S., he added.
According to Macro.vn, there are a lot of opportunities for electronics export because a number of American and Taiwanese firms have established factories in Vietnam to research and develop internet of things products.
"There are signals that indicate that Vietnam could become a hub for researching and manufacturing advanced tech products," Duong said.
According to Business Times, Vietnam could account for about 4 per cent of global electronics exports by 2025 as the country looks set to continue its momentum as an emerging global manufacturing hub, said a report by Oxford Economics.
The country was one of a few economies globally to grow in 2020, with a strong recovery in export-oriented manufacturing fuelling a 2.9 per cent growth in gross domestic product (GDP) despite the Covid-19 pandemic, the report authored by Oxford Economics' lead Asia economist Sian Fenner said.
It also further strengthened its world market share to 1.6 per cent of goods exports last year, up from 1.4 per cent the year before and just 0.5 per cent in 2010, Ms Fenner said.
This comes as a substantial rise in foreign direct investment (FDI) has increased the country's role in global manufacturing supply chains.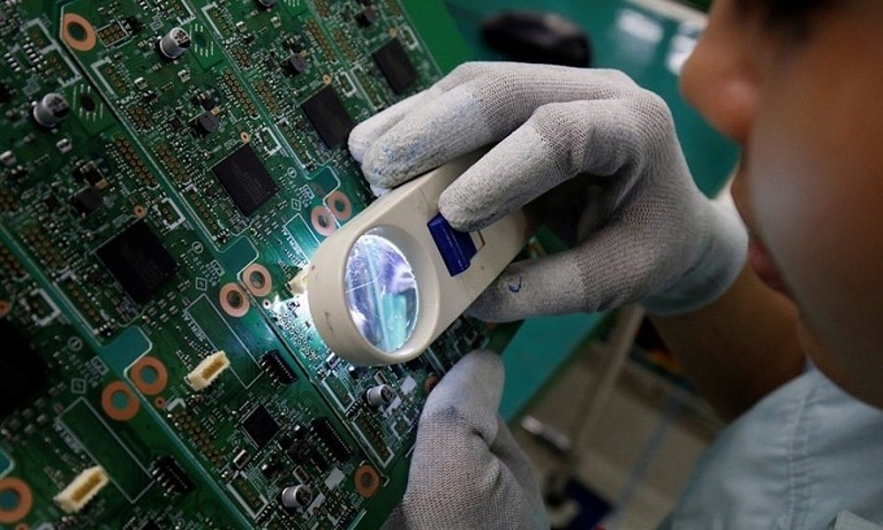 A worker inspects a printer circuit board at a factory in Bac Ninh Province. Photo by Reuters.
Amazon Global Selling Wednesday announced a new campaign in partnership with the Vietnam e-Commerce and Digital Economy Agency (iDEA) that would help Vietnamese sellers sell more products on Amazon.
But other experts said there were challenges that Vietnamese exporters face, such as trademarks. They cited the latest example of a Vietnamese rice brand, ST25, which won an international contest as the world's best variety, being trademarked by a U.S. company.
Duong said that usually it costs $1,000-1,800 to register a trademark in the U.S. Around 50 percent of mid-sized Vietnamese companies in the U.S. register their brand and the ratio is just 10 percent for small firms.
Vietnamese suppliers need to understand U.S. regulations on intellectual property to step up in the global supply chain, he added.
Dang Hoang Hai, head of the iDEA, said that as many Vietnamese sellers are reluctant to export their products to the U.S. via e-commerce, his organization will provide more training to help hundreds of small and medium companies sell their products on Amazon.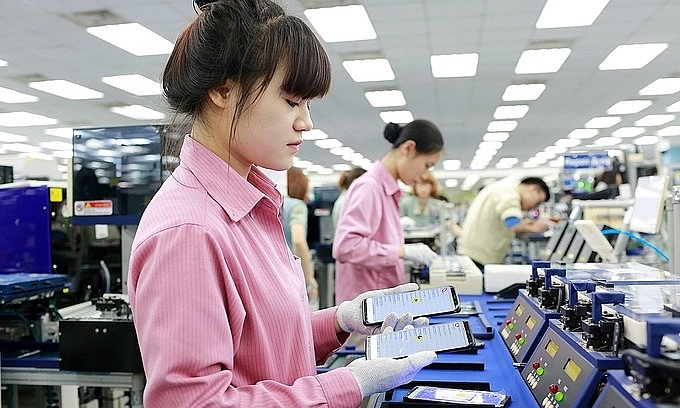 Labourers work at a Samsung plant in the northern province of Bac Ninh. Photo courtesy of Samsung.
According to Vn Express, although there has been speculation about the U.S. rejoining the Comprehensive and Progressive Agreement for Trans-Pacific Partnership (CPTPP), U.S. officials have said that this would not happen in the short-term.
Mary Tarnowka, executive director of American Chamber of Commerce in Vietnam, cited a report by a Fulbright University professor to show that U.S. President Joe Biden will not consider signing another free trade agreement until the middle of his term.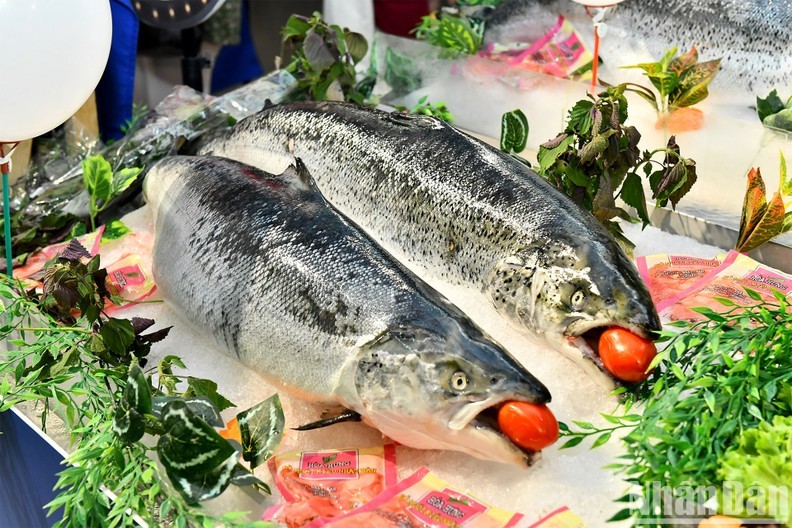 Economy
Ambassador Solbakken expressed her belief that "With outstanding freshness and excellent quality, seafood from Norway will find a special place in the hearts of Hanoians and Vietnamese like Norwegian salmons have."
June 05, 2023 | 13:56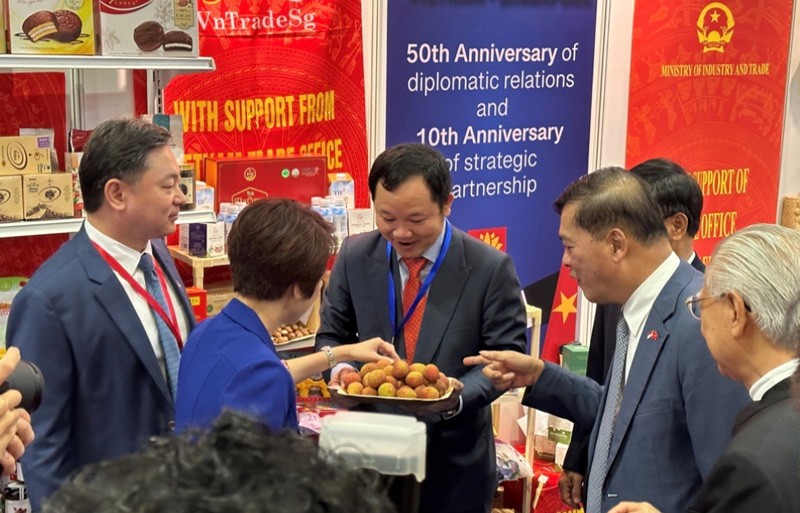 Focus
Vietnamese fruits, particularly longan and lychee, are expected to gain a bigger market share in Singapore as the Vietnamese Trade Office in the country is working to promote their export.
June 05, 2023 | 09:59
Economy
Transfer of Technology (ToT) for jet engines was the main thrust of National Security Advisor Ajit Doval's talks with his American counterpart Jack Sullivan in February.
June 05, 2023 | 07:00