Vietnamese Leather: Thoughtful Gifts for Fashionistas
When you think of Vietnamese souvenirs or gift, some of the most common suggestions are silk clothes or bamboo hats. Although not a popular choice, choosing leather goods from Vietnamese brands as a present to your loved ones will show a good impression that lasts.
Amidst a plethora of gift options for your "special someone", here are some local leather brands to pick out the most sophiscated and fashionable items. Their collection of choice will make the daunting task of picking out the perfect gift dissappear. These leather items come in a variety of styles and prices, giving you plenty of choices. What's more, the interesting stories behind these leather goods will add an extra layer of meaning to your gift.
1. Dans la Peau (Hanoi and Ho Chi Minh city)
Founded in 2017 as a small workshop in Thao Dien, District 2, Ho Chi Minh City, Dans la Peau started out as a community of people who love to create handmade leather goods, which quickly rose to be a brand with many high-quality and eye-catching products.
Dans la Peau's bestseller is the mini crossbody bag. Its details are made from the famous Harris Tweed wool from the Outer Hebrides of Scotlan. Other bags are adorned with the colorful ethnic leather from the Sapa region. This technique of weaving wool into tweed has been trademarked by the Harris Tweed Association for a long time and has been preserved until now. With the hand-woven wool material to create natural and warm tones, any fashionista will fall for the classic and luxurious charm of this bag.
With eye-catching colors like pink, orange, and sky blue, the bag is a perfect gift for the modern women. We recommend visiting their physical stores of Dans la Peau is located in the center of Hanoi and HCMC for the most satisfying experience.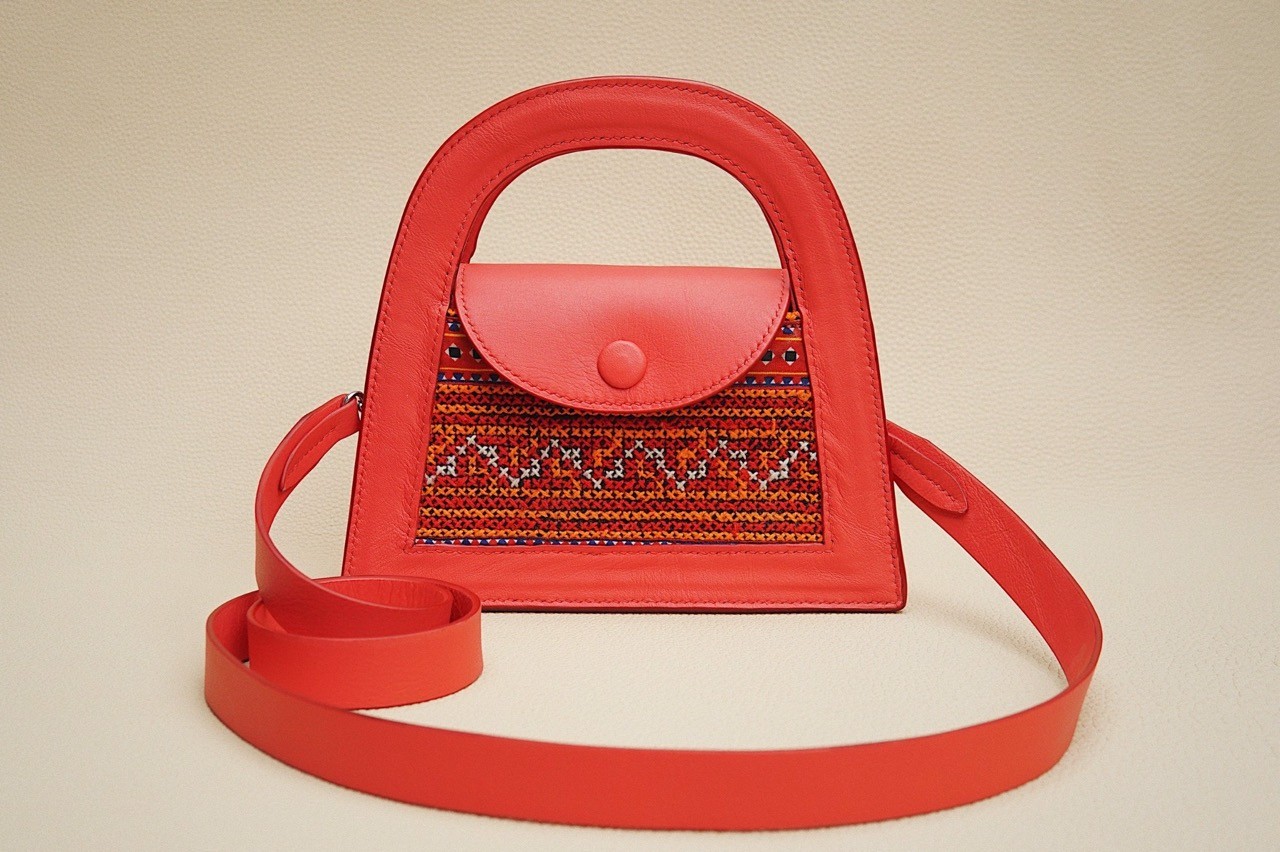 Dans la Peau
2. KHÂU BY CQ (Ho Chi Minh city)
Khâu by CQ brand is known for the minimalist leather bag designs, which serve multiple purposes and can be worn in many occasions. This concept makes them the best gift collection for busy businesswomen, students and travel-enthusiasts. The bags mostly come in neutral colors that could compliment any outfit.
In spite its high-end appearance, this brand's affordability makes a great choice for those who are just starting to venture into the world of handmade leather goods.
Its most recent collection of work bags and versatile bags is perfect as gifts for the career-driven woman in your life. Khâu by CQ also has minimalist clothing lines for you to choose from. Being showered in not just bag but an entire outfit, your loved one will feel extra happy on their special day.
Khâu by CQ
3. Hoi An Soul (Hoi An)
This trendy shop in Hoi An city is known among foreign tourists for the positive experience it provides. The store is located in the famous ancient town, Vietnam's top tourist attractions, so it is easy to find and very foreign-friendly.
Customers can choose from a variety of designs created by the locals, and learn about the materials and methods used to create each bag. There is also a lovely art corner inside the store. While enjoying their shopping trip, customers can also take photos with colorful artworks to capture precious memories.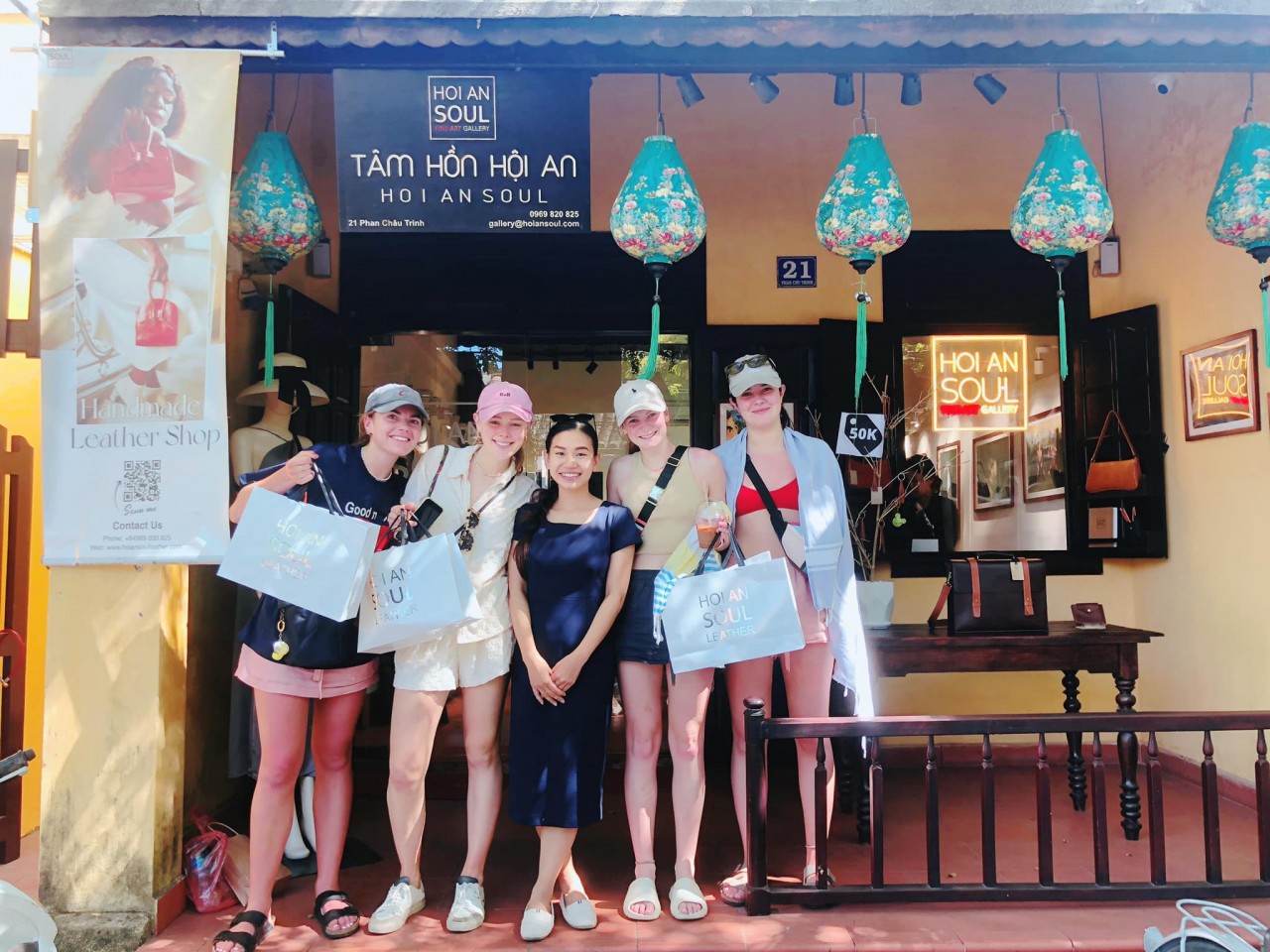 This store has become a famous destination that many foreign visitors seek out when they visit Hoi An (Photo: Hoi an soul leather)
Hoi An Soul Leather also has online channels to bring Vietnam handmade leather bags closer to international customers. Their designs are simple, chic and have great versatility.
With elegant designs and fair prices, Vietnamese leather is one of the best gifts for jetsetting fashionistas.