Vietnamese new horror movie hopes to pull of a global scare
'Thien Than Ho Menh' (Guardian Angel), a new horror film directed by Victor Vu, is set to be shown in at least 12 countries in the world.
Hope to hit international screens
Victor Vu's new horror movie, 'Thien Than Ho Menh' (Guardian Angel), will be shown in at least 12 countries, including several Asian nations, the U.S., France and Ireland.
"Thien Than Ho Menh", which will premiere in Vietnam on April 30, will hit giant screens in several countries in the near future, according to its producer TFilm Entertainment. The company said it is working with many film distributors to introduce the movie to global audiences.
According to Vn Express, the movie's world premiere date has not been revealed.
Vu's latest brainchild depicts the story of a young woman using a mysterious doll and voodoo to become a famous music star. Later, one of her colleagues commits suicide, and she becomes a suspect.
Rated 18+, "Thien Than Ho Menh" delves into the voodoo phenomenon of raising the so-called Kumanthong (Thai ghost doll) to achieve fame and money.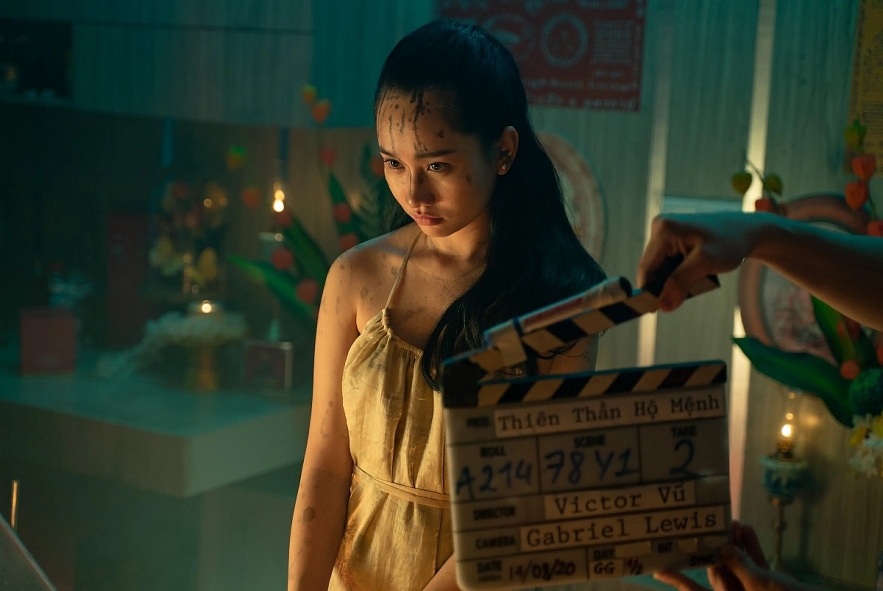 A scene from "Thien Than Ho Menh." Photo courtesy of the movie.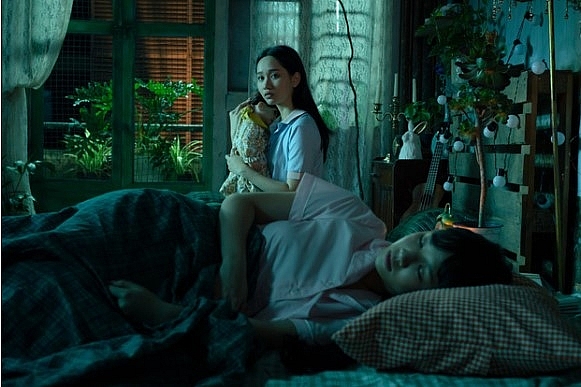 Photo: kenh14.vn.
This month, another Vietnamese film, "Bo Gia" (The Father), will also hit international screens. "Bo Gia" directed by Tran Thanh and Vu Ngoc Dang, has raked in VND400 billion ($17.4 million) after premiering on March 5 to become the highest-grossing Vietnamese movie ever.
Recently, Le Van Kiet's 'Bong De' (The Ancestral), which has attracted the attention of international movie distributors, is set for theatrical releases in a dozen Asian markets.
It has been bought for screening in the Middle East, Taiwan, Thailand, Cambodia, Laos, Singapore, and Malaysia.
Giant agency Endeavor Content has been in touch with the film's producers to buy the rights for showing in Indonesia, the Philippines, Myanmar, Australia, and New Zealand.
Nelson Mok, its Singapore-based director of financing and sales, said: "While international audiences are relatively unfamiliar with Vietnamese cinema, our buyers are impressed with Kiet's style of visual storytelling and high production quality."
"Bong De" is about a father and two daughters living in a centuries-old ancestral house after suffering from a family tragedy. Later many family secrets start to emerge and change their lives.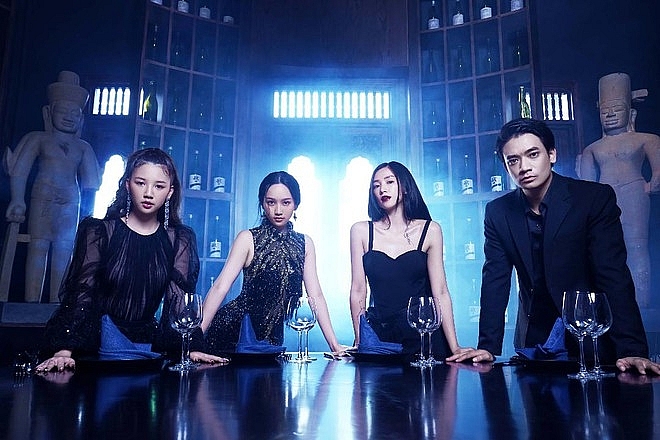 Photo: cinematone.
It is set to release in Vietnam on May 14. Vietnamese movies are rushing to the cinemas after a prolonged blanking out by Covid-19. In April, 11 domestic movies are slated to hit the big screen: "Song Song" (Glitch), "Vo Dien Sat Nhan" (Faceless Killer), "Lat Mat: 48h" (Face-Off: 48h), "Kieu," "Rung The Mang" (Survive), "Dan Choi Khong So Con Roi" (Senior Playboy, Junior Papa), "Chia Khoa Tram Ti" (The Hundred Billion Key), "Bong De" (Sleep Paralysis), "1990", "Thien Than Ho Menh" (Guardian Angel), and "Trang Ti."
Notably, on April 16 and 30, three films will be released each day.
One of the most popular movie directors
Victor Vu, one of the most popular movie directors in Vietnam, has had many movies do well in international markets. His "Mat Biec" (Dreamy Eye) drama was Vietnam's entry for the qualifying round of the foreign language film category at the Oscar 2021 awards, Tien Phong News reported.
His "Toi Thay Hoa Vang Tren Co Xanh" (Yellow Flowers on the Green Grass) was also the country's entry in the same category at the Oscar 2017 awards. This film was among the three winners of the Features Films of 2015 award at the 2nd Silk Road International Film Festival in China.
Victor Vu's debut feature, "First Morning," screened at the first Viet Film Fest in 2003.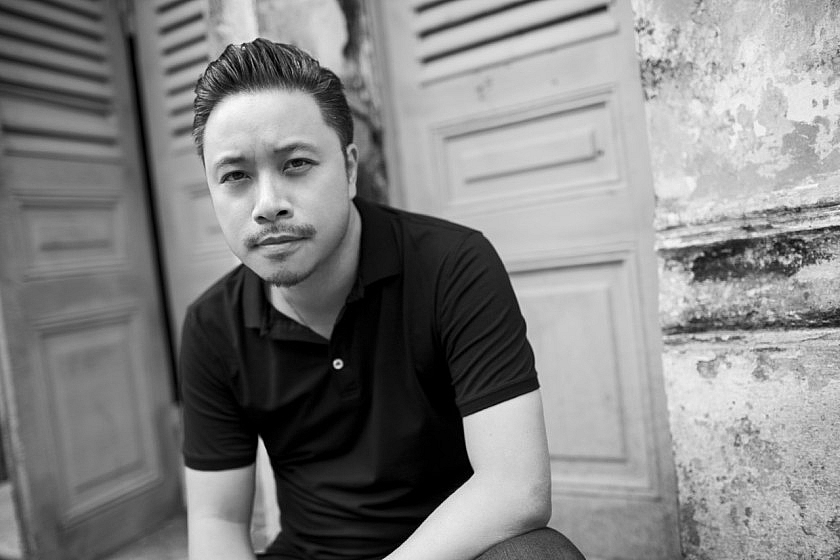 Director Victor Vu was born and raised in North Hollywood, and for the last 12 years, he's been making box office hits in Vietnam. Photo: Daily Plot.
At the time, Vu, born and raised in North Hollywood, was fresh out of film school at Loyola Marymount University. But even then, he was always writing stories about Vietnam, Daily Pilot reported.
"I watched a lot of foreign films, from Kurusawa, to French and Italian films, and Zhang Yimou was really big at the time," he says. "And I felt, what about Vietnam? There was a pride I felt that we had equally compelling stories and things to explore."
Vu is part of a movement of Vietnamese American filmmakers, many from Orange County's Little Saigon, who have helped grow the local Vietnamese film entertainment industry in the last decade.
"The rate it's developed is quite incredible," he says. "We used to be lucky to have five Vietnamese features a year. Now, there's one a week."
In the last 16 years, Vu has made numerous box office hits, including the horror film "Vengeful Heart," which, at the time, became the highest-grossing Vietnamese movie ever, as well as the nostalgic "Yellow Flowers on the Green Grass," another blockbuster, which was also Vietnam's submission to the Oscars for Best Foreign Language film that year.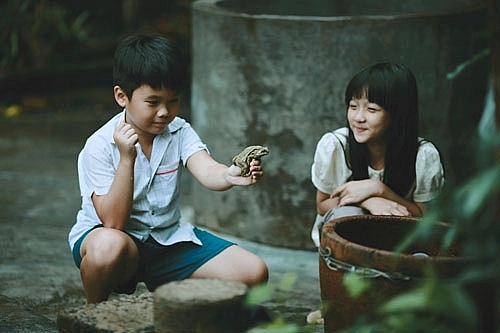 A scene in the film "Toi thay hoa vang tren co xanh" (Yellow Flowers on the Green Grass). Photo: nguoilaodong.