Who is Teresa Mai, First Vietnamese American Singer Wins Grammy Award
Vietnamese-American singer Sangeeta Kaur (Teresa Mai) won the Best Classical Solo Vocal Album at the 2022 Grammy Awards.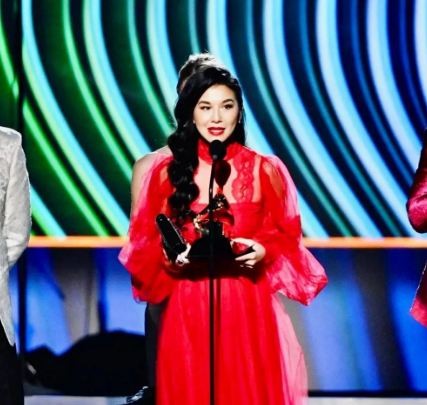 Sangeeta Kaur (Teresa Mai) took home the Best Classical Solo Vocal Album award with the album "Mythologies" sang along Hilla Plitmann, at the 64th annual ceremony held on Sunday at the MGM Grand Garden Arena in Las Vegas. Getty image
Vietnamese-American singer Sangeeta Kaur (Teresa Mai) is the first Vietnamese American singer to received a Grammy award in the category Best Classical Solo Vocal Album for her performance on the album MYTHOLOGIES composed by the award winning composer, Danaë Vlasse.
In this category, in the history of the Grammy Awards since 1959, this is the first time that an Asian female vocal in general and a Vietnamese American voice in particular has been nominated and won.
Composer Danaë Xanthe Vlasse honors her heritage with MYTHOLOGIES - a collection of works inspired by Ancient Greek myths.
Danaë's father Marcus (née Vlassopoulos) grew up on the island of Ithaca, once ruled by Homer's legendary hero, Odysseus. The album centers on vocal works featuring sopranos Hila Plitmann and Sangeeta Kaur; the literal and figurative muses for Vlasse. These sopranos' powerful yet enchanting voices embody the irresistible lure of the infamous "Sirens" and narrate scenes from Homer's epic tale, The Odyssey.
MYTHOLOGIES celebrates some of the most lasting myths of history and invites listeners to ponder long-standing cultural concepts, such as idolized heroism, divine power, crisis of faith and morality, and the junction of fate and free-will.
Sangeeta (whose Vietnamese name is Mai Xuân Loan) pursued the formal study of music at a young age. Teachers recognized her natural talent and gifted voice and encouraged and supported her through training and scholarships.
Through their direction and her persistence and practice, Sangeeta earned a Bachelor of Music degree in Opera Performance from the Bob Cole Music Conservatory at California State University, Long Beach; and a Masters of Music in Vocal Performance from Boston Conservatory.
While traveling the world as an operatic vocalist, Sangeeta was introduced to the power of spiritual mantra as well as the discipline of yogic practices. Through songs, she started to develop a spiritual practice that continues to transform her life and influence her musical expression.
Her body of work spans a wide range of genres and traditions showcasing her talents in composing and performing music ranging from soaring operatic arias to musical theater, New Age compositions, sacred mantra chants in multiple languages, and uplifting and accessible English singer-songwriter arrangements.
So far she has released four award-winning albums: Niguma, Ascension, Mirrors, and Compassion. With a team of collaborators, Sangeeta produced, staged, and premiered the ambitious and acclaimed mantra opera Niguma, in Los Angeles.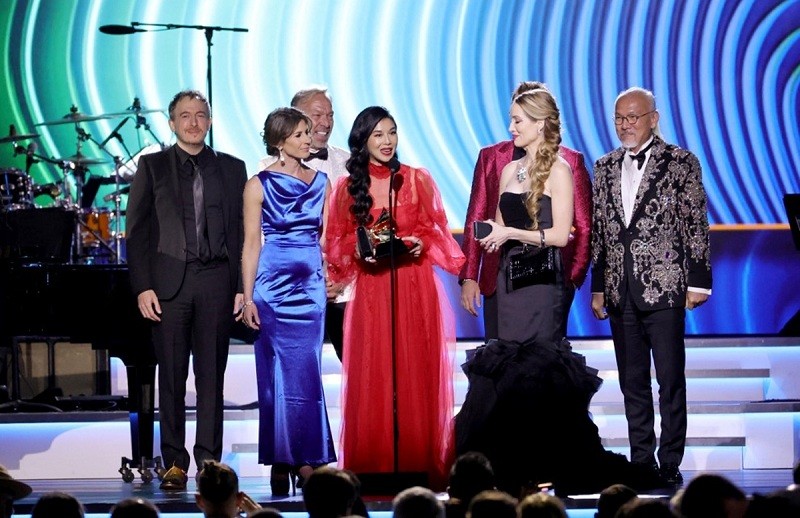 2022 Grammy winners Vietnamese American singer, multimedia artist and producer, modern-day Renaissance woman, and vocal powerhouse Sangeeta Kaur (Teresa Mai) in the event night.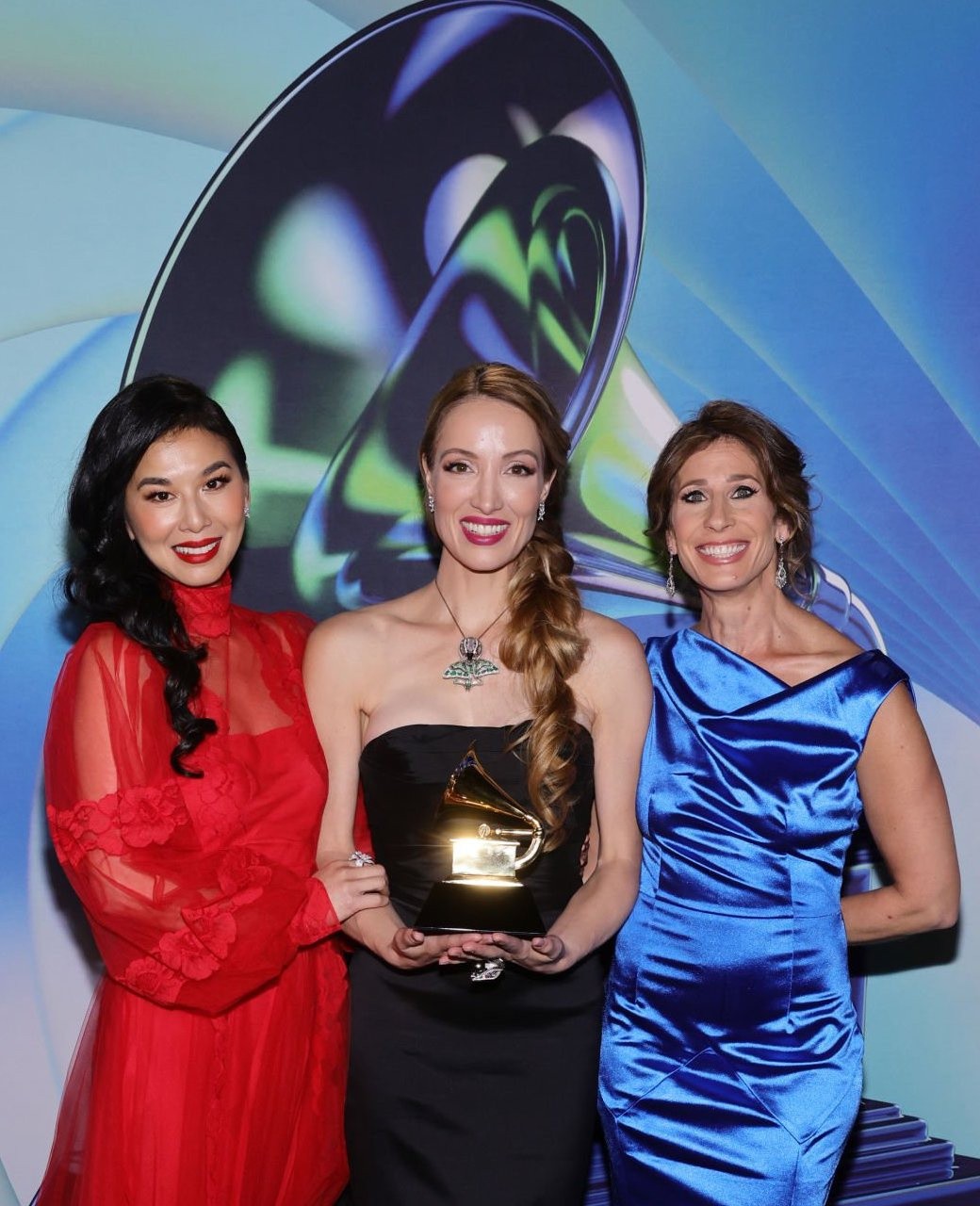 Sangeeta Kaur, Danaë Vlasse and Hila Plitmann (from left to right). Getty image
Her growing list of additional collaborations include work with noteworthy pop producer Narada Michael Waldon, Grammy Winner Peter Kater, Grammy winning singer Hila Plitmann, the Hungarian Studio Orchestra, Hungarian Studio Choir, Gerhard Joost, Nicholas Neidhardt, and more.
Some of the many awards she has received include induction into the Indie Music Hall of Fame by the Indie Music Channel, Best New Female Artist of the Year and Best Classical Artist from the Indie Music Channel, multiple Peace Song Awards, and multiple Radio Song Awards, among others.
Sangeeta is committed to being an independent artist who is serving in the creation of entertainment that inspires and progresses beyond genre to truly harmonize with the heart. Through awards and acclaim, Sangeeta is regularly recognized for the purity, clarity, and resonance in her voice.
Sangeeta is also the owner of the recording studio, Studio Hill in Austin, Texas with Gerhard Joost who she has been working with for over six years as her Chief Engineer.