Youths of Vietnam, Laos, Cambodia Tighten Friendship and Solidarity
Young outstanding delegates of Vietnam, Laos, Cambodia participated in a youth friendship programme, taking place in Vietnam's southern Binh Duong province .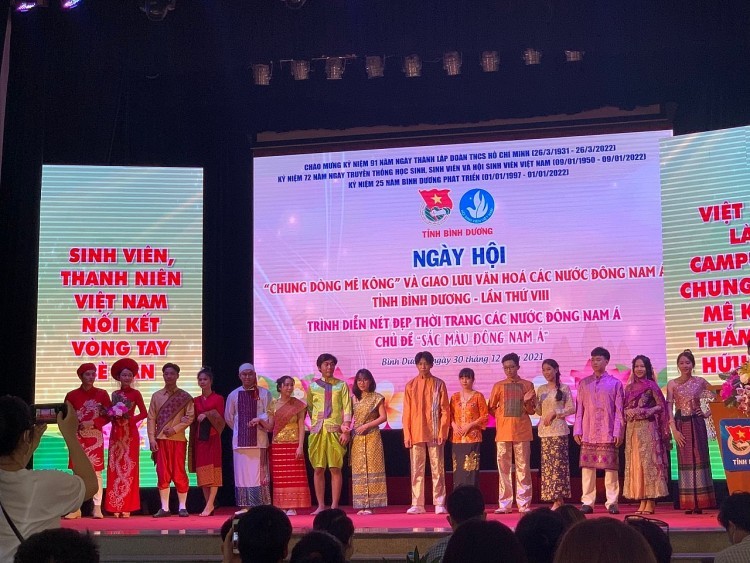 A Southeast Asian costume performing show, a cultural exchange between universities and colleges in the province.
The Executive Committee of the Vietnam Student Association of the southern province of Binh Duong organized the 8th student exchange program named "Chung dong Mekong" (Sharing Mekong river) and cultural exchange of Southeast Asian countries between students of Binh Duong, Laos and Cambodia at Binh Duong University.
This is considered a big festival, a special and meaningful exchange program between members and students of three countries Vietnam - Laos - Cambodia.
Vietnamese, Lao and Cambodian union members and students at universities in the province participated in the program.
During the program, students of three countries had a chance to take part in fashion show, food presentation and art performances. A cultural exchange activity about the daily life, learning and cultural traditions of Cambodian and Laos students was also organized.
The first round is a fashion show of Southeast Asian countries called "Colors of Southeast Asia". The audience can admire the beautiful traditional costumes from 11 Southeast Asian countries, especially the traditional costumes of the ethnic groups of Vietnam, Laos and Cambodia. The program has attracted students from six colleges and universities in the province to participate. The delegates, union members, youth, and students went through three very exciting and exciting competitions.
The second round is a competition to learn about Southeast Asian cultures with the name "Following the flow of history". Union members and students have the opportunity to experience the culture of Southeast Asian countries through presentations on food, costumes, people, culture, and history.
In addition, the delegates and youth union members enjoyed cultural and artistic exchanges with the theme "Colors of the Mekong".
The program aimed to create favorable conditions for students of Binh Duong, Laos and Cambodia to strengthen friendship and mutual understanding among young people, as well as extend their experience and knowledge in various fields.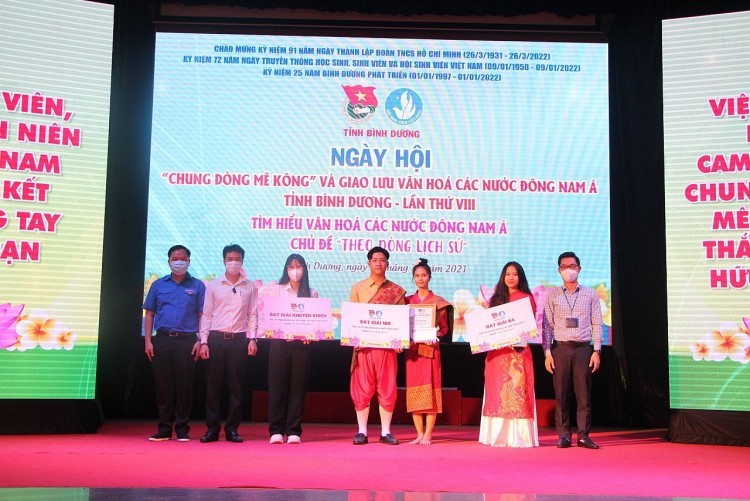 Prizes presented to winner teams.