10 Scenic Vietnamese Spots for Post-Covid Travel
Nho Que river, Cham island, Bac Lieu wind farm or Phan Thiet sand dunes are 4 off the most famous destinations that attract tourists in every summer holidays.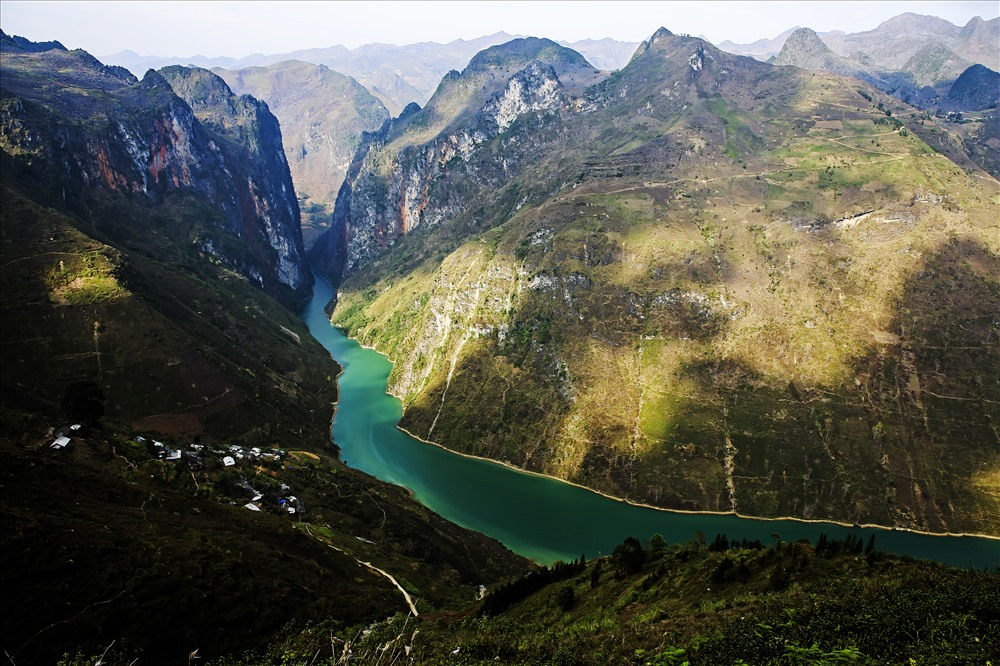 Photo: Vietnamimmigration
Starting from Nghiem Son mountain of China, Nho Que river cuts its way through Ha Giang's mountain and ends its 192km journey in Cao Bang province.
Tourists can watch this poetic river from Ma Pi Leng pass or go sailing the river to have more than just a vicarious experience. For the best view of the river from above and a good rest, tourists can head straight to Panorama bar afterwards. The two spots are amazing on any sunny day, especially in November.
Dangerous as it initially looks, there are several common ways to get from Ma Pi Leng pass to Nho Que river. You can ride a scooter or hire a local rider. Athletic tourists and nature lovers would rather go trekking, though. Then sail on a boat, take great pictures as you reach Tu San canyon, and try kayaking as well. If you fancy sunbathing on the boat, wear a hat and apply sunscreen as generously as possible. Eat some pre-workout foods before coming back to Ma Pi Leng pass.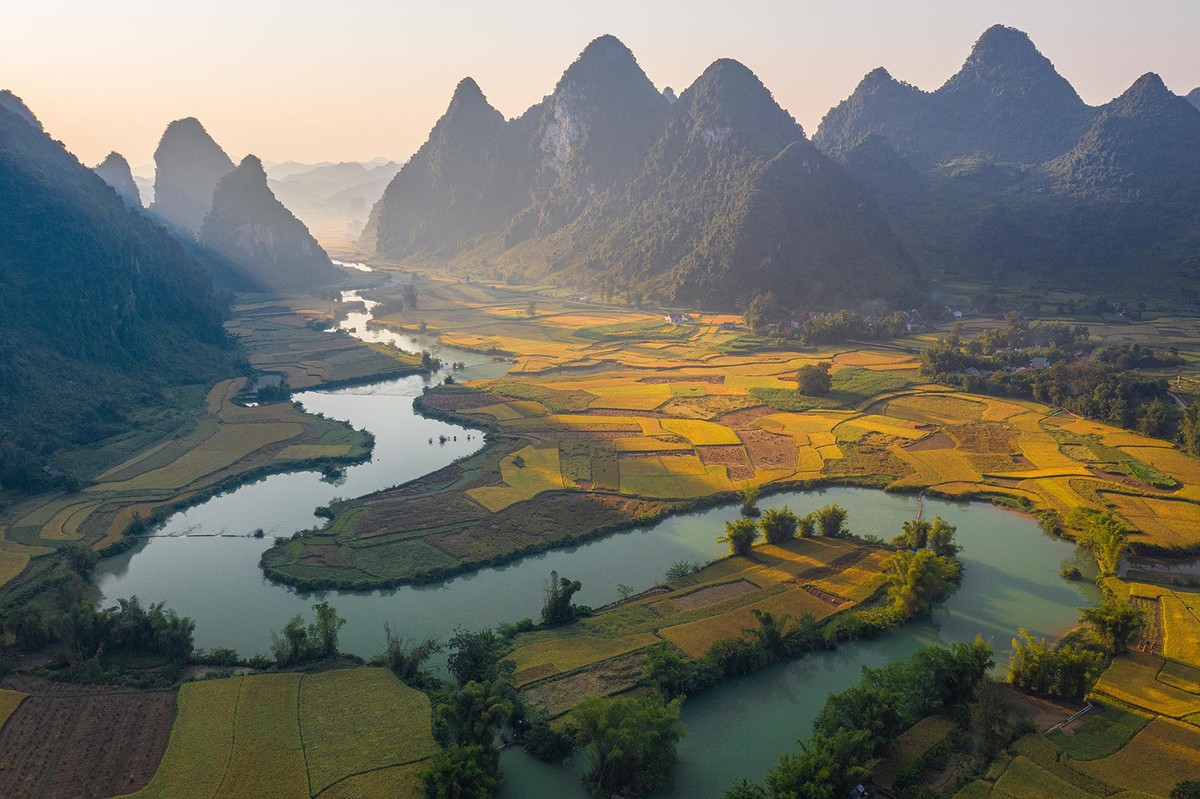 Photo: VnExpress
Quay Son is a beautiful jade-blue river that feeds the majestic Ban Gioc waterfall. The river has a total lenght of 89km and flows at an altitude of around 550m. The river originates from China and constitutes the border to Vietnam in the area of Ban Gioc waterfall. The winding river flows through a spectacular scenery of green rice terraces and limestone mountains. A good way to explore the river is taking a boat trip by canoe or kayak.
Photo: PYS Travel
There are many famous destination for North Vietnam tours such as Sapa, Ha Giang, Halong Bay, Ninh Binh, etc. However, if someone ask me where is the most beautiful rice terraces in Vietnam, I will say Mu Cang Chai. Mu Cang Chai is a district in Yen Bai province, located in the west, about 300km from Hanoi. The district is located beneath the famous Hoang Lien Son range, with the most famous beauty scene; making the brand of this place is the terraced fields of gold; spreading the smell of copper wind, radiating out all over the sky.
Thanks to its pleasant and cool climate, you can visit Mu Cang Chai at any time of year. However, for wonderful pictures of stepped rice fields, between May and June and between the late September and early October are two periods of the year considered as the best time to visit Mu Cang Chai. This can be different each year depending on weather, so be sure to check out first. While from May to September is also no less impressive as the rice fields are green, from the late September and early October is the time of ripe rice terraces. The weather at that time is nice and convenient to visit.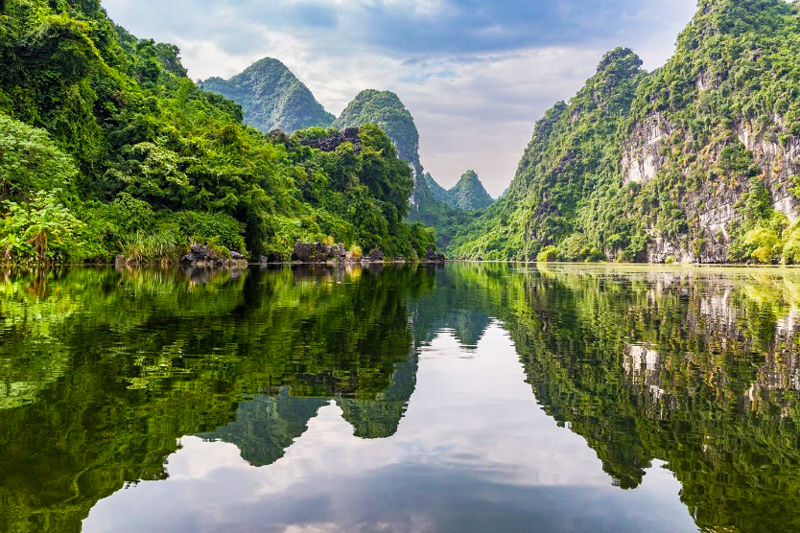 Photo: GODY.vn
Ninh Binh Province consists of three different types of landscapes including wetlands, coastal delta, and uplands. Furthermore, the province is blessed with many places of particular interest such as Tam Coc – Bich Dong Grotto, Cuc Phuong National Park, and Van Long Nature Reserve, etc. of which the Trang An Complex is a popular option for tourists, especially the foreign one.
Stretching a total area of more than 2,168 hectares on 8 communes in Hoa Lu and Gia Vien districts in Ninh Binh City, Trang An is a complex of Hoa Lu Ancient Citadel preserved area – a center area, grottoes, and Bai Dinh Pagoda.
There are 47 grottos and caves, 31 valleys and the hallowed cultural area of Bai Dinh Pagoda inside the Trang An scenic landscape complex. Take a leisurely cruise around the area, tourists can be imagined as kings from ancient times who use the mountains as walls, the rivers as roads and the caves as palaces. When you first arrived at Trang An, you will be deeply impressed on dozens of boats anchoring in lines and waiting for every tourist to start the journey.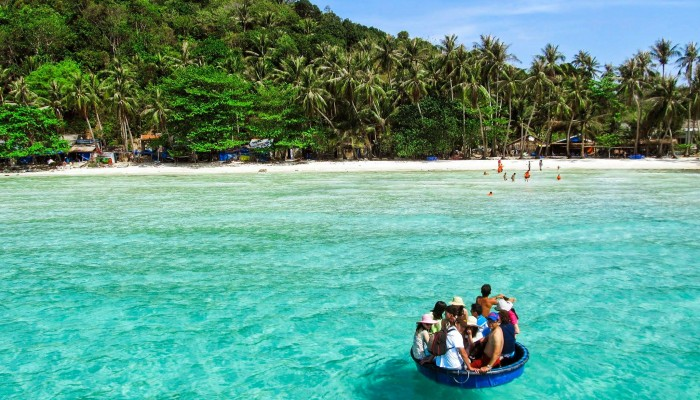 Photo: Hoian Food Tour
Cham Islands consists of eight small islands off the coast of Hoi An, one of which is a recognized UNESCO World Biosphere Reserve. Cu Lao Cham Marine Park attracts travellers looking to enjoy a day of scuba diving and snorkelling, while on Hon Lao Island you can find fishing villages and pristine beaches that are great for sunbathing and water sports. Homestays (mostly located along Bai Chong Beach) are the most popular accommodation option on Cham Islands, but there are also plenty of restaurants and dive centres that offer tent rentals for about VND 250,000 per night.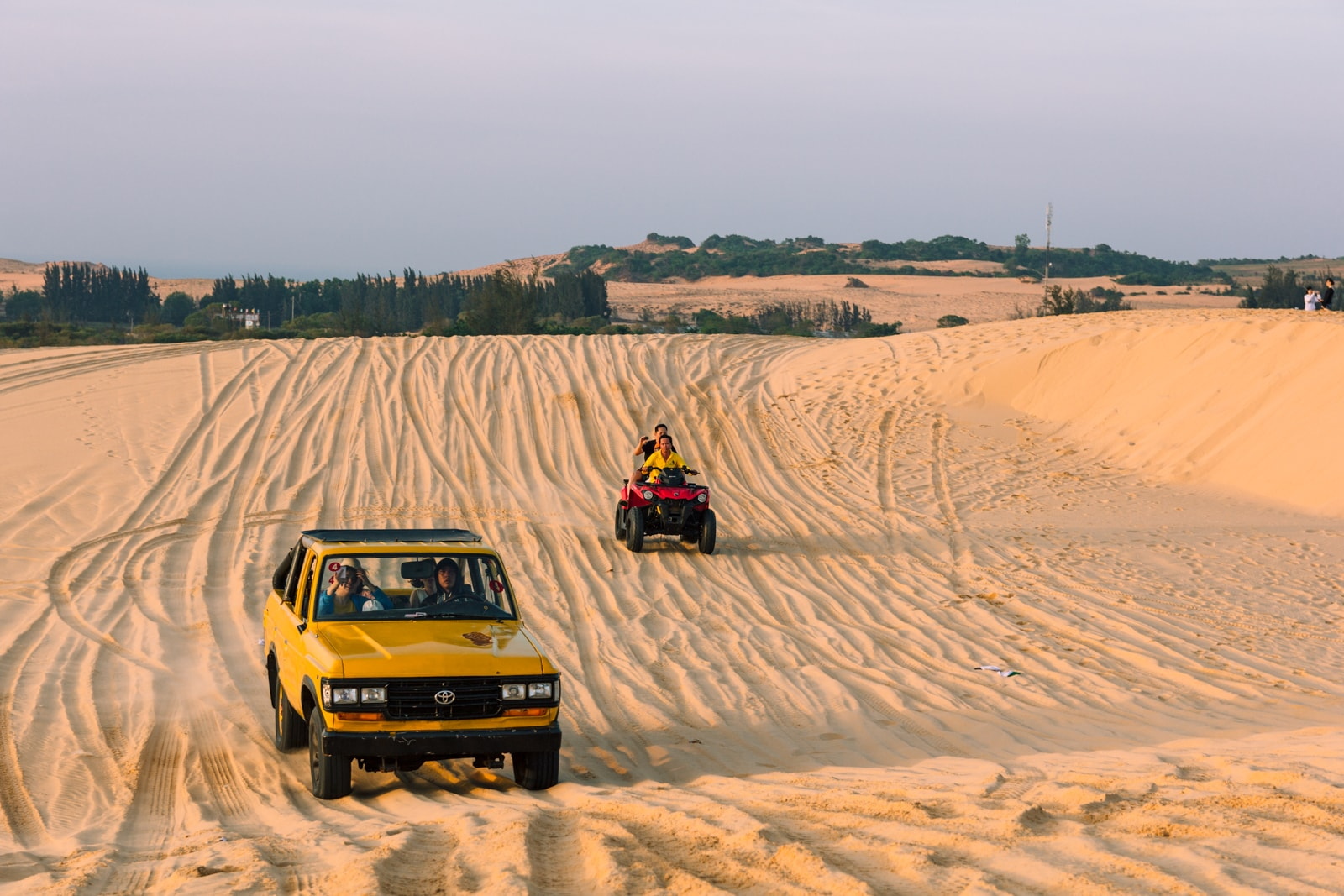 Photo: The Culture Trip
The Sand Dunes of Mui Ne are two geological wonders no visitor should ever miss out on their travel itinerary. There are numerous tour operators in Mui Ne that organise daytrips to these Saharan-like red and white sand dunes, but you can easily make your way to both locales if you prefer exploring according to your own pace.
Visitors can rent plastic sleds and it is a wise idea to check the price and agree on it beforehand. Some travelers have had unpleasant experiences with the youngsters renting them out so be alert and keep cool. Another interesting activity is kite flying as well as catching the beautiful sunset here. These dunes are a popular picnic place for locals too.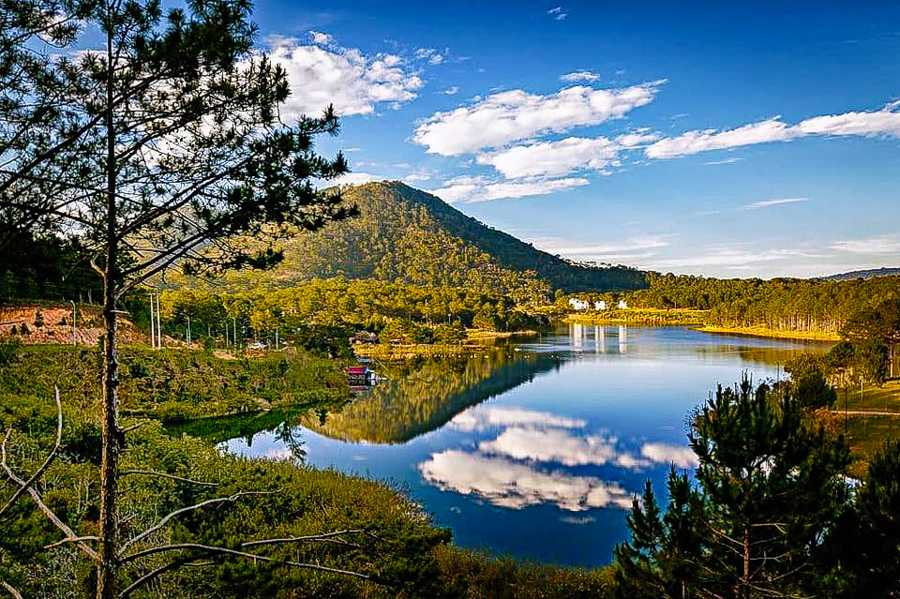 Photo: ORIGIN VIETNAM
Have you ever wondered what made Da Lat (Dalat) the most tourist attraction destination in Central Highlands of Vietnam? You could find the answer for this question by taking a trip to places of interest in Da Lat on a sunny day, then enjoy the fresh air and participate in intriguing activities with your friends here. If you are expecting both to go sightseeing and to experience the local unique culture, Tuyen Lam Lake, one of the iconic places of Da Lat, is a wonderful suggestion for you.
With the pristine charm, almost all people mistake it for a natural lake. In fact, Tuyen Lam Lake is an artificial lake which was built in 1930s and then discovered by a French farmer named Farraut. At that time, Tuyen Lam Lake was surrounded by the grandiose Elephant Mountain and in connection with the poetic Purple Stream.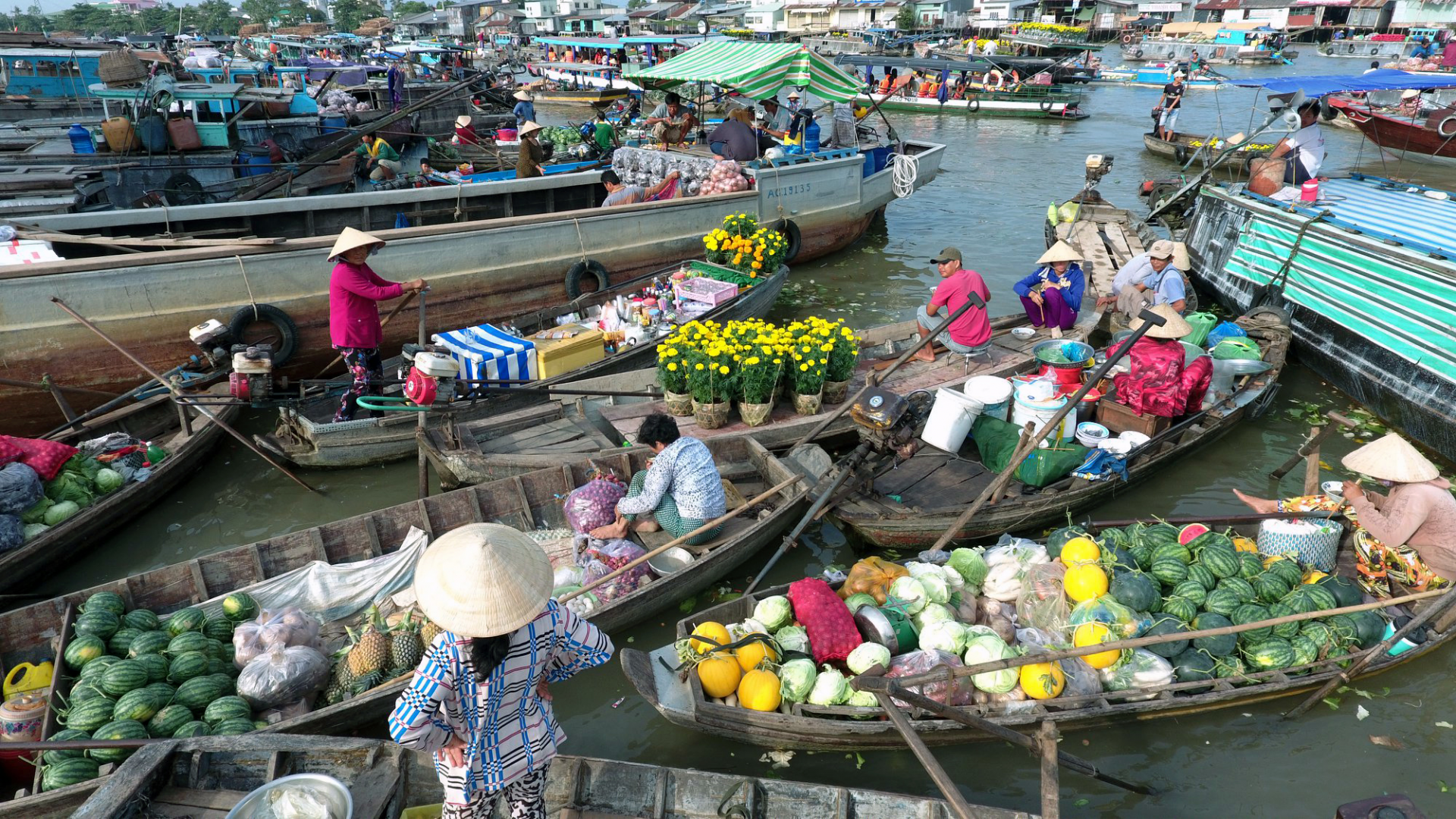 Photo: thanhnienmekong
Cai Rang floating market – one of the largest floating market in the Mekong Delta – is a rare sight in that you just only find out the beautiful lifestyle trade when you travel in the unique Wetlands in the south of Vietnam. Within the type of geography consists of both land and the river, and the diversity of people – Vietnamese, Cham, Khmer and so on for hundred years ago, Cai Rang floating market – Mekong Delta reflects the cultural values as well as become a famous tourist destination in the Mekong River. It's time for you to immerse your senses in the sights, sounds, colourful lifestyle and the taste of Mekong river in your holiday.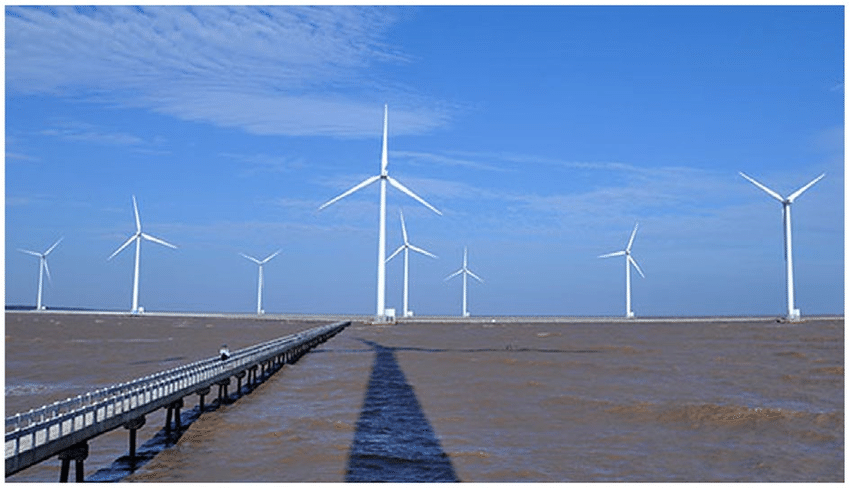 Photo: ResearchGate
Located in Vinh Trach Dong commune, Bac Lieu city, the Bac Lieu wind power plant is considered the biggest wind power project in Vietnam. With 62 wind turbines, the farm is the first in Southeast Asia, which is built on the continental shelf. From the shore, tourists can see dozens of turbines rotating in the wind. Currently, this plant is preparing to start Phase 3 of its construction. As planned, the whole plant will have 133 turbines with a total capacity of 241.2 MW.
8 Kinds of Banh Mi in Saigon

Being in lockdown during Covid-19 pandemic can be a dreadful time, these 8 Banh Mi dishes becomes a "nostalgic" memory for Saigonese who love street ...