20 years history of Pho Cuon in Vietnam
Pho Cuon is one of Vietnam delicacies which attract not only local people but also international ones, which was first created in a small restaurant in Ngu Xa Village over 20 years ago, and became famous ever since.
Located in Ngu Xa area Ba Dinh district, Chinh Thang restaurant has been famous for pho cuon. It is known as the first place in the city to offer the food, also a favorite one of people in Hanoi.
The History of Pho Cuon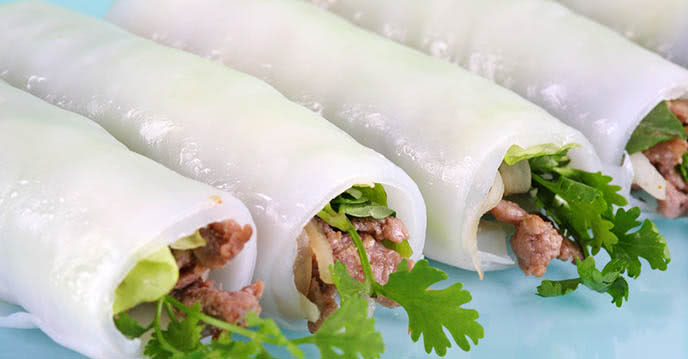 Pho cuon is similar to pho in terms of ingredients but it is served without soup, suitable for summer. Photo: Pasgo.vn
Pho Cuon was made by accident when a few hungry late night revelers when to a restaurant in Ngu Xa Village to eat Pho. The restaurant went out of broth. The men didn't want to move on so she suggested she would use the square slices of uncut pho and make some rolls with the leftovers.
The restaurant's boss took noodle to roll with beef and fennel and then he brought it for the guest to eat with sauce. However, it was very unpredictable. The guest felt it so well and since that the boss of this restaurant decided to make "pho cuon" to sell especially this dish used bare beef to make the rolled noodle soup.
"Surprisingly, my customers like it a lot," she recalled, "since then, it has always been on my menu. Pho cuon is similar to pho in terms of ingredients. But it differs in the way that instead of a bowl of hot soup, pho cuon is served without soup, suitable for summer."
Thanks to the delicious flavor of the dish that quickly won the palate of diners and became their first choice when they came to her restaurant. The new dish helped her earn a lot of money to raise her three sons and now one of them has succeeded her restaurant.
At the age of nearly 70 years old, she still does the work very fast. She proudly said that she can roll ten pho cuon in just one minute.
The secret of the sauce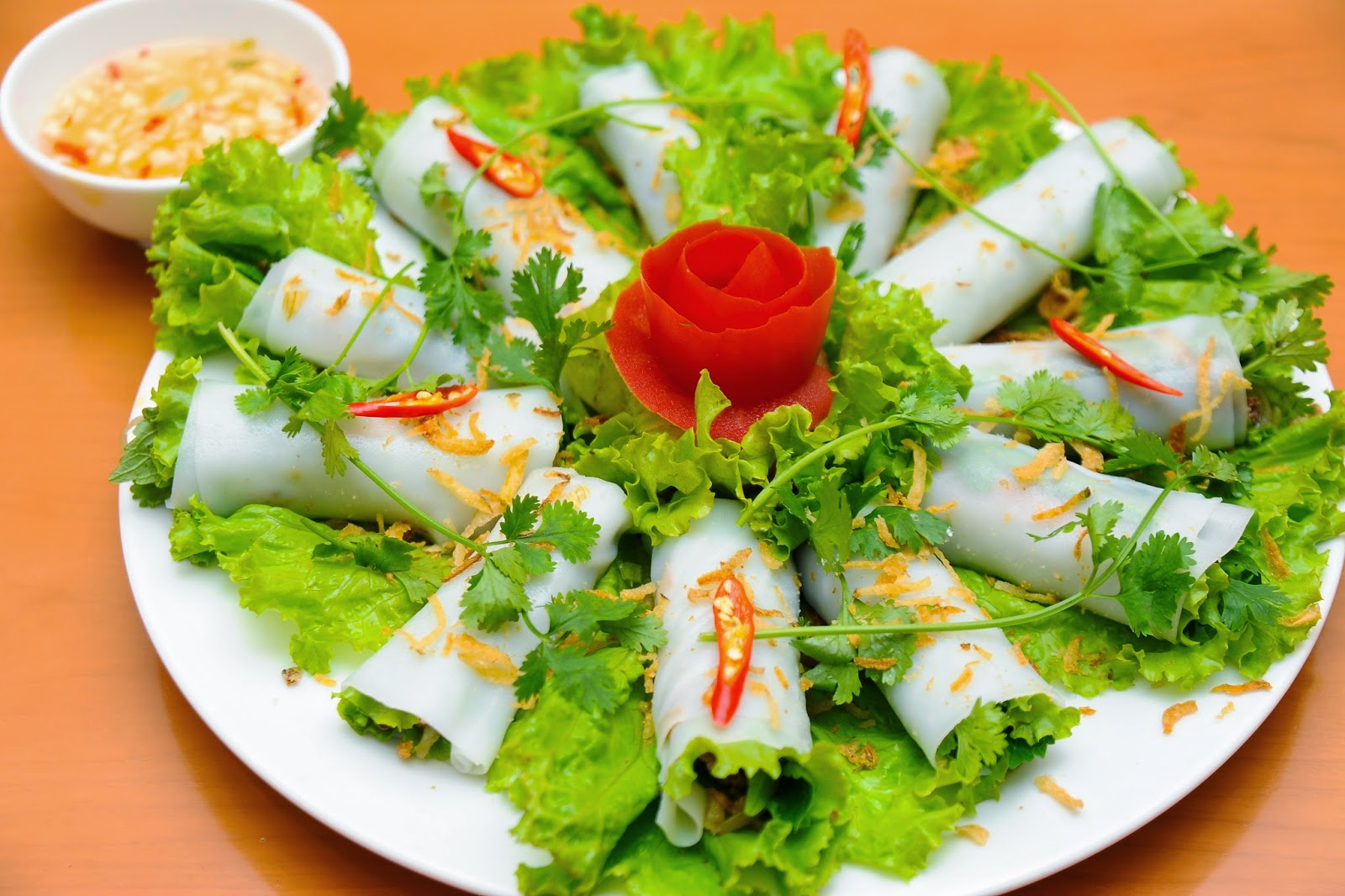 Photo: Bestpricetravel
What makes Pho Cuon so delicious? Beef must be fried quickly, onion and garlic fried simply, with just the right amount of seasoning to guarantee the perfect taste. Pho Cuon is the ideal combination of meat and vegetables while being both fresh and healthy. It is best eaten with one's hands and dipped into the sauce, no need for chopsticks. Although Pho Cuon arose from an adaption of Pho noodle soup ingredients without the broth, the taste of rolled Pho is very different to that of Pho noodle soup. Similar ingredients may be used – the noodles, beef, herbs and so on – but the combination gives a completely different taste and experience, partly for the way the meat is marinated and the fish sauce mixed.
If the broth is the key of pho, the dipping sauce is the secret of a tasty pho cuon, according to Ms. Chinh.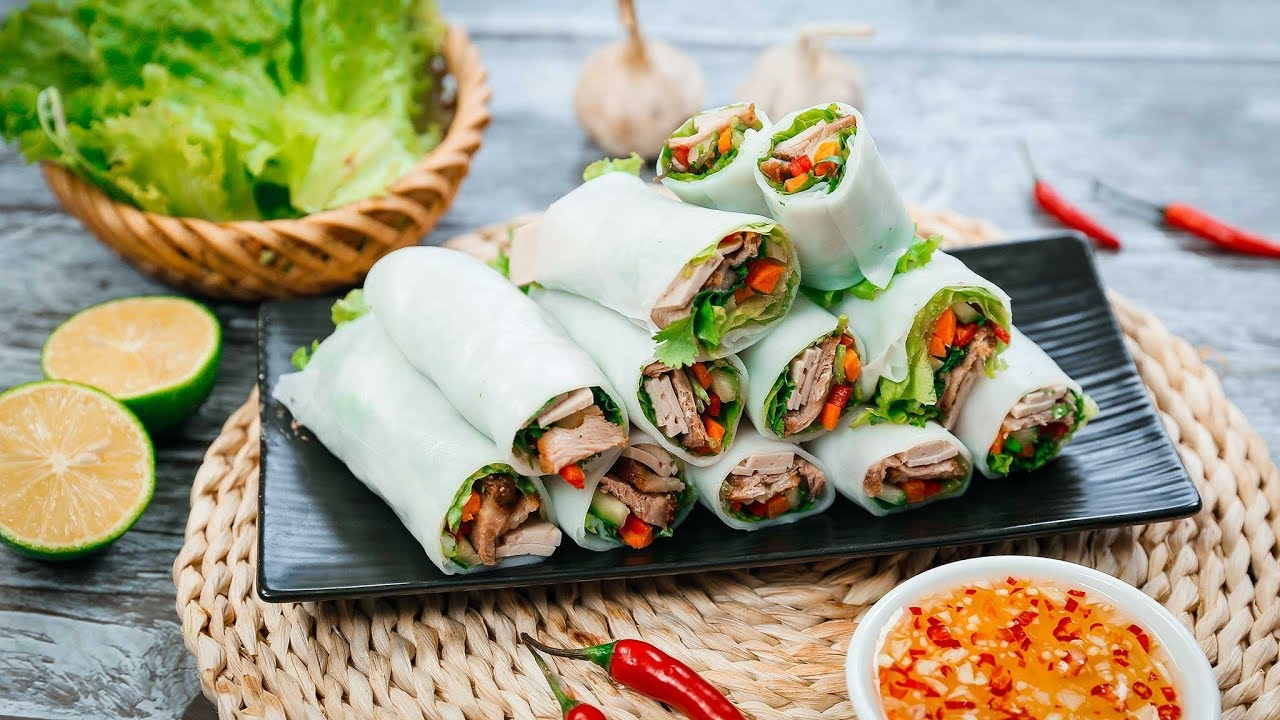 Pho Cuon is one of the favorite food in Hanoi (Photo: Bestpricetravel)
Each Pho Cuon restaurant in Ngu Xa has a recipe of the sauce and so does Chinh Thang restaurant. "The sauce gives a lot of taste as well as the balance for the food. During years of offering it, I adjusted my recipe several times until obtaining a sauce that has its own flavor and suits the taste of most diners," Chinh shared her experience.
In addition, the quality of the ingredients like the rice noodle, beef and herbs, is also important. They are bought from loyal traders that have provided to the restaurant for a long time.
For good Pho Cuon, the rice noodle sheet is required to be not only thin and soft for the best taste but also uneasy to be broken while rolling.
The stuffing includes beef, which is cut into small slices and stirred with oil before rolling with fresh herbs, especially coriander.
For over two decades, the restaurant has welcomed hundreds of visitors every day, both the locals and foreigners.
In addition to Pho Cuon, other dishes added later are also favored by many people such as deep-fried pho, crispy fried pho with egg, or sour pho, with only VND50,000 to 80,000 ($2.2-3.5) a dish.
Nowadays, Pho Cuon is made of silky white sheets of 'pho' (uncut noodles) wrapped around fried beef, lettuce, coriander and dunked in nuoccham (fish sauce with green papaya slices, rice vinegar, garlic and chilli), a mixture deemed as important as the actual rolls.
Some good places to eat Pho Cuon
Pho Cuon is a favorite food in Hanoi which you can try in all seasons. Thus, there are a lot of places selling this kind of food in the city. Finding a good place to try Pho Cuon is not easy, especially for newcomers. These are some suggestions for the best places to taste Pho Cuon in Hanoi.
1. Pho Cuon Ngu Xa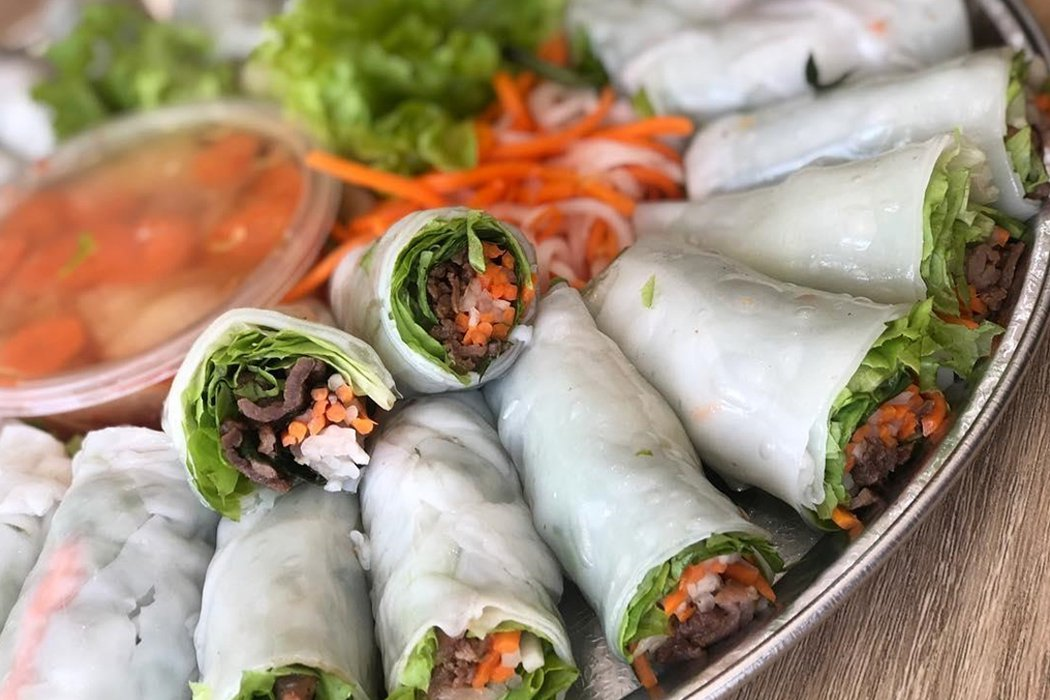 Photo: Bestpricetravel
• Address: 233 To Hieu Street, Dich Vong Ward, Cau Giay District, Hanoi
• Opening hours: 09:00 - 14:30 hrs and 17:00 - 21:30 hrs
• Price: from VND 30,000 to VND 45,000 per dish
2. Pho Cuon 31
Photo: Bestpricetravel
Address: 31, Ngu Xa Street, Truc Bach Ward, Ba Dinh District, Hanoi City
Opening hours: 06:00 - 23:00 hrs
Price: VND 25,000 to VND 55,000 per dish
3. Huong Mai Restaurant
Address: 25-27 Ngu Xa Street, Truc Bach Ward, Ba Dinh District, Hanoi City
Opening hours: 09:00 - 23:00 hrs
Price: VND 30,000 to VND 55,000 per dish
An unique style of crab noodle soup in Hanoi

"Vietnamese crab noodle soup" - Hanoi's style has plenty of versions which combine special ingredients such as fertilized duck egg, beef and stir-fried snail,...which bring ...