Canadian scholars speak highly of Vietnam's economic growth and pandemic containment
Vietnam's successful Covid-19 containment and economic development were highlighted at the online workshop held by the Canada-Vietnam Friendship Society (CVFS) on Saturday.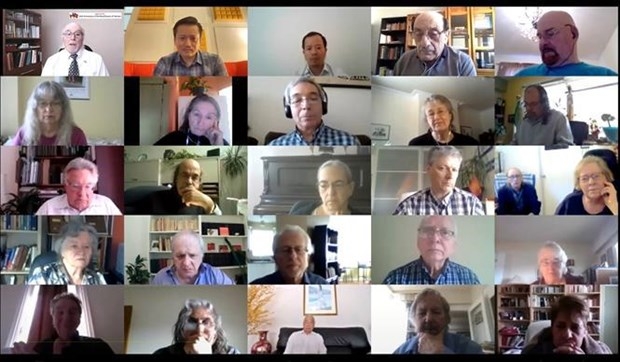 Participants at the workshop (Photo: VNA)
The over 100 delegates attending the seminars are particularly interested in Vietnam's effective response against Covid-19. The workshop was held while the pandemic is ravaging in Canada, prompting Canada Center for Disease Prevention and Control (CDC) to raise travel warnings to Level 4 (the highest level).
Mr. Steve Rutchinski, representative of CVFS emphasized, "Vietnam's Reunification Day 46 years ago was a shining mirror in the world. Since then, Vietnam has been continuing to shine and inspire the world. It proves that even a small country can thrive strongly and maintain sovereignty, independence, and national values."
With only 35 Covid-19 deaths, Rutchinski said, Vietnam wins admirations from the international community. Economic growth still reaches 2.91 percent even amidst pandemic time, the rate is evaluated as one of the fastest worldwide.
Vietnam's democracy was reflected in the fact that people throughout the country have contributed their opinions to documents of the 13th National Party Congress, outlining a roadmap to further apply science-technology towards a brighter future for the nation, he added.
As a key speaker at the seminar, Mr. Nguyen Hung Son, Deputy Director of the Diplomatic Academy of Vietnam shared Vietnam's 10 lessons on COVID-19 prevention and control, where the pandemic has been effectively curbed with only 2,833 infections confirmed so far. The number strongly strikes attending delegates as in the past week, Canada recorded nearly 59,000 new infections, raising the national tally to over 1.1 million cases.
Meanwhile, Ms. Margaret Villamizar, a representative from the Communist Party of Canada (Marxist-Leninist), praised Vietnam's achievements in the fight against COVID-19 and maintaining economic growth, saying this is a miracle.
Canadian scholars also said the Vietnamese Government had soon "suppressed" COVID-19 via measures such as quarantine, contact tracing, and communications campaigns.
Vietnamese people have shown their ability and strong spirit in the fight against COVID-19, poverty elimination, and response to climate change, to build a strong and rich nation, they said, according to Vietnam Plus.
On April 23, the US newswire vox.com published an article highlighting Vietnam's effective measures against the COVID-19 pandemic, affirming that early and drastic actions such as border shutdown have helped Vietnam keep virus variants at bay while growing its economy.
As the pandemic took hold last year, travel restrictions quickly proliferated in many countries. According to one review, never in recorded history has global travel been curbed in "such an extreme manner": a reduction of approximately 65 percent in the first half of 2020. More than a year later, as countries experiment with vaccine passports, travel bubbles, and a new round of measures, a maze of ever-changing restrictions remains firmly in place.
But few countries have gone as far as Vietnam, with a gross domestic product per capita of 2,700 USD. Last year, its growth hit 2.91 percent, defying economists' predictions and beating China to become the top performer in Asia. The author quoted researcher Kelley Lee from Simon Fraser University as saying that under the leadership of the Communist Party of Vietnam, the Vietnamese Government took a quicker and more comprehensive approach to the pandemic than other countries.
Vietnam has a "very scientific approach", said US economist Sarah Bales who has lived and worked in Vietnam since 1992. Watching the pandemic unfold in the US and Europe, Bales was among several Vietnam-based Westerners who told Vox they believe the privacy and personal liberty costs during the pandemic were worth the benefits of living a relatively free life.
One more imported case of COVID-19 was reported from 7 am to 6 pm on April 24, according to the Health Ministry. The new patient, a 27-year-old Vietnamese, raises the national count to 2,833. He was quarantined right after his arrivals from Japan.
No new cases found on the morning of April 25. Vietnam has gone through 31 days without reporting any community cases.