Cassava sweet soup, the perfect dessert to warm up cold winter days  
In the bitterness of a cold winter afternoon, nothing compares to the relaxed feeling you have while enjoying a bowl of warm cassava sweet soup, or "chè sắn" in Vietnamese. The pungent slice of ginger in the soup will surely warm your body up. 
A bowl of Cassava sweet soup is perfect for cold winter day (Photo: Bao Thua Thien Hue)
Cassava sweet soup is a Vietnamese traditional food which is a specialty food of Hanoi capital. The perfect mix of sweet gelatinous broth, sticky, tender cassava, greasy coconut milk, crunchy peanuts, greasy coconut meat has won the hearts of many people. What is better than eating hot Cassava sweet soup on cold and cool days in Hanoi? The sweet soup can warm your stomach and satisfy your taste.
The main ingredient for Che san nong is cassava root which is long and tapered, with a firm, homogeneous flesh encased in a detachable rind, about 1 mm thick, rough and brown on the outside. Cooked cassava root is sticky, a little buttery and lightly sweet. This kind of food is used to cook a lot of Vietnamese desserts including sweet soups and cakes.
Although there are tens of Vietnamese sweet soup recipes from complex to simple, the simple Cassava sweet soup is a brilliant gem in Vietnamese cuisine. In comparison to other kinds of sweet soup, Cassava sweet soup is easier to cook and made from fewer ingredients but no less delicious. It reflects a characteristic of Hanoi sweet soup: simple but delicious. Coming to Hanoi on cold days, do not miss trying sitting on the streets, eat some hot sweet soups including Che san nong. It is the best way to immerse yourself in local life and learn more about the unique culture of Hanoi.
INGREDIENTS FOR CASSAVA SWEET SOUP:
Cassavas: 1kg
Kudzu powder: 50g
Peanuts: 50g
Sugar: 150g
Ginger: 1 piece
Shredded coconut meat: 50g
Coconut milk: 200ml
Water: 1.5l
Salt: 1 teaspoon
STEPS FOR COOKING CASSAVA SWEET SOUP: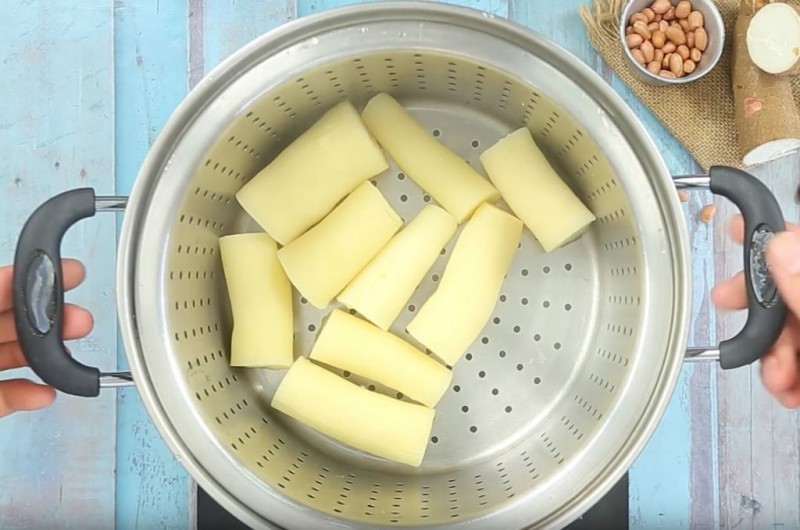 First, peel away the cassava skin and boil the white flesh in water with salt for 15-20 minutes until well-done, then slice boiled cassava into bite-sized pieces. (Photo: Scooter Saigon Tour)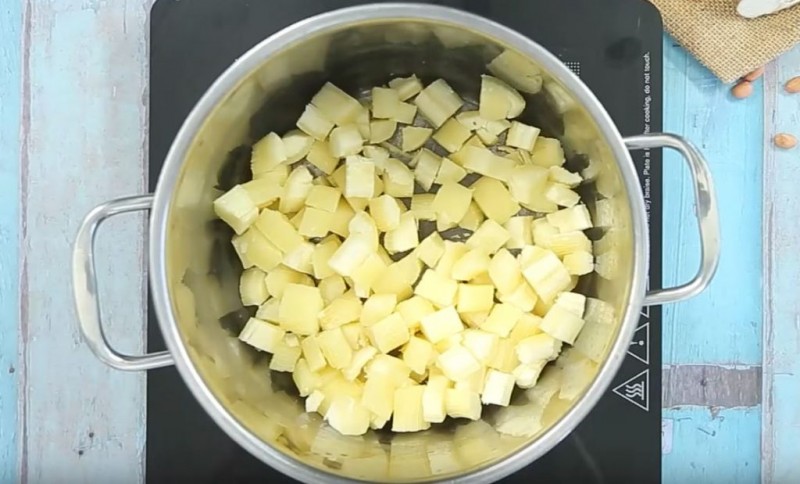 Cook water, mashed ginger, and boiled cassava pieces until boiling, after 2 minutes add sugar, kudzu powder and cold water mixture, stir well for 5 minutes. (Photo: Scooter Saigon Tour)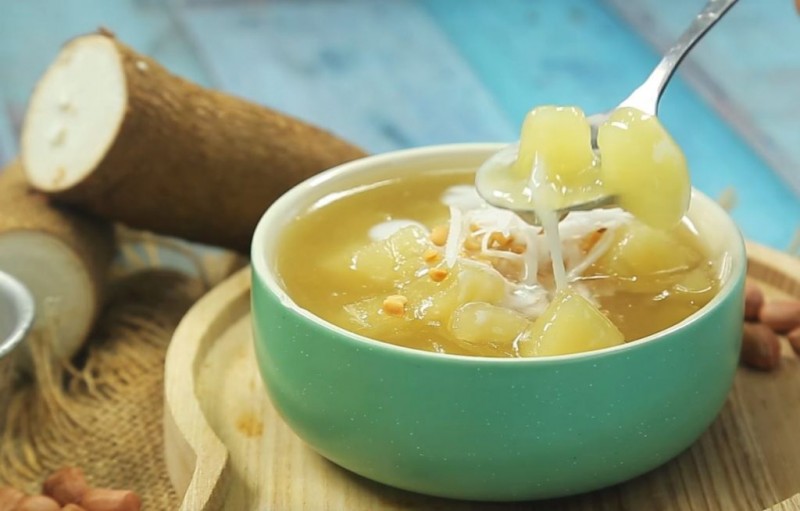 Top the Cassava sweet soup with crushed toasted peanuts, shredded coconut meat, coconut milk.
(Photo: Scooter Saigon Tour)
Vietnam Tourism/ Bao Thua Thien Hue/ Scooter Saigon Tour