Covid-19 situation in Hanoi and HCMC basically put under controlled
The Ministry of Health said that Ho Chi Minh City is rushing to contact tracing and taking drastic measures to control the Covid-19 outbreak.
As of February 12, Vietnam has reported 553 Covid-19 community transmission cases in 13 provinces and cities, according to the Health Ministry.
Ho Chi Minh City has recorded 34 cases. The city is rushing to contact tracing and take samples of people linked to the staff at Tan Son Nhat Airport who earlier confirmed tested positive for the novel coronavirus.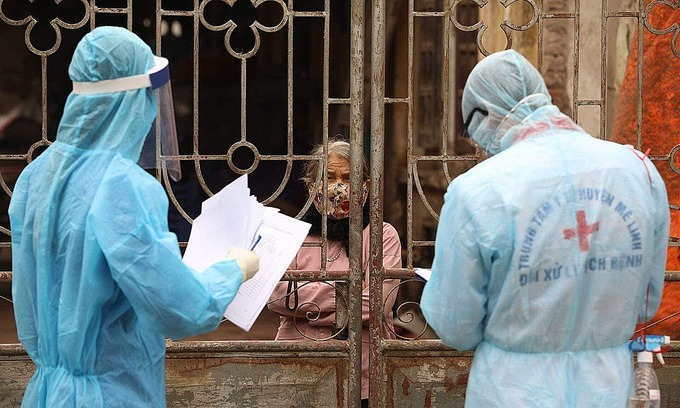 Two medics collect information on health declaration from local residents in Hanoi. Photo: VnExpress.
In the time ahead, Ho Chi Minh City will continue conducting Covid-19 testing for people with a high risk of transmission to timely detect community cases. The Covid-19 situation in Ho Chi Minh has been basically put under control thanks to the drastic anti-pandemic measures.
Hanoi has logged 27 Covid-19 cases to date. The capital city has carried out contact tracing, zoned and isolated suspected cases as well as take samples for testing on the large scale.
The disease situation in Hanoi has also been basically placed under control. 12,000 employees at Noi Bai international airport had their samples for testing, 10,700 samples of which have been negative.
Hai Duong has registered 383 locally transmitted cases. Cam Giang district and Chi Linh city have still been blockaded.
According to the Ministry of Health, in general, the epidemic situation in Hai Duong has been controlled. Cam Giang district and Chi Linh city are expected to report more cases in the time ahead but they are only in the blockaded areas.
Medical staff at a field hospital for Covid-19 patients with a "Special Quarantine Area" sign in Quang Ninh Province. Photo: VnExpress
Quang Ninh province has so far recorded 59 Covid-19 cases. The province has reviewed and tested more than 67,000 samples. It can be said that Quang Ninh has also well controlled the pandemic.
In addition, other localities including Hai Phong, Hoa Binh, Bac Ninh, Bac Giang, Dien Bien, Ha Giang have not recorded new cases over the past few days.
535 patients have been monitored at the medical facilities. There have been no deaths since the third way of Covid-19 swept through the country on January 28.
In the coming time, especially during the Tet holiday, the Ministry of Health along with the localities will strictly implement directions of the Prime Minister and the National Steering Committee for Covid-19 Prevention and Control.
The Ministry of Health urges the residents to comply with the 5K message, especially wearing face masks in public spaces.