Culture of Vietnamese Ethnic Groups Introduced in the French City of Saintes
French local people enjoyed the costumes of the H'Mong, Giay, Tay people, jewelry of Thai, Dao people, daily labor tools of Vietnamese ethnic groups.
Visiting the multimedia library of the city of Saintes (France) during this time, tourists and local residents will have the opportunity to admire the costumes and items of Vietnam's ethnic minorities.
The exhibited items and costumes are collected by Alain Dussarps, Vice President of France - Vietnam Friendship Association (AAFV). They include costumes of the H'Mong, Giay, and Tay, jewelry of the Thai, Dao, and daily labor tools of the ethnic minorities in Vietnam... This is the first time these unique artifacts have been introduced in Saintes and left a good impression in the hearts of the local people.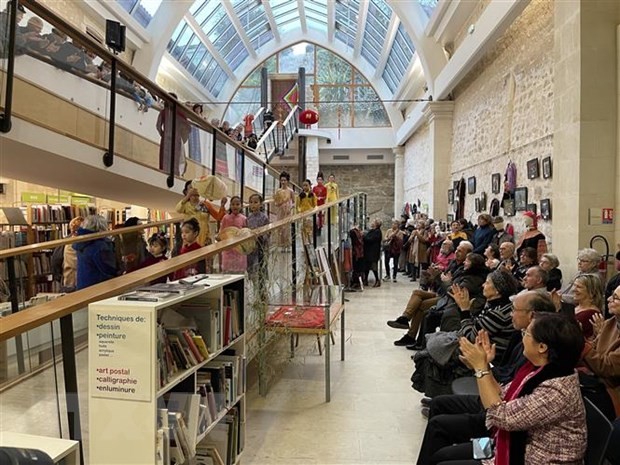 The exhibition of Vietnamese Ao Dai. (Photo: Thoi Dai)
The exhibition is one of the activities to introduce Vietnamese culture to local people within the framework of the "Le Vietnam s'invite à Saintes" program (Vietnam comes to Saintes) organized by the Association of Vietnam 17 to celebrate the 50th anniversary of the establishment of diplomatic relations between Vietnam-France.
On this occasion, an exhibition of ethnic fashion and Vietnamese Ao Dai was also held and attended by the Vietnamese Ambassador to France Dinh Toan Thang, city leaders, and many local people.
Nhung Lehoux, President of the Association of Vietnam 17 said: "I decided to introduce the costume of different ethnic groups of Vietnam to the public of Saintes because I believe it is very important to preserve and promote ethnic minority values ​​in Vietnam. I even think it's like a cultural cradle of our country".
Nhung Lehoux also expressed her hope to bring delegations of French and overseas Vietnamese to Vietnam to help them discover and experience the culture of the ethnic groups of Vietnam, and at the same time, to help the indigenous people improve their lives economically.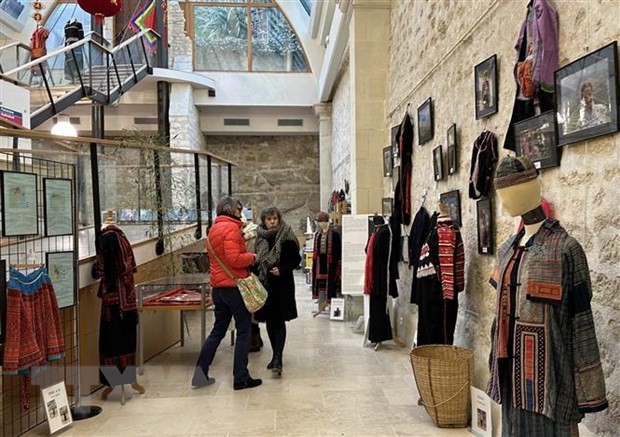 The exhibition of costumes of ethnic groups in Vietnam. (Photo: Thoi Dai)
Performances of Vietnamese people living in the city have been applauded by attendees.
In addition to introducing national culture, the exhibition also aims to call for a hand to help disadvantaged localities of Vietnam.
Annick Alhopez, a local, expressed her interest and joy in the exhibition of national costumes. She said that she had visited Vietnam before, so when she looked at the costumes, she felt like she was back there. She commented: "Most of the costumes are very unique, colorful, and eye-catching. I love Vietnam because this country has many beautiful landscapes and pleasant and cheerful people."
Her companion, Josette Guitton, said that although she had never been to Vietnam, the event made her want to visit the country of these costumes.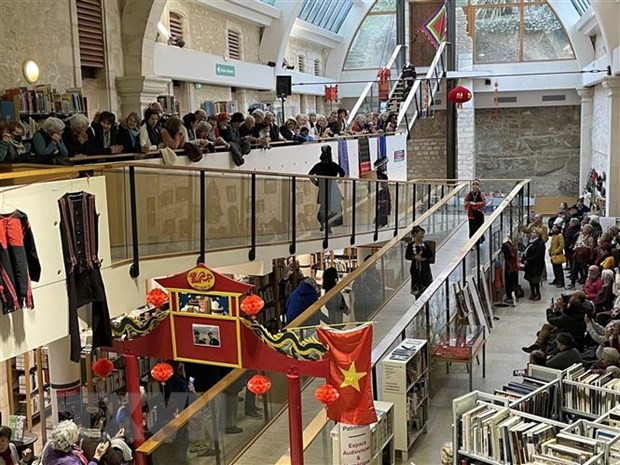 The exhibition of costumes of ethnic groups in Vietnam. (Photo: Thoi Dai)
The old couple Marie-Bernard and Michel Reboux traveled more than 40km to join the exhibition because they have a Vietnamese daughter-in-law and grandson. It is that emotional bond that attached them to Vietnam.
Michel Reboux said: "We are very impressed with the variety of colors and designs of the costumes, as well as the grace of the models. Although they are not professional, they have performed very successfully and that definitely increases the value of the costumes exhibited. Thanks to this exhibition, I can see the diversity of different regional cultures in Vietnam."
As a performer, Tran Thi Nhung Odette Choket, a French-Vietnamese, feels very proud to wear Vietnamese costumes. She shared with pride: "I participated in the fashion show today because I am Vietnamese. My father is French, but I was born and I grew up in Vietnam, so I really want to show my friends here Vietnamese customs and costumes. I think they like it very much and that's something to be proud of for us Vietnamese".
In celebration of the Vietnamese Lunar New Year, the Association of Vietnam 17 held a lion dance performance and Vietnamese martial arts on the central streets of the city, attracting many locals. Besides, in coordination and support of the City Hall, students at local schools enjoyed Vietnamese dishes and heard about the country and people of Vietnam.
As scheduled, a chain of cultural events will be held in the framework of the organized"Le Vietnam s'invite à Saintes" program with a wide range of activities, including film screenings, reading Vietnamese fairy tales for children, tourism seminars, economic talks, and performances of ethnic musical instruments, among others.
The program will be organised by Association Vietnam 17 in collaboration with the authority of Saintes, and the Vietnamese Embassy in France.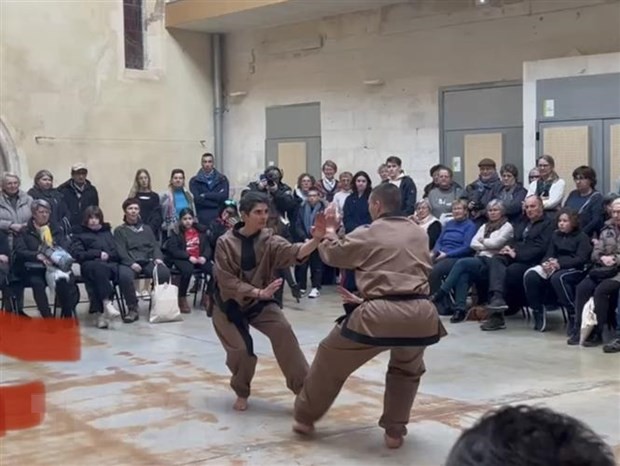 Performance of martial arts. (Photo: Thoi Dai)
Association of Vietnam 17 was founded in 2009 by Nhung Lehoux with an aim to introduce the country, culture, and people of Vietnam to the people of Saintes city. Through activities of introducing cuisine, painting exhibitions, cultural exchanges, and exploring Vietnam's tourism, the association gathers a large number of French and Vietnamese families, young people, and students in Saintes and Vietnamese lovers from all walks of life.
Ambassador to France Dinh Toan Thang spoke highly of the association's initiative to organize the event, saying that the activity will contribute to honoring Vietnam's traditional culture and beauty, thus tightening the friendship and mutual understanding between the people of Saintes and French friends and Vietnamese people.
Vietnamese Culture Shines in France

On January 14, the Association for the Promotion of Vietnamese Culture (APCV) organized a special cultural and artistic program in Paris. This is one of ...
Promoting Vietnamese Culture to The World

"Vietnam experienced a successful 2022 with many achievements in culture. That result partly comes from Vietnam's tireless efforts in promoting its language and culture globally," ...