First Vietnamese Youth Speaker At UN Disarmament Conference Advocates for Peace
Phung Trang Linh, a Vietnamese student of the Foreign Trade University, was honored to be one of four youth speakers at a United Nations conference on disarmament on August 12.
Phung Trang Linh hopes for a peaceful future. Photo Bao Quoc Te
Linh was the first Vietnamese youth to attend a UN conference on the topic of disarmament. She was so proud of the experience because she could raise voice of Vietnamese young people about international issues.
Only ten young people were selected from over 6,500 candidates from 157 countries to become official delegates of the conference. Linh was lucky to be one of the ten selected people. More luckily, she was chosen to be one of four youth speakers.
She said she felt happy, proud and lucky to represent 1.8 billion young people around the world to take part in UN peacekeeping activities.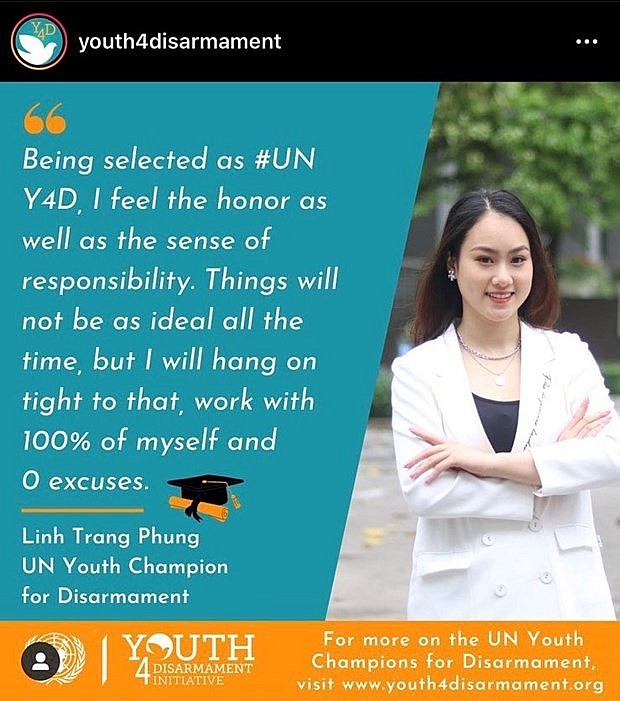 Photo Youth4Disarmament
Through this event, the United Nations focused on fostering the young generation and encouraging them to engage in the decision-making process that will affect their future.
A family story has encouraged Linh to apply for the UN's Youth Champions for Disarmament. A younger brother of Linh's grandfather who joined the army in the southern battlefield in 1975 died just before the liberation day and never fulfilled his promise to return. The pain of losing a family member due to the effects of the war prompted Linh to apply for the UN's disarmament initiative.
Fueled by loss and trauma of war, Linh participated in the program with the desire to be able to speak out Vietnamese people's voice towards peace.
The UN's Youth Champions for Disarmament is an innovative learning program aimed at empowering them to work for disarmament in their communities. The 10 selected youth champions will receive training in general principles of disarmament, non-proliferation and arms control through online courses and a two-week in-person study tour in Vienna, Geneva, Hiroshima and Nagasaki.

They will exchange ideas with disarmament experts from think tanks, civil society organizations and the diplomatic field, and develop a plan to engage their communities on issues related to disarmament, non-proliferation and arms control.

On the initiative's website, Linh was introduced to have worked for Vietnamese Ministry of Industry and Trade during Vietnam's 2020 ASEAN Chairmanship. She also played a leading role at AIESEC in Vietnam as well as an inspiring representative of Miss FTU Beauty and Charm. She is determined to apply her knowledge and skills to make impacts on her society and on the mission of empowering youth participation in solving social issues to make a more peaceful and better world.
Inspiring speech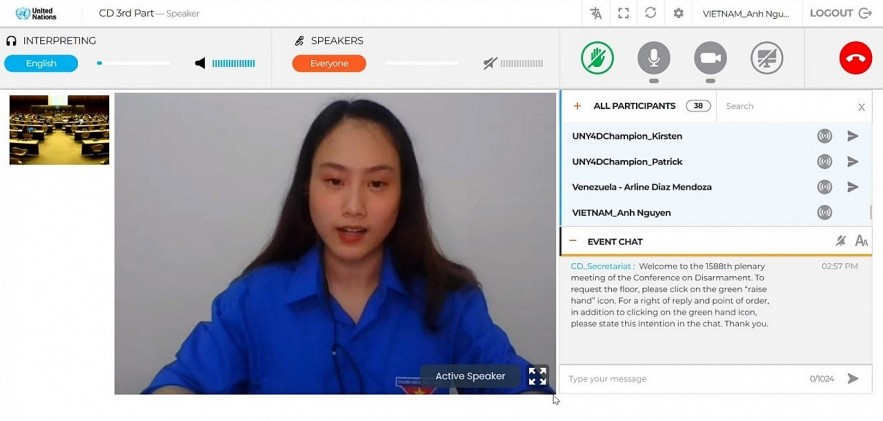 Linh delivers a remark on the importance of youth participation in the field of disarmament. Photo Youth4Disarmament
Trang Linh wore the uniform of Vietnam Youth Union while delivering a speech at the event. She said the outfit expressed the will and aspiration of Vietnamese youth who are determined to join hands with the United Nations to overcome the consequences of war, landmines, and weapons reduction.
Linh talked about the participation of young people in disarmament and highlighted the consistent foreign policy of Vietnamese Party and State on supporting peace, and affirmed Vietnam's participation and responsibility at international forums on disarmament.
She mentioned challenges that many young people often face when participating in disarmament activities and proposed solutions. In the context of the Covid-19 pandemic, the Vietnamese representative said that young people needed more diverse and extensive interaction platforms to participate in disarmament.
"Youth must take a leading role in calling for a mindset change towards gender stereotypes which are still holding back women's participation in arms control, non-proliferation and disarmament," Linh said.
At the end of her speech, Linh emphasized that young people around the world in general and young people in Vietnam in particular - a country heavily affected by the war - are very aware of the value of peace and wish to contribute to the peace and make a small contribution to protect the future. Linh's speech was highly appreciated by the chairman of the session and other attendees. Delegates from other countries agreed with the initiatives proposed by Linh.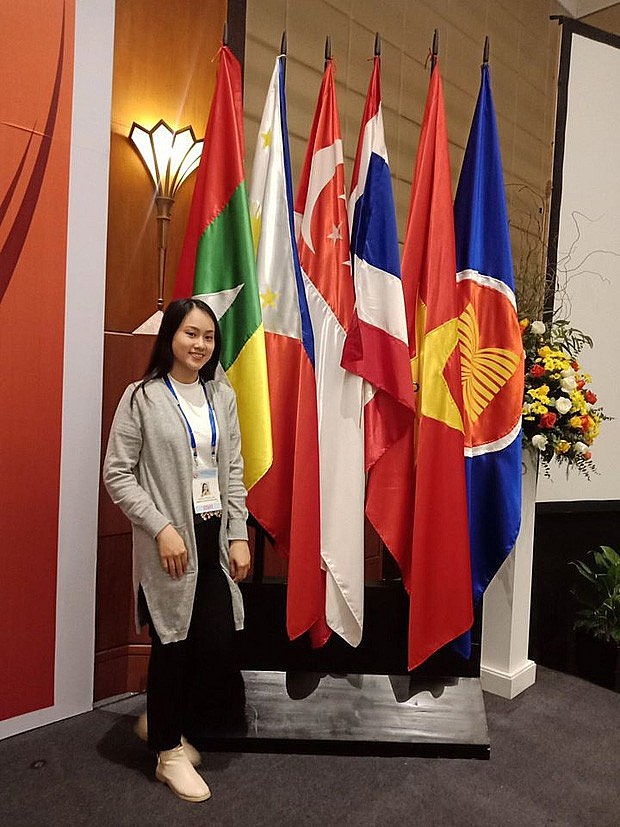 Linh has attended a number of regional and international youth programs. Photo Soha
Appreciation from international friends
The most memorable moment at the conference was when the US delegate spoke about representatives of the UN Youth Champions for Disarmament, including the Vietnamese representative, and acknowledged their energy and activeness in an issue that many others find difficult and hopeless.
"Young delegates today, you are the young leaders that the Secretary-General of the United Nations mentioned," the US delegate affirmed.
Trang Linh said she would never forget this proud moment because the efforts made by herself and of Vietnamese youth have been recognized by major powers.
Vietnamese students are paying more attention to global affairs and international cooperation, however, Linh said the field of disarmament was still quite new to them.
Linh is planning to cooperate with War Aftermath Initiatives to organize an online training series for Vietnamese youth who are interested in international relations and application of economy in ensuring security, peace, disarmament with the support of the United Nations Office for Disarmament Affairs (UNODA).
"I hope young Vietnamese generation will have a closer and more realistic view on disarmament through gratitude activities, support for clearance funds, landmines, or Agent Orange victims, contributing to the global disarmament effort," she said.
"Together, the Vietnamese youth generation can make steady progress on the path of international integration!," Linh said.