Forbes: Vietnam is one of top 5 most visited destination in Southest Asia
According to Forbes's vote for five stunning natural wonders across Southeast Asia, Vietnam is considered the favourite destination of stunning terraced hill and wonderful places for tourists.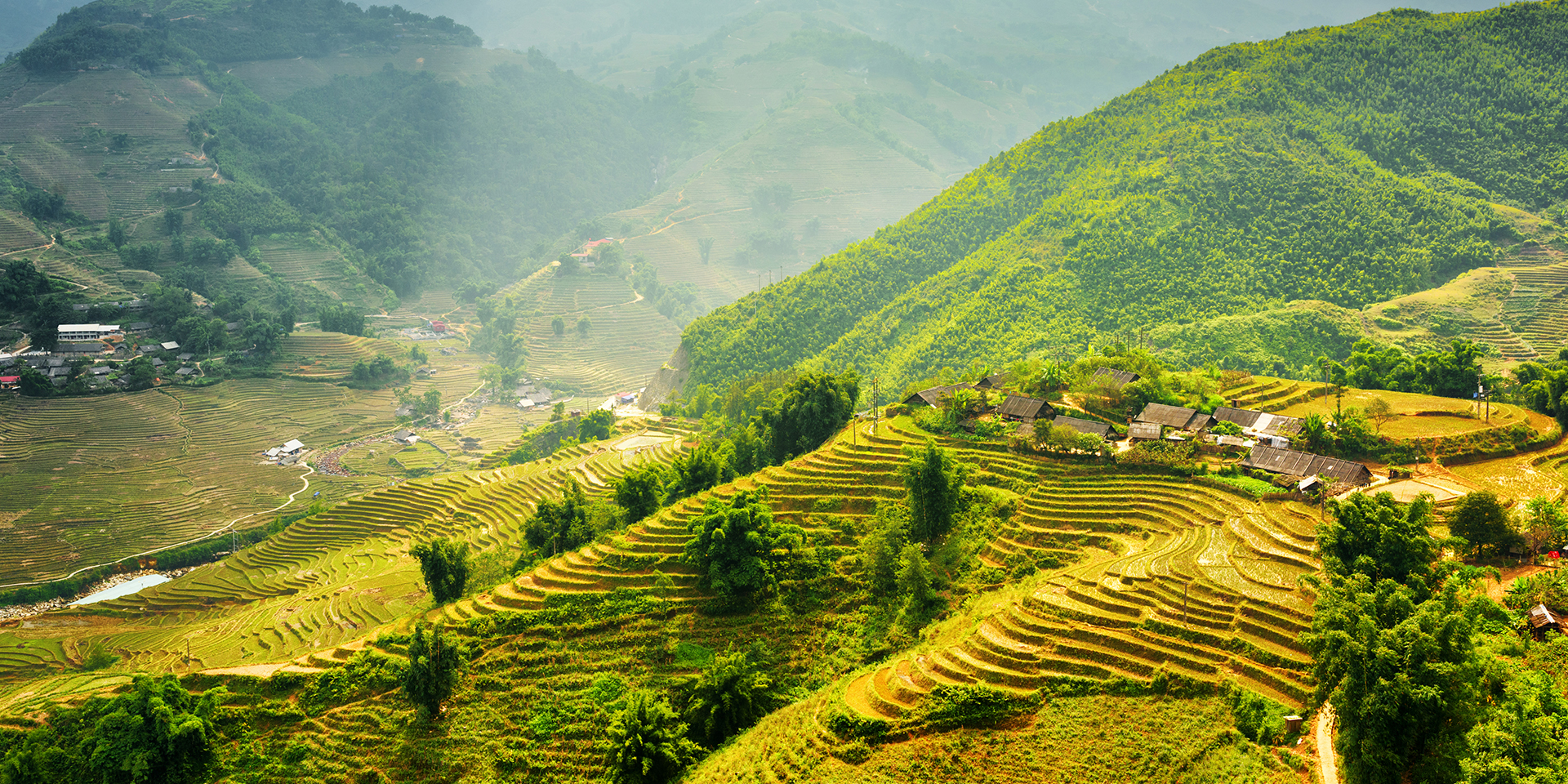 Photo: Remote Lands
It's no secret that Southeast Asia is a spectacularly beautiful place to visit—just ask the 133 million tourists that vacationed in the region in 2019. Forbes has recently voted 5 destinations, along with Vietnam, to be the natural wonders to visit across Southeast Asia. The list includes: Puerto Princesa Subterranean River National Park, Red Lotus Lake, Mount Kinabalu, Komodo, and Lao Cai.
Lao Cai, Vietnam is one of the most visited destinations in Southeast Asia
For those wishing to immerse themselves in the stunning terraced hills that Vietnam is renowned for, few destinations can compare to Lao Cai Province, a hilly region in the northernmost reaches of the country. Opportunities abound for immersing oneself in both natural beauty and Vietnamese culture, with the city of Lao Cai, town of Sa Pa, and Vietnam's tallest mountain—Fansipan —all found within the province. For a truly memorable vacation, tourists can follow their visit with a trek across the Chinese border to Kunming, a verdant destination that's often called the "City of Eternal Spring".
Lao Cai is a mountainous province in northwest Vietnam about eight hours away from Hanoi by train. Home to many ethnic hill tribes, this natural landscape is frequently visited by travellers looking to experience the life of the tribes in Sapa and enjoy spectacular views of waterfalls, mountainside rice terraces, and traditional villages.
From the capital of Hanoi, you can take an overnight train to Lao Cai Province which costs about VND 800,000 for a return fare with a bed in a four-person cabin. Upon arrival in Lao Cai Town, you can either hop on a bus or taxi to Sapa Town, which is located 34 kilometres (about 30 minutes away) from the train station.
Sapa offers a wide range of accommodation options, though most travellers opt for a stay with a Hmong (such as Red, Black, Green and Flower Hmong) hill tribe family, where they can enjoy a guided tour to their village and learn more about their traditions and way of life. A must visit is the Cho Tinh Market, where you can see unmarried ethnic youths dressed in colourful costumes singing and playing traditional games every Saturday evening. The majority of these dates result in marriages come springtime in Sapa, which is why the market is also called Lover's Market.
If you're an adventurous traveller who want to get off the tourist trail during your holiday in Vietnam, Lao Cai Province is also close to the Fansipan Mountain. Known as the tallest peak in Vietnam, it boasts breathtaking views of mountain ranges and countryside within north-western Vietnam, as well as glimpses of Yulong Mountain in China.
Places to Visit in Lao Cai
Ham Rong Mountain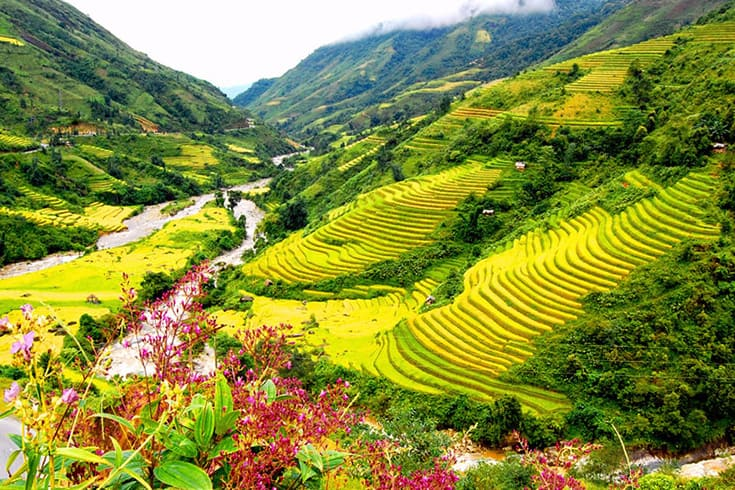 Photo: Vietnam Discovery Travel
Blessed with beautiful cherry blossom trees, colorful gardens, and one-of-a-kind rock formations, Ham Rong Mountain is a great sneak peak of the beauty Sapa Town can offer its visitors. Walking paths were made for tourists to enjoy a relaxing mountain park. Getting to Vietnam met us with crazy hot weather but now that we are in Sapa Town, the weather is cool and breezy. My favorite thing to see are the clouds creeping into every street and every corner of Sapa Town and it is all visible in Ham Rong Mountain.
Silver Waterfall (Thac Bac)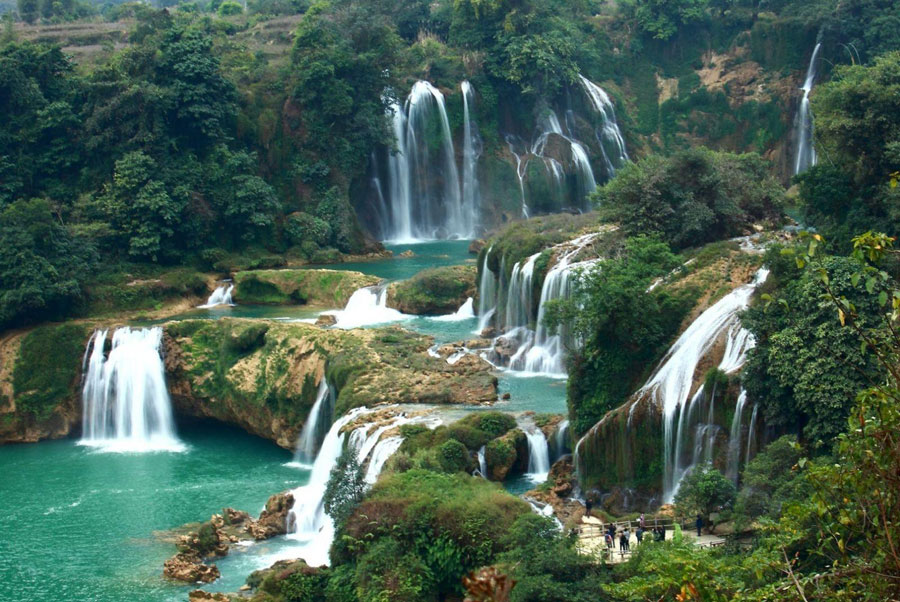 Photo: DulichSapaLaoCai
Although this is a famous hiking ground, we were preparing for our trip to Mt. Fansipan, so we went to the waterfall and did love the view there. We can see the highway from the waterfall and also see the towering Vietnamese mountains. The Silver Waterfall is fantastic; it's a series of waterfalls all flowing down a mountain lake. It is beautiful and you can really be at loss for words with the Thac Bac Waterfall.
Love Waterfall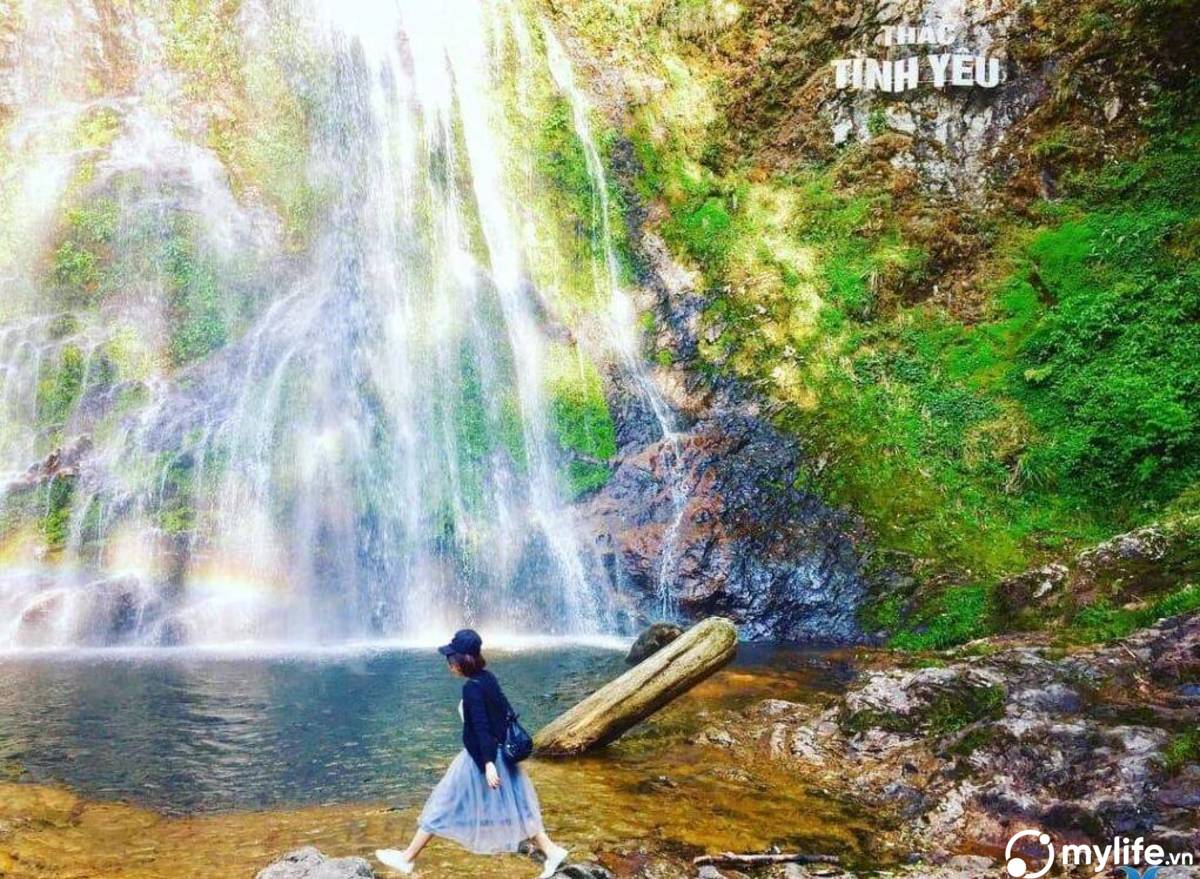 Photo: Mylife
As we make our ascent to the peak of Mount Fansipan, we get to have a view of the infamous Love Waterfall. It is far from sight and you need to go through a red dirt road and through a lush green forest until you reach the waterfalls. The waterfall is beautiful, the falling water breaks onto smaller crevices creating such a sublime image that I think would inspire plenty of romantic poets and artists to fuel their artistry. This is a really beautiful and calming place and I'm so glad I didn't miss the chance to see it. It does have a love story attached to it; a legend of a fairy falling in love with a human boy, O Qui Ho. The fairy fell in love with him as he continuously played his melodic flute. And that's why it's called the Love Waterfall.
Tram Ton Pass
Photo: BestPrice Travel
A little far off the Silver Waterfall is the Tram Ton Pass. This is the highest mountain Pass in Vietnam which has a fantastic viewpoint of the surrounding areas. From there, you can see the mountain range in Vietnam and you can also enjoy the view from the winding mountain road upon the face of the mountain. The only thing I can say about the Tram Ton Pass is the really tantalizing view as we make our way to our trekking spot in Mt. Fansipan.
Mt. Fansipan (Phan Xi Pang)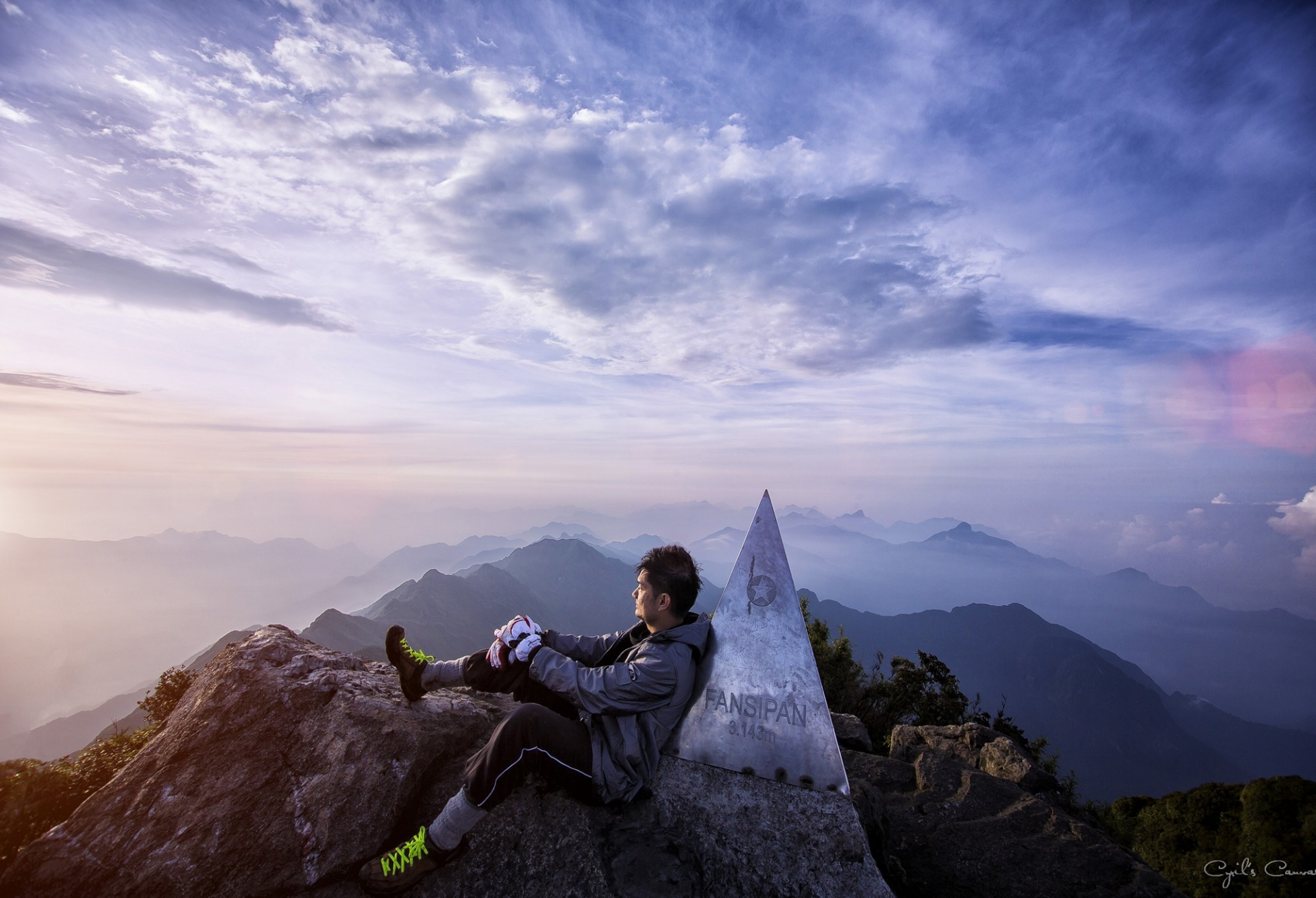 Photo: BestPrice Travel
The highlight of our Vietnam tour was in Mt. Fansipan. Named as Vietnam's highest peak, Mt. Fansipan is one of our toughest trekking experiences there. Hiking in Mt. Fansipan is incredibly breathtaking, it's a slow and tough journey and it took us two good days of trekking to get to the beautiful 3,143 meters above sea level. This is a truly thrilling experience. Not too long ago, they opened a cable car that brings tourists to the top but we skipped the cable car to the top and in doing so, we were rewarded with waterfalls, beautifully lined trails along the mountain, rock climbing in some parts, passing through small town with a beautiful rice terraces, and the kisses of the mountain mist. It's a beautiful, damp, fulfilling, and truly challenging experience.
Lao Chai Village
This village is situated just by the foot of Mt. Fansipan. Living there are the people of the Black H'mong Tribe – black because practically most of their clothing are dyed black with intricate embroideries. We didn't stay there for the night but definitely stayed for the day relaxing with the people of the H'mong and the Giay community. Food was simple yet good since the only thing they eat are things they grow and take care of themselves.
Ta Van Village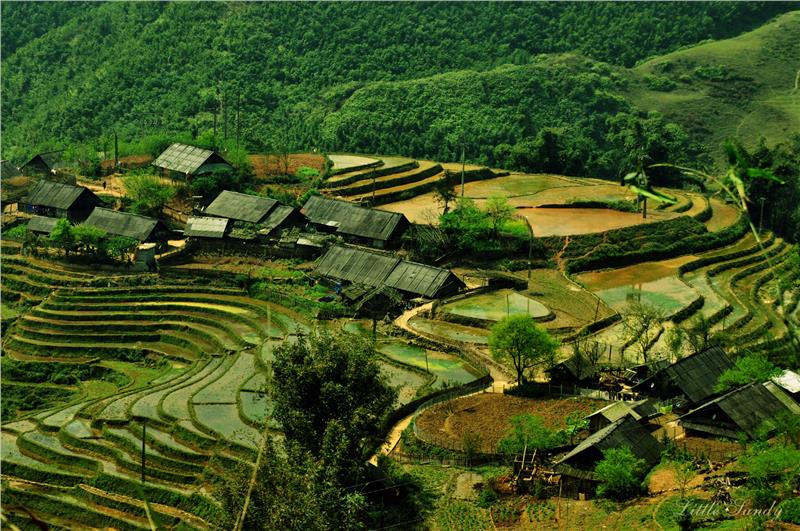 Photo: AloTrip
The Ta Van Village is a cultural trip that I really enjoyed after a long trek to the peak of Mt. Fansipan. The ethnic life of the Dzay people is really unique and they live in these fascinating stilt houses. We were recommended to stay in Ta Van Village to enjoy the rustic life and, though we were hesitant, a terrifying trip back to Hanoi at this time would really exhaust us all especially my son. So, why not?! It's part of a great Vietnamese experience. We were greeted with friendly natives, and we were given this big room with foam beds with mosquito nets on the wooden floor. We enjoyed going around the rice terraces, watching them dance in the evening and the wonderful view of the clouds hugging Mt. Fansipan.