Funeral held in Japan's prefecture for two Vietnamese victims in landslide
In adolences sent to the funeral service, Governor of message of Japan's Miyazaki prefecture lauded the two Vietnamese trainees' contributions to Shiiba village where they worked.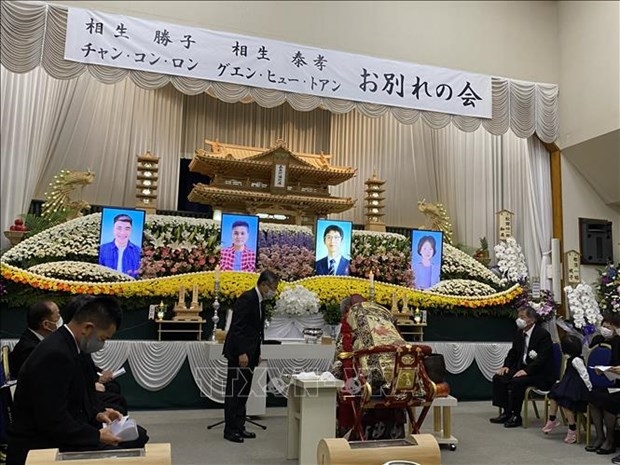 At the funeral service. Photo: VNA
A funeral has been recenlty held in Japan's Miyazaki prefecture for four victims of a landslide in Shiiba village, including two Vietnamese trainees, reported VNA.
The landslide occurred in the evening of September 6 last year after typhoon Haishen made landfall in the southwest of Japan. Continous downpours pulled the house of Aioi Hideki, Director of Aioi Gumi Company, to the river.
The two Vietnamese male trainees, including Nguyen Huu Toan, 22, and Tran Cong Long, 23, together with the director's wife and son, went missing as a result. Meanwhile, the director in his 70s suffered broken ribs and was hospitalised.
Japanese search and rescue forces on September 17 have found Toan's body. However, those of the remaining remain unaccounted for. In late March, the local authorities announced that the remaining victims were dead.
Speaking at the event, Vietnamese Consul General in Fukuoka Vu Binh thanked authorities and people of Miyazaki prefecture and the Vietnamese community in Japan for supporting families of the two victims during the search process.
In a message of condolences sent to the funeral service, Governor of Miyazaki prefecture Kono Shunji expressed his grief over the passing of the four victims and lauded the two Vietnamese trainees' contributions to Shiiba village.
He also affirmed his determination to foster exchange and friendship with Vietnamese localities in various areas.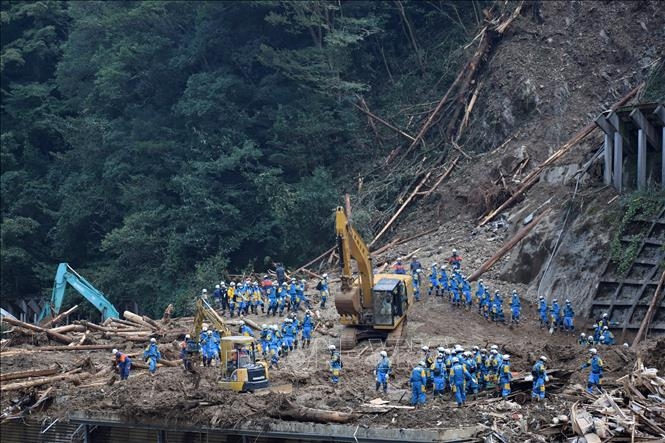 Japanese rescue forces at the site of the mudslide. Source: AFP/VNA
According to the latest data by Japan's Immigration Services Agency (ISA), Vietnam, for the first time, has overtaken South Korea to become the second-largest ex-pat community in Japan. The number of Vietnamese residents living in Japan reached 448.053 last year, up 10 percent from the previous year and an increase of more than 10 times over the past 10 years.
China topped the ex-pat list with 778,112 and South Korea was third with 426,908 people.
There were about 2.89 million foreign nationals in Japan at the end of last year, down by about 46,000 over the previous year. Vietnamese ex-pats accounted for more than 15 percent of total foreign nationals in the country./.