Green mangosteen salad – A specialty of Binh Duong
Tangy and acrid, green mangosteen can only be harvested once a year. And yet, it is an irreplaceable ingredient to make the signature salad of the southeast region of Vietnam.
If ripe mangosteen is a popular tropical fruit that can reduce body heat in the summer, green mangosteen is the key ingredient in Mangosteen salad - Binh Duong's famous salad.
A difficult dish to master, mangosteen salad has a unique flavor and can only be enjoyed at a certain time in the year.
To make this famous dish, every step from choosing the fruit to making the salad must be perfect. The mangosteen for the salad has a green rind. At the same time, the fruit needs to achieve a certain level of ripeness to create slightly crunchy, tangy, sweet, and acrid flesh.
When cooked, the flesh of the green mangosteen still retains its flower-like shape without getting crushed or turning brown when mixing with other ingredients. Therefore, mangosteen salad not only is pleasant to the eyes but also enhances the tastebuds.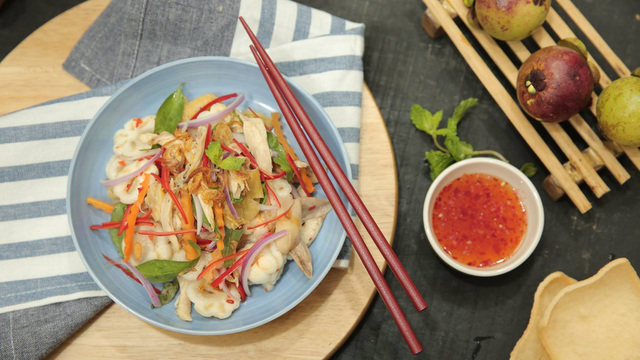 Photo: Green mangosteen salad / Dan tri
The first step in preparing the mangosteen is highly challenging and requires significant cooking skills and experience to handle. The rind of green mangosteen is fairly tough and contains yellow sap. After harvesting, the cooks need to soak the fruit in a diluted salt solution to clean some of the sap, making the rind easier to remove and the flesh crunchy and white.
The cooks will then separate the rind under running water to remove all the sap. They have to be careful so that the sap will not get onto the flesh inside. After separated from the rind, the flesh is soaked in ice water to retain its color and crunchiness, while reducing its acridness.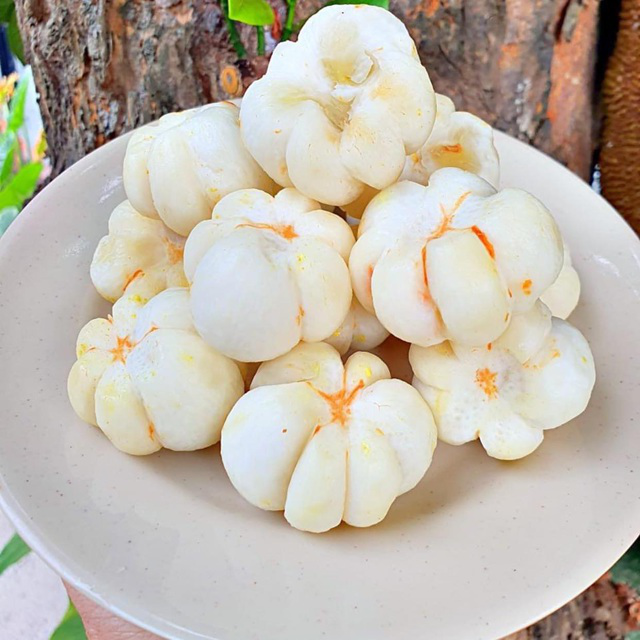 Photo: The flesh of green mangosteen after being cleaned / Dantri
The flesh is then cut into slices with a beautiful flower shape and soaked in vinegar – sugar mixture or lime juice so its color won't get darker. The cooks will take the flesh out and mix it with other ingredients before serving.
As it goes through various preparation stages, the flesh of the green mangosteen can retain its color and crunchiness.
In Binh Duong, locals usually mix chicken with mangosteen's flesh to make the salad. They also add other ingredients such as julienned carrot, onion, roasted peanut, fried shallot, or Thai basil. These ingredients are mixed well with a salad dressing consisting of fish sauce, garlic, and chilly.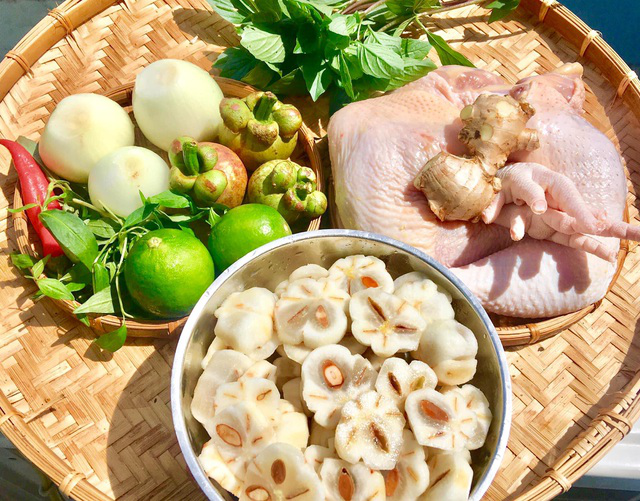 Photo: Basic ingredients to make green mangosteen salad / Dantri
The ingredients to make mangosteen salad may vary, depending on personal and local taste. Soft chicken full of umami flavor, combining with slightly sweet, tangy, and acrid mangosteen, can become a "love at first sight" for those who taste the salad.
Not only known as a specialty of Binh Duong, mangosteen salad is also popular for its nutrition values. Mangosteen is rich in fiber, thereby boosting the digestive system. Xanthones in mangosteen can reduce impacts from bad cholesterol and help to prevent obesity.
In the past, tourists had to come to Binh Duong or other provinces in the southeast region to enjoy this unique salad. Today, mangosteen salad can be shipped to other localities via air route.
Because green mangosteen is tricky to prepare, the sellers usually clean the flesh in advance before packing and sending it to customers across Vietnam. The preparation of the salad has thus become much simpler. Cooks can now make delicious mangosteen salad without too much effort.
Each kilogram of green mangosteen can cost between VND 450,000 to VND 650.000/kg (US$20 – US$28/kg). Tourists can only try green mangosteen salad in summer, during the green mangosteen season (April to June).
Travel
With more than 40 countries, it is clear that no one can summarize Asia in a few short lines. Among the best and most beautiful destinations in Asia voted by CNN, Da Lat City and Lan Ha Bay in Vietnam are called the "hidden gems" that are worth discovering.
June 06, 2023 | 07:19
Travel
The Saigon Central Post Office (Ho Chi Minh City) landed second place in the list of 11 most beautiful post offices in the world, announced by American architectural magazine Architectural Digest.
June 05, 2023 | 22:04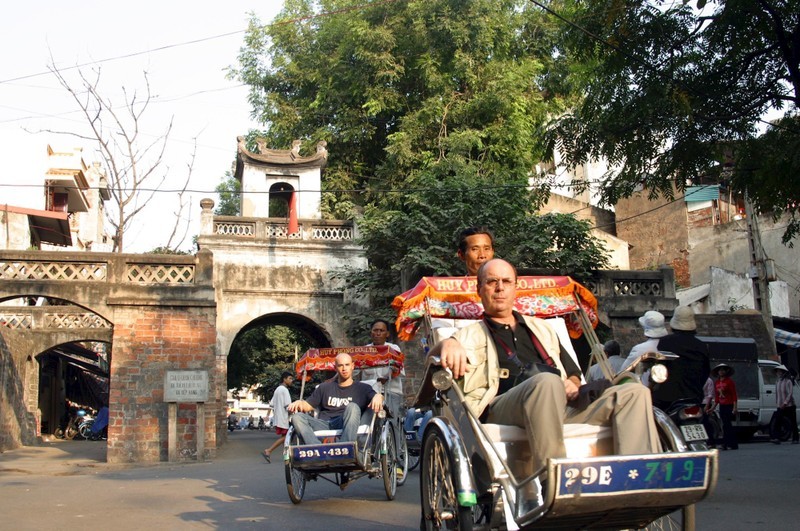 Travel
One of the top choices of British travellers is
Vietnam
with its diverse natural beauty, said The Independent, a British online newspaper.
June 05, 2023 | 09:31
Travel
The US's travel website Travel Off Path has called the Ho Tram beach tourism area "the perfect getaway for those looking to unwind and escape the hustle and bustle of the big city, if only for a long weekend."
June 04, 2023 | 19:53