Heartbeat Vietnam Raises USD 12,300 to Save 10 'Little Hearts'
Heartbeat Vietnam, VinaCapital Foundation's health care programme, has successfully raised VND 280 million amid Covid-19 to treat children suffering from congenital heart disease
After four months of implementation, the "Save 10 children with congenital heart defects" campaign of VinaCapital Foundation through ZaloPay has achieved its fundraising goal of VND 280 million (USD 12.300) to cover the cost of heart surgery for 10 children, announced the organization Tuesday.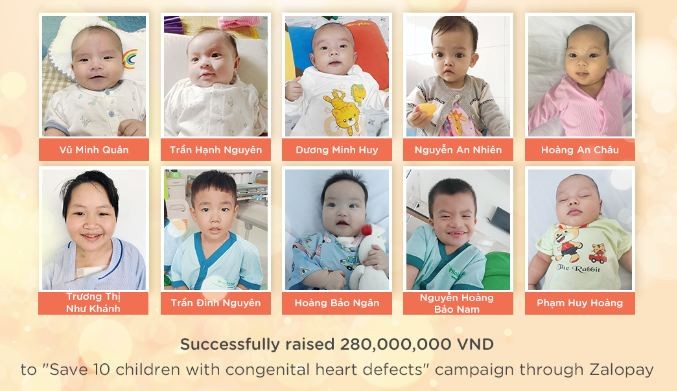 The "Save 10 Children With Congenital Heart Defects" campaign successfully raised VND 280 million on Zalopay,
VinaCapital Foundation is an American NGO working exclusively in Vietnam to help poor children. They have programs that aim to increase access to quality healthcare for poor children and to build capacity for pediatric and cardiac care in the health care system.
Heartbeat Vietnam is a program of the VCF to fund life-saving heart operations for the most financially disadvantaged children in Vietnam.
Vietnam has reported a high number of children with congenital heart defects, and caring for a child with such problems can place considerable financial strain on families, particularly those from difficult background in rural areas. Congenital heart disease is needed an integrated approach for early diagnosis and cure. Affordability and accessibility are huge challenges that families face while trying to find care for their children amid the Covid-19 pandemic.
In order to call for donations from the community, Heartbeat Vietnam is currently implementing the "Save 10 children with congenital heart defects" campaign via ZaloPay from Aug. 25, 2021 with the aim of fundraising VND 280 million.
All donations raised for the "Save 10 children with congenital heart defects" campaign through ZaloPay is used to bring timely surgeries to 10 disadvantaged children with congenital heart defects in Hanoi, Thai Binh, Nam Dinh, Quang Binh, Quang Nam, Tien Giang, and Dong Thap provinces from October to December 2021.
VCF's grassroots medical programs include Heartbeat Vietnam which funds heart surgeries, including pre- and post-operative care, as well as, Rural Outreach Clinics to screen children in remote areas. Medical capacity building programs include Critical Response – provides advanced emergency training courses for healthcare workers, emergency equipment, and clean water systems for healthcare centers and schools in remote areas; Survive to Thrive – improving Neonatal Care in Vietnam, and the International Symposium for Pediatric Care- educating doctors. Its education initiative, A Brighter Path, is an empowerment and a scholarship program for disadvantaged but academically talented ethnic minority girls.
Recently, VinaCapital Foundation has been honored to receive a Certificate of Merit from the Vietnam Union of Friendship Organizations (VUFO) for their cooperation and significant contributions to the sustainable development of Vietnam ​during the past year.