Ho Chi Minh City Attracts and Maximizes Efficiency of Remittances
Ho Chi Minh City Committee for Overseas Vietnamese Affairs on May 22 held a seminar to collect expert opinions for "Policy to attract and promote remittances in the city".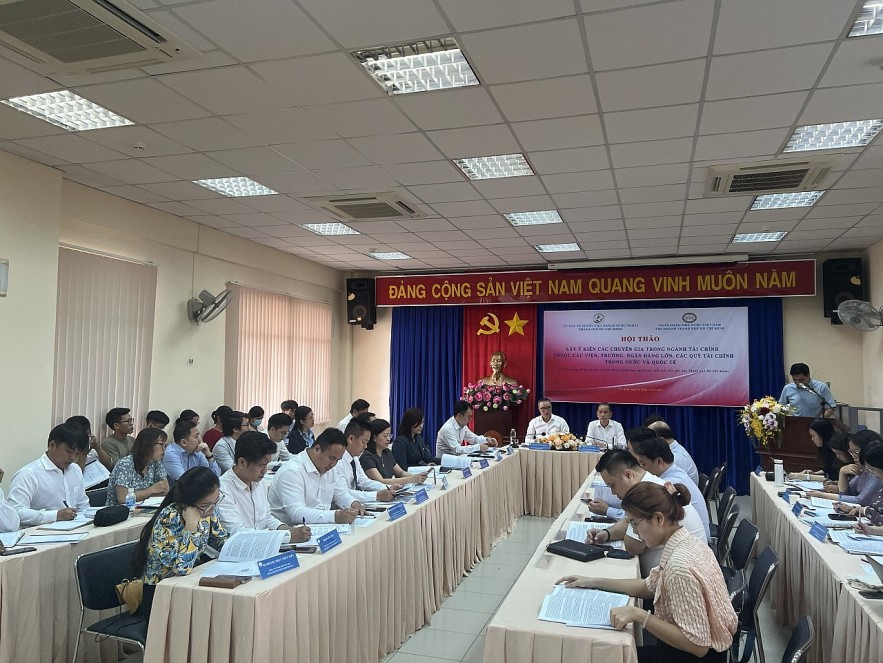 Overview of the seminar. Photo: Ho Chi Minh City Committee for Overseas Vietnamese Affairs
These ideas are to find solutions to maximize remittance resources in the overseas Vietnamese community and send them back through the system of commercial banks and remittance companies.
Remittances play an important role
Nguyen Hoai Anh, deputy director of the Department of Economic Relations, Science and Technology, Committee for Overseas Vietnamese Affairs, said that remittance resources play an important role in the overall resources from outside of the country.
"Resources of overseas Vietnamese have great untapped potential. Along with the development of relations between Vietnam and other countries, many young overseas Vietnamese want to find work and business opportunities in Vietnam. This is also a shift in human resources," Hoai Anh said.
According to experts, remittances are still flowing to Vietnam, but there is a shift in the sender group.
According to the State Bank of Vietnam in Ho Chi Minh City, in the 10-year period (2012 - 2021), the source of remittances to the city grew steadily from US$4.1 billion in 2012 to US $6.6 billion in 2021. Meanwhile, Vietnam's total remittances increased from US$10 billion in 2012 to US $18.1 billion in 2021, respectively.
According to Nguyen Duc Lenh, deputy director of the State Bank Vietnam, Ho Chi Minh City branch (SBV-HCMC branch), in the past 5 years, remittances to Ho Chi Minh City always maintained a good growth rate and accounted for the highest proportion in the country. It played an important role in the economic development of the city.
The factors leading to the strong growth of remittances to Vietnam in general, and specifically to HCMC, are attributed to the consistent maintenance of favorable policy incentives that attract remittances. These incentives include tax and fee exemptions for recipients, as well as the availability of increasingly convenient methods for money transfer and receipt.
In the coming time, the SBV-HCMC branch will continue to capitalize on the city's advantage as the economic hub of the country, create favorable conditions, and enhance the investment environment to attract remittances, thereby making a significant contribution to the development of HCMC as a civilized, modern, and compassionate city.
Building new legal corridor
Experts suggested that the State should create favorable conditions, build a new legal corridor to catch up with the trend and attract Vietnamese people living and working abroad to return to invest and develop business in the country.
Professor Nguyen Dinh Phu, head of the Vietnam Entrepreneurs Association in the US, said that overseas Vietnamese want to send remittances back to Vietnam to invest in housing, which is still their property. If they ask someone else to name the house, there is a risk of property loss. Accordingly, Prof. Phu suggested that people should be allowed and encouraged to own houses. That helps attract remittances more effectively.
Ta Thi Thanh Thuy, first secretary, head of the Vietnamese Labor Management Board in the RoK, said that there are more than 225,000 Vietnamese people living in the RoK, of which nearly 50,000 labor export. With a minimum wage of US $1.500 per month, the income of this labor source is more than US $700 million per year. Most of their money will be sent back to their families.
Previously, labor export was considered as poverty alleviation and job creation. However, it should now be recognized as a source of increased remittances to the country. In 2022, of the total remittances to Vietnam of US $19 billion, labor export accounts for US $3-3.5 billion, accounting for nearly 20%.
"The source of remittances through the labor export channel continues to be maintained, but the quality needs to be improved so that they can get a better salary," Thuy said. She said that authorities need to focus on training, improving skills and languages so that workers can have better jobs and incomes.
Delegates participating in the seminar. Photo: Ho Chi Minh City Committee for Overseas Vietnamese Affairs
According to Dr. Le Thi Thanh Nhan, senior lecturer in Finance at the Australian National University (ANU), attracting remittances can be likened to planting crops on a farm where the more you grow, the higher the potential yield. Therefore, HCMC should implement specific measures to enhance remittance inflows.
It entails boosting the quantity and quality of labor exports, and banks should invest in various conveniences to facilitate remittance transfers for overseas Vietnamese, aiming to reduce the costs associated with money transfers.
Considering the feedback from the delegates, Tran Duc Hien, deputy chairman of the Ho Chi Minh City Committee for Overseas Vietnamese Affairs, mentioned that the city adopted more suitable policies for overseas Vietnamese and laborers working abroad under labor contracts to attract a larger volume of remittances. These remittances are viewed as a substantial source of capital that contributes significantly to the city's socio-economic development.