Ho Chi Minh city to conduct large-scale coronavirus testing
The ramp-up effort would help the southern city quickly control the new clusters that's been spreading across 16 affliating districts.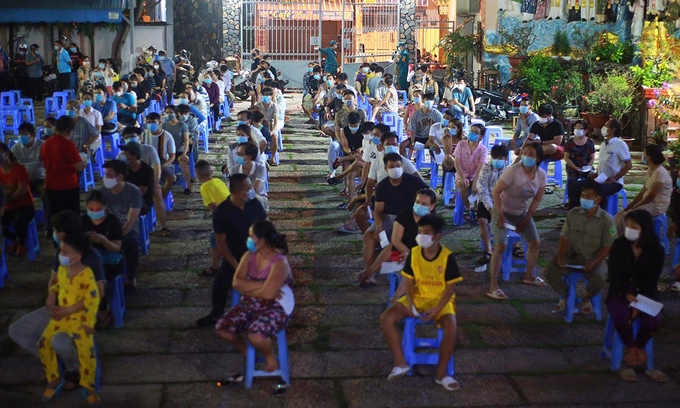 People in Go Vap District, HCMC, wait to have their samples taken for Covid-19 tests (Photo: VNE)
The municipal People's Committee on May 30 directed to speed up its citywide testing plan amid rising Covid-19 cases. It is expecting to collect 100,000 samples per day, prioritizing hardest-hit and vulnerable areas.
According to Nguyen Thanh Phong, chairman of the committee, the health sector will focus on sampling workers at 17 export processing zones, industrial parks, and high-tech zones; all National Assembly election polling stations where members of the Revival Ekklesia Mission have been to last Sunday. The Revival Ekklesia Mission is identified as a new cluster on May 26 whose tally reaches 143 out of 150 cases reported in the past four days.
Director of the municipal health department Nguyen Tan Binh said Ho Chi Minh city (HCMC) had taken over 50,000 samples on Saturday. It is planning to scale up daily testing capacity twice the current size. Functional forces are assigned to maximize samplings during daytime and only work at night in urgent situations.
HCMC is home to around 13 million people including migrants.
The city currently has over 14 sampling teams, including staff from the Center for Disease Control, health centers and stations, staff from hospitals and others. The health department is also mobilizing around 400 students from medical universities to speed up sample collecting.
"Medical personnel has been going all out to test for people at areas under blockade or having suspected or confirmed patients," Dr. Nguyen Tri Dung, director of the municipal Center for Disease Control said. "Once testing at these areas is done, we will proceed on a larger scale around the city."
The city is currently collecting samples of residents in wards 3, 5, 9, 14, and 15 of Go Vap District to assess the risk. Go Vap, where the headquarters of the Christian mission is situated, has recorded dozens of infections in the last four days. Experts and staff from major health facilities in the vicinity have been sent to the district for medical assistance.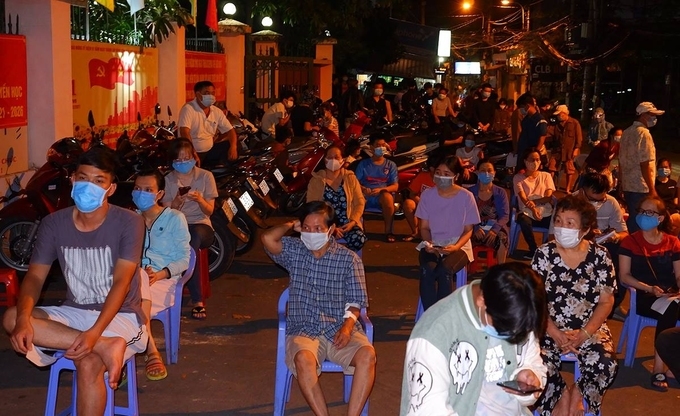 Other group in Go Vap district waiting for their turn to be tested (Photo: VNE)
In the past four days, the city has recorded a total of 150 infections in two Covid-19 clusters with the source of infection yet to be established. In particular, the chain related to the religious mission is the largest ever with 143 cases, while that of a couple in Tan Phu District has so far recorded seven cases. Initial assessments show these two clusters may be linked, VNE reported.
To date, it has documented over 62,000 suspected patients having direct or indirect contact with Covid-19 patients. 47 areas have been locked down. The Indian coronavirus variant which is 1.7 times more infectious than other strains, has also been found following patients' gene sequencing.
"Currently, HCMC's hospitals are still meeting the treatment capacity," Binh said.
HCMC has five hospitals specializing in Covid-19 treatment: Cho Ray, Cu Chi, Can Gio, HCMC Children's Hospital and HCMC Hospital for Tropical Diseases, with a total of 970 beds.
Binh said the city has envisaged a scenario of having to deal with 5,000 Covid-19 cases, for which it would set up more field hospitals.
There are around 4,000 people quarantined in the city at the moment.
Vietnam is in the grip of the fourth Covid-19 outbreak which started on April 27. Since then, 4,096infections have been reported across 33 provinces and cities, claiming 12 lives. The two northern provinces Bac Giang and Bac Ninh are the hardest-hit, with 2,161 and 804 cases respectively. Record new infections have continuously documented every day, most are linked to clusters at industrial parks.