International flights to Tan Son Nhat airport suspended amid Covid-19 threat
Ho Chi Minh City's Tan Son Nhat International Airport has stopped receiving foreign arrivals starting May 27 amid rising coronavirus threats in the southern metropolis.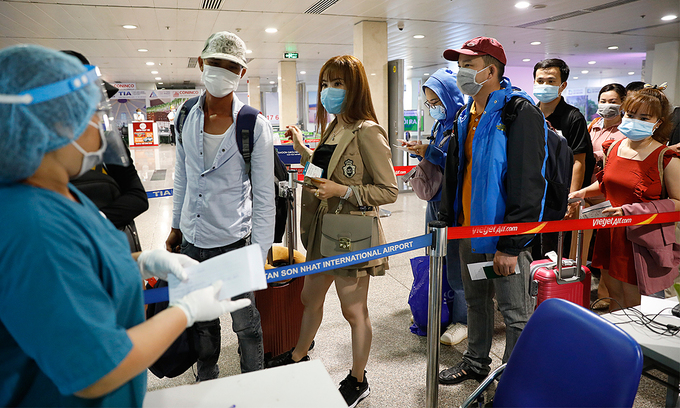 Passengers line up to be tested for Covid-19 at HCMC's Tan Son Nhat Airport in May 2021. Photo: VnExpress
The Ministry of Transport has just announced temporary suspension of international flights to the Tan Son Nhat International Airport in Ho Chi Minh City from May 27 to June 4 (local time), according to VGP News.
The airport will still serve outbound flights.
Foreign arrivals to Vietnam have been limited since March last year due to Covid-19. Only Vietnamese citizens stranded overseas, foreign officials, diplomats, experts, investors and high-skilled workers are allowed in.
Passengers must undergo a 21-day mandatory quarantine period, either in centralized camps or other facilities like hotels.
The southern metropolis is one of 30 cities and provinces being hit by the fourth wave of Covid-19 resurgence.
As of 7:05 pm on May 27, the city recorded 44 community infection cases of Covid-19, most of them are members of the religious Revival Ekklesisa Mission in Go Vap district.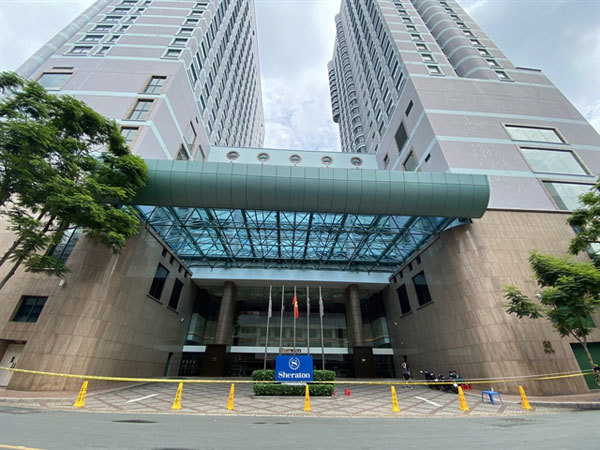 The Sheraton hotel in HCM City, where a chef connected to the newly detected cluster involving a Christian sect is working, was put under lockdown on Thursday morning. Photo: VNA
The city is dealing with at least two more clusters with unknown sources of transmission. It also recorded a suspected case May 27 evening, a 30-year-old woman in Tan Phu district who tested positive for the virus after visiting a hospital with respiratory conditions. Initial investigation found she is not linked to the religious mission, VnExpress reported.
The municipal CDC said the novel coronavirus might have been festering in the community, so citizens need to be on high alert, submit medical declarations and comply strictly with existing coronavirus prevention measures.
Authorities will carry out mass Covid-19 screening in the community, focusing on eight districts where members of the Revival Ekklesia Mission reside, said city Chairman Nguyen Thanh Phong. Members of the parliamentary election committees in these districts would also be prioritized for testing, he added.
HCM City had confirmed just eight Covid-19 cases in Vietnam's latest wave before the new cluster was detected.
Only takeaways allowed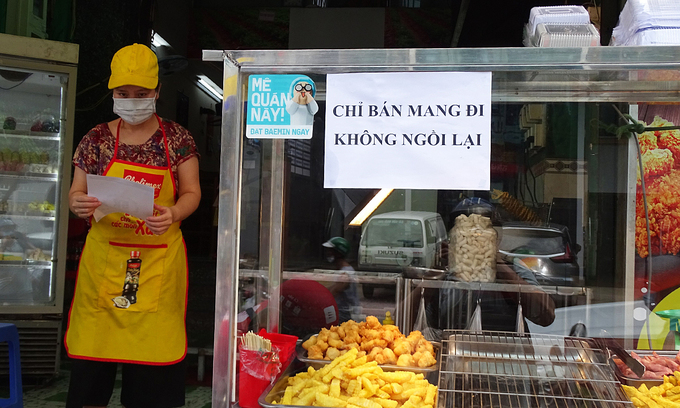 A restaurant in HCMC's Binh Thanh District erects a sign saying it only serves takeaways, May 22, 2021. Photo: VnExpress
Restaurants and cafes in HCM City are only allowed to serve takeaways while hair salons are suspended starting May 27.
Restaurants located inside hotels are only allowed to serve residents, while all religious activities involving 10 people or more are suspended,.
It is a step towards tighter coronavirus restrictions after the city requested small food stalls with fewer than 10 employees to only allow takeaways, and other restaurants and food vendors to serve no more than 20 people at once, five days prior. The previous restriction still allowed festivals, meetings and religious activities with under 30 people.
Social distancing measures must be applied in high-density shopping areas like malls and markets, said Phong.
Nguyen Van Nen, the municipal Party Committee Secretary, said the city should request its medical authorities to perform mass Covid-19 testing.
Phong said HCM City's current coronavirus crisis may last longer than others, as the infection source of several new coronavirus cases remain to be identified./.
As of 6pm on May 27, Vietnam logged a total of 4,824 domestically-transmitted cases and 1,492 imported cases.
Report from the ministry's Medical Examination Administration showed that the country has seen 2,853 recoveries and 46 deaths related to the disease.
Among active patients undergoing treatment, 111 have tested negative to coronavirus SARS-CoV-2 once, 40 twice, and 67 thrice.