The 45th Anniversary of establishing diplomatic relations between Vietnam and Myanmar (May 28, 1975 / May 28, 2020)
Myanmar and Vietnamese leaders exchange congratulatory messages on the 45th Anniversary of diplomatic relation establishment
Since the establishment of two countries' diplomatic relations up to now, the Vietnam-Myanmar comprehensive friendship and cooperation have continuously developed.
The globalnewlightofmyanmar reported that U Win Myint, President of the Republic of the Union of Myanmar, exchanged a congratulatory message with Mr Nguyen Phu Trong, President of the Socialist Republic of Viet Nam, on the occasion of the 45th Anniversary of the establishment of diplomatic relations between the Republic of the Union of Myanmar and the Socialist Republic of Viet Nam which falls on 28 May 2020.
Vietnam and Myanmar have a very early relationship. As early of 1947, Vietnam has set up a permanent office in Yangon, then a representative office in 1948 and in 1957 the two countries set up their consulate generals. Despite many difficulties, the Myanmar Government and people have always actively supported the Vietnamese people in the previous struggle for national liberation as well as in current national development efforts. After Vietnam liberated the South and reunited the country, two sides' Consulate General relationship was in turn upgraded to Embassy-level diplomatic relations on May 28, 1975.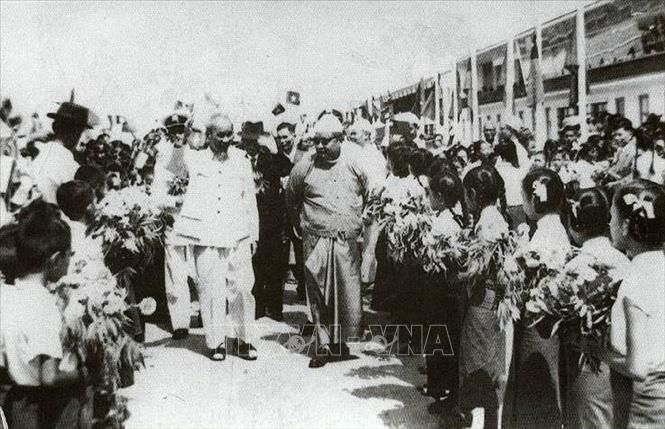 President Ho Chi Minh visited the Republic of the Union of Myanmar in February 1958. (Photo: documentary)
Since then, the long-standing and strongly friendly relationship between Vietnam and Myanmar, built by President Ho Chi Minh and Major General Aung San, has been constantly cultivated by generations of leaders and people of the two countries. In particular, during the State-level visit to Myanmar of General Secretary Nguyen Phu Trong in August 2017 (now General Secretary, President of Vietnam), the two sides issued a Joint Statement establishing a framework of comprehensive cooperative partnership, marking new landmarks, creating new impetus for bilateral relations in all fields.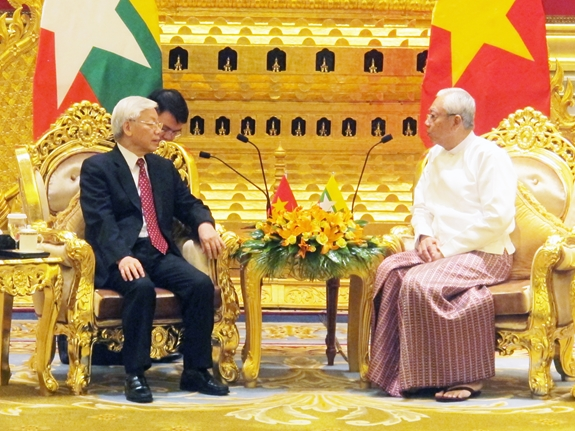 General Secretary Nguyen Phu Trong and President Htin Kyaw during a state visit to Myanmar, August 2017. (Photo: people's army newspaper)
On the same occasion, Daw Aung San Suu Kyi, State Counsellor of the Republic of the Union of Myanmar also exchanged a congratulatory message with Mr Nguyen Xuan Phuc, Prime Minister of the Socialist Republic of Viet Nam, reported the globalnewlightofmyanmar.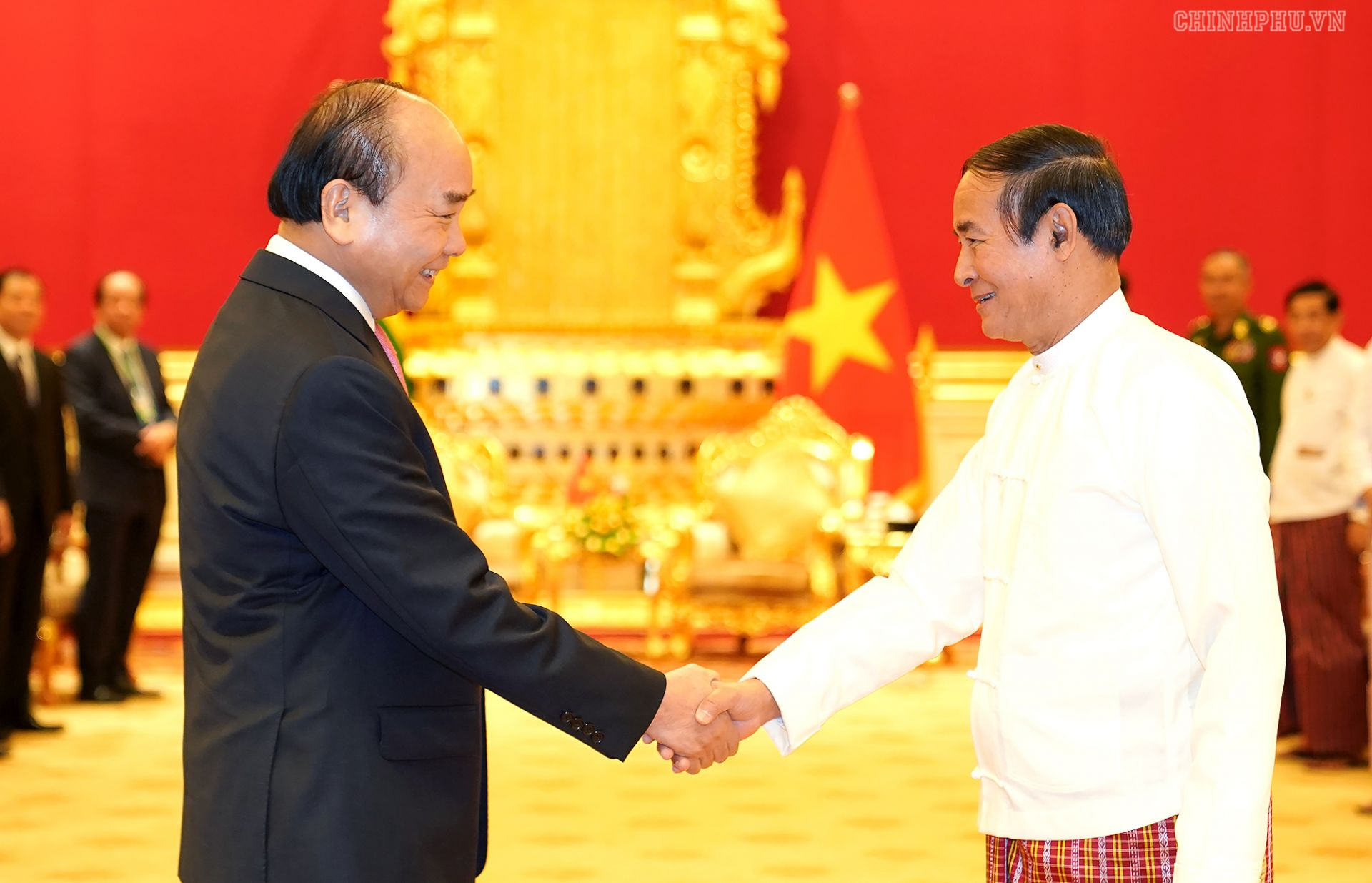 Myanmar President Win Myint and Vietnam Prime Minister Nguyen Xuan Phuc during a visit to Myanmar, December 2019. (Source: VGP)
On this occasion of the 45th establishment anniversary of Vietnam-Myanmar diplomatic relations (May 28, 1975 to May 28, 2020), the Politburo member, Deputy Prime Minister and Foreign Minister Pham Binh Minh had written an article about two countries' bilateral relation. It is cited from his writing that:
"In 2020, Vietnam and Myanmar solemnly celebrate the 45th anniversary of the official establishment of diplomatic relations. This is a very important milestone in the relationship between two countries, an opportunity for us to look back our historical journey full of heroic imprint and confidently continue to advance towards.
Vietnam and Myanmar officially established diplomatic relations in 1975, but the link between the two countries and two nations living together in our Southeast Asia mainland originated very early. Historically, the two countries have had strong trade relations. Immediately after the two countries gained independence, the two outstanding leaders personally, President Ho Chi Minh and Major General Aung San, were interested in establishing and cultivating friendly relations between the two nations. Vietnam set up its first liaison office in Yangon early in 1947 and Myanmar, is among the first countries to establish the relations with the Democratic Republic of Viet Namfor many years supposed a Vietnam's important gateway to the world. President U Nu visited Vietnam in 1954 and President Ho Chi Minh paid a visit in 1958, laying a solid foundation for bilateral relations.
Over the past four decades with many ups and downs in our history, the relationship between Vietnam and Myanmar has always been close, faithful and increasingly strong, profound and substantive. One of the milestones is the establishment of the Comprehensive Cooperative Partnership signed in 2017. Today, Vietnam and Myanmar are equal, trustful, respectful and mutually beneficial partners, working towards the common aspiration of developed countries, prosperous people, the region and the world peace, stability, cooperation and development as well as sincere friends through thick-and-thin, sharing our sorrow and mirth, thoroughly understanding and standing by side.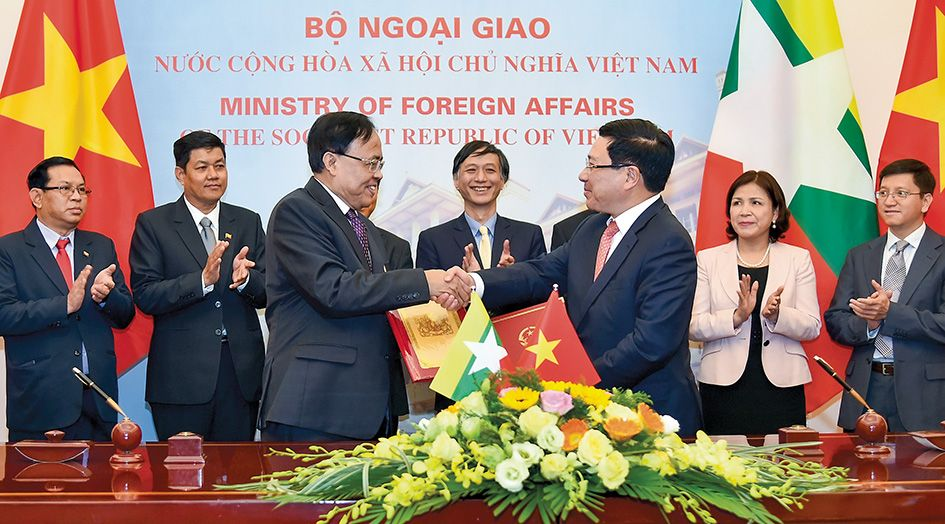 Deputy Prime Minister, Minister of Foreign Affairs of Vietnam Pham Binh Minh and Myanmar Minister of International Cooperation U Kyaw Tin signed Memorandum of Agreement after the 9th Meeting of the Joint Committee on Vietnam- Myanmar bilateral cooperation, in Hanoi in March 2019. (Photo: baoquocte)
Vietnam and Myanmar have a close view, often cooperate and support each other at international, regional and sub-forums, such as the United Nations, Non-Aligned Movement, ASEAN, and the coorperation of Cambodia-Laos-Myanmar-Vietnam (CLMV), Ayeyawady-Chao Phraya-Mekong Economic Cooperation Strategy (ACMECS), Greater Mekong Subregion (GMS) cooperation ...
Regarding to the Bien Dong Sea (East Sea), the Myanmar Government has remained firm commitment to upholding, strengthening security and stability in the region, resolving disputes by peaceful means, respecting diplomatic processes and decisions of the international court, without force -used ways, adhered to recognized-internationally legal principles, including the 1982 United Nations Convention on the Law of the Sea (UNCLOS 1982)", translated from FM Pham Binh Minh's writing on the TGV&VN.
In the context of increasing protectionism in the region and the world, Vietnam and Myanmar attach great importance to strengthening the linkages of the two economies. Two countries' trade and investment cooperation in recent years has obtained many achievements with the trade turnover of US $ 860 million in 2018 and about US $ 1.02 billion in 2019, exceeding the target of US $ 1 billion set for 2020. Vietnam is currently the 9th largest trading partner and the 7th largest foreign investor of Myanmar with 18 projects totally registered the capital of around $ 2,2 billion.
On the basis of increasingly closer political-diplomatic, economic-trade-investment relations are more and more connected. Other areas of cooperation including defense, security, agriculture, transportation, culture, tourism, people-to-people exchanges and cooperation between localities of the two countries have also recorded many positive progress.
Vietnam and Myanmar regularly maintain close cooperation and collaboration at regional and international forums, especially ASEAN, ASEAN-led mechanisms, the United Nations, and the World Trade Organization (WTO), Asia-Europe Meeting (ASEM), Non-Aligned Movement and important Mekong subregional cooperation mechanisms such as Cambodia-Laos-Myanmar-Vietnam cooperation (CLMV), Mekong Subregion Coorperation (GMS) and Ayeyawady-Chao Phraya-Mekong Economic Cooperation Strategy (ACMECS); promote ASEAN's solidarity and resilience; strengthen ASEAN's central role as well as the role of the association in addressing regional challenges. The two sides supported a transparent, free, open, inclusive, and multilateral trading system based on WTO-led rules and an ongoing WTO reform process. Myanmar affirmed its support for Vietnam to assume the role of ASEAN Chair 2020 and non-permanent member of the United Nations Security Council for the term 2020-2021.
The 45th anniversary of two country's diplomatic relation establishment is an opportunity for Vietnam and Myanmar to review and look back our bilateral relations, promote solutions to realize common goals in cooperation and bilateral relations, upgrade two country relationship's development more deeply and substantially, towards a new height.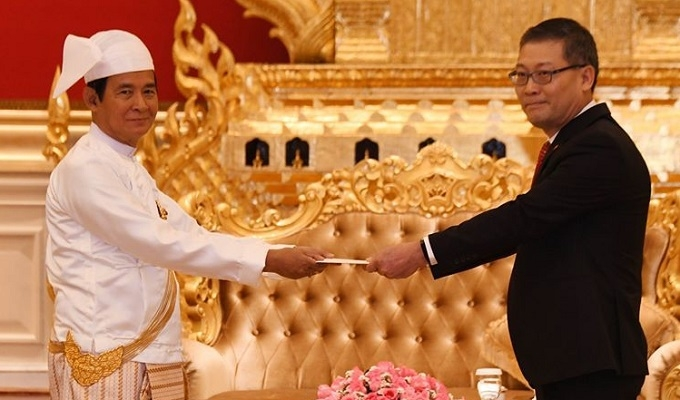 Vietnamese Ambassador to Myanmar Ly Quoc Tuan (R) presents his credentials to Myanmar President U Win Myin. (Photo: baoquocte.vn)
Vietnamese Ambassador to Myanmar Ly Quoc Tuan, for his part, underscored that the comprehensive cooperative partnership between Vietnam and Myanmar lays a solid foundation for both sides to develop their ties, particularly when Vietnam is playing the role as the ASEAN 2020 Chair and a non-permanent member of the UN Security Council during the 2020-2021 tenure.
In addition, activities to mark the 45th anniversary of the Vietnam-Myanmar diplomatic relations as well as measures to encourage Vietnamese investments in Myanmar were also mentioned at the meeting.