Over 100 Covid-19 checkpoints set up in Bac Ninh city
Bac Ninh now has more than 100 checkpoints to guarantee that local residents not to go out after 8 p.m. as well as to monitor people from other localities entering the city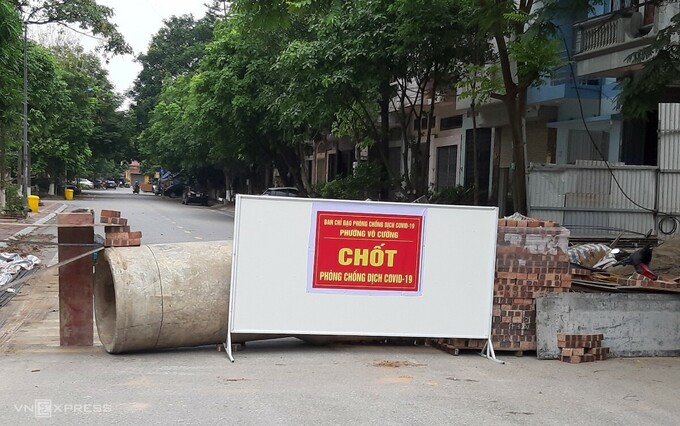 A Covid-19 checkpoint in Vo Cuong Ward, Bac Ninh City. Photo: VnExpress
A leader of Bac Ninh city on May 26 said that among 115 checkpoints, there was one province-level checkpoint located near the headquarters of the provincial military high command, on the national highway 38.
There are 114 ward-level checkpoints, including 30 soft and 84 hard ones. Checkpoints are responsible for preventing people from pandemic-hit areas or passenger cars from entering the city. Food trucks are allowed to enter provided they have just one driver who doesn't suffer cough or fever and has a certificate showing they have tested negative for the virus, VnExpress reported.
Due to a large number of hard checkpoints, many wards have used bricks and concrete culverts to make barriers. The mobile iron barriers are prioritized for use at soft checkpoints, with at least nine people from the military self-defense forces and youth unions being on duty both day and night.
Chairman of the Vo Cuong Ward People's Committee Nguyen Van Toan said the ward had erected 16 hard checkpoints.
"The checkpoints, in coordination with the mobile force, take responsibility of monitoring to guarantee residents do not go out after 8 p.m., except in really necessary cases," he said.
In the latest Covid-19 wave sweeping through the country on April 27, Bac Ninh has reported 556 community transmissions. Bac Ninh City and Thuan Thanh, Que Vo and Yen Phong Districts have applied social distancing under the government directive No.16, while, Luong Tai and Tien Du Districts and Tu Son Town have implemented social distancing under directive No.15.
Vietnam has recorded 2,913 local Covid-19 cases in 30 cities and provinces in the latest wave.