Vietnam postpones meeting to celebrate Bulgarian culture amid Covid concerns
Due to the unpredictable developments of Covid-19, a meeting to celebrate the Bulgarian Education, Culture and Slavonic Literature Day in Vietnam has been put on hold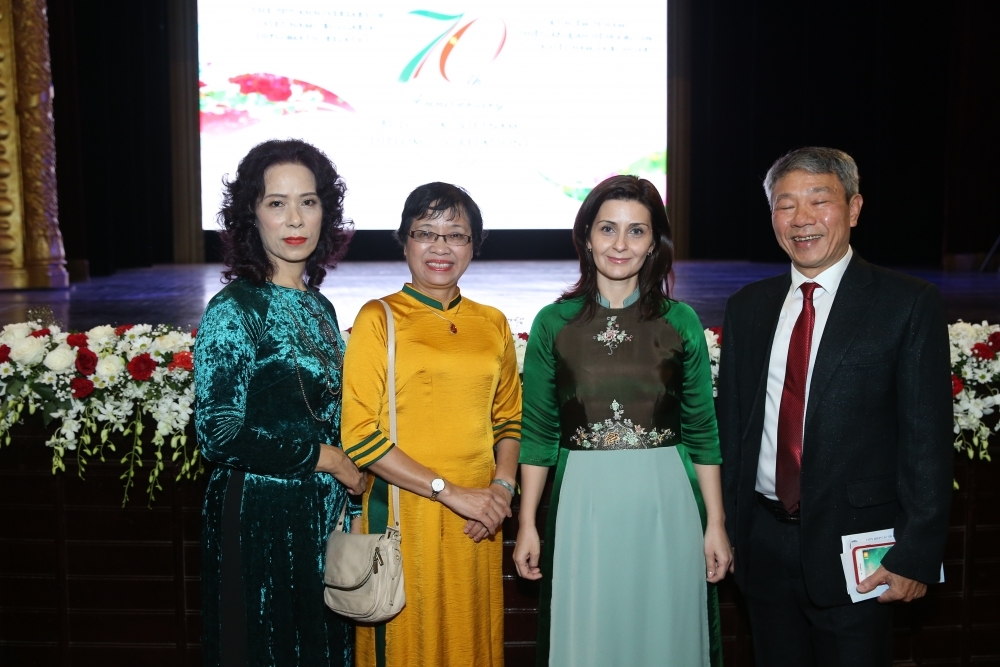 Marinela Petkova, Ambassadress of the Republic of Bulgaria to Vietnam (second from right) took a photo with a member of the Vietnam - Bulgaria Friendship Association.
On the occasion of Bulgarian Culture and Slavic Writing Day (May 24), Marinela Petkova, Bulgarian Ambassadress to Vietnam sent a congratulatory letter to the Vietnam-Bulgarian Friendship Association and its chapters in Hanoi and Ho Chi Minh City.
In the letter, Petkova sent sincere congratulations to members of the associations to honor one of the most important Bulgarian holidays on.
"May 24 honors the creators of the Cyrillic alphabet – the brothers St. Cyril and St. Methodius, who laid the foundation for the formation and preservation of Bulgarian identity over the centuries, and for the development of the writing, culture and literature of the country," he diplomat said. "The day is always an event to unite Bulgarian friends in Vietnam and an opportunity to show strength and solidarity. The sustainability of the Bulgaria-Vietnam relationship has become vivid to many Vietnamese citizens who have studied in Bulgaria."
As the ambassador of Bulgaria in Vietnam, Petkova said she felt honored and proud to be with the members of the associations in gratitude to Bulgarian teachers, honoring the role and creative power of the languages, books and education in creating lasting and peaceful bridges between generations, nations and continents.
"Unfortunately, this year the complicated developments of the Covid-19 pandemic are hindering many traditional celebrations in Hanoi, HCM City and Hai Phong, but I assure you that for me, you have always been a living and eloquent demonstration of how strong relations between nations can be when built through knowledge, mutual respect and understanding,", Petkova said.
She sais that the Bulgarian community in Vietnam is small, but in return Bulgaria had a lot of friends in Vietnam. The relations between Bulgaria and Vietnam can be described in one word - friendship, to which each of you are bridges, she added.
"On this day, I would like to express my gratitude for your support and contributions in sharing Bulgarian day in Vietnam, for your active activities to preserve the spirit of Bulgaria in Vietnam and for the development of the friendly relations between our two peoples," Petkova said.
To celebrate the Bulgarian Education, Culture and Slavonic Literature Day, the Vietnam-Bulgaria Friendship Association planned to coordinate with the Bulgarian Embassy to organize a friendship exchange with the participation of a large number of people as well as Bulgarian living, working and studying in Vietnam on May 29. In addition, the Hanoi's chapter will organize a meeting to celebrate the day. All preparatory work has been carried out and basically been completed.
However, due to the complicated and unpredictable developments of the pandemic, the Standing Board of the Vietnam - Bulgaria Friendship Association decided to postpone the meeting. On May 24, the Executive Board of the Vietnam - Bulgaria Friendship Association in Hanoi sent flowers to the Bulgarian Embassy in Hanoi, congratulating Bulgaria.