Hanoi runs high risk of coronavirus spreading
The Vietnamese capital is facing a high risk of coronavirus spreading as more fresh clusters emerge
The deputy director of the Hanoi Health Department has said the city is facing a significant risk of the coronavirus spreading further in the city as new clusters are emerging.
Hoang Duc Hanh said the city has reported four new clusters at Park 9 of Times City; imported cases related to Indians; a cluster in Gia Lam District related to Hai Duong; one in Bac Thang Long Hospital related to a medical worke;r as well a cluster in T&T Group and one in Park 11 of Times City with the source of transmission unidentified.
The cluster at the T&T Group and Park 11 of Times City is complex. The patients have visited different places and come into contact with many people before they tested positive for the virus. It is likely that more cases linked to this cluster will be detected in the coming days, Hanh said.
The Covid-19 pandemic in Bac Ninh and Bac Giang provinces has developed in complex fashion. Many residents of Hanoi work in these two provinces. The CEO of Hosiden Company in Bac Giang lives in the Mandarin Garden apartment building in Hanoi's Cau Giay district and was confirmed with the virus on May 21.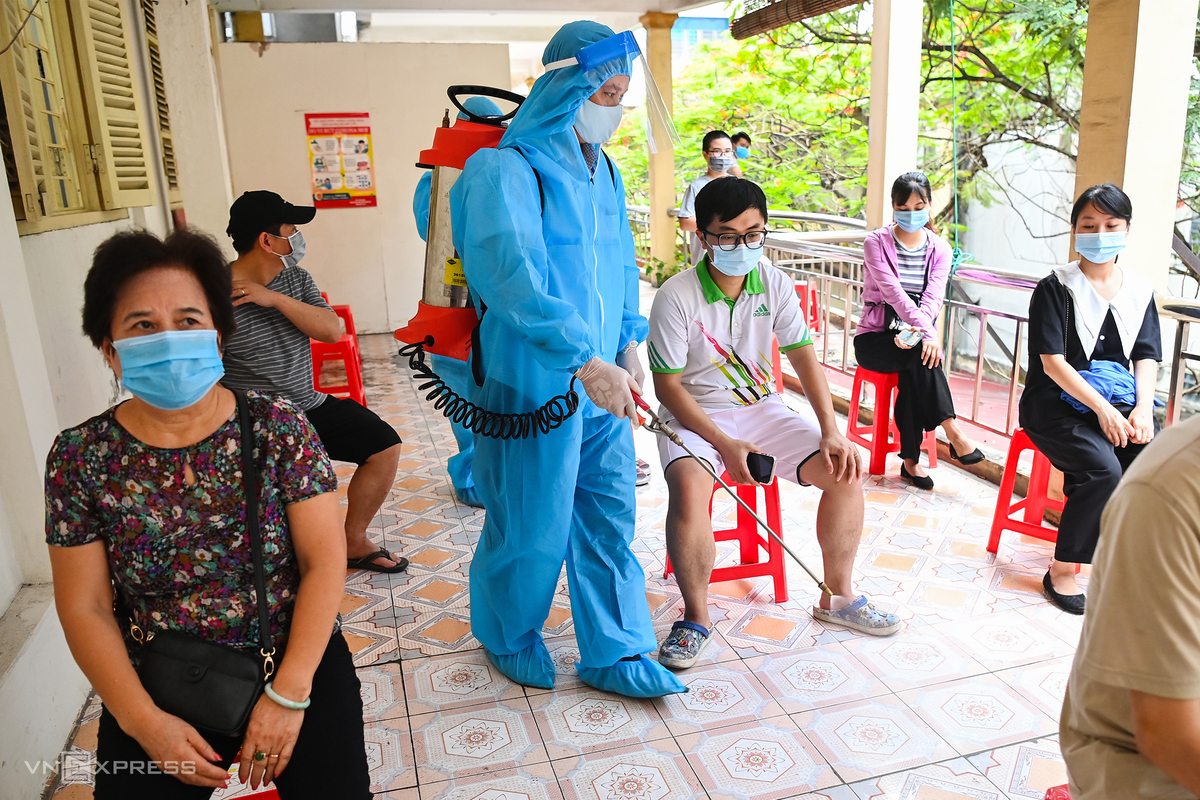 People returning from Da Nang to have samples taken for Covid-19 testing. Photo: VnExpress
Hanoi has also recorded a cluster linked to Bac Ninh province at the Supreme People's Procuracy, said Tran Thi Nhi Ha, director of the Hanoi Health Department. Accordingly, a driver working there was announced a Covid-19 patient. As many as 42 F1 cases have been contacted through tracing. The chief of the office having contact with the driver has tested negative, but three people in his family positive.
Meanwhile, the cluster related to K Hospital is still high risk. There have been 96 F0 cases recorded in Hanoi. Since May 17, a total of 10 new infections have been documented including three at the hospital, one in the community and six in isolated areas. At several quarantined facilities in Nam Tu Liem and Thach That Districts, many F1 cases have become F0.
The results of gene sequencing have shown that 17 different samples from patients in Hanoi have been infected an Indian variant that is more contagious than other strains.
Hanh said the source of transmission existed in the community.
People wait to make health declarations in Hanoi. Photo: VnExpress
The risk of infection is likely to at two hospitals who have received and treated Covid-19 patients: Bac Thang Long and Duc Giang General Hospital. As many as 79 patients have been under treatment at these two hospitals, in which Bac Thang Long has recorded a doctor infected with the virus.
"Hanoi is running a high risk of Covid-19 spreading. Hence, it is needed to adopt stricter anti-pandemic measures to curb the coronavirus surge," Hanh said.
The city has ordered food and beverage establishments as well as hair salons and beauty parlors closed, starting Tuesday.
Food and beverage outlets can only allow takeaways and residents have been told to "absolutely stop" entertainment activities, physical exercises and large gatherings in parks, gardens and public locations.
Secretary of the Hanoi Party Committee Dinh Tien Dung confirmed that the city has yet to consider social distancing.
In the latest Covid-19 wave, Hanoi reported 328 community transmissions.
As of 6 a.m. May 26, Vietnam detected 4,442 local infections, of which 2,872 were recorded since the fourth wave of outbreaks began in the country late last month.
As many as 2,794 patients have been given the all-clear so far. The number of fatalities stands at 44.
Among the patients still undergoing treatment, 70 have tested negative for the novel coronavirus once, 41 twice and 69 three times.
About 164,170 people are under medical monitoring nationwide, including 5,296 in hospitals, 35,070 in other State-designated facilities, and 123,807 at places of residence.