Preserving the Mother Tongue in Overseas Vietnamese Communities
The training program on Vietnamese language teaching for Vietnamese teachers abroad has been reopened on-site in Hanoi after being suspended for two years because of the complex developments of the Covid-19 pandemic.
This course is offered in conjunction with the Prime Minister's approval of the Project on Honoring Vietnamese Language in the Vietnamese Expatries Community for the years 2023–2030, which designates September 8 of each year as the Day Honoring the Vietnamese language in the Overseas Vietnamese Community.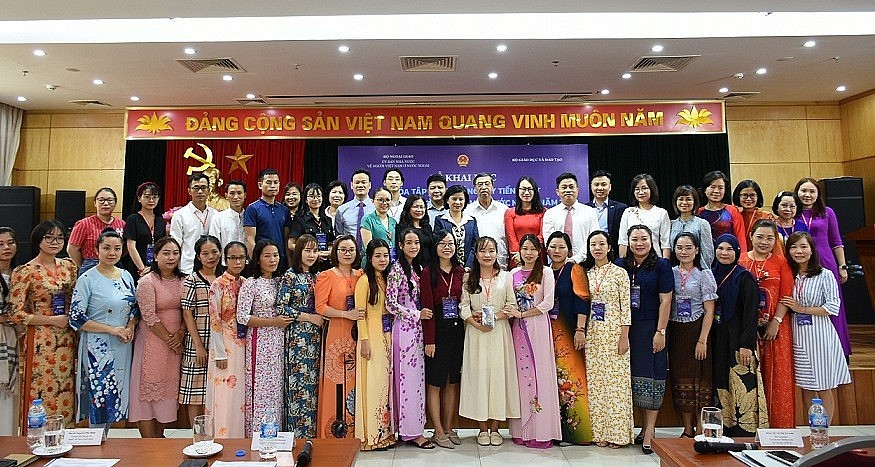 The students took souvenir photos with the lecturers and the Organizing Committee. Photo: Duong Tieu
Pham Quang Hieu, Deputy Minister of Foreign Affairs and Chairman of the State Committee for Foreign Affairs, stated that for the community of more than 5.3 million Vietnamese expatriates living and working in more than 130 countries and territories, Vietnamese is the means of communication for conserving and spreading culture, helping our countrymen abroad in their own cultural identity, and assisting them in asserting themselves and confidently integrating with the world.
Many significant successes have been accomplished in recent years in the protection and promotion of the Vietnamese language in the community. However, for a variety of objective and arbitrary causes, the Vietnamese language does not have the same prominence as other Asian languages. Vietnamese usage by the Vietnamese living overseas is involved by the integration of the language, the globalization trend, and the intrusion of local culture.
Furthermore, new generations of Vietnamese born and raised in foreign countries lack a better understanding of the significance of the national language. Activities in the community aimed at teaching and learning challenge Vietnamese still encounter numerous. Thus, the mission of maintaining and advancing the Vietnamese language is crucial, bearing both practical importance and significant scientific and humanistic worth.
According to Deputy Minister Pham Quang Hieu, honoring the national language helps to develop a stable, cohesive, and strong Vietnamese Overseas Community that is always looking ahead to and actively contributing to Vietnam's motherland. Respecting the Vietnamese language will also help spread the Party and State's principles and programs, as well as Vietnamese culture, to their foreign allies, therefore enhancing the nation's "soft power."
About 80 international students from nine different countries and territories were delighted to return home to take a lesson that was very important to them and helped them fulfill their dream of becoming fluent in Vietnamese abroad.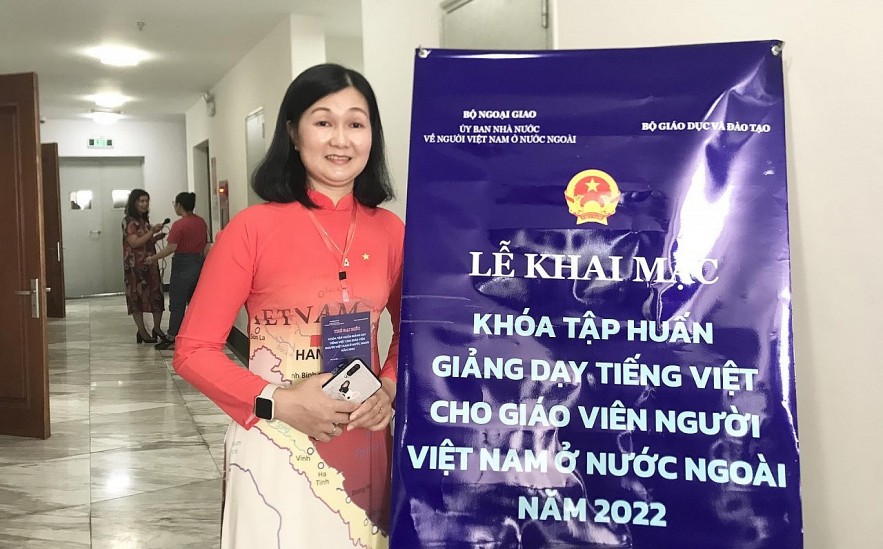 Teacher Nguyen Tra Mai returned from Taiwan (China). Photo: An Binh
Spread the love with mother tongue
Nguyen Tra Mai, who worked as a Vietnamese teacher in Taiwan (China) for five years, considers herself fortunate to be able to return to her hometown to attend this session.
Mai told TG&VN News that she attended the training in 2017, and she hopes to continue attending future seminars to hone new abilities for teaching abroad.
With a passion for her mother tongue and as a non-pedagogical professional, Mai never loses her excitement for the profession. She aspires to be able to learn new things and incorporates them into her teaching position in Taiwan. The training course also provides her and her colleagues with the opportunity to learn, exchange, and share teaching experiences as well as obstacles in completing their duties in the region.
The State Committee of Overseas Vietnamese, in collaboration with the Ministry of Education and Training in Taiwan , organized training sessions for teachers, and teaching Vietnamese to oversea Vietnamese children has become a well-known practice.
Pham Phi Hai Yen, a teacher who recently returned from Japan, shares Mai's desire to pass on Vietnamese culture and language to the next generation of overseas Vietnamese so that they can better appreciate their roots.
The number of Vietnamese children in Japan is growing daily, but their capacity to communicate in their mother tongue - Vietnamese is restricted, according to Yen, a Vietnamese teacher in Kobe City, Hyogo Province.
"I am really interested in the idea that persons who are fluent in both the host language and their mother tongue are a resource," she revealed. "We have trained at least 20,000 young students this quarter in Japan alone."
Not only students, lecturers from the University of Social Sciences and Humanities (Hanoi National University) and Hanoi National University of Education such as Assoc. Dr. Nguyen Thien Nhan, Assoc. Dr. Duong Tuan Anh, Dr. Le Thi Thanh Tam are also the companion of the course for many years.
Particularly, Prof. Dr. Nguyen Thien Nam is the editor of the book Que Vit (Viet Homeland), which is intended for children and adults learning Vietnamese overseas. She applauds the work of dedicated instructors who are teaching Vietnamese abroad.
Prof. Dr. Nguyen Thien Nam stated at a training session for teachers that teaching Vietnamese is a profession, a science, as well as an art that is closely tied to the national culture.
Because there are Vietnamese people anywhere there is a Vietnamese-speaking population, this is the bridge that links Vietnam with other nations.
According to Dinh Hoang Linh - Director of Cultural Information Department, State Committee for Overseas Vietnamese, besides imparting knowledge and skills, lecturers are the inspiration and positive energy for teachers who are teaching mother tongues around the world.
Deputy Minister of Foreign Affairs, Chairman of the State Committee for Foreign Affairs Pham Quang Hieu: "The Vietnamese language is a precious asset of the Vietnamese people; acting as both a bridge and a means of spreading cultural values; is a leading important tool to help preserve and honor the national cultural identity, contributing to the consolidation of the independence of the Fatherland and the great national unity of Vietnam.
Honoring Vietnamese language in overseas community
The duration of this training program is August 15–30. The trainees got the chance to engage in cultural experiences and exchange events in their home countries throughout the training session.
Vu Thi Tu Anh, Deputy Director General of the Ministry of Education and Training's Continuing Education Department, stated that Vietnamese language teachers for Vietnamese language teachers play a vital role in the growth and maintenance of mother tongue languages. Therefore, it is essential to encourage, inform, update, and exchange teaching techniques, skills, and experience with foreign teachers.
Mai Phan Dung, Deputy Chairman of the State Committee for Foreign Affairs, further noted that President Ho Chi Minh once said, "The voice is an exceedingly old and extremely significant asset of the nation." It must be protected, valued, and transmitted far and wide."
Recognizing this, the State Committee on Foreign Languages ​​has long been engaged in strengthening, consolidating, and expanding the Vietnamese language teaching and learning movement for the Vietnamese overseas community. Considered a crucial step in the development process, this activity aids in community preservation of national traditions and cultural identity as well as helps to popularize and propagate Vietnamese culture and language abroad.
Despite several problems and hurdles, including the impact of the Covid-19 pandemic, the Vietnamese language teaching and learning movement in the community has accomplished a number of hopeful results. Overseas teachers are constantly dedicated, striving to encourage and be creative in their instruction of the future generation in a variety of topics. This is the result of their unwavering commitment to "cultivating" individuals.
The Vietnamese language teaching training course for Overseas Vietnamese teachers has been an annual event since 2013.
More than 600 turns of overseas teachers have participated in training courses to date, with the assistance of instructors who are prominent language experts from the Ministry of Education and Training.
Because of the impact of the Covid-19 pandemic in the last two years, the State Committee on Foreign Languages ​​has made efforts to create an online training course, with more than 400 Vietnamese teachers from around the world participating.
A Vietnamese Cultural Space in Germany

Over the past ten years, the Vietnamese Cultural Space has become a meeting place and cultural exchange for the Vietnamese community in the Federal Republic ...
Loving Vietnamese Classes in South Korea

According to a source from Baoquocte.vn, the Association of Vietnamese living and working in Korea has succeeded in organizing Vietnamese classes in Daejeon city and ...