Sapa kids hawk goods in minus temperature
As midnight approaches in the upland town of Sapa, with mercury drops to minus 1 degree Celcius, groups of kids are still wandering around, pestering visitors to buy their goods.
(Video: VNE)
"Please buy me one, please, please!", begged a 5-year-old girl carrying her younger sister on the back. She reached out, asking visitors to buy her small scented bag. Her hand is already freezing, her face turns red and cracks under the biting cold. Next to her, another little girl, barely 3, running around other visitors pestering. Each scented bag or small stuffed animal is sold at VND 10,000 (US $0.43).
These children would sit around a wood fire for warmth some 20 meters away when there's no guest. The woman knitting next to the fire, however, barely gave a word to the visitors about the small hawkers.
As the strong cold spell is battling northern Vietnam, Sapa, as a mountainous region is hard-hit by the severe weather patterns. The temperature even dips to below zero degrees Celcius. Yet, the number of travelers heading to the famous town has not decreased. Streams of holidaymakers all bundled up in thick layers of clothes, beanies, gloves, etc., become the potential guests of local sellers who send their kids out to take advantage of visitors' compassion.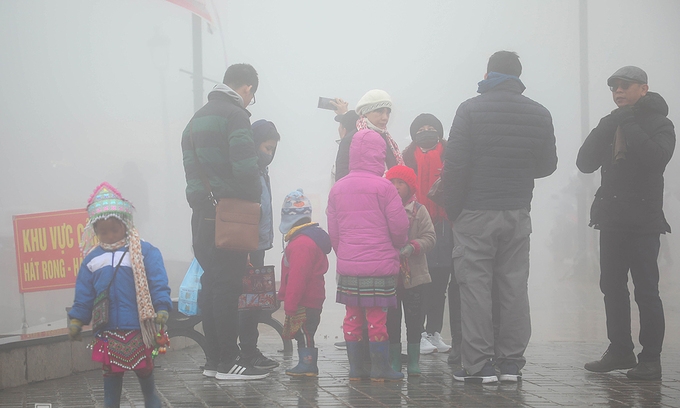 Groups of small children surrounding tourists under cold weather (Photo: VNE)
"Even us adults could not bear such bitter cold. Those kids look very pitiful. I want to somehow help them", Nguyen Binh Ca, 38, from Hanoi told VNE.
Immediately afterward, three or four kids swarmed around and begged him to buy from them as well.
In the meantime, an announcement blared from a speaker on a vehicle patrolling the Sa Pa Ward. "We're calling for you visitors to stop buying goods from kids. Your action will help protect the children's rights", Tran Dinh Tho, head of an inspection team said.
According to Vuong Trinh Quoc, Chairman of Sapa town, children begging/ hawking on the streets has been a common sight for quite a long time. The same thing happens in other tourist hotspots across the country.
"We have contacted to listen to the aspirations of locals. In fact, some take up hawker as the last resort. However, there are some who 'exploit' their kids as they could earn more money than the adults themselves", Quoc was quoted as saying, adding that there could be 500 children out on the streets during peak seasons.
Authorities have tried numerous ways to stop it, including using loudspeakers mounted on cars or vans, asking people to desist from buying anything from local kids, and also trying to persuade parents not to make their children sell things, but nothing has worked. Many kids are still on the streets, VNE reported.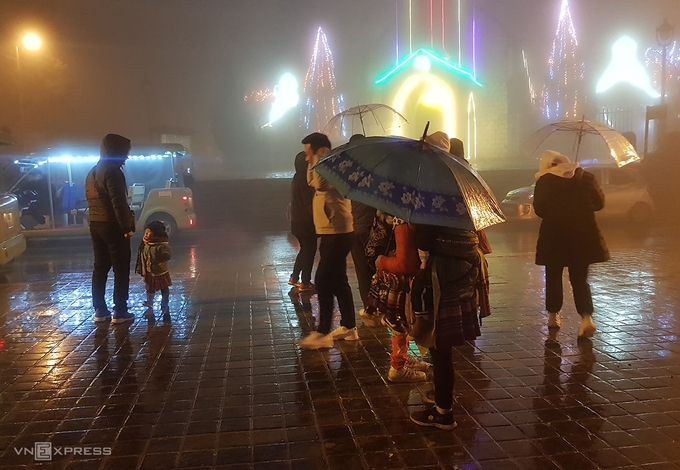 (Photo: VNE)
Authorities have tried helping some residents become vendors and others to pursue jobs in the tourism and services industry. They have also given out agriculture loans.
But, "to put a complete stop to children selling things on the streets, their parents must have stable jobs," said Quoc, adding that local authorities were trying to boost community tourism and artisanship so more people can join the workforce.
Sa Pa, a major tourist destination in Vietnam, receives around three million visitors every year. About 65,000 people visited the town during the latest New Year holiday.