Special Children's Day in Hai Duong's blockade area
This year's International Children's Day will be very special for many children who are in isolation and medical blockade in Hai Duong city. Due to the impact of the Covid-19 pandemic, many previous plans and projections for the children on this occasion could not be implemented.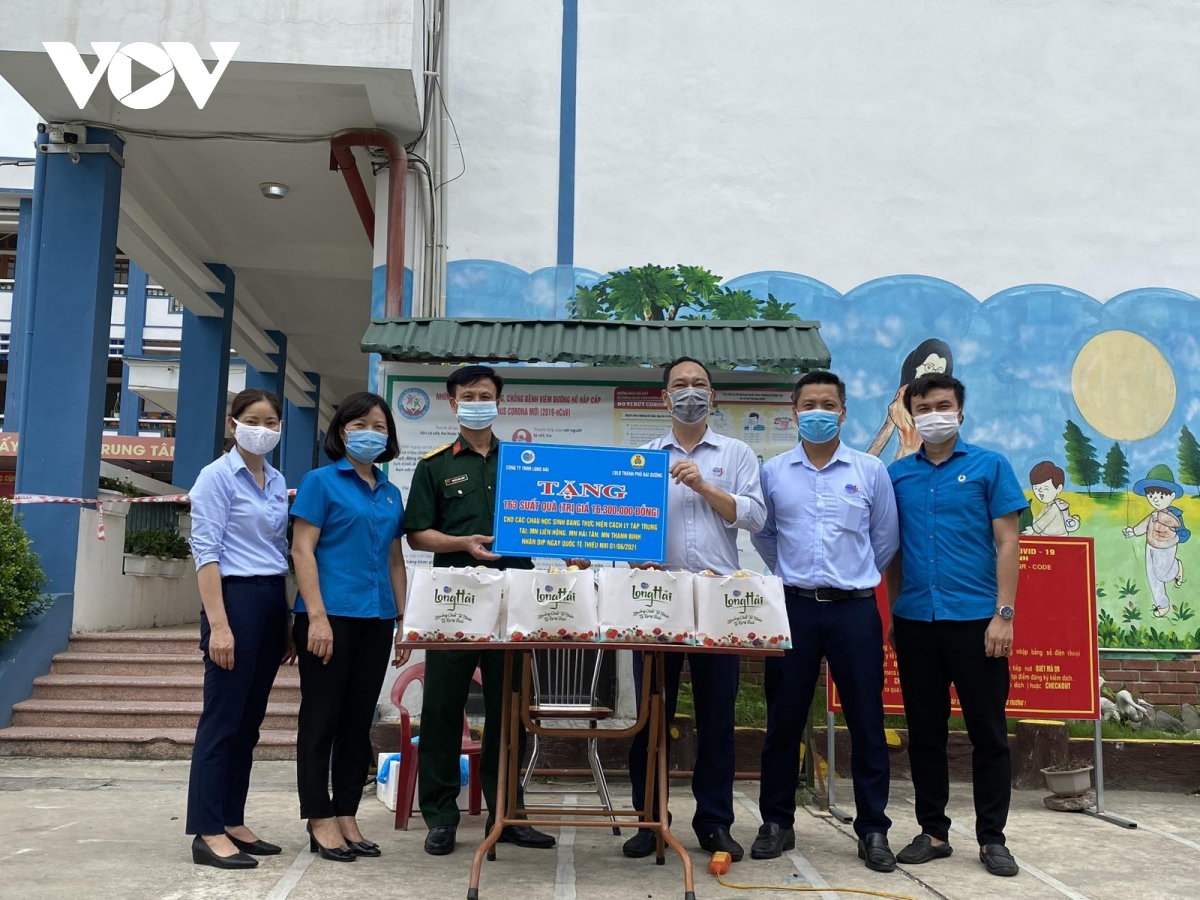 Representatives of Hai Duong city government and unions give gifts to children in quarantine and medical blockade areas. Photo: VOV
The Covid-19 pandemic has forced hundreds of children in Hai Duong city to celebrate Children's Day on June 1 this year in 12 medical blockade areas.
Nguyen Thu Trang in Pham Hong Thai Street said that if there was no pandemic, this occasion, her family would let her children go out and buy some gifts - both for June 1 and a reward for the end of the school year. However, this year, due to being in an area under a medical blockade, Trang could only ask the security force to buy some food and small gifts for her daughter: "This year, my children are not allowed to go to the amusement parks, but only stay at home. I hope the pandemic ends so that the children can return to their normal lives."
The whole city of Hai Duong is straining against the pandemic and implementing social distancing to limit the spread of Covid-19. With the family of Nguyen Ngoc Linh, with 2 young children (4 years old and 7 years old), although not in the medical blockade area, Linh still decided not to take the two children out to ensure safety against the pandemics. Her husband is away on business, she plans to only make delicious meals for the three of them and let the children talk to their father via video call.
"Although my house is not in the blockade area, but because here is one of 10 wards applying urgent measures to prevent the pandemic. Therefore, on June 1 this year, my family also decided not to move out of the province. Instead, I prepared ingredients to make cakes, prepared some decorations at home to celebrate with my children safely on International Children's Day," Linh said.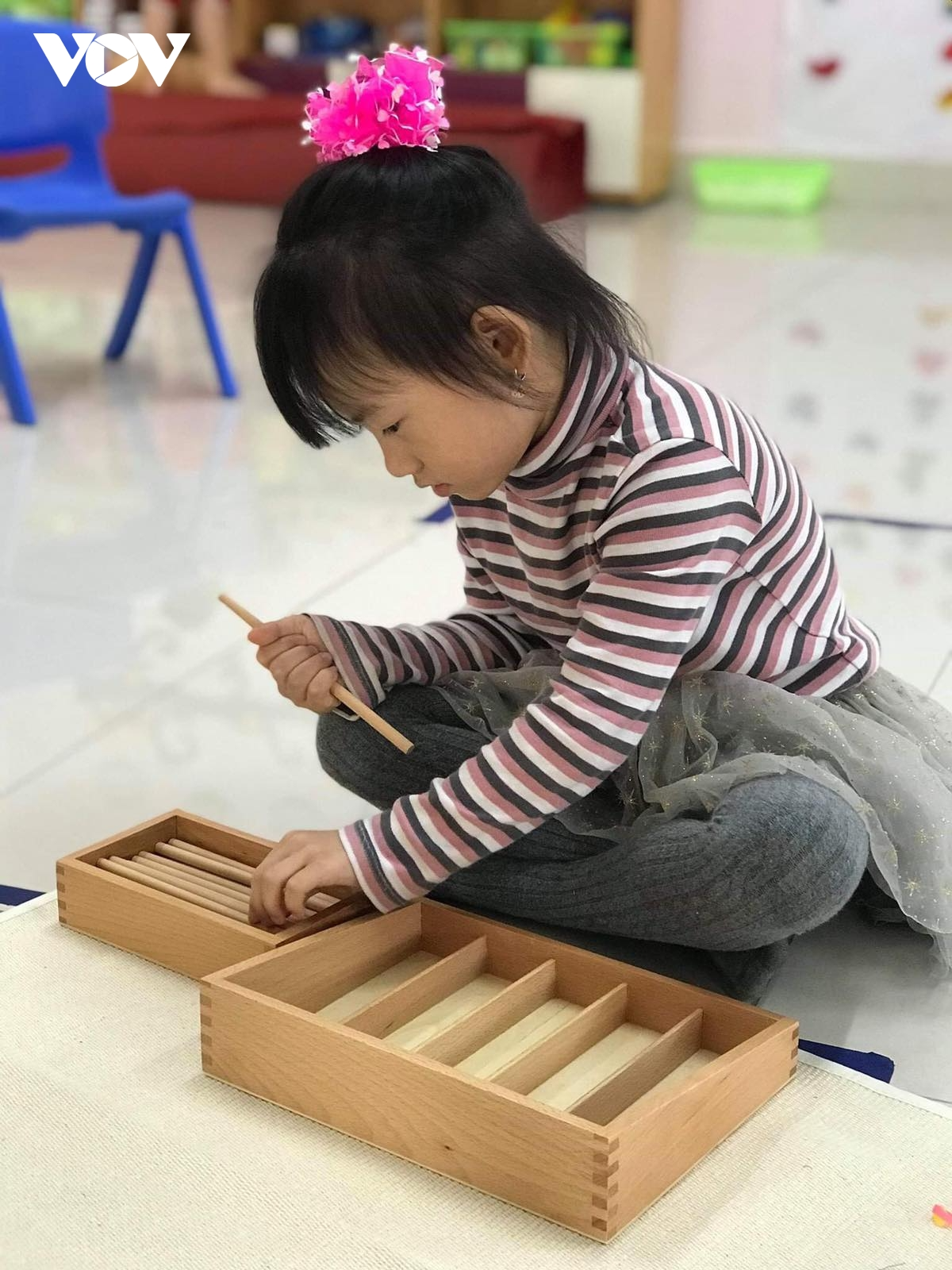 This year's International Children's Day, Hoang Ngoc Diem My (To Hieu primary school, Hai Duong city) will be friends with toys at home. Photo: VOV
For the children - the main characters of June 1, even though they were encouraged by their parents and explained why they couldn't go to the park, watch movies or go to the bookstore on this occasion, the children still felt disappointed.
Hoang Ngoc Diem My, a student at To Hieu primary School, Hai Duong city said: "This year, I can't go out on International Children's Day. I want to go to the park and bookstore. I hope the pandemic will end quickly so that my mother can take me out."
Children's Day on June 1 this year comes in the context of complicated pandemic developments, especially for children in isolation and medical blockade areas. Therefore, Hai Duong city authorities at all levels have organized many delegations to visit and give gifts to more than 200 students who are children of workers and labor officials who are implementing concentrated isolation. The City Women's Union and Hai Duong City Youth Union also donated hundreds of cartons of milk, confectionery, medical masks and had many activities for children in quarantined and medically blocked areas.
Nguyen Le Chi - Secretary of Hai Duong Youth Union said that the youth volunteer force regularly shares, encourages and supports the children from their daily meals to their wishes to buy books and newspapers: "We also plan to make gifts for the children, there will also be wishes and postcards hand-made by the members of the Youth Union. Those gifts convey emotions and encouragement from the union member as well as the students from outside the blockade area."
For children, June 1 this year will be a very special Children's Day, especially for children who are in isolation and medical blockade due to the epidemic. International Children's Day this year may not be as fun as expected, but they will certainly know that they are making a small contribution to the victory in the fight against the Covid-19 pandemic.