Switzerland-Vietnam business group debuts
The Vietnamese Embassy in Switzerland has recently held a ceremony to launch the non-profit Switzerland-Vietnam business group (SVBG), which aims at promoting exchanges and investment and trade cooperation between enterprises of the two nations.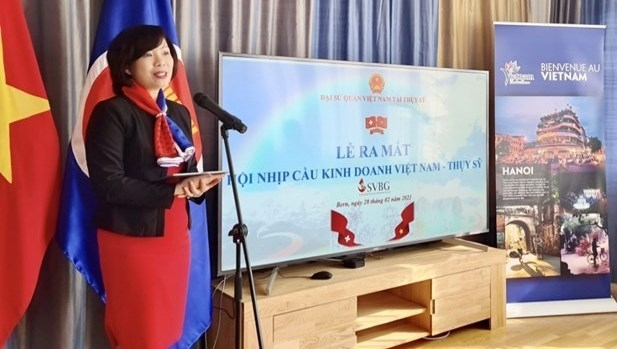 Vietnamese Ambassador Le Linh Lan in Switzerland speaks at the event (Photo: VNA)
Based in Lausanne, the SVBG, the first of its kind founded by Vietnamese expatriates in Switzerland, has been set to focus on offering trade information via workshops, forums, and internal bulletins; providing legal consultations and guidance; developing links for technological transfers and improvement; and introducing quality human resources. It will also make recommendations for more favourable business climate to competent agencies of both nations, while organising socio-cultural activities serving its goals, according to the Vietnamplus.
Speaking at the debut ceremony, Vietnamese Ambassador Le Linh Lan stressed the group came into being at a special time as Vietnam has placed the COVID-19 pandemic under control and prepared best conditions possible to welcome Swiss investors.
In 2020, Vietnam's economy grew 2.91 percent, making it one of the few countries that have maintained positive GDP growth while many others in the world fell into severe recession. Also in August last year, the EU-Vietnam Free Trade Agreement took effect, opening up huge trade and investment opportunities for both sides. In last November, as the Chair of the ASEAN, Vietnam successfully pushed the signing of the Regional Comprehensive Economic Partnership (RCEP), establishing the biggest free trade area worldwide.
Lan stressed the embassy supports the operation of the SVBG.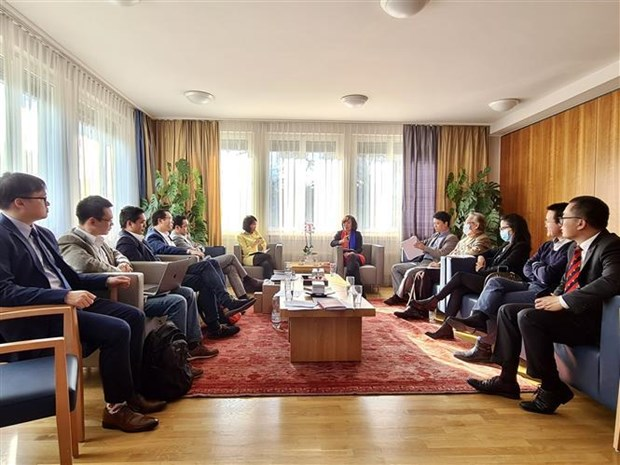 Delegates at the debut (Photo: VNA)
According to the diplomat, Switzerland is the 6th largest European investor in Vietnam, with its investment totaling US$2 billion, mostly in manufacturing – processing and electricity. Currently, close to 100 Swiss firms are operating in Vietnam.
Meanwhile, Vietnam is the four biggest trade partner of Switzerland in ASEAN, with bilateral trade exceeding US$3.6 billion in 2019. Since 2012, Vietnam and the European Free Trade Association (EFTA) – the intergovernmental organisation of Iceland, Liechtenstein, Norway and Switzerland – began negotiations for a FTA, which is expected to be signed this year.
As scheduled, the SVBG will make debut to its Swiss partners at the Webinar Market Focus Vietnam that the group co-hosts with the embassy and the Geneva Chamber of Commerce, Industry and Services.
The year 2021 marks an important milestone: Switzerland and Vietnam celebrate 50 years of diplomatic relation establishment and 30 years of development cooperation.
As per Switzerland's Ambassador to Vietnam - Ivo SieberDuring's share in an interview: during the past 30 years, over US$600 million have been granted by the Swiss Government to Vietnam; ourlong and trusted development partnership remains one major highlight in our bilateral relations.Economic cooperation by the Swiss private sector has also been steadily increasing since Vietnam's Doi Moi opening; there still is a big potential for further growth here.The opening in 2015 of a Swiss Consulate General in HCMC and recent high-level visits, incl. a 2019 visit to Vietnam by Swiss Economy Minister (and now President) Guy Parmelin, support this trend, which is reinforced by an increase also in academic and scientific cooperation.
Since last autumn, Vietnam's NAFOSTED and the Swiss National Science Foundation (SNSF) are jointly offering grants to researchers from both countries.There is also a growing scope for more multilateral cooperation in the United Nations and beyond: Vietnam now holds a non-permanent seat within the UN Security Council, a role Switzerland aspires to assume for the period 2023-24. Regular political consultations, including constructive exchanges on human rights, underscore the dynamism, richness and strength of Swiss-Vietnamese diplomatic relations, said the Bizlive.
Swiss direct investments in Vietnam currently amount to over US$ 2 billion. Switzerland is indeed one of the larger European investors in the country, with a major potential to grow. In the USA for example, Switzerland is the 7th largest foreign investor. The more than 100 Swiss companiescurrently active in Vietnam together created some 20'000 jobs in a wide variety ofsectors, incl. pharmaceuticals, machinery, food processing, IT, logistics, architecture, etc.
There is a broader range of areas, including in infrastructure and services, where Swiss firms have competitive expertise and the potential to contribute to the modernization and further development of Vietnam. Sectors like finance and insurance, digital economy, transportation, energy and renewables, clean-tech, the development of social and commercial infrastructure, engineering services come to mind.