Tet Custom: U.S. Ambassador Tries Traditional Calligraphy
The U.S. Ambassador showcased his writings in Vietnamese.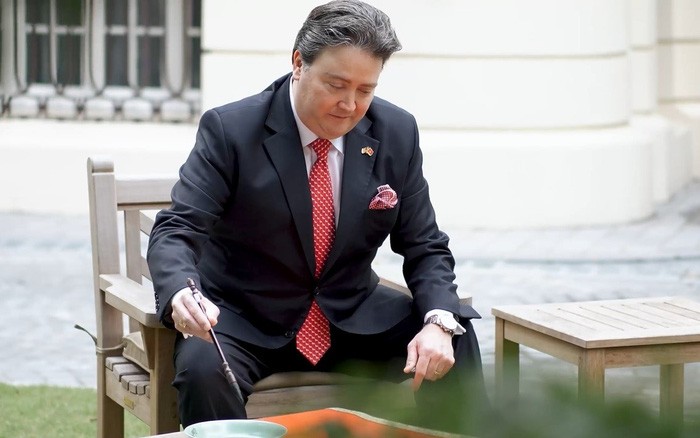 The U.S. Ambassador to Vietnam, Marc Knapper tries his hand at traditional calligraphy. Screenshot from video courtesy of the U.S. Embassy in Vietnam
Arrived just in time to celebrate the Lunar New Year, the U.S. Ambassador to Vietnam, Marc Knapper, celebrated Tet, the most important festival of Vietnamese people in a year, by writing traditional calligraphy.
In a video released on Feb.3 by the U.S. embassy, Knapper could be seen writing the words 'Xin chao Vietnam' (Hello Vietnam) and 'Chuc mung nam moi' (Happy new year) on red paper, traditionally used to write calligraphy.
On the first day of the Lunar New Year ( Feb. 1), he had sent a congratulatory message to the Vietnamese people: "My family and I wish all of you a healthy, happy and prosperous new year!"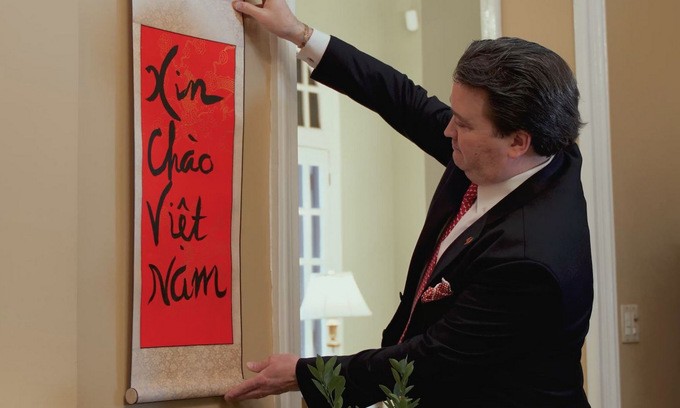 The U.S. ambassador in Vietnam, shows a piece of Tet calligraphy he wrote that says "Xin chao Vietnam" (Hello Vietnam) to mark Tet. Screenshot from video courtesy of the U.S. Embassy in Vietnam
Knapper had arrived in Hanoi on Jan. 27, VnExpress reported.
The U.S. embassy quoted him in a Facebook post as saying: "[We] are now starting quarantine. We can't wait to meet with our Vietnamese friends and partners soon."
The U.S. Senate confirmed him as the next ambassador to Vietnam in December 2021, a full eight months after his nomination by President Joe Biden.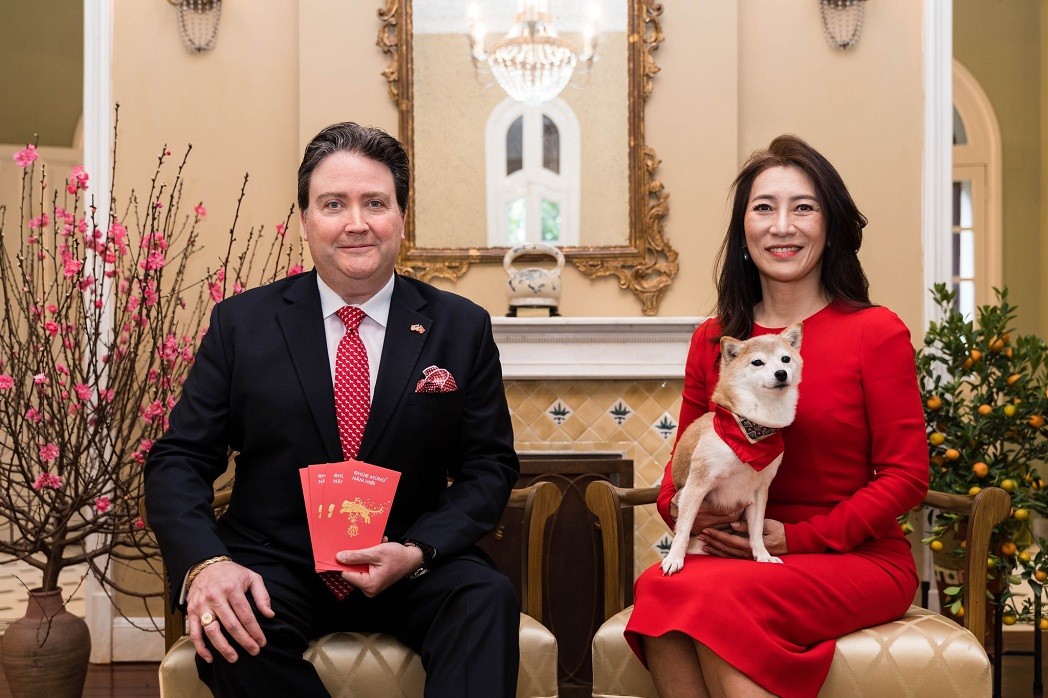 Marc Evans Knapper's family arrive in Hanoi on Jan 27, 2022. Photo courtesy of the U.S. Embassy
Vietnam and the U.S. established a Comprehensive Partnership framework in 2013, cooperate in a number of areas, and their trade climbed to US$111.5 billion last year.
The Tet holiday is the most important and most anticipated of the year in Vietnam. A number of meaningful traditional customs are practiced at this time, with collecting calligraphy being among the most beautiful.
The meaningful characters created on special paper have become a symbol of good luck and objects of worship for thousands of years.
The calligraphers themselves, demonstrating remarkable mastery of the technique, work their best to maintain the Confucian value they represent through their works. They show so much dedication to every piece and along with every letter they skillfully craft, they wish that the uplifting words will give good luck to the person who brings it home.
Knapper also conveyed his "happy new year" wishes in the online Homeland Spring program hosted by Vietnam's Ambassador to the U.S. Ha Kim Ngoc on Jan. 21 to celebrate Lunar New Year 2022, a press release of the Vietnam embassy in Washington DC stated.
Knapper expressed his pleasure and honor to be returning to work in Vietnam as an ambassador, saying he would make every effort to boost bilateral relations, contributing to peace, security and prosperity in the region and the world.
Knapper is a career diplomat who's the State Department's current Deputy Assistant Secretary for Japan and Republic of Korea (RoK) in the Bureau of East Asian and Pacific Affairs.
Before assuming that position, Knapper was the Chargé d'Affaires a.i. of the U.S. embassy in Seoul, the RoK, in 2017 and 2018, and earlier, the embassy's deputy chief of mission.
He has also been the Director of the State Department's Office of India Affairs and the Office of Japanese Affairs.
After completing his B.A. from Princeton University and his M.A. from the Army War College in Carlisle, Pennsylvania, Knapper has spent almost his entire career spanning over 25 years working on policy issues of the East Asian region and studying its languages and culture.
He speaks Vietnamese and led the political section of the U.S. embassy in Hanoi from 2004 to 2007.
"This extensive and substantive experience in the region, coupled with his demonstrated ability to lead large interagency teams as well as policy-oriented offices, makes him an excellent candidate to be the U.S. Ambassador to the Socialist Republic of Vietnam," according to the Department of State.
Knapper has said his prime objective once he's approved to be the ambassador to Vietnam would be to bolster relations between the two countries, including their bilateral security cooperation.
He said he believed that Vietnam was one of the U.S.'s strong partners in the region, and that both countries share interests and concerns on regional issues, including those regarding the South China Sea (Bien Dong Sea in Vietnamese).
Knapper has also said that he would focus on other key fields including commerce and investment and addressing war legacies.