The Irresistible Charm of Thai studies in Vietnam
For universities in Vietnam, Thai language and Thai studies are not common subjects. However, for those that due pursue it, it becomes a passion with great career prospects.
It has not often been a first pick for Vietnamese university students, but Thai studies, both the culture and the language, is increasingly winning students over with courses broadening student horizons and offering interesting jobs.
"The Thai language has an irresistible charm. When I first learned Thai, even though it was a completely new language, I felt familiar with it. The more I learn about Thai, the more interesting it becomes to me," said Le Phuong Thao, a fourth-year student majoring in Thai studies at Vietnam National University in Hanoi.
"The Thai language is flexible in pronunciation, creating intonations so naturally, I feel at ease whenever I speak Thai. Not only that, but the Thai people's manner of speaking is so soft and I am attracted to that."
Thao is amongst the many young Vietnamese today who are interested in and want to learn Thai to broaden their career prospects and do something different.
"Since I entered the Faculty of Oriental Studies, I knew I wanted to learn Thai. First, I love the Thai language. Second, there would be huge job opportunities for me after graduation because there were many Thai companies operating in my hometown," she said.
"Studying Thai, I could get closer to my parents. Third, I love Thai TV series, so I want to watch new episodes right away on the Internet instead of waiting for the subbing team."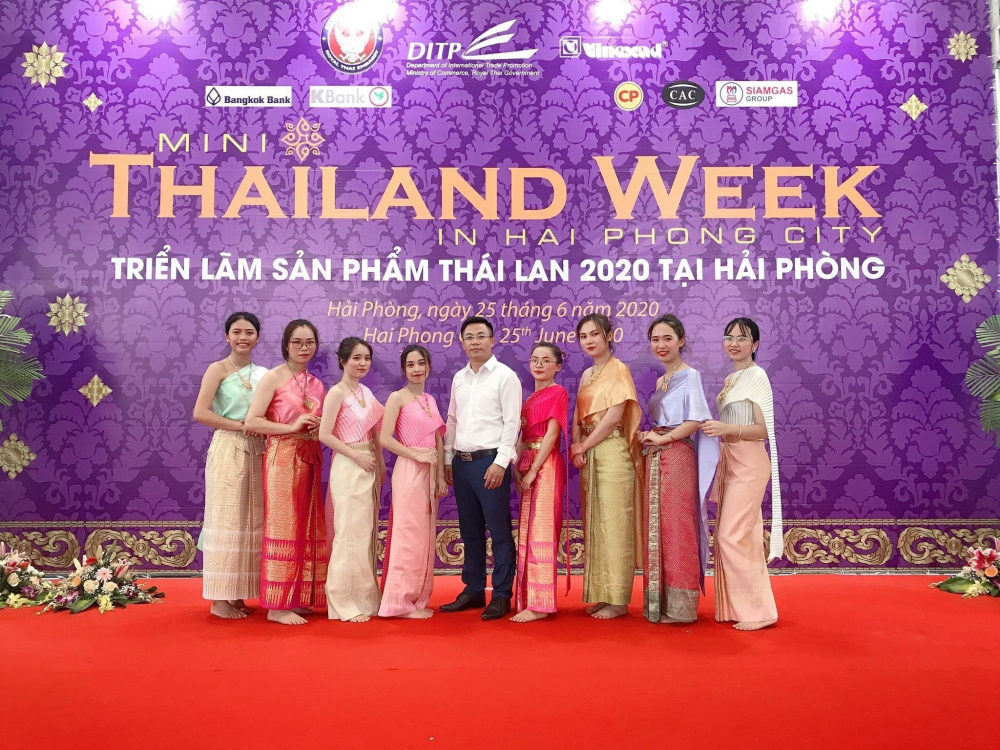 Le Thi Phuong Thao (second from left), a fourth-year student majoring in Thai studies, and her friends at a Thai culture event. Photo:

Vietnam Times
Thai studies are officially taught at the Faculty of Oriental Studies at the University of Social Sciences and Humanity under the Vietnam National University. The course is the first time the Thai language was incorporated into academic programs for students at university level.
Dr. Nguyen Tuong Lai, who has 30 years of experience researching Thailand at the Southeast Asia Research Center, developed the Thai language textbooks for the program. In 2001, Lai was invited by the University of Social Sciences and Humanity to be a permanent lecturer at the Faculty of Oriental Studies. He later designed the Thai studies program with courses specifically focusing on Thailand. Since then, courses on Thai studies have been taught alongside Southeast Asian studies courses.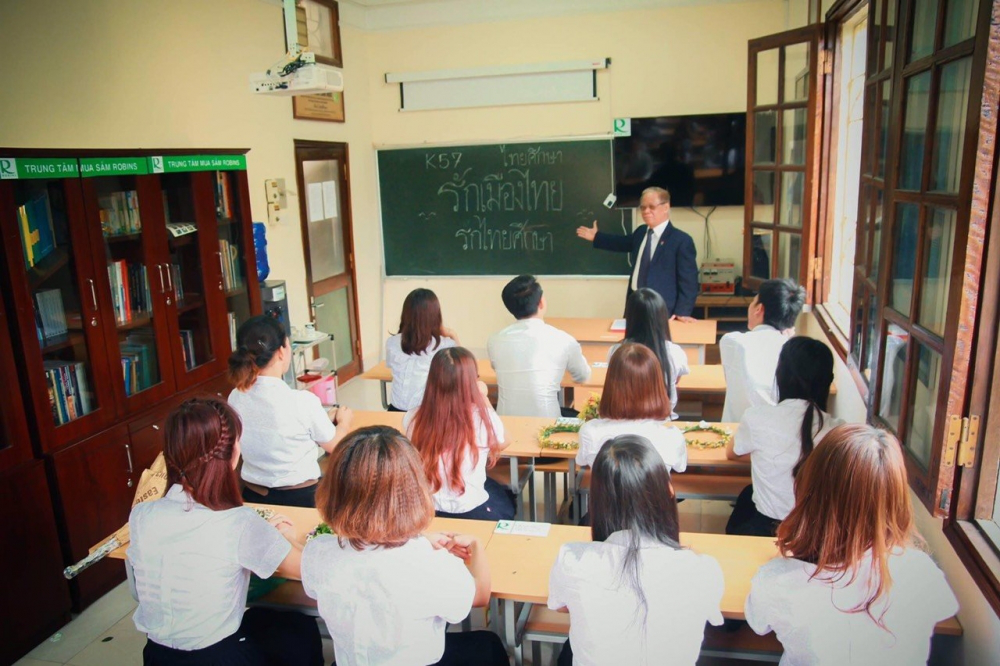 Dr. Nguyen Tuong Lai during a session on Thai studies. Photo:

Vietnam Times
According Lai, students were extremely excited when Thai studies were first introduced. The first Thai studies class had 27 students. Pursuing Thai studies at the Faculty of Oriental Studies, students are equipped with comprehensive knowledge about Thailand from its history, culture and economy to politics, society, language and everything in between.
"Vietnam and Thailand have close economic and cultural relationships. The Thai language, therefore, has become increasingly necessary and important. More universities in Vietnam have been teaching Thai, but they only teach students the Thai language," Lai said.
"At our faculty, we give students specialized courses on Thai culture, history and politics, in addition to teaching them the language."
Dr. Nguyen Tuong Lai with students who majored in Thai studies. Photo:

Vietnam Times
Tran Quynh Trang, a Thai studies lecturer, said the Faculty of Oriental Studies currently had about 60 students. Each class has about 15 students. If including the students coming to study the Thai language only, the faculty has about 100 students. The Thai studies program has three permanent lecturers.
Field trips are held for third-year students and normally last from 12 – 15 days. Students go to major universities in Thailand, visiting famous relics to enhance their experience and have in-depth insights into the culture, history, country and people of Thailand.
Students pursuing Thai studies also partake regularly in cultural exchange events or Thai – Vietnamese cuisine festivals.
"In each batch, there are three to four outstanding students who receive recommendations from the faculty to pursue scholarship programs at graduate level at Thai universities. So far, we have had 50 students completing graduate programs in Thailand. This is one of the unique features of the Thai studies program at the Faculty of Oriental Studies," Lai said.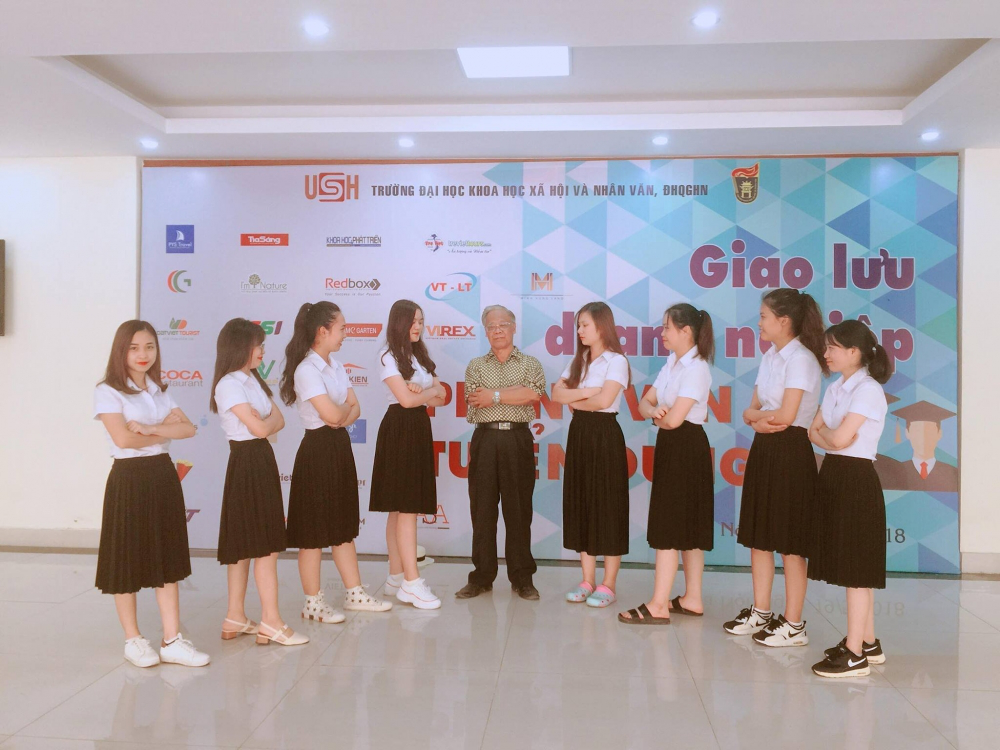 Lecturers and students of the Thai studies program in an exchange event. Photo:

Vietnam Times
Most students graduating from the Thai studies program at the Faculty of Oriental Studies are currently working at the Ministry of Foreign Affairs or the Embassy of Thailand in Vietnam or teaching and researching at universities, institutes and scientific research centers. Students also work for domestic and international businesses, governmental and non-governmental organizations and processing and tourism companies.
Aside from passing down knowledge, the teaching staff at the faculty also breathe love for Thailand into each generation of students, turning field trips into unforgettable memories and motivation for their future careers.