Top 8 famous French colonial architecture sites in Hanoi
It is not overstated to claim that ancient French architecture has significantly contributed to the unique traits and charm of Hanoi today with its elegance and nobility. In this article, Vietnam Times recommends you Top 8 French colonial sites in Hanoi that you should not miss.
Although the French colonial period in Vietnam came to an end more than half of a century ago (1884 – 1954), it is obvious that much of the French arts and deco style are still imprinted in the architecture of Hanoi – Vietnam's capital.
1. Hoa Lo Prison (1 Hoa Lo Street)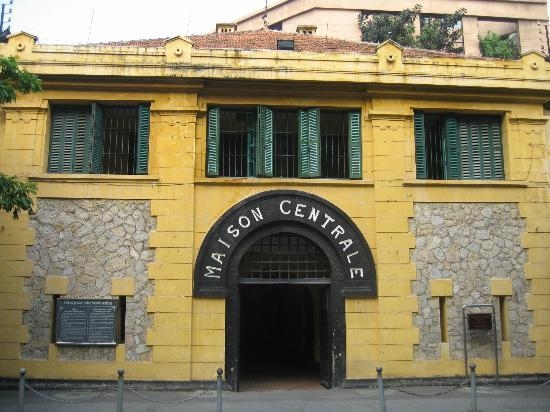 Photo: Day Tours in Hanoi
Located in Hanoi French Quarter, it is known by another name Hanoi Hilton, once was called Maison Centrale by the French colony which meant the central prison. This is one of the largest prisons under French colonialism in Indochina, preliminarily designed by architect Henri Vildieu from 1895 and built in the years 1896 – 1899. The construction of Hoa Lo Prison was included 4m high stone walls, 0.5-meter thickness and even electric steel wires as a reinforcer.
The prison was built in the center of the city overlooking 4 main street sides: Rollande Prolonge (Hai Ba Trung Street), Rue Richaud (Quan Su Street), Teinturiers (Tho Nhuom Street) and Prison (Hoa Lo Street). Today, the prison's part on Hoa Lo street is retained to serve as a historical relic, attracting many domestic and international tourists to visit.
2. Hanoi Post Office (75 Dinh Tien Hoang Street)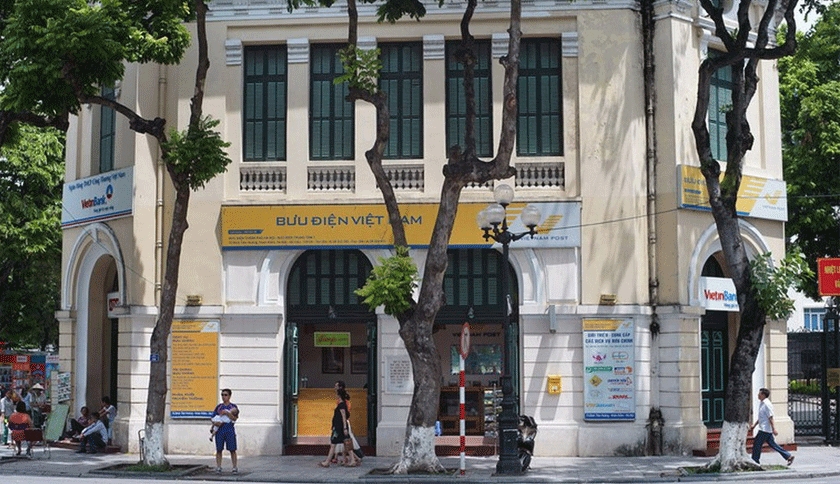 Photo: VNE
The building was formerly known as the Hanoi Post Office and is often called Bo Ho Post Office. This is one of the first public works built by the French in Hanoi. The building was designed by architect Henri Vildieu and built in 1893 – 1899 in neoclassical style. The main side of the building overlooks Dinh Tien Hoang Street, the other one is on Le Thach Street. 3. St. Joseph's Cathedral (40 Nha Chung Street
3. St. Joseph's Cathedral (40 Nha Chung Street)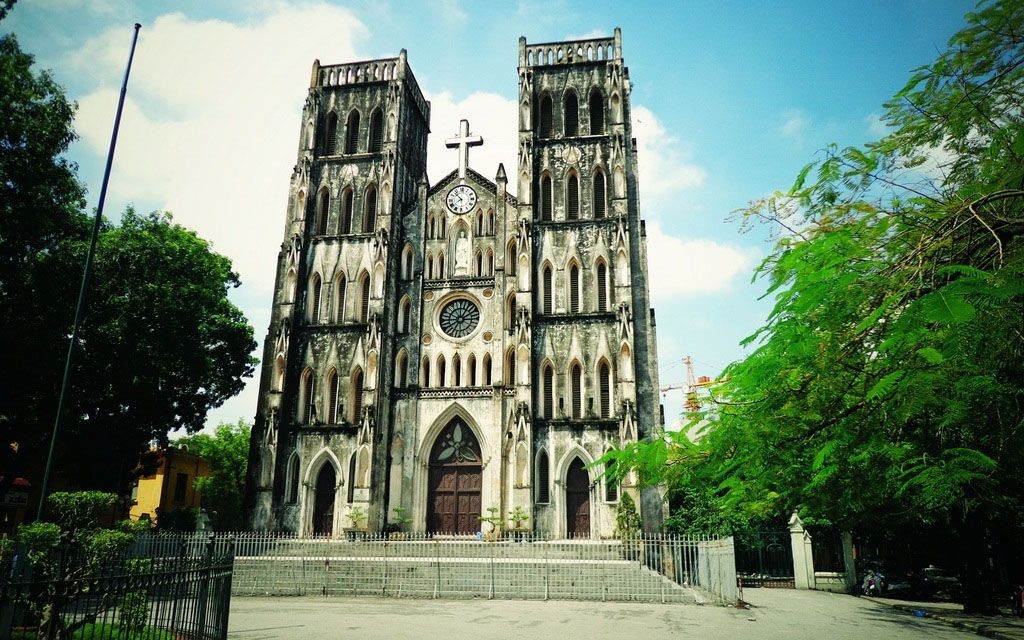 Photo: Foody
St. Joseph's Cathedral is the oldest church in Hanoi and is one of the first structures built by the French colonial government when it was first opened in December 1886 and completed in 1888. It possesses Neo-Gothic architecture, following the model of Notre Dame Cathedral in Paris with wide, curved arches facing the sky. Its exterior structure features a length of 64,5 meters, a width of 20,5 meters. The facade consists of two square bell towers with a height of 31,5 meters and a big clock as well as a stone cross on the top. Up to now, the church is not only the place of worshiping of Catholics but also one of the most tourist attractions in Hanoi.
4. Hanoi Opera House (1 Trang Tien Street)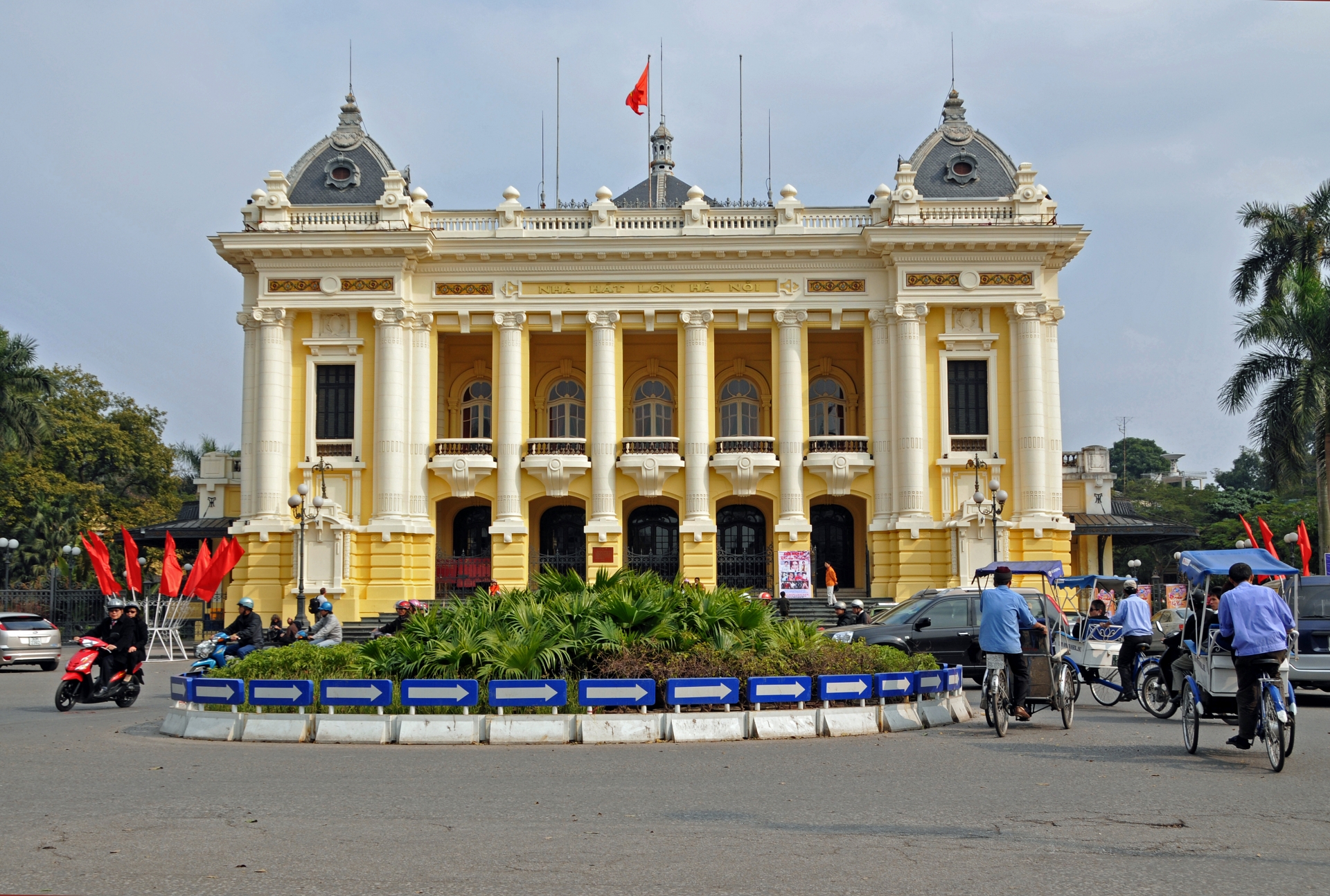 Photo: Wikipedia
Hanoi Opera House, formerly known as The City Theater, was built from 1901 to 1911 by the French government under the design of two French architects V. Harley and Broyer based on the style of Palais Garnier – the Paris Opera.
Hanoi Opera House is a unique structure with outstanding values in terms of history, culture, architecture and art. In the past, it was used as a cultural center for the French and Vietnamese Elites to enjoy classical art performances. In modern times, people come to Hanoi Opera House to enjoy various forms of music, from classical music, opera to Vietnamese traditional plays and folk music. It has become a dream stage for any artist in Vietnam because being able to perform here counts as a recognition of their talent and contribution to national art.
5. Dong Xuan Market (15 Cau Dong Street)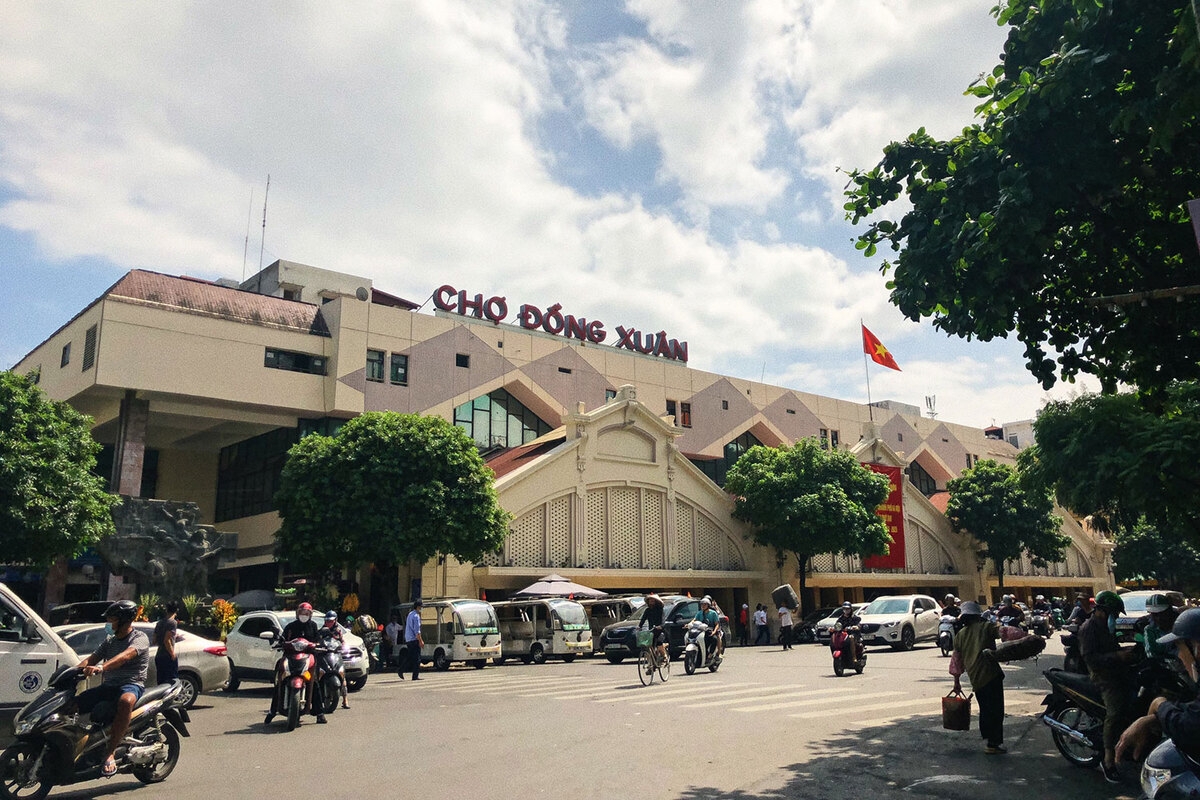 Photo: VNE
The market, consisting of 5 domes in a total area of about 6,500 square meters, was built by the French in mid-1889 deeply followed the French style.
Dong Xuan Market was the largest concentration of trade in Tonkin at that time. After being fired in 1994, Dong Xuan market was rebuilt in 1995 with an investment of 68 billion VND. Today, there is 3-arch entrance in Dong Xuan Market, instead of 5-arch entrance as before, with a total area of ​​nearly 14,000 square meters and about 2,000 business stalls.
6. Government Guest House (12 Ngo Quyen Street)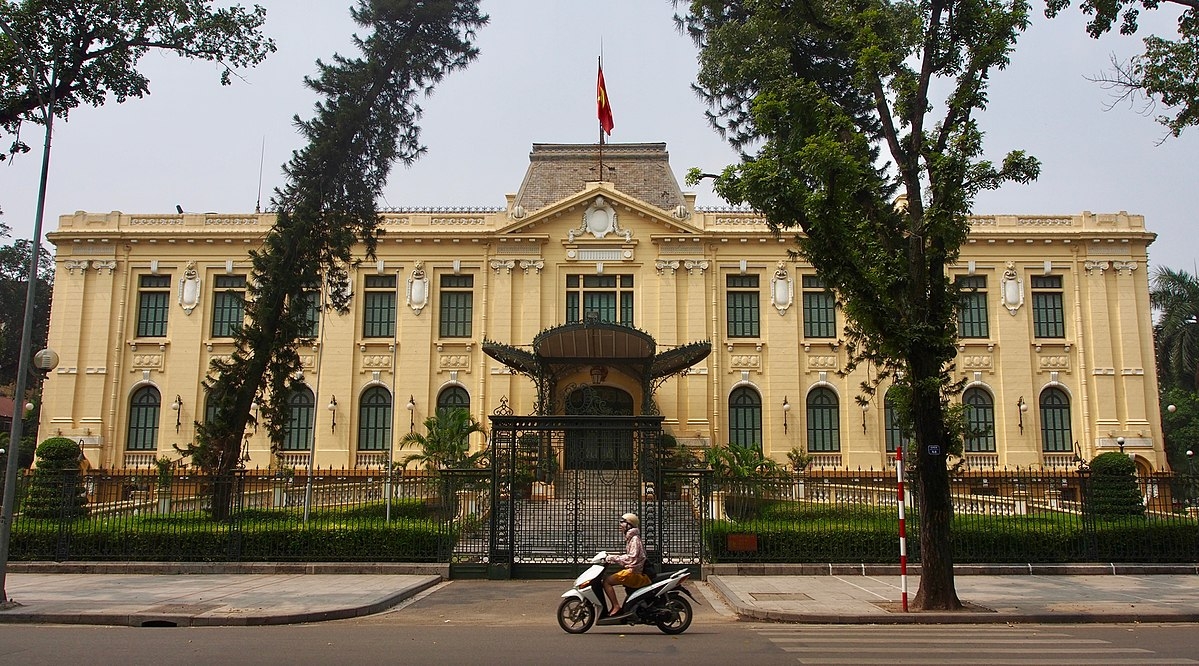 Photo: Wikipedia
This place, built in 1918, was formerly the residence of the Governor of Tonkin - the historical name for North Vietnam. The main east side is Henri Rivière Avenue (Ngo Quyen Street), north along Chavassieux Avenue (Le Thach Street). It was designed by architect Adolphe Bussy possessing the classic beauty of French architectural style with symmetrical ground and façade complex resembling authentic European style.
The building has witnessed a long history of resistance against the French and Americans. After 1945 August Revolution, this place becomes the headquarters of the government of the Democratic Republic of Vietnam, where President Ho Chi Minh worked, then used as the guesthouse for VIP visitors of the Government.
7. State Bank of Vietnam (49 Ly Thai To Street)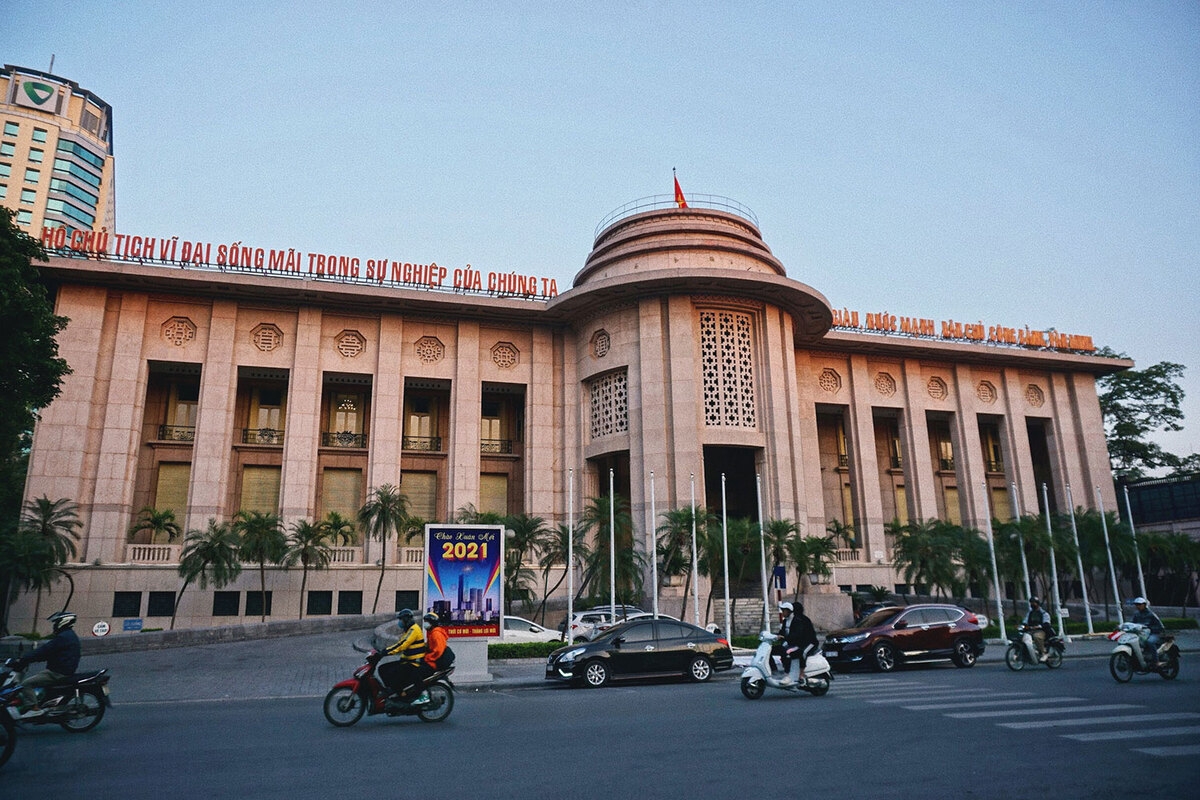 Photo: VNE
It was formerly the French Indochina Bank headquarters in Hanoi (Banque de l'Indochine) established on January 21, 1875, in Paris (France), to issue bills and coins to the Asian colonials of France. The building is located at the end of Paul Bert's garden, known as Ly Thai To garden nowadays, in front of Hoan Kiem Lake. The Asian decorative motifs used to decorate the building's facade are the triangular and octagonal patterns that are popular in the architecture of the old Vietnamese temples and pagodas. In addition to the Indochina Bank's headquarters in Hanoi, the Hai Phong and HCMC's branches also have a unique architecture.
8. Trang Tien Plaza (1 Trang Tien Street)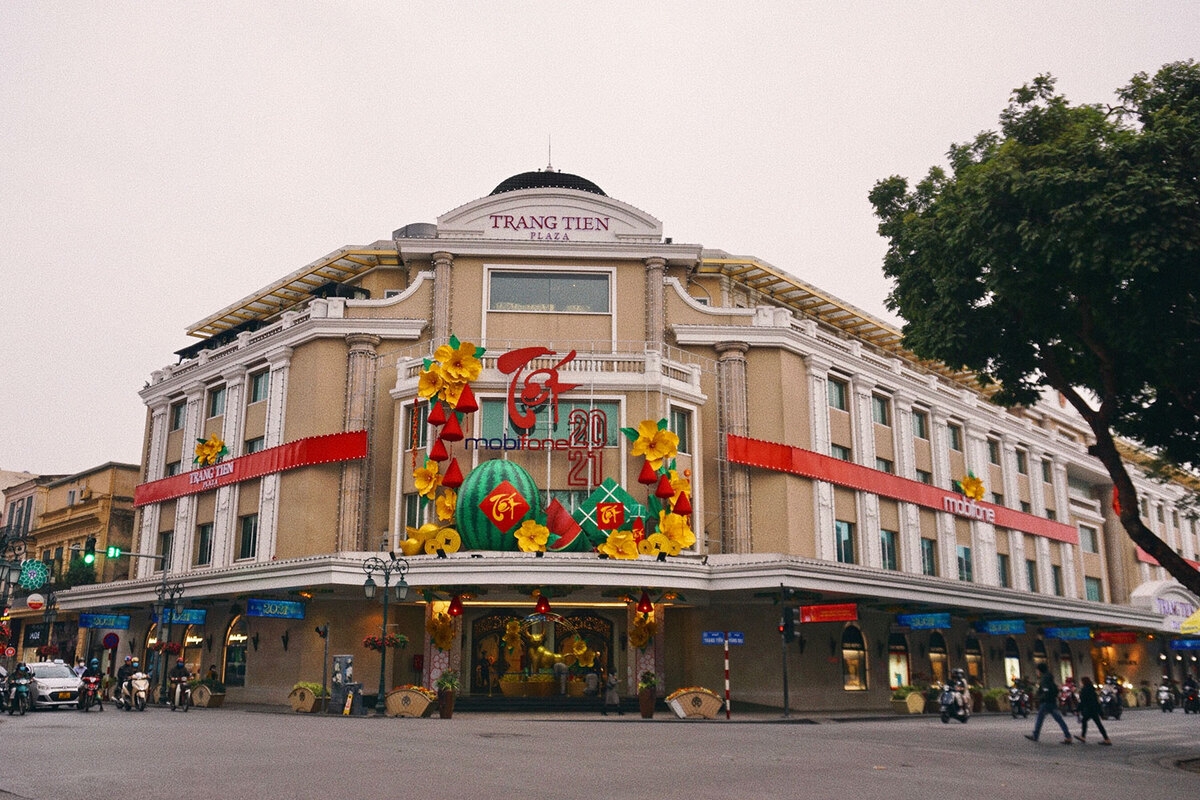 Photo: VNE
Built by the French in 1901, Trang Tien Plaza was called Maison Godard (Godard house) and later was renamed Bach Hoa Tong Hop in 1960. At first, the shopping mall was the place to sell items paid in stamps such as fabrics, clothing, accessories or bicycles. In 2002, it was renovated and renamed Trang Tien Plaza, trading in essentials and luxury products.
Termites damage Hoi An relic sites

After the distancing period because of Covid-19, hundreds of ancient houses and monuments in Hoi An were seriously damaged by termites.
Travel
With more than 40 countries, it is clear that no one can summarize Asia in a few short lines. Among the best and most beautiful destinations in Asia voted by CNN, Da Lat City and Lan Ha Bay in Vietnam are called the "hidden gems" that are worth discovering.
June 06, 2023 | 07:19
Travel
The Saigon Central Post Office (Ho Chi Minh City) landed second place in the list of 11 most beautiful post offices in the world, announced by American architectural magazine Architectural Digest.
June 05, 2023 | 22:04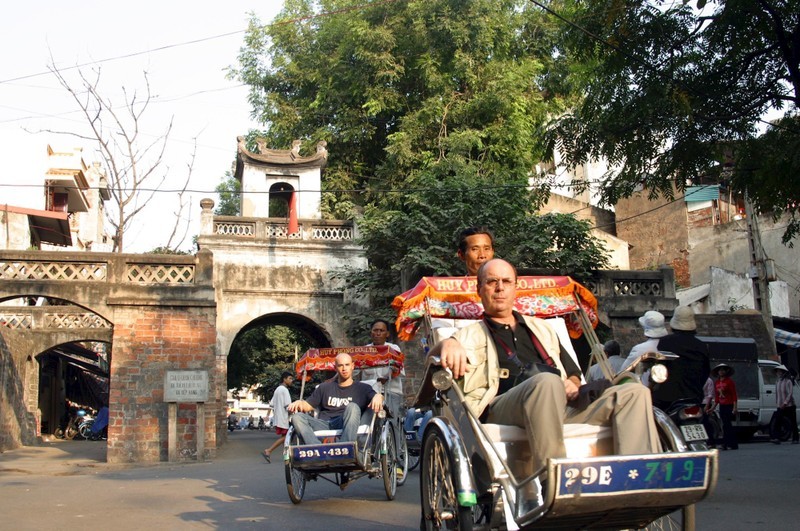 Travel
One of the top choices of British travellers is
Vietnam
with its diverse natural beauty, said The Independent, a British online newspaper.
June 05, 2023 | 09:31
Travel
The US's travel website Travel Off Path has called the Ho Tram beach tourism area "the perfect getaway for those looking to unwind and escape the hustle and bustle of the big city, if only for a long weekend."
June 04, 2023 | 19:53