Trump tweets thanks for Vietnam's protective suits amid coronavirus outbreak
US President Donald Trump expressed his appreciation for over 450,000 made-in-Vietnam personal protective equipment from Vietnam.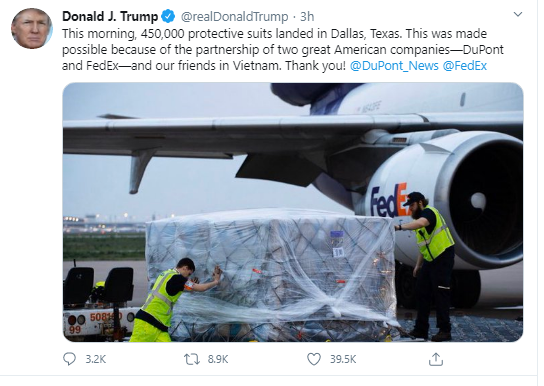 US President Donald Trump says thanks on Twitter.
"This morning, 450,000 protective suits landed in Dallas, Texas. This was made possible because of the partnership of two great American companies—DuPont and FedEx—and our friends in Vietnam. Thank you!" he wrote on his Twitter account.
The tweet received over 40,000 'likes' and 9,000 'shares' after it was posted.
The first of two initial shipments of over 450,000 DuPont protective suits departed from Hanoi on April 7.
The US Department of Health and Human Services contracted with FedEx Express to expedite delivery of the suits to the US Strategic National Stockpile in order to address the urgent need for protective equipment for frontline providers responding to the COVID-19 pandemic in the US.
Recently, the US Agency for International Development (USAID) announced 2.9 million USD in additional health assistance to help the Vietnamese government to accelerate laboratory systems; strengthen case-finding and event-based surveillance; and support technical experts for rapid response, risk communication, and infection prevention and control.
Earlier, Vietnam also presented medical supplies to many countries to assist with the fight against the COVID-19 pandemic.
On April 7, Vietnam symbolically handed over 550,000 made-in-Vietnam anti-bacterial masks as gifts from the Vietnamese Government and people to France, Germany, Italy, Spain and the UK.
In early April, the Vietnamese Government and people presented medical equipment worth over 7 billion VND (304,000 USD) as gifts to Laos and Cambodia. Deputy Minister of Foreign Affairs Nguyen Quoc Dung handed over the gifts, which included specialised protective clothing, medical masks, testing systems and COVID-19 test kits, at a ceremony on April 3.
In February, the country sent breathing equipment, cleanroom suits, gloves and face masks worth 500,000 USD in total to China to help the country fight the COVID-19 pandemic.
The pandemic has now claimed the lives of at least 14,695 people in the United States, which leads the world in the number of confirmed infections with 429,052, according to a tally kept by Johns Hopkins University.
Officials have warned Americans to expect alarming numbers of coronavirus deaths this week, even as an influential university model on Wednesday scaled back its projected US pandemic death toll by 26 per cent to 60,000.