Tuyen Quang City Moves to Prevent Children from Drowning
Drowning is a silent epidemic that needs urgent attention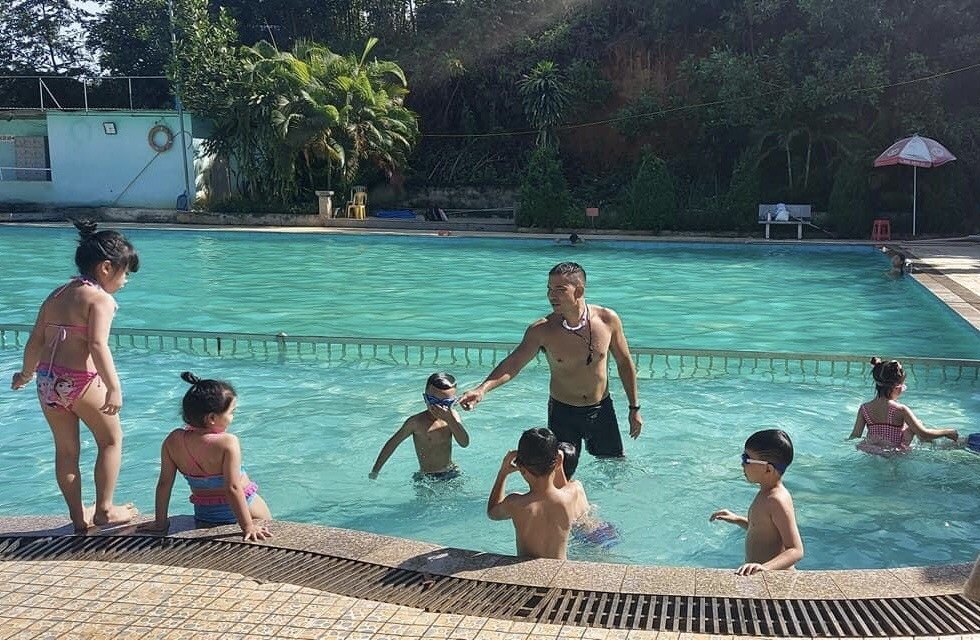 A swimming lesson at Hoang An swimming pool, Tuyen Quang city. Source: Tuyen Quang city government portal
Since the start of this summer, there have been many tragic cases of children and students across the country drowning, again raising the alarm about this epidemic that kills 2,000 children in Vietnam each year. In the northern city of Tuyen Quang, swimming lessons for students are paid special attention by local authorities, with a focus on equipping children and students with skills to prevent drowning.
Swimming classes to prevent drowning in the area have been identified as urgent. As a result, there has been no child drowning cases in the city in several years. This is the result of efforts of sectors of local authorities at all levels. Notably, the awareness of parents and students has been significantly increased, with people participating in swimming courses during the summer vacation.
Nguyen Viet Phuong, a swimming teacher at a local swimming pool, said that teachers like himself also fully participate in rescue training courses organized by the provincial Red Cross Society. To prevent drowning of children in the summer, parents need to ensure their children's health so that they can participate in swimming activities, and warn children about potential hazards such as rivers, streams, ponds and lakes.
Parents also must look after and monitor their children, ensure rescue vehicles when swimming and comply with safety regulations when participating in water transport, he added.
Currently, the city has organized many summer swimming classes for children, and the number of children in the area registering to participate is large, not only in the city area but in other districts. Students learn basic swimming skills as well as drowning prevention skills.
Provincial Youth Union members teach children how to swim. Source: Tuyen Quang Youth Union website
Aware of the drowning of children and students in many localities, many parents are extremely concerned.
Huynh Thi Dang Loan, from Hung Thanh ward, said hearing news on the radio regarding such tragic accidents left her worried. Currently, she sends her 9-year-old son to swimming lessons at a nearby pool. She also regularly reminds her son not to listen to friends who invite him to swim in rivers and reservoirs.
In order to raise awareness for children and families, the city has implemented widespread communication in many forms, such as through electronic news portals, loudspeaker systems at schools, communes and wards, and warning signs in high-risk areas. Parents have also been asked to coordinate with the school to closely manage their children, and absolutely not let students play truant or take advantage of breaks or days off to go swimming in lakes, rivers, streams and unsafe places.
Hopefully, with these drastic and timely interventions, Tuyen Quang city will minimize the risk of drowning among children and students, so that the summer is a useful, safe and fun time for children and students.
Keeping children water-safe this summer

According to statistics, over 2,000 children lose their lives in drowning accidents every year in Vietnam, making drowning the country's leading cause of death among ...