Two Vietnamese Dishes amonng The Best Rice Dishes
Banh Chung (square glutinous rice cake) and Vietnamese broken rice are among the best rice dishes.
TasteAtlas has published a list of the 100 most delicious rice dishes in the world. Vietnamese cuisine has two representatives on this list, broken rice with 3rd place and banh chung (square glutinous rice cake) at 97th place.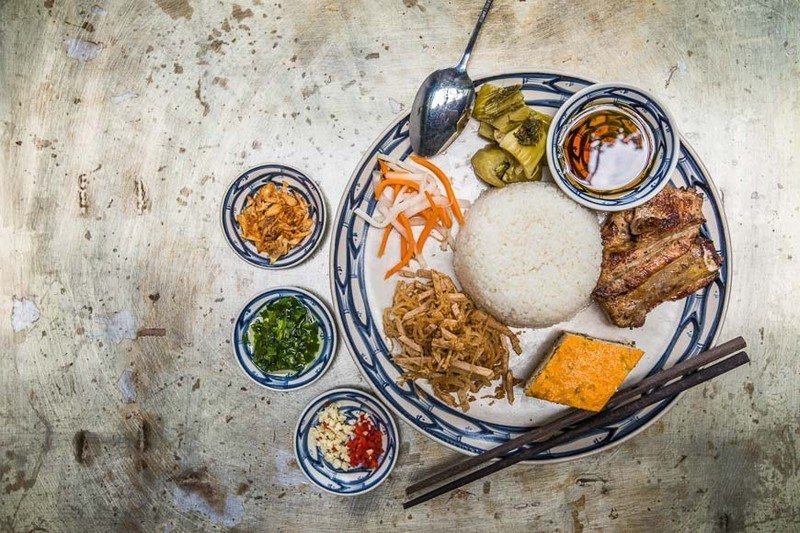 Broken rice (or com tam) has become a must-try dish for locals, foreign visitors, and travellers to Vietnam. Photo: Vietnamtourism
Accordingly, Vietnam's broken rice (locally known as com tam) was chosen the second place among the top 100 most tasty rice dishes in Asia by TasteAtlas, the home of local food, traditional restaurants, and authentic recipes, in March this year, VNA reported Tuesday.
This traditional dish of Vietnam is cooked from broken rice, once considered food for the poor. Still, nowadays, it has become a special popular dish in the country, particularly in Hanoi and Ho Chi Minh City, TasteAtlas said, noting that Japanese sushi ranked first.
A friend of mine, Chiam Jia Xine from Malaysia, said during his recent trip to Hanoi, he was interested in not only bun cha (vermicelli with grilled pork and fresh herbs) and rau muong xao (fried morning glory with garlic) but also broken rice.
"I like broken rice eaten with grilled sour and sweet pork ribs and salad made from the mix of cucumber, tomato slices, minced garlic and chilli," he said, noting that he enjoyed the dish because the rice is soft, fragrant and sweet.
Different from the Vietnamese habit of using chopsticks, this rice dish is used table wares like those of Western people, he commented.
Came into being from Sai Gon (now HCM City) in the early 20th century, when the country had entered into the urbanization process, broken rice has become popular in almost southern provinces to meet increasing demands, said HCM City resident Dang Hong Minh, 80.
When becoming the country's biggest tourism hub, luring a lot of foreign tourists, travelers, and businesses, sellers in the city have served table wares to make the dish suitable for foreign guests instead of using chopsticks and bowls as before, Minh said.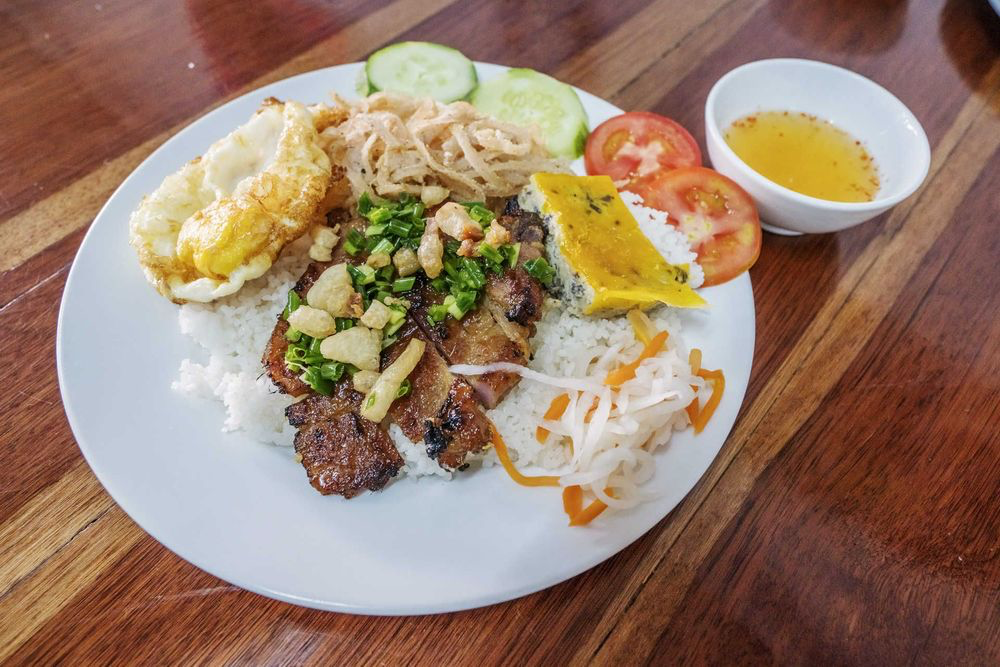 Com Tam, Vietnam food © Tonkinphotography/Shutterstock
Today com tam has become a symbol of Saigon cuisine. It is often said that "Saigon people eat broken rice as much as Hanoians eat pho (noodle soup)".
In the past, com tam was considered rice for poor people because the broken rice was considered chicken food. But when people discovered it's tastier and rich in protein and vitamins such as B1, it became a famous speciality that local dinners and foreigners wish to enjoy, Minh said.
The main ingredients to be eaten with a com tam plate include grilled sour and sweet pork ribs, nem chao (boiled pork skin cut into threads, cut bacon mixed with fish sauce, roasted rice powder and spice) and many others.
Restaurants are serving broken rice with fried tofu, braised pork, and steamed egg mixed with minced pork, vermicelli pieces, wood ears, fragrant mushroom, fresh onions, and spicy (locally known as com tam cha); fried fish, and boiled chicken, said Minh.
There are different styles of com tam. They include broken rice cooked in a tinny earthen pot, fried broken rice in Vietnamese or Thai recipes or com chao, which means broken rice, vegetable, meat, and eggs are poured into the pan, stirred and enjoyed hot.
In 2012, CNN remarked street broken rice is an attractive and popular dish in Saigon, while in August of the same year, the Asia Book of Records recognized Saigon's broken cuisine value together with nine other Vietnamese dishes.
Furthermore, EBS TV of the Republic of Korea (RoK) also praised broken rice as the special characteristics dish of Saigon, saying those visiting the city and failing to try the dish may not fully understand it.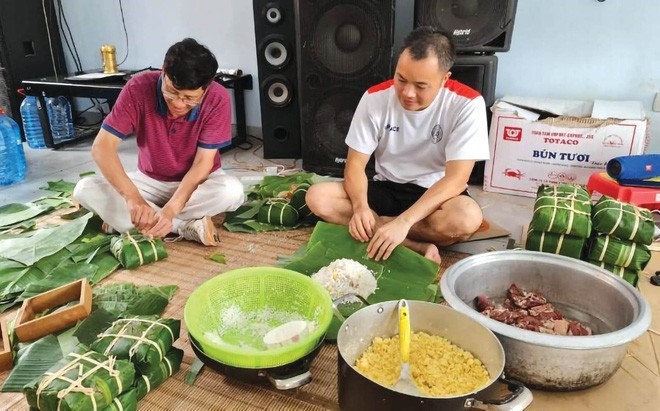 The cake, a must-have food during Tet, is made of sticky rice, pork and green bean wrapper inside a special leaf called Dong and boiled for about 12 hours. Photo: VNA
Meanwhile, Banh chung (square glutinous rice cake) was rated with a score of 4.1/5, ranked 97th out of the 100 best rice dishes in the world. Banh chung is a traditional dish of Vietnamese people, an indispensable dish during Tet (Lunar New Year). For Vietnamese, making Chung cake is a way to express gratitude to their ancestors and homeland. Nowadays, banh chung is known and loved by many foreigners because of its delicious taste and distinctive meaning.
Chung cake was invented by the 18th Prince of Hung Emperor in a contest of looking for the new Emperor. According to the legend, 3,000-4,000 years ago, Prince Lang Lieu, made round and square cakes, the round Day cake symbolizing the sky and the square Chung cake symbolizing the Earth (under the ancient Vietnamese perception), to be offered on the occasion of Spring.
The main ingredient is sticky rice which was one of the most important foods to ancient Viet people. Hidden inside the sticky rice layer is the delicious filling made from mung bean and fatty pork. This cake is a beautiful representation of respect for ancestors and Mother Nature.
The King was so impressed with Banh Chung that he decided to pass the throne to its creator. Ever since then, Square Sticky Rice Cake has become an important component in the Vietnamese Lunar New Year Feast. The cake is delicious with fragrant rice, creamy mung bean filling, tender pork and some heat from plenty of black pepper.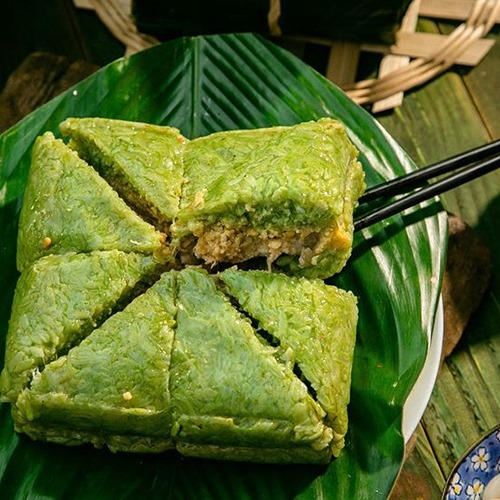 The very soul of Vietnamese Tet is banh chung (square glutinous rice cake).
Apart from traditional Chung cake, people make unique versions such as Bánh Chưng gấc" (Momordica Cochinchinensis Chung cake) or "Bánh Chưng gạo lứt" (brown rice Chung cake).
British Impressions of Vietnamese Durian

On May 4, Vietnam's Ri6 durian was first introduced to the UK market. Many British friends expressed their excitement toward this event, suggested ways for ...