UNICEF: Over 1.5 million Vietnamese children affected by floods in Central Region
Over 1,5 million children are at risk of disease, developmental delay due to the heavy floods and landslides striking the 5 provinces in Central Vietnam recently, UNICEF said Wednesday.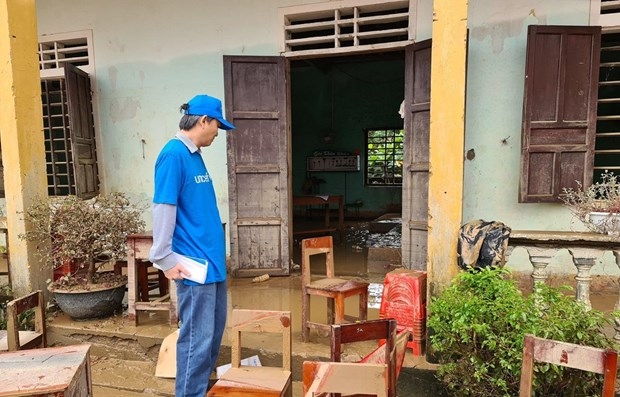 Books and school supplies swept away in floodwater in central Vietnam (Photo: UNICEF)
The non-profit organization counted at least 135,000 households have been bearing the brunt of the high floodwater level, roughly half a million people lost access to clean water. Thousands of houses and properties are inundated, locals' livelihoods heavily disrupted, crops and infrastructure badly damaged.
To date, 42 medical facilities have been devastated and many others gone isolated, depriving mothers and children of basic medical care and preventive health care – two significant factors while COVID-19 spread still an imminent threat.
Schools in many localities are damaged, educational activities forced to come to a halt. As a result, nearly 1.2 million students are currently out of school, learning is disrupted. The window to provide relief is narrow as a new cyclone nears the same coastal region and could make landfall in the next days, according to UNICEF.
Led by the Viet Nam Disaster Management Authority, UNICEF has reached the heaviest-stricken provinces to assess the full extent of children and women's needs. Based on the assessment, UNICEF will raise and allocated further funds and expertise to support the Government, communities in addressing incoming challenges.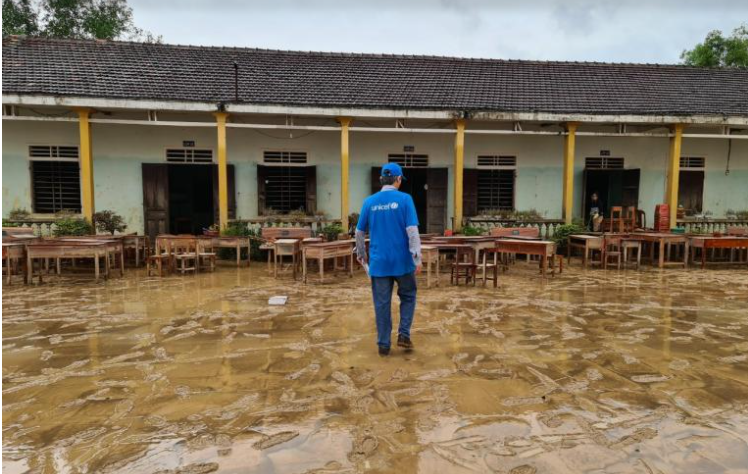 Students have to stop schooling temporary due to heavy flood (Photo: UNICEF Vietnam)
"The flood and landslides have caused severe damage in the communes visited. Schools have been damaged, and books and other learning material are destroyed by water. The population can't access running water, toilets are under water, and the lack of personal hygiene and sanitation is increasing the risk and we are already seeing diseases such as diarrhea and gynecological diseases," said Ly Phat Viet Linh, UNICEF Emergency Specialist traveling to Quang Binh, one of the most affected provinces so far.
"UNICEF has allocated an initial $100,000 for emergency relief in water, sanitation, hygiene, health, nutrition, and education, as well as psychosocial support and child protection," said Rana Flowers, UNICEF Representative in Viet Nam.
"While we urgently address health risks, we must also get children back to learning. Given the circumstances many may need to return to online learning – so assessing access and connectivity is an important action for the education team. At the same time, we need to pay careful attention to the children's mental wellbeing – acutely aware of how such disasters impact children - not just their physical health and nutrition, but women and children often face increased protection risks and they always experience stress and anxiety that we must address as quickly as possible", Flowers added.