Vietnam – Cambodia relations: Heading toward the future
On the 54th anniversary of Vietnam-Cambodia diplomatic relations (June 24), Vietnam Times interviewed Chay Navuth – Ambassador of Cambodia to Vietnam – to discuss past memories, current goals and future hopes in the relations between the two countries
- On the occasion of the 54th anniversary of Vietnam – Cambodia diplomatic relations, what do you think are the most important and meaningful milestones?
In recent years, Cambodia – Vietnam relations have been developed positively and comprehensively. There are many important events in the relations of the two countries, but the most important ones are, firstly, when Vietnamese troops aided Cambodian revolutionary armed forces to liberate the country from the brutal regime of Pol Pot on Jan. 7, 1979. In this victory, Vietnam's lofty spirit of internationalism and responsibility with fellow human beings saved Cambodians from genocide. They were a symbol of the loyal and pure solidarity between the peoples of Vietnam and Cambodia.
The second most important event was right after liberation. Because Pol Pot destroyed all infrastructure in the country, Vietnamese experts helped Cambodia to restore the country from zero.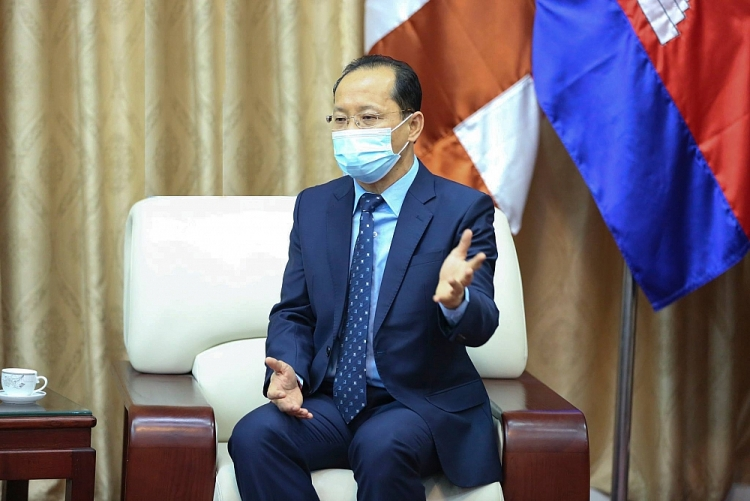 Chay Navuth – Cambodian ambassador to Vietnam. Photo: Vietnam Times
- Can you comment on the prospect of bilateral cooperation between Vietnam and Cambodia?
With the growth in cooperation relations between Vietnam and Cambodia in the past 54 years, I believe that the "good neighborhood, traditional friendship, comprehensive cooperation and sustainable relations" between the two countries will continue to solidify and grow.
I hope that the cooperation between the two countries will be increasingly practical and effective in all aspects, from diplomatic politics, defense and security to the economy, society, education, health and people exchange, in order to improve the lives of both Vietnamese and Cambodians. Prime Minister Hun Sen hopes that the two countries will jointly build a peaceful, friendly, cooperative and prosperous borderline to bring both peoples happiness and wellness.
- What are the two countries' current priorities?
In past months, leaders of both countries and the Ministry of Foreign Affairs of Cambodia have been prioritizing bilateral trade development between Vietnam and Cambodia, which aligns with the visions and prospects that Prime Minister Hun Sen has shared with General Secretary Nguyen Phu Trong in multiple telephone calls.
To achieve this, both sides have prepared various projects. When the pandemic is over, the trade offices of border provinces in Vietnam and Cambodia will have face-to-face meetings to identify which products to trade and how to bring benefits to both sides. During the Covid-19 pandemic, Vietnam and Cambodia have had online meetings to find the best solutions to boost trade between the two countries.
Moreover, Cambodian and Vietnamese provincial officials have been communicating to boost trade relations. Recently, we met with Binh Phuoc provincial authorities to strengthen people exchange and trade relations between the two countries.
- What is your opinion about the "Nurturing friendship" campaign initiated by the Vietnam – Cambodia Friendship Association?
I appreciate soldiers and experts from Vietnam who helped Cambodia in the past and now some of them have adopted Cambodian students as foster children. I want to thank them for caring for and giving warm feelings to the Cambodian people. In particular, I appreciate their efforts to train, educate and nurture Cambodian students into good citizens who can do good deeds for society and contribute to the development of Cambodia upon returning home.
I have met a Vietnamese who adopted a Cambodian student as a foster child. They kept in touch even after the student returned home. When the student got married, this Vietnamese came to Cambodia to attend the wedding. This is such a meaningful story, which I'm glad about!
I want to send my heartful thanks to ex-voluntary soldiers and experts from Vietnam who sacrificed themselves and were willing to leave their family and homeland to help Cambodia topple the brutal Khmer Rouge regime and rebuild the country. I believe that the "nurturing friendship" campaign will be replicated because it is a meaningful model that can develop the human resources needed for Cambodia's development and boost the relations between the people of Vietnam and Cambodia.