Vietnam, Egypt to Tighten Business Cooperation
A trading event Vietnamese and Egyptian businesses was held in Cairo on September 8, attracting those specializing in agricultural products, seafood, construction material, household plastic, paper, packaging and fertilizer.
Dozens of Vietnamese and Egyptian businesses specializing in farm products, construction materials, household plastic products, paper, packaging and fertilizers attended a workshop aiming to promote trade connection between Vietnamese and Egyptian businesses was held on September 8 in Cairo, the capital of Egypt.
Speaking at the seminar, Vietnamese Ambassador to Egypt Nguyen Huy Dung affirmed that Vietnam and Egypt boast great strengths in different fields, and businesses of the two countries have many opportunities to promote cooperation.
However, he pointed out that the trade turnover between Vietnam and Egypt is currently not commensurate with the two countries' cooperation potential.
The Ambassador therefore suggested that the two sides need to make joint efforts to bring about bilateral trade exchange to a higher level by strengthening connectivity and providing market information.
The Vietnamese Embassy in Egypt is ready to work as a bridge to connect businesses of the two countries, he said.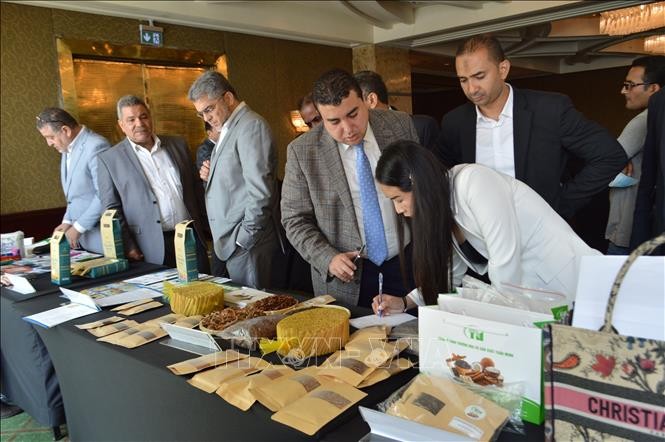 At the seminar, Vietnamese and Egyptian businesses shared information about the demand for import and export of goods (Photo: VNA)/
Vietnamese agricultural and seafood products attract Egyptian businesses
Mr. Mostafa Gafer, General Director of El Waleid Company (Egypt) said: "We are very pleased to meet and discuss directly with our Vietnamese partners. We are very interested in Vietnamese agricultural products like white pepper and black pepper because they have better quality, bigger seeds than similar products from other markets.These are very popular products in the Egyptian market. We will sign a contract to buy those products from Vietnam."
The Egyptian plastic market has great potential to many Vietnamese firms (Photo: VNA).
According to Ahmed El-Wasimi, vice president of the Cairo Chamber of Commerce, Egypt is a big market for many key Vietnamese products such as agricultural products, seafood, electronics, and garments. Representatives of the Egyptian side affirmed that they are willing to support Vietnamese businesses in finding investment and business opportunities in the Egyptian market by supporting connectivity between the two business communities.
"We are ready to support and remove obstacles to help businesses of the two countries have easy access to each other's markets," he said.
Assessing the demand for household plastic products in the Egyptian market, Mr. Tran Khanh, commercial director of Viet Nhat Plastics Manufacturing Company, said: "The Egyptian plastic market has great potential. In addition to household plastic products and industrial plastic products, Egypt also focuses on plastic products for agriculture. Egypt is investing about US $1.5 billion in clean agricultural products. We can provide plastic products for Egypt's clean agricultural sector."
Mr. Khanh added that he hoped for better and more direct opportunities for enterprises of the two countries to negotiate on prices and import and export taxes.
The seminar was jointly held by the Vietnamese Embassy in Egypt, the Ministry of Industry and Trade of Vietnam and the Cairo Chamber of Commerce.
Previously, on September 7, the delegation of the Ministry of Industry and Trade and a number of Vietnamese enterprises had a meeting with the Federation of Egyptian Chambers of Commerce in the new administrative capital to learn about mechanisms and policies. related to import and export activities as well as sharing information about the needs of the two countries' markets.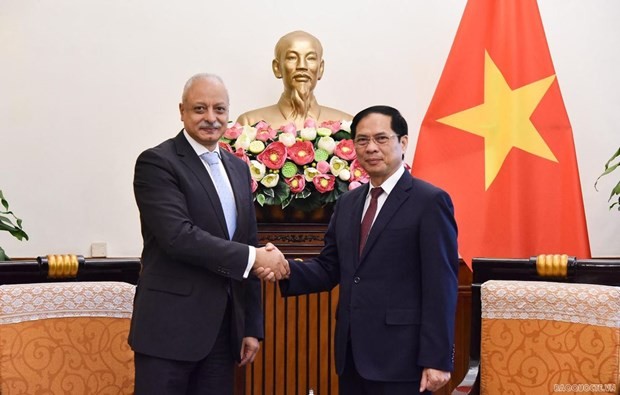 Minister of Foreign Affairs Bui Thanh Son (right) hosted a reception for Egyptian Assistant Minister of Foreign Affairs Ayman Aly Kamel Aly in Hanoi on September 9, 2022 (Photo: VNA)
Despite the pandemic-related challenges, the trade volume between the two countries surpassed US $600 million in 2021, cited from VNA. The Vietnam - Egypt session of the subcommittee on industry and trade cooperation was virtually held in August 2021 for the second time, and both sides are currently preparing for the 6th session of the Egyptian-Vietnamese Joint committee, to be held in Cairo.
The year 2023 will mark the 60th anniversary of diplomatic relation establishment between the two countries. In recent years, the friendship between Egypt and Vietnam had its highest political manifestation in the historical exchanged state visits of President Abdel Fattah Al Sisi to Vietnam in September 2017 and the late president of the Socialist Republic of Vietnam Tran Dai Quang to Egypt in August 2018.