Vietnam News Today (August 20): Vietnam Records Highest Single-day Covid-19 Tally at 10,639
Vietnam News Today (August 20): Vietnam records the highest single-day Covid-19 tally at 10,639; Experts: Hanoi should deliberate ending social distancing; Vietnam to suffer up to nine storms this year; Vietnam seeks Covid-19 vaccine support from EU.
Vietnam News Today (August 20) notable headlines
Vietnam records highest single-day Covid-19 tally at 10,639
Experts: Hanoi should deliberate ending social distancing order
Vietnam to suffer up to nine storms this year
Vietnam seeks Covid-19 vaccine support from EU
Vietnam to play first match of World Cup qualifiers' third round at midnight
AstraZeneca pledges to deliver more vaccines to Vietnam
Mobile medical stations to be set up in HCM City, Covid-19 hotspots
Vietnam seeks stronger cooperation with Middle East nations
Flight crew required to be fully vaccinated starting September 1
A field hospital for Covid-19 treatment in Vung Tau, southern Vietnam, August 16, 2021. Photo: VnExpress
Vietnam records highest single-day Covid-19 tally at 10,639
Vietnam on Thursday recorded 10,639 new local Covid-19 cases, the highest single-day tally ever observed since the coronavirus hit the country.
The three localities recording the highest number of cases were Ho Chi Minh City with 4,425 cases, Binh Duong with 3,255 cases and Dong Nai with 657 cases.
Thursday's tally has put Vietnam's total coronavirus tally at 312,611 cases, meaning there are 3,180 cases for every one million people, ranking 169th of all countries and territories. Since the fourth coronavirus wave hit Vietnam in late April, the total infection tally is 308,559 cases, cited VnExpress.
Also on Thursday, 5,000 people were announced recovered from the disease, putting the total number of recovered cases so far to 120,059 cases.
380 new deaths were recorded, with 307 in Ho Chi Minh City, 45 in Binh Duong, 17 in Long An, three in Can Tho, and two each in Ben Tre, Binh Thuan, Tien Giang and Vinh Long. The total coronavirus death tally in Vietnam so far is 7,150 cases, or 2.3 percent of the infection tally, around the world's average.
Vietnam has vaccinated nearly 16 million people with at least one Covid-19 vaccine shot, with over 1.5 million people having been fully vaccinated.
Experts: Hanoi should deliberate ending social distancing order
Hanoi should not rush any decision regarding when to end social distancing measures as scheduled due to a number of F0 cases still being among the community, according to several medical experts.
Despite enforcing social distancing measures, Hanoi capital is going ahead with the second large-scale testing for residents in locked down and high-risk areas as from August 18.
According to a report detailed by the Hanoi Department of Health, the number of local Covid-19 infections in the city has shown positive signs of reduction, with new cases being detected primarily in isolation facilities or areas currently under lockdown.
A Covid-19 checkpoint in Hoan Kiem district. Photo: VOV
However, the second large-scale testing serves as the basis for the Government to make a decision to end the social distancing order, slated for August 23, reported VOV.
Regarding the possibility of ending the order as planned , Assoc. Prof., Dr. Tran Dac Phu, former Director of the Ministry of Health's Preventive Medicine Department, noted that the capital should not make a hasty decision, while it is essential to carefully evaluate each factor, especially the results of the F0 tracing work and mass Covid-19 testing campaign this week.
Prof. Dr. Nguyen Anh Tri added that Hanoi should monitor the progress of the pandemic within the community for another two to three days before coming to a final conclusion on the matter.
"If the results of mass testing show that the rate of F0s in the community is low, the city can temporarily end the social distancing order. On the contrary, if the rate of newly-injected cases increases, Hanoi should still extend social distancing," he stressed.
The capital has finalized its first week of a mass testing campaign for high-risk people and people living in high-risk areas, with 300,000 samples being taken. An additional 800,000 samples are due to be collected ahead in the next stage, which started on August 18.
Hanoi has documented a total of 2,389 infections since the fourth wave of Covid-19 erupted on April 27. Of these, 1,238 cases were detected in the community whilst 1,151 others were found in quarantine sites or locked-down areas.
Vietnam to suffer up to nine storms this year
Between seven and nine storms and tropical pressures are forecast to activate in the East Sea from now until the end of the year, with up to four storms directly impacting the Vietnamese mainland, according to National Centre for Hydro-meteorological Forecasting on August 19.
Moving forward into October, November, and early December, central and south-central regions are warned of the impact of several periods of heavy rains in.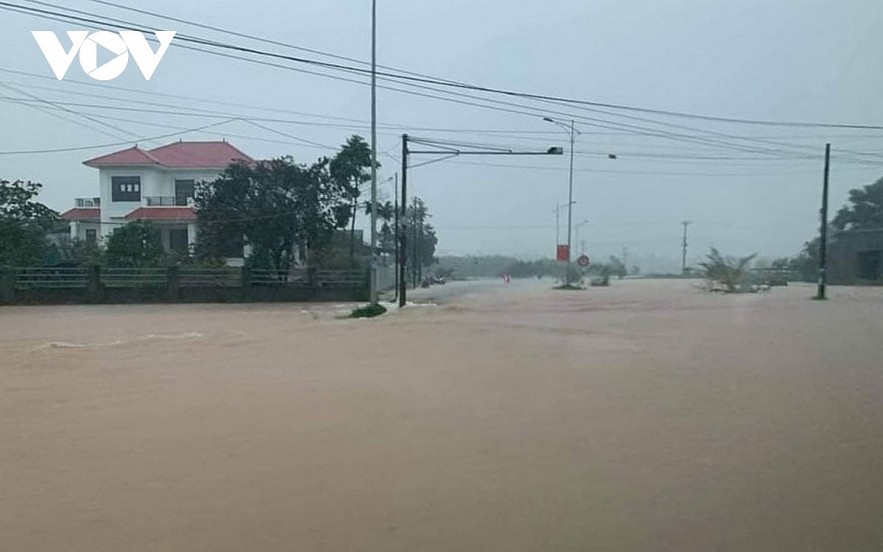 Central region and Central Highlands will suffer several floods starting from September. Photo: VOV
Weather experts anticipate that floods will also hit rivers in the central region and in the Central Highlands region starting from September. Indeed, flash floods and landslides will strike northern mountainous areas and flood peaks may occur at an alarming rate throughout August and September.
Nguyen Van Huong, head of the center's climate forecasting department, said local authorities should keep a close watch on developments relating to upcoming flooding and rains. They should therefore conduct a review and assessment of the safety of homes, especially in areas at high risk of flash floods and landslides, while also preparing forces, vehicles, and equipment to deal with any circumstances, VOV reported.
Furthermore, this year the winter is forecast to arrive earlier than usual, with the first cold spell anticipated to hit the nation in late September and early October.
Vietnam seeks Covid-19 vaccine support from EU
President Nguyen Xuan Phuc on August 18 sent a letter to President of the European Council Charles Michel suggesting the European Union (EU) share Covid-19 vaccines to Vietnam.
In the letter, President Phuc thanked the EU for its support to Vietnam in recent times, especially donating 2.4 million doses of vaccines to the country through the COVAX Facility.
As Vietnam is meeting difficulties in securing vaccines for its nearly 100 million people as well as medical equipment, it expects to receive maximum assistance from the EU via donating vaccines, sharing technology, providing medical equipment and sharing experience in coping with the pandemic, wrote President Phuc.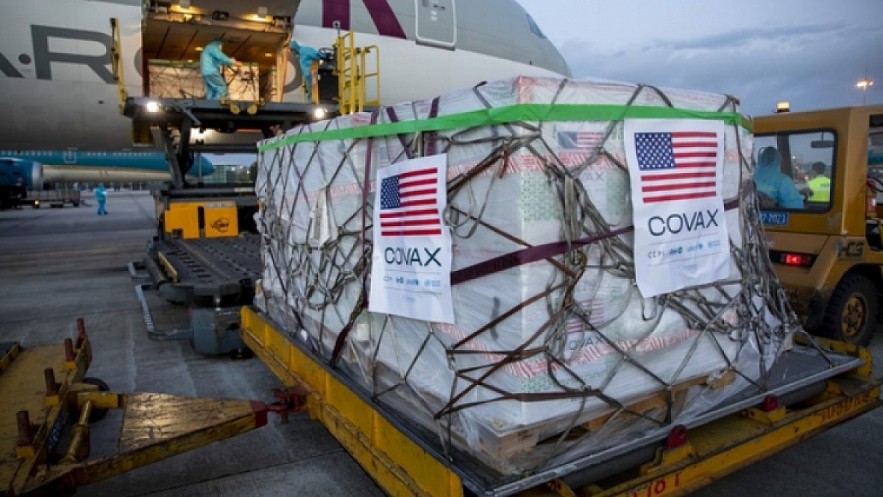 Vietnam has received millions of Covid-19 vaccines from donors, including the United States, through COVAX. Photo: VOV
In another similar letter to President of the European Commission Ursula von der Leyen, Prime Minister Pham Minh Chinh spoke highly of the positive development of the Vietnam – EU ties amid the pandemic.
He expressed his wish that the EU would consider assisting Vietnam in vaccine supplies, while suggesting that the COVAX Facility prioritize the allocation of vaccines to Vietnam and other ASEAN member states given the complicated developments of the pandemic at present, according to VOV.
Vietnam is speeding up a vaccine diplomacy strategy aiming to get sufficient vaccines for its people. Vietnamese leaders have, through phone talks with foreign leaders or international meetings, lobbied them for vaccines to the nation.
It has so far received nearly 20 million doses of Covid-19 vaccines from different sources, from manufacturers to donors, including the United States, Japan, the European Union, the United Kingdom, Australia, Germany, Hungary, Czech Republic, Russia, China and Poland.
Vietnam has set a target of vaccinating 70% of its population, or 75 million people, by early 2022 to achieve herd immunity.
It is now grappling the fourth outbreak of Covid-19, with the virus spreading to 62 out of 63 cities and provinces across the country and close to 300,000 new infections confirmed.
Vietnam to play first match of World Cup qualifiers' third round at midnight
The match between Vietnam and Saudi Arabia in the final round of the 2022 FIFA World Cup Asian qualifiers is set to start at 0 a.m. on September 3 (Vietnam time).
According to a schedule set by the Saudi Arabian Football Federation, the match will be held at 8 p.m. on September 2 (Saudi Arabia time).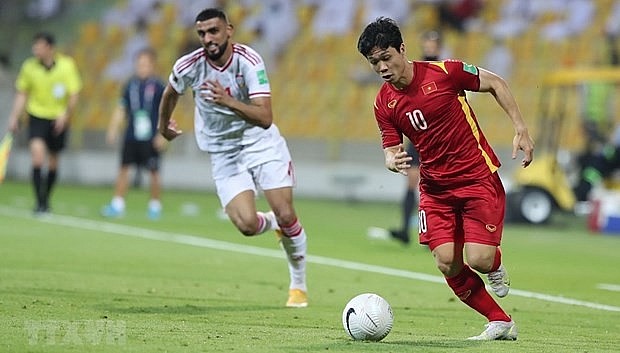 Vietnamese player Nguyen Cong Phuong (in red) dribbles the ball. Photo: VNA
In June, Vietnam played at a similar time during the second round of the qualifiers hosted by the United Arab Emirates (UAE).
Members of national men's football team will leave for Saudi Arabia on August 27 to acclimatize themselves with the weather and time zone. Head coach Park Hang-seo will select 25-26 players for the trip.
On August 19, the team will play with the national U22 squad, cited VNA.
Vietnam made history by advancing to the third and final round of the World Cup qualifiers for the first time. In the final round, they will play in Group B along with Japan, Australia, Saudi Arabia, China and Oman.
Similarly, the national women's team may also play matches at the 2022 Women's Asian Cup qualification at such hours.
Their games with the three rivals of Afghanistan, Maldives and the hosts Tajikistan are scheduled to be held at 10pm and 0 a.m. on September 23, 26 and 30 (Vietnam time), respectively.