Vietnam sends congratulations to DPRK on WPK's 75th founding anniversary
Party General Secretary and State President Nguyen Phu Trong sent a congratulatory message to Chairman of the Workers' Party of the Democratic People's Republic of Korea (DPRK) and Chairman of the country's State Affairs Commission Kim Jong-un on the Workers' Party of Korea (WPK)'s 75th founding anniversary (October 10).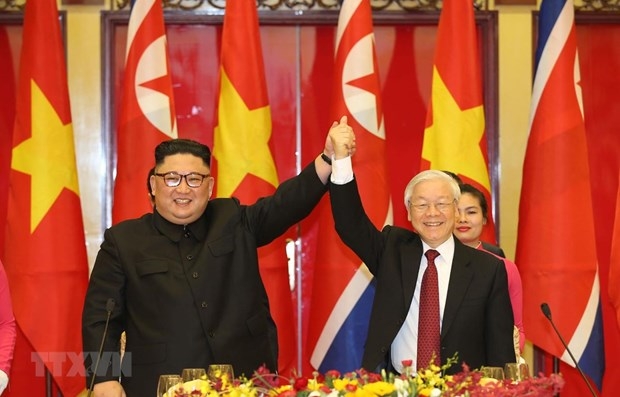 Party General Secretary and State President Nguyen Phu Trong (R) and DPRK leader Kim Jong-un at a banquet in honour of the latter in Hanoi on March 1, 2019. Photo: VNA
In a congratulatory message to Chairman Kim for the anniversary, the Vietnamese leader noted that over the last 75 years, the Workers' Party of the DPRK has been leading the country and its people to obtain a number of significant achievements in building and protecting socialism, developing the economy, and gradually improving people's living standards.
He expressed his belief that the traditional cooperation and friendship between the Communist Party of Vietnam and the Workers' Party of the DPRK will continue developing for the sake of the two peoples' interests as well as regional and global peace, stability, cooperation, and development.
North Korea held a military parade early on Saturday to mark the 75th anniversary of the founding of its ruling Workers' Party in a rare predawn event, South Korea's military said.
State media has not released any images or reports on a parade. It was also unclear if the parade was a rehearsal for a larger one later in the day. In 2018 and 2019, the parades were recorded and broadcast later.
South Korea's Joint Chiefs of Staff said it spotted signs that a parade involving large-scale military equipment and personnel took place in the capital Pyongyang but gave no further details.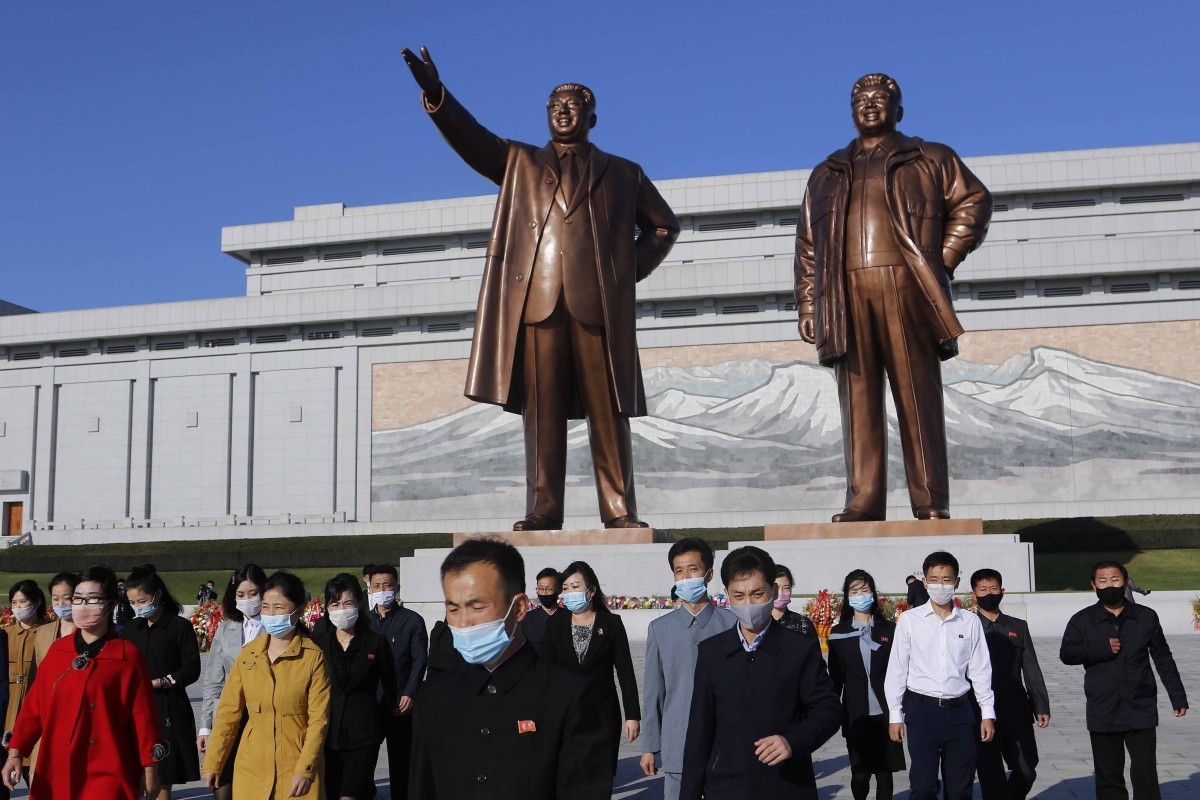 People visit the Mansu Hill to lay flowers to the bronze statues of former North Korean leaders Kim Il-sung and Kim Jong-il in Pyongyang on October 10, as part of celebrations to mark the 75th founding anniversary of the Workers' Party. Photo: AP
According to The Associated Press, Masked citizens lined up to lay flowers at the statues of Kim Il Sung and Kim Jong Il, at Pyongyang's Mansu Hill. A huge street poster highlighted the ruling Workers' Party's symbol with letters that read "Best glory to our great party."
The North's official Korean Central News Agency (KCNA) said on October 10 that residents in Kaesong and other regions who had lost their homes to recent natural disasters marked the party anniversary by moving into newly built houses and that they praised Chairman Kim Jong Un for looking after them as "their father."
KCNA also reported that Chinese President Xi Jinping sent a letter to Kim saying that Beijing would continue to "defend, consolidate and develop" bilateral relations with Pyongyang.
The event comes as the country carries out strict measures to prevent the new coronavirus - North Korea says it has had no confirmed cases of COVID-19. However, strict border closures and other measures it imposed to prevent an outbreak have further strained its economy, which is heavily reliant on trade with China.
State media said the curbs have caused delays in some of Kim's key economic and construction projects./.