Vietnam, South Africa Look to Beef up Tourism
South Africa has made it easier for Vietnamese tourists to obtain a visa to its destinations by offering guests a greatly reduced processing time of just five days.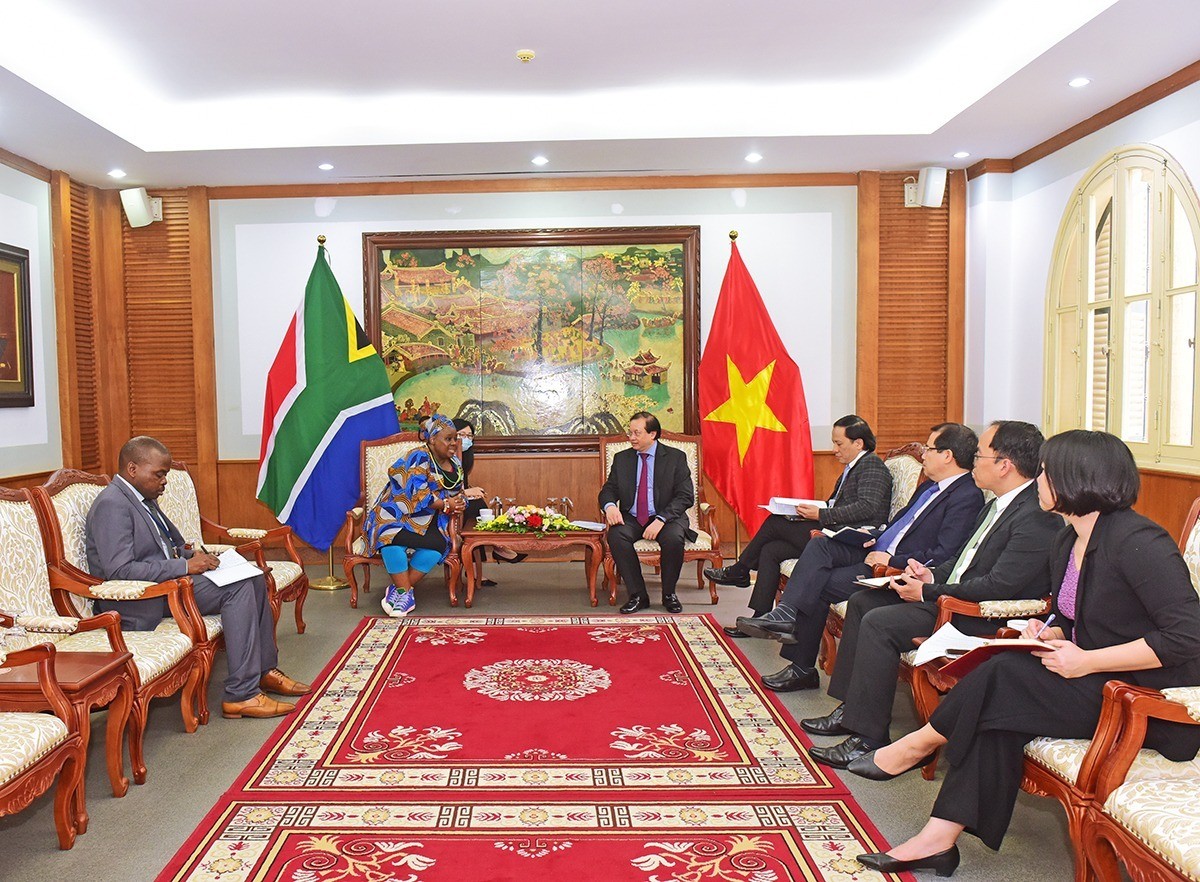 Ta Quang Dong, Deputy Minister of Culture, Sports and Tourism, had a meeting with Vuyiswa Tulelo, Ambassador of the Republic of South Africa to Vietnam on promoting culture, sports and tourism cooperation between Vietnam and South Africa and activities in response to the 30th anniversary of establishment of diplomatic relations of South Africa and Vietnam in March 2023. Source: vietnamtourism.gov.vn
This information was revealed by South African Ambassador to Vietnam Vuyiswa Tulelo during a recent conference on tourism promotion, VOV reported Thursday.
She noted that the South African Embassy and South Africa Tourism Representative Office in India, which is in charge of Asia, Middle East, India, and Southeast Asia, are planning to support Vietnamese tour operators in a bid to attract tourists. Notably, she said the visa issuing time would be slashed to just five days.
The Ambassador also said that a number of activities involving the exchange of culture, people to people connections, and tourism promotions will also be held this year to mark 30 years of diplomatic ties between Vietnam and South Africa.
In 2019, the number of Vietnamese tourists visiting South Africa hit a record high of 3,270. However, the figure dropped sharply in the 2020 to 2021 period due to the Covid-19 pandemic.
This year has seen Vietnamese travel firms start to launch attractive South African tours, particularly as they prepare for higher summer travel demand during the purple phoenix season in South Africa.
In related news, a working delegation led by Vietnamese Ambassador to South Africa Hoang Van Loi paid a working trip to KwaZulu-Natal (KZN) province from March 16-20, as part of Vietnam's economic diplomacy programme for this year.
During the trip, the delegation held working sessions with the Trade and Investment KwaZulu-Natal (TIKZN), the management board of the Richards Bay Coal Terminal and the railway transport conglomerate Transnet.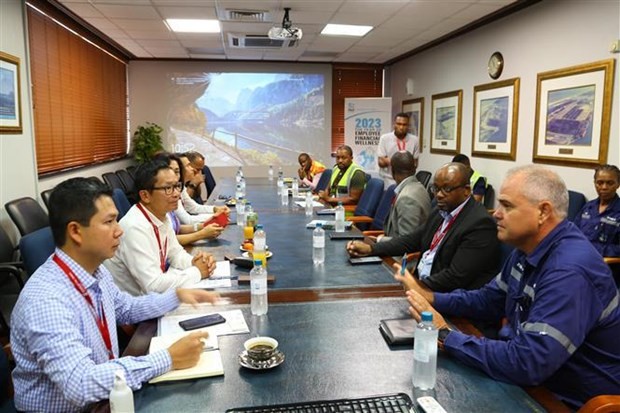 At a working session between the delegation and TIKZN. Photo: VNA
Loi informed TIKZN CEO Neville Matjie about plans for the upcoming visit by Vietnamese Minister of Industry and Trade Nguyen Hong Dien, including a B2B matching event in the province. Both sides agreed to successfully hold activities during the visit.
Matjie expressed his interest in learning from Vietnam's experience in several sectors. He said KwaZulu-Natal province wants to draw more tourists from Vietnam and acquire its experience in developing tourism models based on business households and small enterprises which have been successful in tourism hubs like Hanoi, Hoi An, and Ha Long Bay.
In apparel, he wished to study Vietnam's ways of attracting foreign direct investment and outsourcing contracts with some of the world's largest fashion labels.
The host also sought Vietnam's experience in rapidly increasing the proportion of renewable energy in the national energy structure within a short period, as well as methods for attracting investment and managing renewable energy projects. He called on Vietnam to invest in wind and solar power in the province.
Located in the southeast of the country, KwaZulu-Natal province is known for its stunning beaches, safari parks, lush green hills, vast sugarcane and banana plantations, and an extensive network of seaports, making it an ideal destination for Vietnamese investors and businesses to access the South African market, he said.
Loi said in the near future, the Vietnamese Embassy will work with the Vietnam Trade Office in South Africa to arrange trips to the country by delegations of trade, tourism, and investment promotion officials.
Visiting Richards Bay Terminal – the biggest coal export terminal in South Africa, the Vietnamese delegation also talked with its management board and representatives of Transnet to learn about logistics infrastructure and supply chain from mines to terminal.
Two-way trade between Vietnam and South Africa in 2022 hit USD 1.3 billion.
South Africa is its largest trading partner of Vietnam in Africa, and also the only "Partner for Cooperation and Development" of Vietnam in this continent. Meanwhile, Vietnam is the ninth biggest trading partner of South Africa in Asia.
According to Ambassador Hoang Van Loi, a Vietnam Day will be organized in South Africa in 2023 as part of the activities to celebrate the 30th founding anniversary of diplomatic ties. The event is hoped to offer a good chance for the two countries to enhance cooperation, thus creating an impetus to soon lift the bilateral trade to USD 2 billion.