Vietnamese Intellectuals in Hungary Contribute to Homeland's Development
Vietnamese Intellectuals Association in Hungary organized a seminar on the country and people of Vietnam; challenges and opportunities for economic and social development.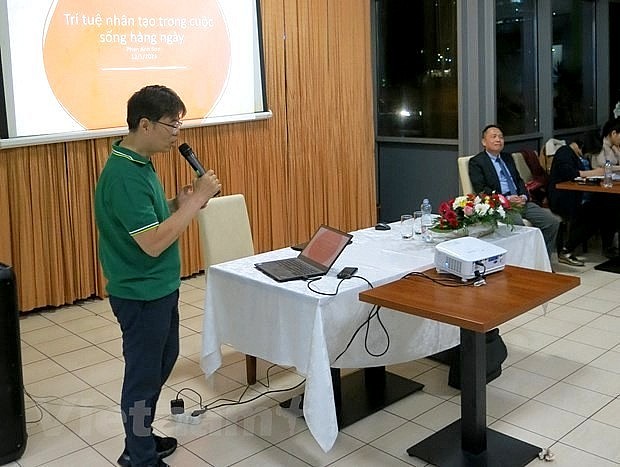 Engineer Phan Anh Son presented on 'Artificial intelligence in daily life. Photo: VNA
The seminar attracted about 80 participants, most of which were professors, associate professors, doctorates, alumni who made great contributions to the community.
At the opening of the workshop, the delegates listened to a special presentation about the time in Vietnam of former Hungarian Ambassador to Hanoi, sociologist, Őry Csaba, who made 18 visits to Vietnam in the last 3 decades.
Considering Vietnam as a second home, the former politician, a member of the National Assembly of Hungary and the EU said that the Vietnamese people made great efforts to achieve the desired results. After everyone's efforts are family, society, and community, no one is alone.
Őry Csaba said he followed the development of Vietnam in recent years. He was delighted with the successes, and sympathized with the difficulties and challenges that Vietnam had to face. However, he believed that Vietnam will overcome these difficulties.
The next part of the seminar were two topics "Industry 5.0: Opportunities and Challenges" and "Artificial Intelligence in Daily Life," by Assoc. Prof. Trinh Anh Tuan, head of Fintech Institute, and engineer Phan Anh Son, informatics expert at Nokia Corporation.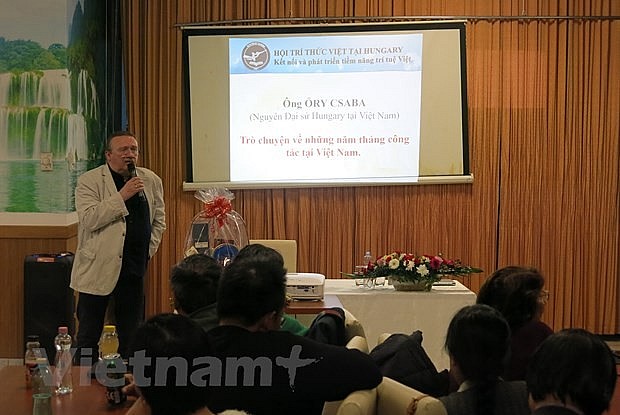 Former Hungarian Ambassador to Hanoi, jurist Őry Csaba shared about his years of working in Vietnam. Photo: VNA
Having just returned from a visit to Truong Sa (Spratly), Assoc. Prof. Trinh Anh Tuan began his presentation with that precious memory and the importance of the human factor in Industry 5.0.
Meanwhile, engineer Phan Anh Son mentioned practical applications of artificial intelligence that have been used for a long time in many aspects of life, before ChatGPT appeared.
The Vietnamese Intellectuals Association in Hungary contributed to the bilateral relationship between the two countries. The association also promoted cooperation projects between Hungary and Vietnam in science, technology, culture, and education, and supported the community in education in Hungary.